Show User Social Media
Hide User Social Media
Joined

Sep 8, 2006
Messages

17,382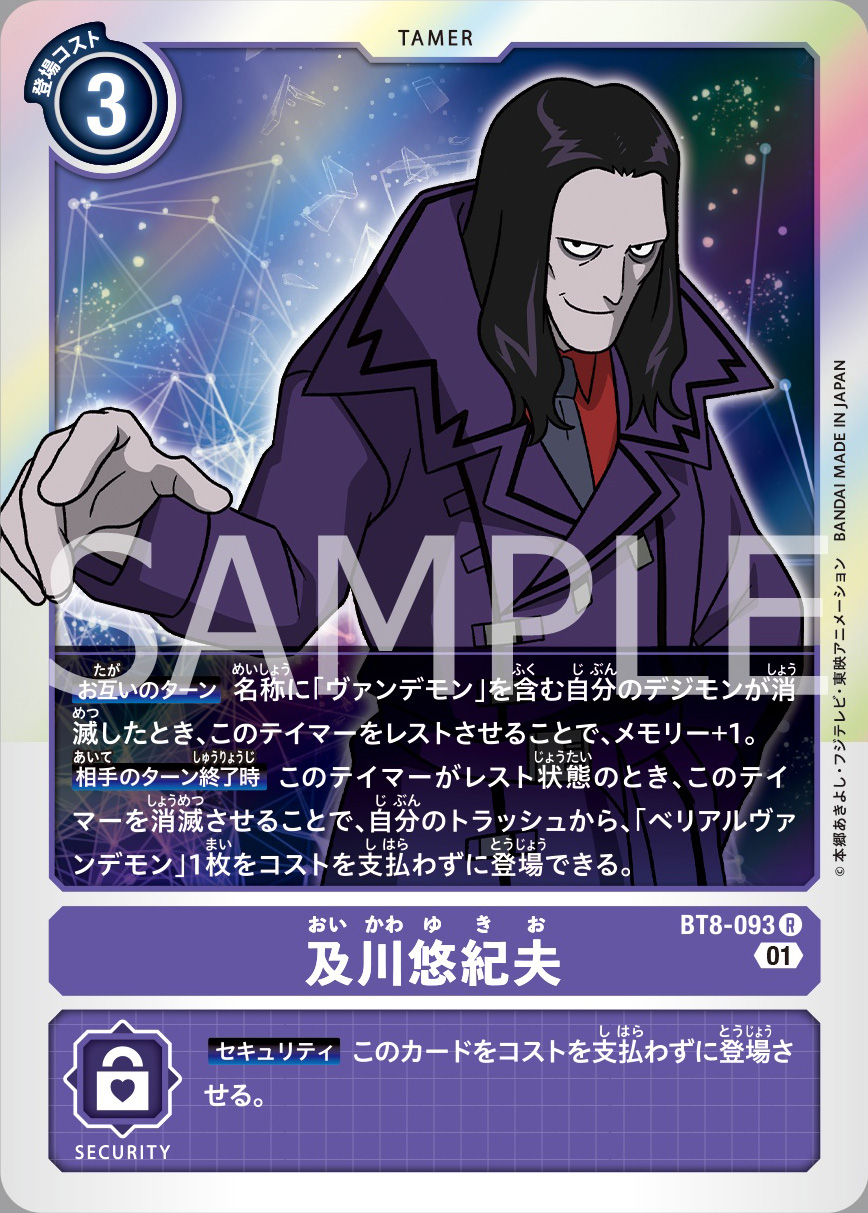 The Digimon Card Game Twitter
has updated with a card preview from Booster Set 8 New Hero. This time it's tamer card Oikawa.
Oikawa gets some crisp and clean new artwork in an anime-like style. This isn't the only piece of merchandise Oikawa has, but he's certainly one of the more rare characters for merchandise. The new art looks very nice for an Adventure 02 villain who doesn't tend to show up that often outside of the show itself.
Previous previews for Booster Set 8 New Hero:
Booster Set 8 New Hero will be out on November 26th in Japan.
We have clean card images from
Starter Decks 9 & 10, plus Tamers Battle Pack 8, Ghost Game Promos, Online Promos, Tamers Evolution Box 1, & Amazon Starter Promos
.
We have the first info for
Booster Set 8 New Hero
&
the Special Entry Set.
We have details for the
2nd Theme Booster, Digimon Tamers.
And images from previous Digimon Card Game releases:
Starter Decks 1, 2, and 3, and first 10 promo cards
Booster Set 1 New Evolution
Booster Set 2 Ultimate Power
V-Tamer Promo Cards
Purple/Black Promo Set
Tamer Battle Pack 1 and Tamer Battle Winner's Card
Booster Set 3 Union Impact
Starter Decks 4, 5, & 6, plus Tamer Battle Pack 2 & winner's Card 2, & 1st 2 scene vote cards
Booster Set 4 Great Legend, Tamer Battle Pack 3, 3rd Scene Vote, Dark Digimon Promo Pack, & Apparel Cards
Booster Set 5 Battle of Omega, plus Tamer Battle Pack 4, 4th Scene Vote, & Vital Bracelet Pack-In Cards
Starter Decks 7 & 8, plus Delay Promos, Tamers Battle Pack 5, 1st Anniversary Promos, & Pulsemon
Booster Set 6 Double Diamond Cards, the 1st Anniversary Adventure Pack, and more
Booster Set EX-01 Classic Collection, plus Tamer Battle Pack 6 & 7, Tyranomon & dual Zeromaru Promo Cards
Booster Set 7 Next Adventure, Campaign Cards, & Tamers 20th Promo Cards