Show User Social Media
Hide User Social Media
Joined

Sep 8, 2006
Messages

16,917
More Survive info!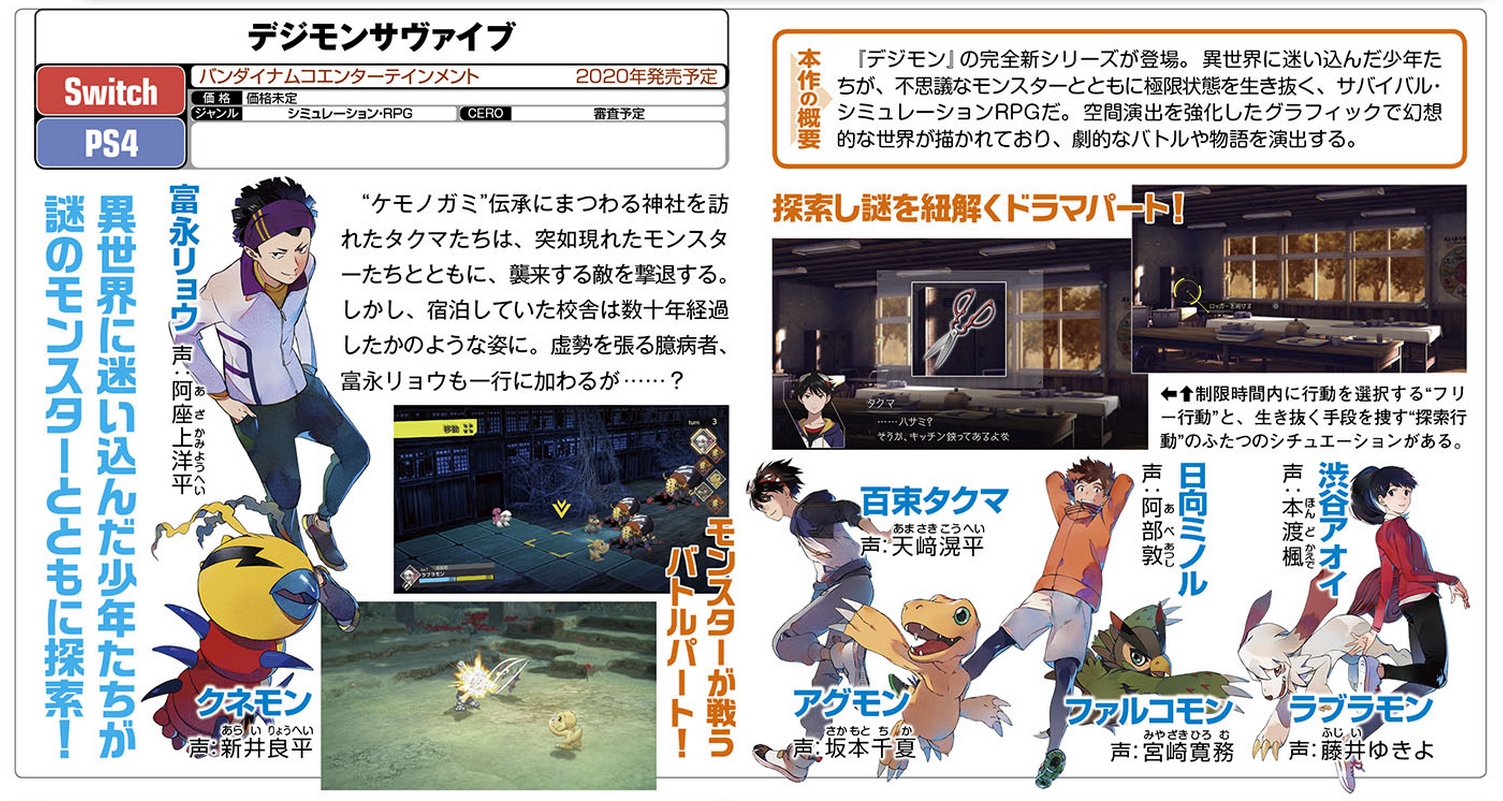 The newest issue of Weekly Famitsu (cover dated December 19th, out today in Japan) has a new small preview of Digimon Survive. Some of this info matches a recent
website update
, which we are including elements from here also.
Update- More translations and updated bits have been added.
(From the main text body on the left side of the image) Takuma and his group visit the shrine that bears the legend of the "Kemonogami" when monsters suddenly appear. They work with these monsters to drive away an enemy attacking them. The lodgings that they are staying overnight in have also changed in appearance, looking as though they are several decades older. Ryou Tominaga, a guy who puts up a tough front but is actually a coward, joins their group but then...?
(Much of this is similar to
the recent issue of V-Jump
going over the same general material.)
The screenshots show some new bits of both gameplay types in the game. In one you can find the characters finding some scissors, in the others you can see Dokugumon in one, and the other shows what 'may' be a previously unannounced Digimon getting hit by Falcomon.
We also get more cast info, along with short loglines for the human characters. We've gone ahead and added in a few examples of what people may know them from also.
The Protagonist Lost in Another World
Takuma Momotsuka, voiced by Kohei Amasaki- Takeshi Hoshino in Mob Psycho 100, Takaki Uno in Mobile Suit Gundam IBO, Neito Monoma in My Hero Academia
2nd year middle schooler who was raised in a normal, average family. He participates in an extracurricular camp for historical research, but when visiting a shrine that bears a legend of spiriting away children, he suddenly finds himself lost in a whole different world.
Agumon, voiced by Chika Sakamoto- Best known to us as... Agumon
A reptilian monster who looks like a small dinosaur. He meets Takuma when Takuma wanders into his world. He is influenced by Takuma to evolve into various shapes.
The Older Serious Girl
Aoi Shibuya, voiced by Kaede Hondo- Hikari Takanashi in Interviews with Monster Girls, Mirai (baby) in Mirai
A 3rd year middle schooler from a different school who participates in the extracurricular camp. At her own school, she is class officer with a serious/earnest personality, who does her utmost to appease discontent and fulfill the demands of those around her, no matter how unreasonable. However, by nature, she is a quiet person who rarely says anything contrary. In this other world they are in, she admirably takes on the task of detailed work, such as managing food supplies and maintaining location.
Labramon, voiced by Yukiyo Fujii- Mana in the modern version of Gegege no Kitaro, Rebecca Rossellini in Lupin, Sailor Saturn in the modern Sailor Moon anime, and for Digimon she had a few bit parts during Hunters.
A beast monster who looks like a real dog. In place of the reserved Aoi, she has more of a tendency to say exactly what is on her mind. The two of them affirm each other as they support one another in this foreign world.
The Clown & Close Friend of the Protagonist
Minoru Hyuuga, voiced by Abe Atsushi- Touma in the Index franchise, Izumida in Yowamushi Pedal, and more other big things than we could list.
Takuma's best friend from the same school who also participates in the extracurricular camp. A talkative optimist who likes to crack jokes a lot. He has an easygoing personality and can make friends with anyone, but he also has a tendency to get full of himself and invite trouble. He dislikes fighting with others, preferring to act ridiculously for a laugh rather than facing people or things head-on.
Falcomon, voiced by Hiromu Miyazaki- Lots of smaller roles, including Sagittarimon in Xros Wars,.
A bird monster who lives on high mountains. Unlike the frivolous Minoru, he has a firm personality and supports Minoru during their adventure in the foreign world. Sometimes, though, he acts so wildly that Minoru has to stop him...
Ryou Tominaga, voiced by Yohei Azakami- Deathpierce in Seven Deadly Sins, plus a bunch of smaller roles (and Ezekiel Stane in a recent Marvel anime.)
Kunemon, voiced by Ryohei Arai- Toshiie in Battle Spirits Burning Soul along with a lot of other smaller roles.
Like in the
last Famitsu preview
, it's a short look at the game that peppers in a few small new details.
Thanks to
HDKirin
for the image and shin for translation help. Update- A bunch more translations added thanks to onkei.
This issue of Weekly Famitsu
can be ordered at CDJapan
(affiliate link.)
Digimon Survive can currently be pre-ordered at Amazon.com: (affiliate links)
Digimon Survive for PS4
Digimon Survive for Switch
Digimon Survive for Xbox One
Survive is currently scheduled for 2020.