Show User Social Media
Hide User Social Media
Joined

Sep 8, 2006
Messages

14,185
A few card game previews...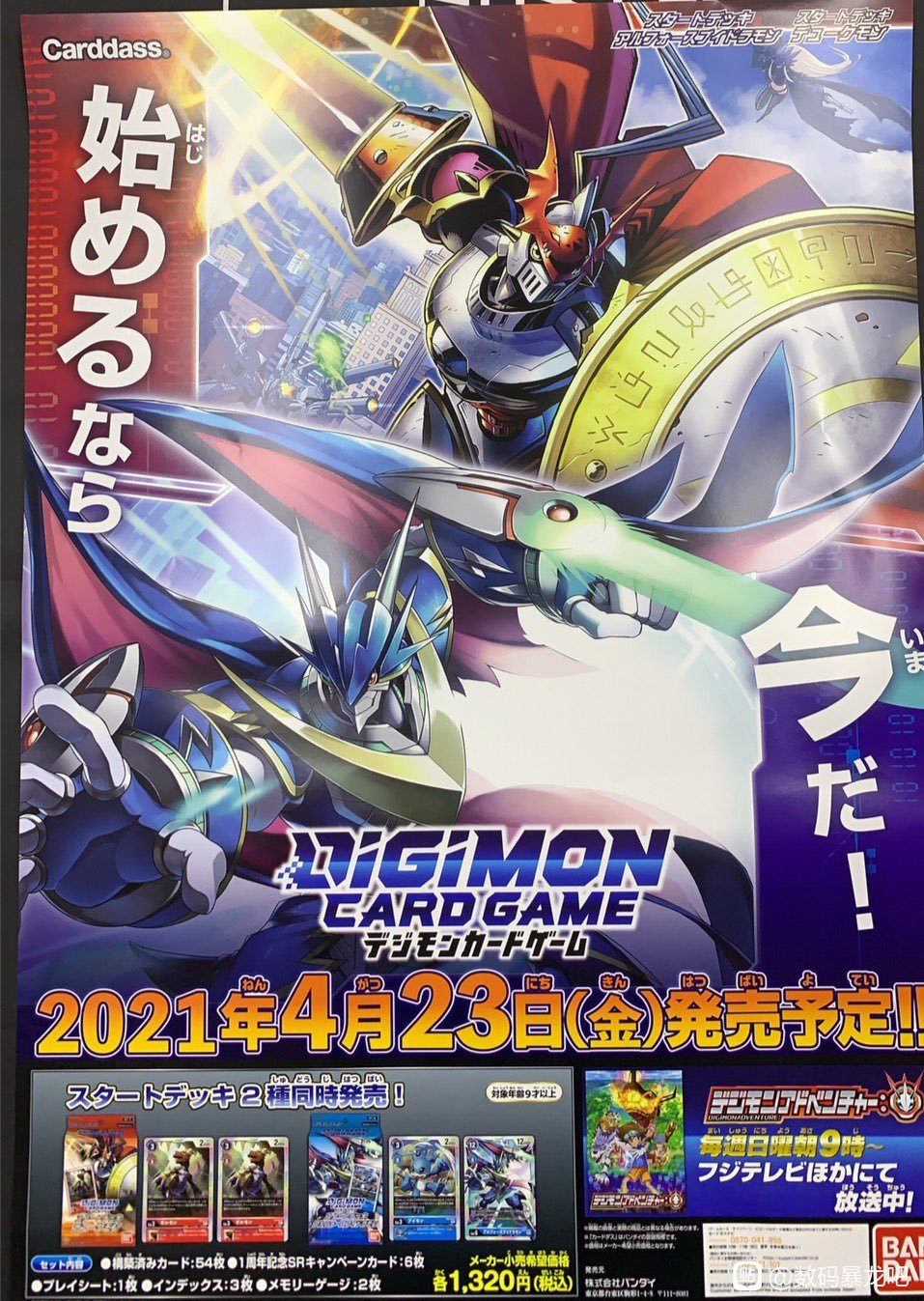 A promo poster for the new starter decks is showing up at stores in Japan.
This was sent to stores to promote the release of Starer Decks 7 & 8 next month and features the card art of Dukemon and ULForceV-dramon that also appears on the packaging of the new starter decks.
Nothing new here really, just a nice look at the art.
Plus a bit more...
​
From what little we can see of around the cards, it appears this is from a new issue of Card Gamer magazine.
The cards are Royal Saber and ULForce Saber, featuring Dukemon & ULForceV-dramon doing their signature blade attacks.
Interestingly, the ULForce Saber art appears to be a homage to similar artwork done by (ULForceV-dramon designer) Tenya Yabuno of ULForceV-dramon Future Mode a number of years ago, which was used in Hyper Colosseum.
The Dukemon art may also be a homage, but there is so much art of Dukemon it's a bit harder to pin down (the pose is also one that wouldn't be out of place from a number of anime and games.)
Card Gamer magazine often had a large spread for the Digimon Card Game, so hopefully we get more shortly.
Thanks to baidu and Weibo users for the images.
Previous Card previews for Starter Decks 7 & 8:
We have clean card images for Booster Set 5 Battle of Omega, plus Tamer Battle Pack 4, 4th Scene Vote, & Vital Bracelet Pack-In Cards.
We also just got our first details & images for
Booster Set 6 Double Diamond & the Dukemon & ULForceV-dramon starter decks and pre-orders are up!
Plus we have the first details
for the 1 year anniversary of the card game, including a number of fun things!
And images from previous Digimon Card Game releases:
Starter Decks 1, 2, and 3, and first 10 promo cards
Booster Set 1 New Evolution
Booster Set 2 Ultimate Power
V-Tamer Promo Cards
Purple/Black Promo Set
Tamer Battle Pack 1 and Tamer Battle Winner's Card
Booster Set 3 Union Impact
Starter Decks 4, 5, & 6, plus Tamer Battle Pack 2 & winner's Card 2, & 1st 2 scene vote cards
Booster Set 4 Great Legend, Tamer Battle Pack 3, 3rd Scene Vote, Dark Digimon Promo Pack, & Apparel Cards