Show User Social Media
Hide User Social Media
Joined

Sep 8, 2006
Messages

16,447
We have a few 'Digimon adjacent' songs that have been put together.
The first is the song "Hope to Hear Your Footsteps."
It features elements from:
Ayumi Miyazaki, longtime Digimon and anime singer
Jun Shison, actor and singer, probably best known as Right Suzuki in ToQger, and apparently Miyazaki's nephew.
Kenji Watanabe, longtime Digimon artist.
The song is by Miyazaki and Shison, with some end artwork by Watanabe.
Shison wrote about how he consulted and worked with Miyazaki on this song. How they are normally actors, artists, etc. and how he would be happy if he could make a song that might help those who listened to it.
He thought how those listening would be feeling, things they might want to say and do, and wrote the lyrics based on that. (It appears he may have actually asked on social media prior to that, and used that to write the song.)
No studios were used and it was all done in their homes. He hopes it might cheer you up even if just for 1 or 10 seconds.
He will continue communicating as he can and he thanks everyone who continues to fight. He looks forward to the days when he can laugh with friends soon.
He finishes with a thank you and he would be happy if you sing it.
Next up...
Home- I'm Sure We'll Meet Here Again is a song by the Anison Mountaineering Club, which was put together in much the same way as the prior one.
The club is anime song singers and staff, put together by Ichiro Mizuki. They go mountain climbing to look at views, go to hot springs, eat food, and also take commemorative photos.
The description reads roughly...
To family, home, to the place where friends gather, to the irreplaceable place...
Thinking about all the people I want to see at a place I think of as home.
It starts with Ichiro Mizuki and it is passed 'like a baton' between different people, a few of whom Digimon fans would be quite familiar with:
Takayoshi Tanimoto (singer from a number of Digimon songs, including the OP for Adventure:)
Hitomi Yoshida (Mimi in tri. and Kizuna)
Takatori Hideaki (singer for Blazing Blue Flare and Kiriha -Blue Flames- in Xros Wars)
Imajo (half of Psychic Lover, who did Tagiru Chikara! for Hunters)
Just a couple of fun songs that seemed worth sharing that aren't Digimon related, but are slightly Digimon adjacent.
A few other bits of news...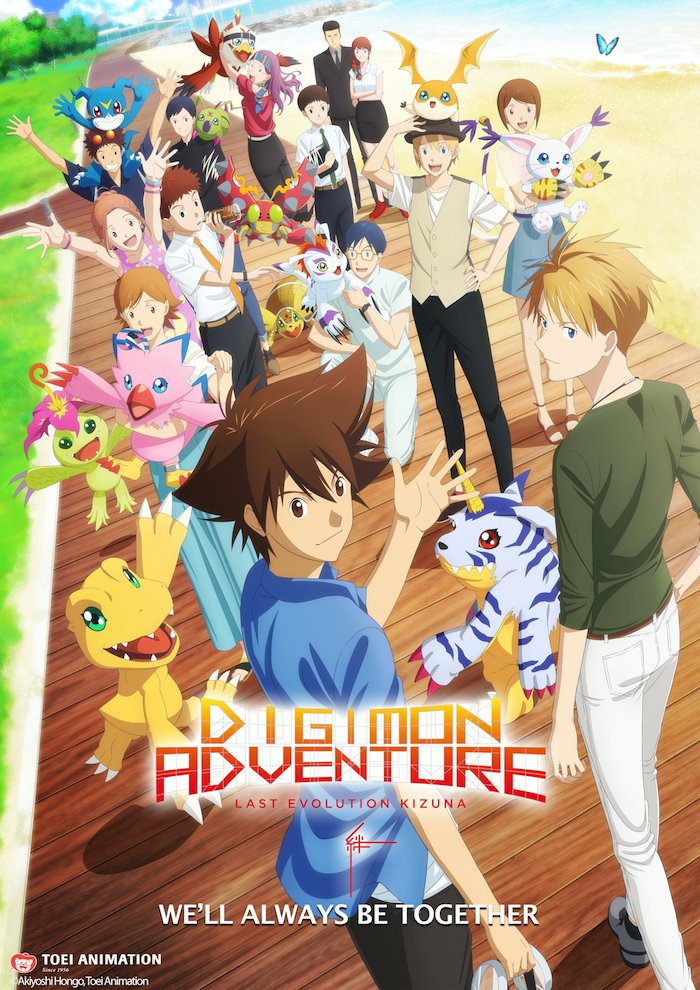 Kizuna never actually left Japanese theaters that we are aware of, but with the state of emergency being lifted in various areas of Japan, and more theaters reopening,
Kizuna has expanded a bit
.
It is currently in 8 theaters, with a 9th scheduled for July. Expansions and contractions in the theater schedule may be a bit random and haphazard and theaters reopen and try and figure out what to show.
Then some contest related updates that we won't go over in super detail, but just a quick mention...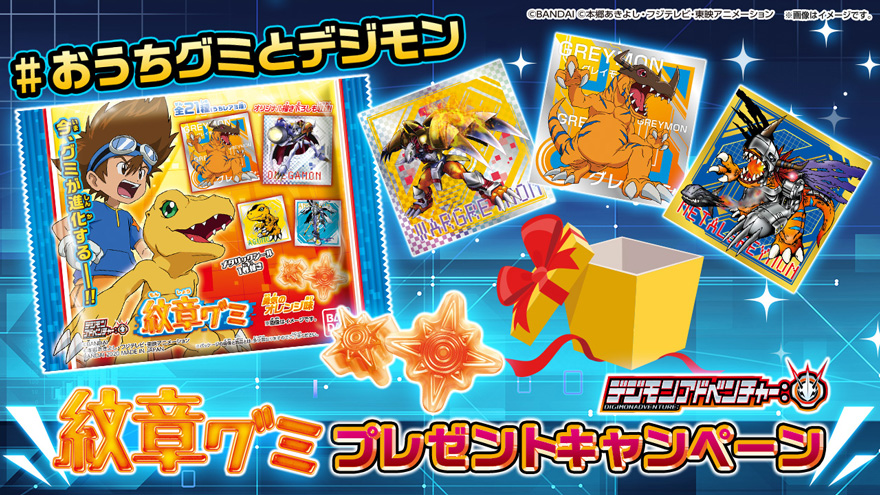 The gummies we went over in the past have come out in Japan, and various people have been showing social media images of them being bought up and empty shelves.
The official Digimon Adventure: Twitter is giving away packs in association with the Japan Gummy Association.
It ends tonight and 12 winners will each get 8 packs of gummies. They just need to:
Follow the Adventure: Twitter
.
Quote Tweet this tweet
and have the response have the hashtag #おうちグミとデジモン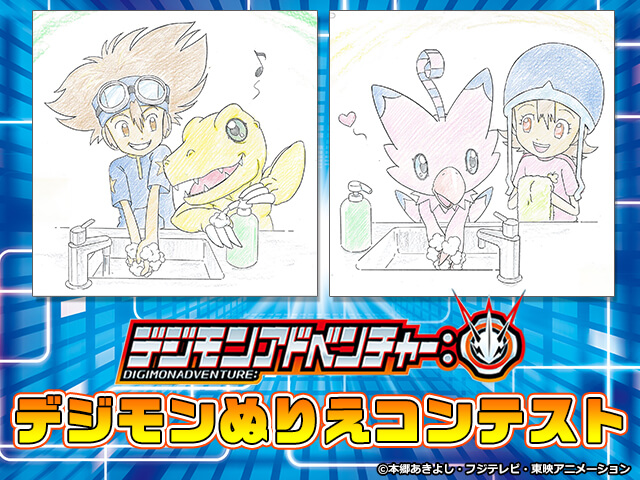 And then, the coloring sheets have been added to a second event,
a contest at the Bandai website Wonder School,
which is a site they run to "foster play and learning."
It's not inherently being done different than how
the coloring promotion was initially announced, which is still ongoing
, but you add the image to the Wonder School site if you are in Japan, and you get entered to win one of 10 sets of all 3 Digimon Card Game Starter Decks. It ends on May 31st.
They note it's OK to submit versions of both drawings.
And last up, one last bit of V-Jump news. V-Jump put up a video promo showing some of
the specialty content in the new issue of V-Jump
, which includes the various V-Tamer things included...