Show User Social Media
Hide User Social Media
Joined

Sep 8, 2006
Messages

13,210
A few different things to go over as the weekend is about to start...
First up, some social media images!
Digimon Web
started with a fun baseball image, and posted this message along with it:
After being beaten by Mamemon 3 times, Monzaemon heads to the batting center to swing out his anger.

With sharp eyes, he strikes at the pitcher, Cho·Hakkaimon!

Monzaemon sent two home runs flying to the left and to the right.

How many home runs can you hit?
Then they had one for a small celebration!
The Digimon Web Twitter
account officially passed having 50,000 followers, so we got a fun image of Whamon and Gomamon, along with a message:
Thank you for 50,000 followers!

The followers for Digimon Web Official is over 50,000!

Thank you! We will continue to do our best

Whamon excitedly tosses someone into the air

Gomamon is raised up high and is overjoyed!
And last was a photo...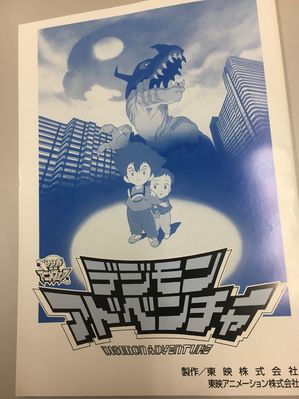 As part of the Stay at Home with Digimon promotion, various Digimon films, including the first Adventure movie are being streamed freely in Japan. They posted
a big photo of a copy of the script
from movie 1 along with explaining it was found during a recent warehouse move. (A smaller image is embedded, linking takes you to a much larger version.)
And tying in with the Stay at Home with Digimon promotion, the Digimon Web website began doing fan votes in April (Starting with who your favorite Digimon who appeared in anime was) and for May they are doing one related to the Stay at Home promotion.

The fan vote this time is
that with 6 Digimon movies being streamed freely, they wanted to know which of the 18 works is your favorite (including the 6 being streamed.) The selection includes 18 films, OVAs, specials, etc. You can vote on one, and the choices in order are:
You get to choose 1, in order:
Digimon Adventure (Movie)
Digimon Adventure: Children's War Game
Digimon Adventure 02: Hurricane Touchdown
Digimon Adventure 02: Diablomon Strikes Back
Digimon Tamers: Battle of the Adventurers
Digimon Tamers: Runaway Digimon Express
Digimon Frontier: Revival of the Ancient Digimon
Digital Monster X-Evolution
Digimon Savers the Movie: Ultimate Power! Activate Burst Mode!
Digimon Adventure tri. Part 1 Reunion
Digimon Adventure tri. Part 2 Determination
Digimon Adventure tri. Part 3 Confession
Digimon Adventure tri. Part 4 Loss
Digimon Adventure tri. Part 5 Coexistence
Digimon Adventure tri. Part 6 Our Future
Digimon Adventure Last Evolution Kizuna
Digimon Adventure 3d: Digimon Grand Prix!
Digimon Savers 3d Digital World in Imminent Crisis
Voting closes May 28th.
Next up, a coloring contest for those in Japan.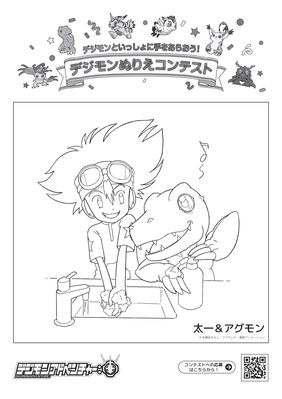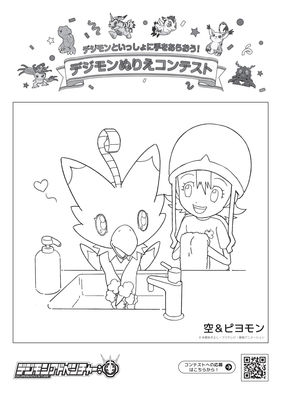 They opened up a website
for a small coloring contest for Digimon Adventure:.
On the page are two hand washing images, featuring Taichi and Agumon, and Sora and Piyomon.
To enter the contest you:
Color the images however you want
Follow the
Digimon Adventure: Twitter account
Post the colored image to Twitter with the hastag #デジモンてあらい
It runs thru May 31st.
Entries will be shown on the TV broadcast of Digimon Adventure: when the hiatus ends. Additional images might be put on Youtube, social media, in Japan and abroad.
The images can be colored however you wish. They provide a few different ways to do it:
A PDF on the website (we've extracted the pages and embedded thumbnails above that lead to larger versions.) These can be printed and colored with whatever you'd like.
They have a digital coloring tool on the page, which also allows you to save the image.
We've nabbed the PNG version of the small and large version of the files shown on the site also. We've left the alpha layer on these, so they will look a touch odd embedded here: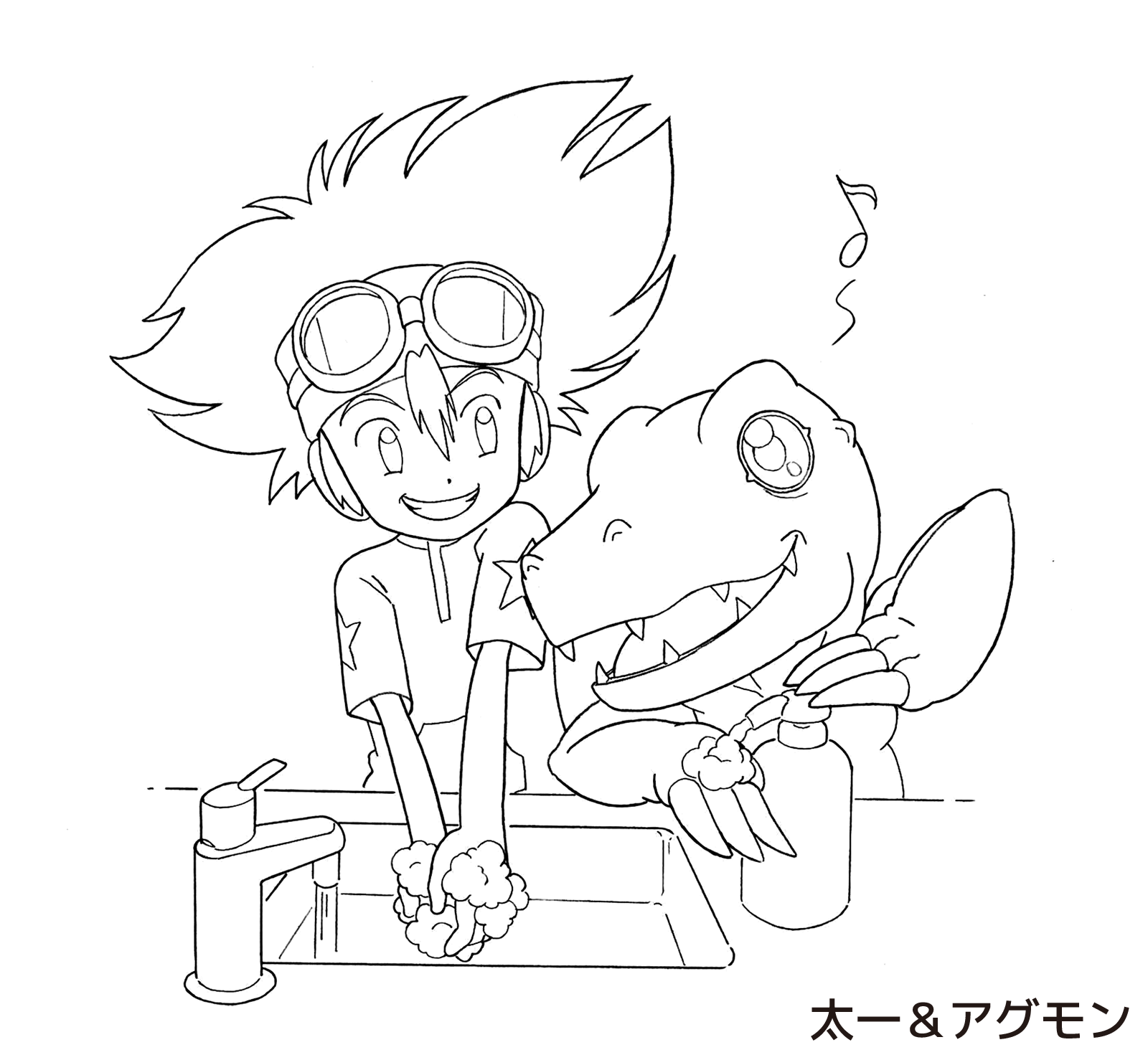 Next up, a couple of sale items of interest...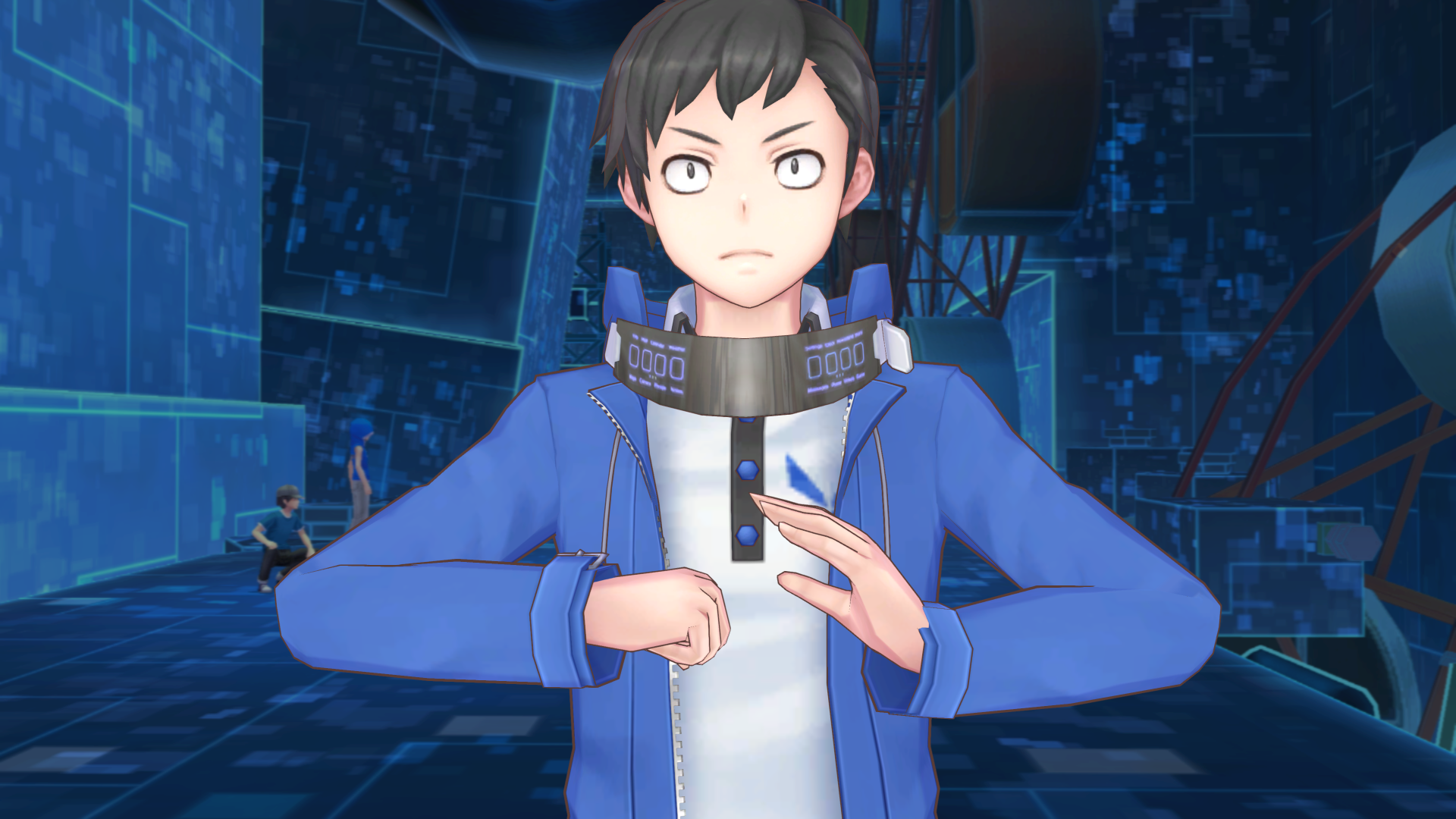 Cyber Sleuth Complete Edition
is currently part of Steam's Golden Week sale thru May 6th. If you were waiting to nab the game on PC, it's $30 bucks now!
We went over some of the technical details of the PC version
in our review
of Cyber Sleuth Complete Edition.
Digimon Story: Cyber Sleuth- Complete Edition for Switch is currently available to order for $39 on Amazon: (Affiliate link)
Digimon Story: Cyber Sleuth- Complete Edition (Nintendo Switch)
The digital Nintendo Switch version is available on
this page
and on your Nintendo Switch.
And not a sale, but perhaps an item you missed buying...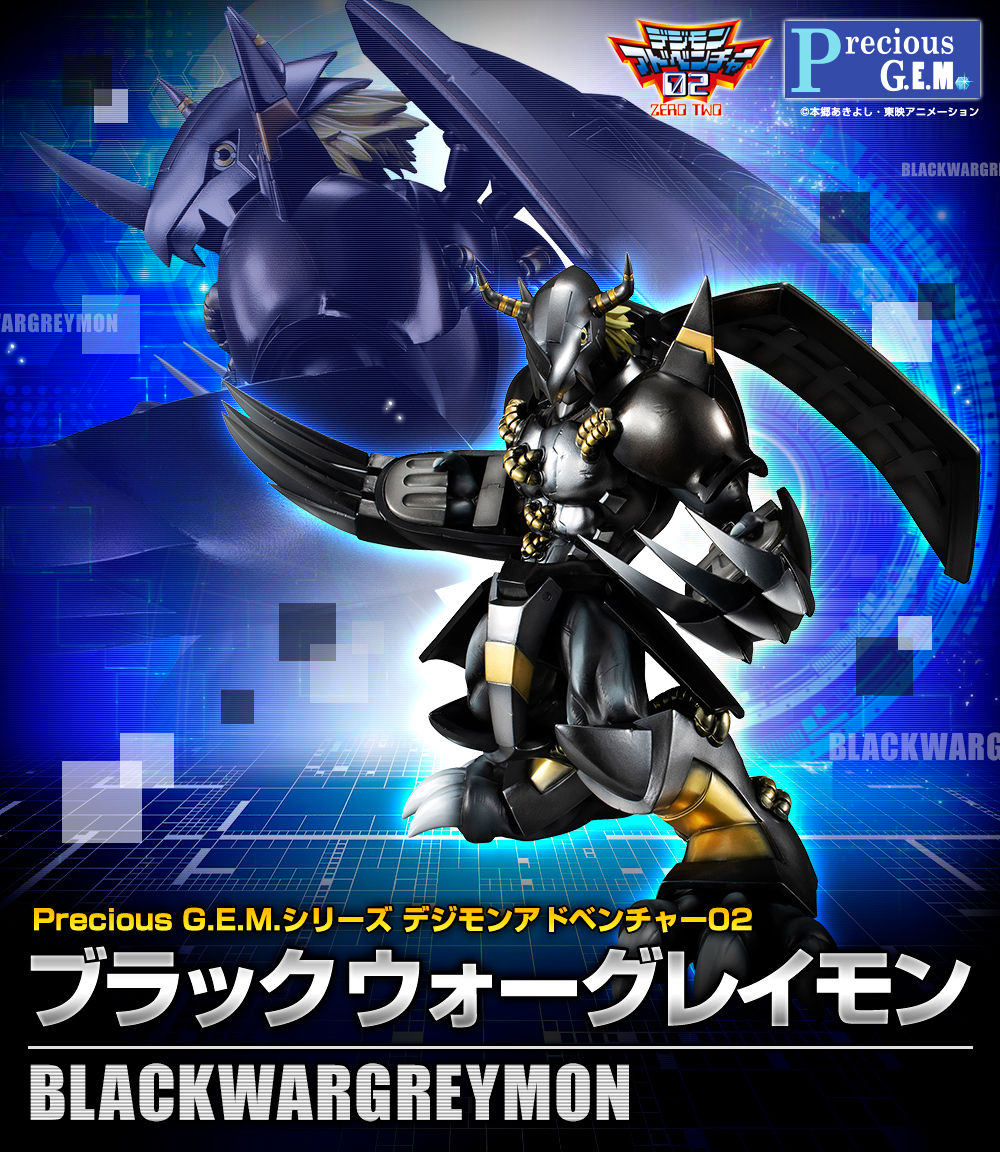 If you missed out on Precious GEM BlackWarGreymon,
the Crunchyroll store has put him up for order again.
And last, but not least, card game update!
New card preview from the Digimon Card Game!
The Digimon Card Game Twitter
has updated again with a look at more cards from Booster Set 1 New Evolution. This time it's 2 option cards that feature WarGreymon: Brave Shield and Brave Tornado.
The scaling issues continue, but both feature nice artwork that is quite different. Brave Shield uses an anime styled image of WarGreymon using the Brave Shield, while Brave Tornado uses a bit more of a painted flare, showing him straight on in the midst of his spinning attack.
The Digimon Card Game starter decks have been released and Booster Set 1 is scheduled to release on May 15th.
Previous card previews for Booster Set 1:
A bunch of fun stuff as the weekend starts!