Show User Social Media
Hide User Social Media
Joined

Sep 8, 2006
Messages

12,880
Stack of things to go over for the weekend!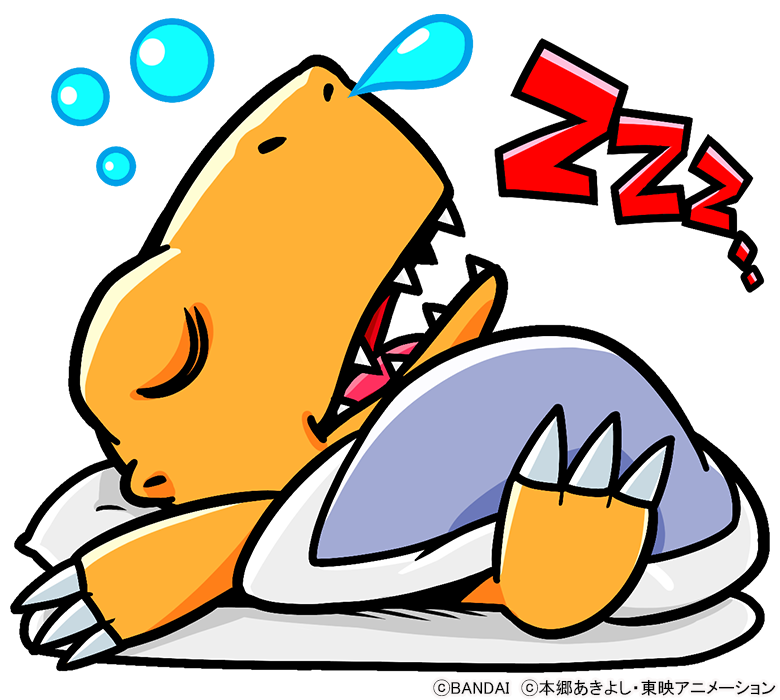 Another hiatus week for Adventure:,
although as we found out earlier
, it's back next week! The artwork is the same Agumon sleeping that we got a few weeks ago, although
the message is new
:
Good morning everyone. Digimon Adventure: is currently on hiatus. At 9am is a rebroadcast of Gegege no Kitaro Episode 14, Makura-Gaeshi and the Fantastic Dream. Agumon is asleep, is he dreaming of meat? It's almost time to get up and watch it.
Next up...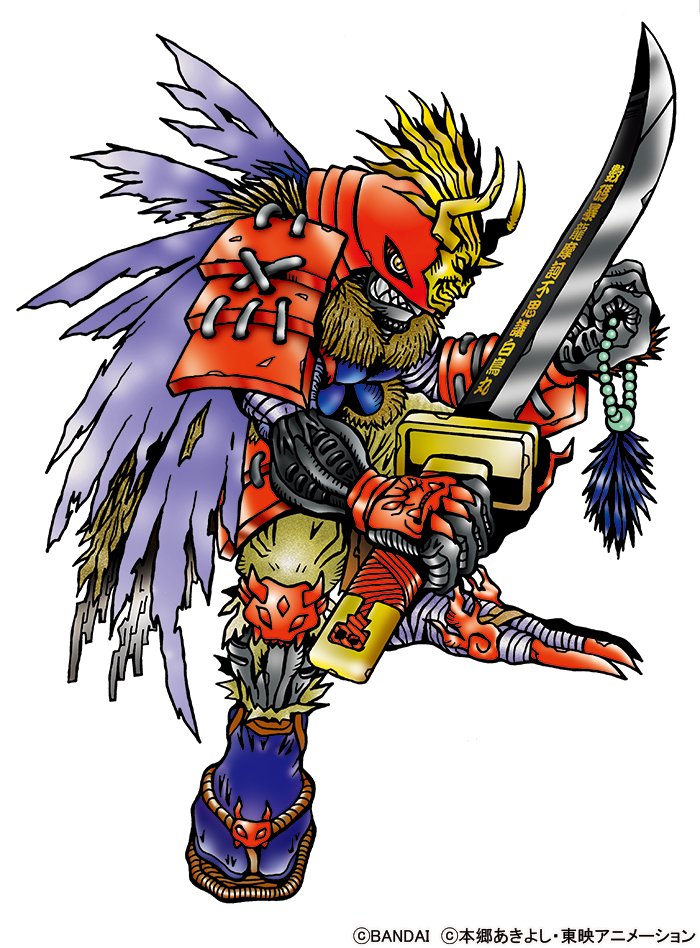 More large Digimon art from Bandai on Twitter. This time we get another sizeable batch.
No translations of the profiles, since they're all shortened versions of profiles we already have (and anytime we put these up, some of them we may have already had large art for.)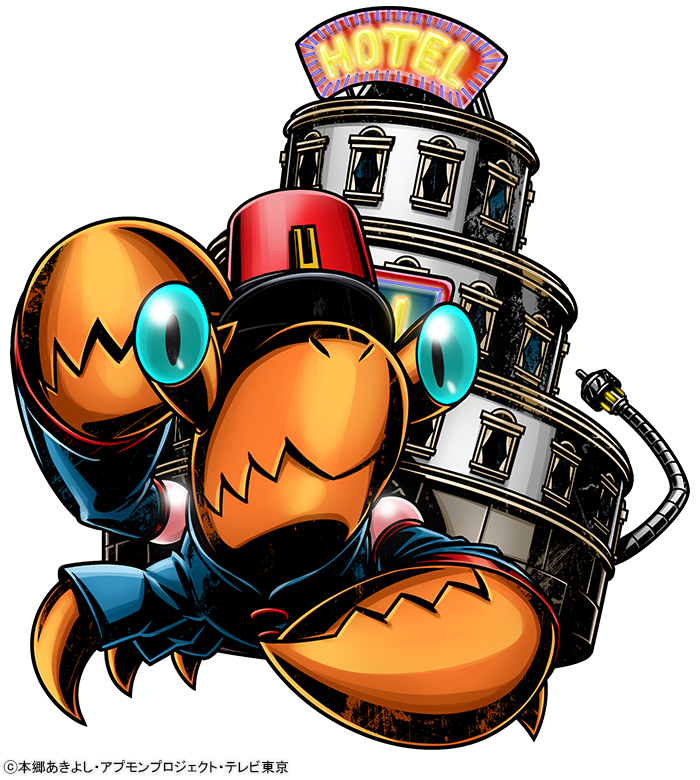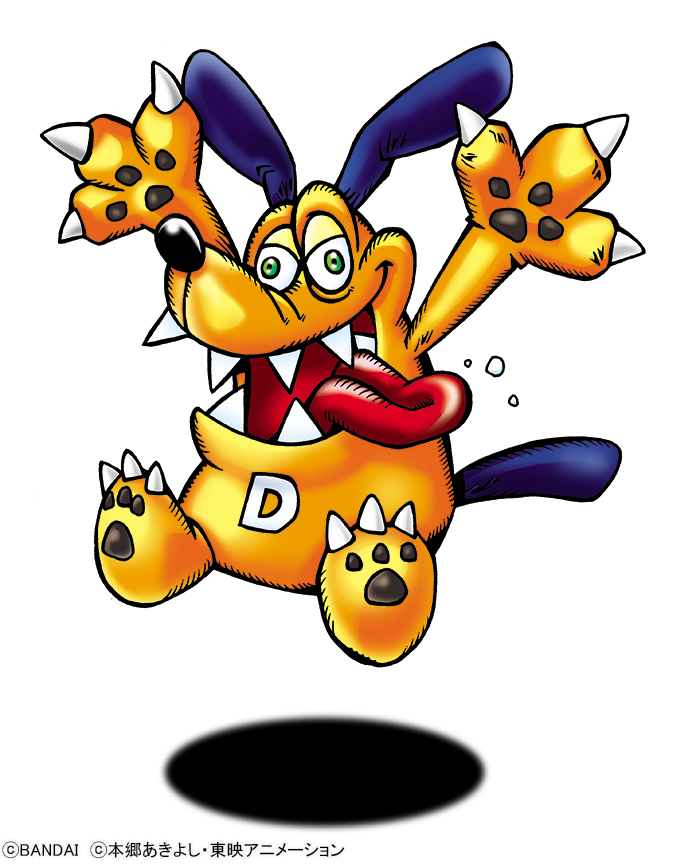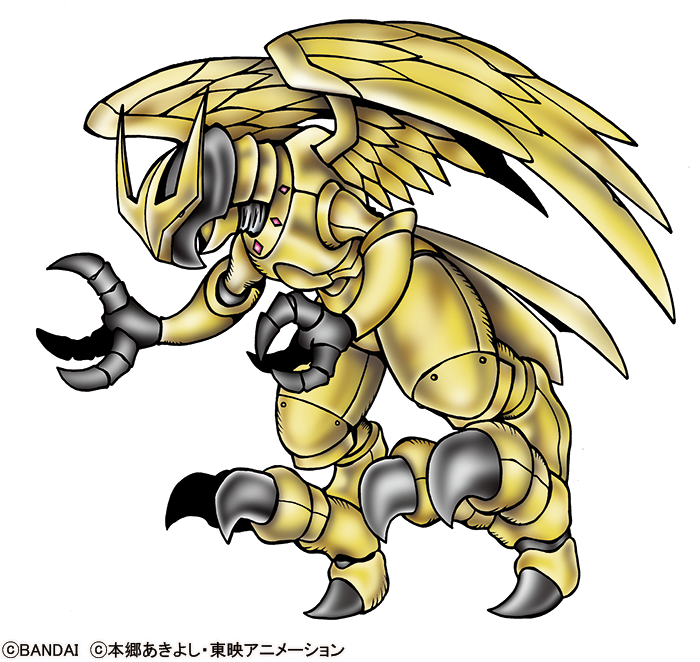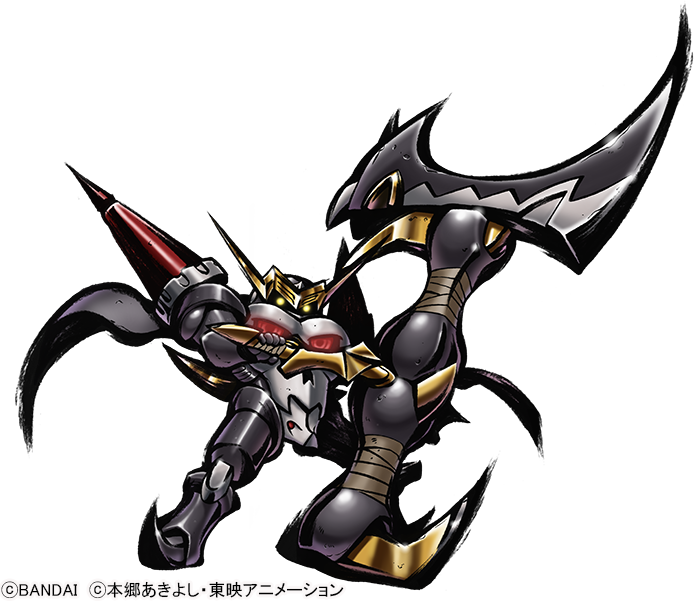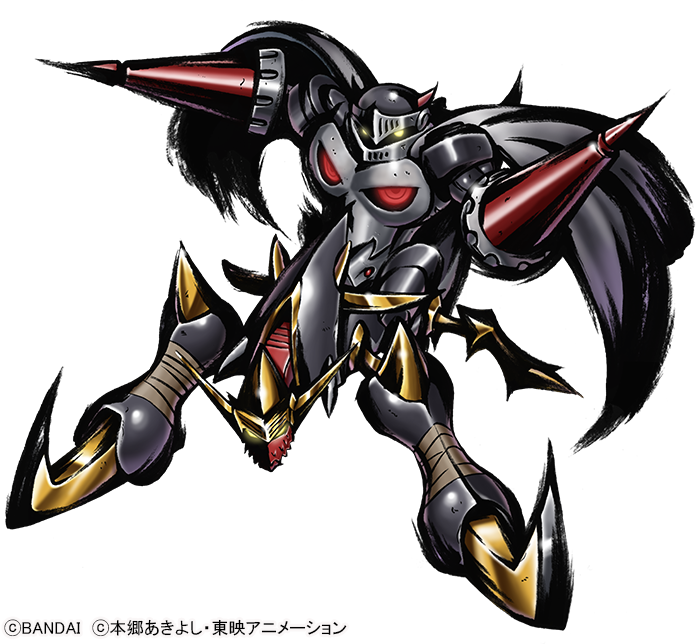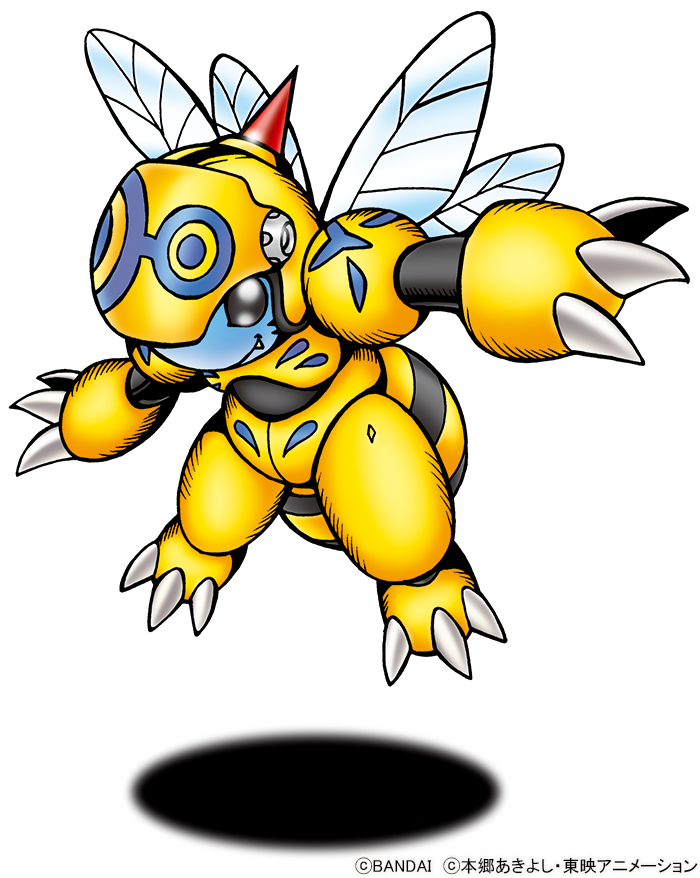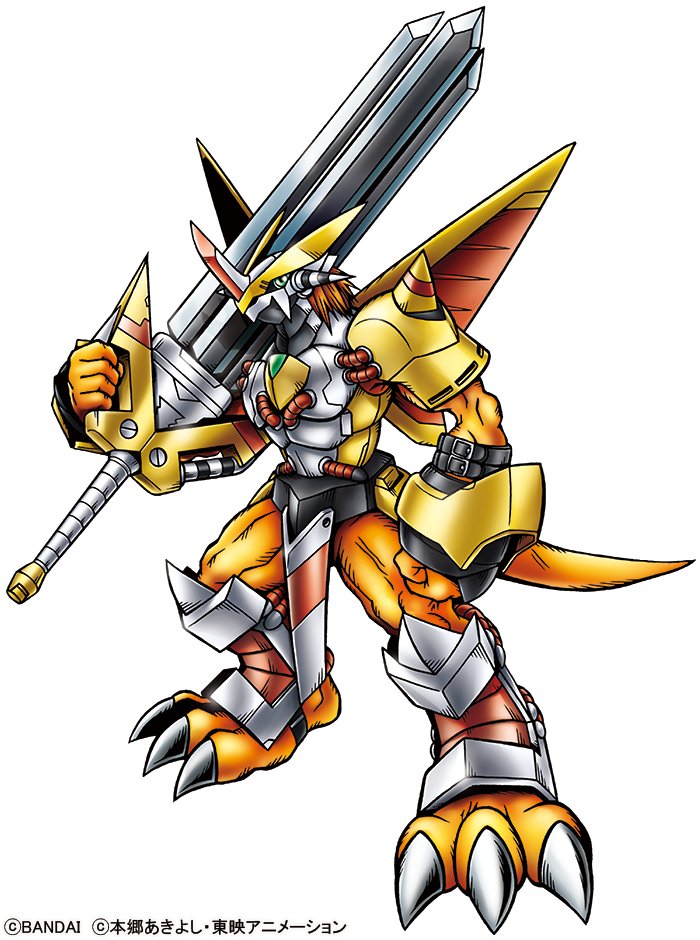 Included this time are
Musyamon
(up above),
Yadomon
,
Dogmon
,
Crossmon
,
SkullKnightmon: Big Axe Mode
,
SkullKnightmon: Cavalier Mode
,
HoneyBeemon
, and
VictoryGreymon
to finish out the week!
On top of that is a small reference book update. And this time we actually get quite a bit for the 'one' update...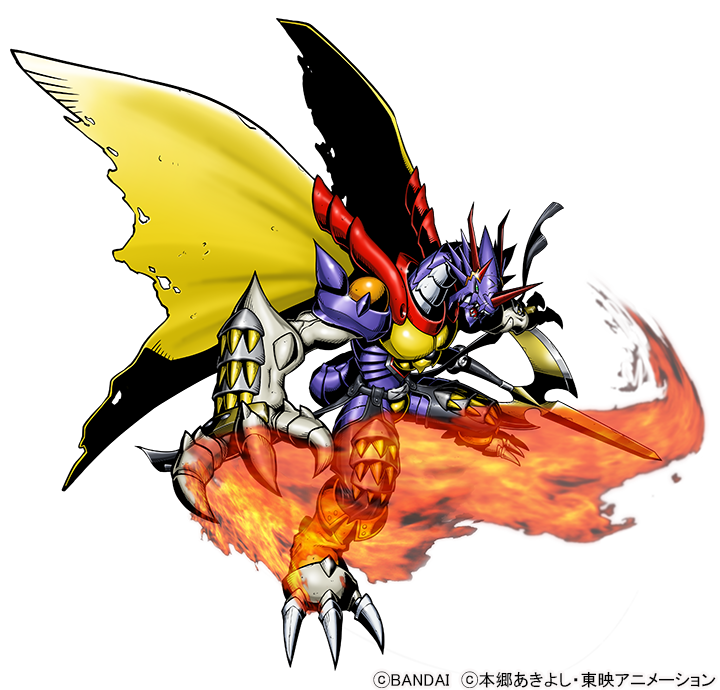 It's
Arresterdramon: Superior Mode
! And
larger artwork for him
was shown off also!
And thanks to onkei for translating the full profile they put up for him...
Arresterdramon: Superior Mode
Level: Xros Wars
Type: Dragon
Attribute: N/A
Special movies: Blaze Spiker, Mach Flicker, Flog Shot, Spin Caliber, Spiral Shredder, Prism Garrett
Profile:
The stronger form of Arresterdramon that he attained from wishing to be strong and wearing the kinkoji that appeared as a result. He has an unusual appearance: giant wings that increase his power of flight, a giant tail anchor that is sharper than before, and a right arm with immense destructive force that appears to have belonged to Bagramon.
Normally the kinkoji is meant to inhibit power, but as it appears to have the opposite goal of granting power, this is proof that the kinkoji has recognized that Arresterdramon will use its power justly. With this rapidly increased power, he faces down villainous Digimon.
His special move is the flaming palm heel, Blaze Spiker. By using all of his might, he can penetrate any tough defense.
Next up, a small update on the
coloring activity/contest
.

They are extending
when the artwork can be sent in until June 30th.
In addition, they've announced that ones chosen at random will begin to be shown when episode 1 of Adventure: airs next week.
Next up, some music news.
Chiai Fujikawa's tour for her new album couldn't be held as planned for obvious reasons, so they've decided to hold a livestream concert.
It appears the plan is for her to perform all the songs from the new album, which would include the Adventure: ED, "Regrets Bring Fruit".
At the moment it doesn't appear they plan to lock the concert by region. It will be June 6th at 8pm in Japan (4am Pacific,
more converted times here
.) The video embed just above is for the livestream.
The album is still available if you want it: (Affiliate links below.)
The standard edition
is just the album and is 2,000 yen.
The limited edition
is 3,182 yen. It includes the album and a DVD with over half a dozen music videos and clips (none of the videos or clips appear to be Digimon related.)
Then an update to something from earlier in the week...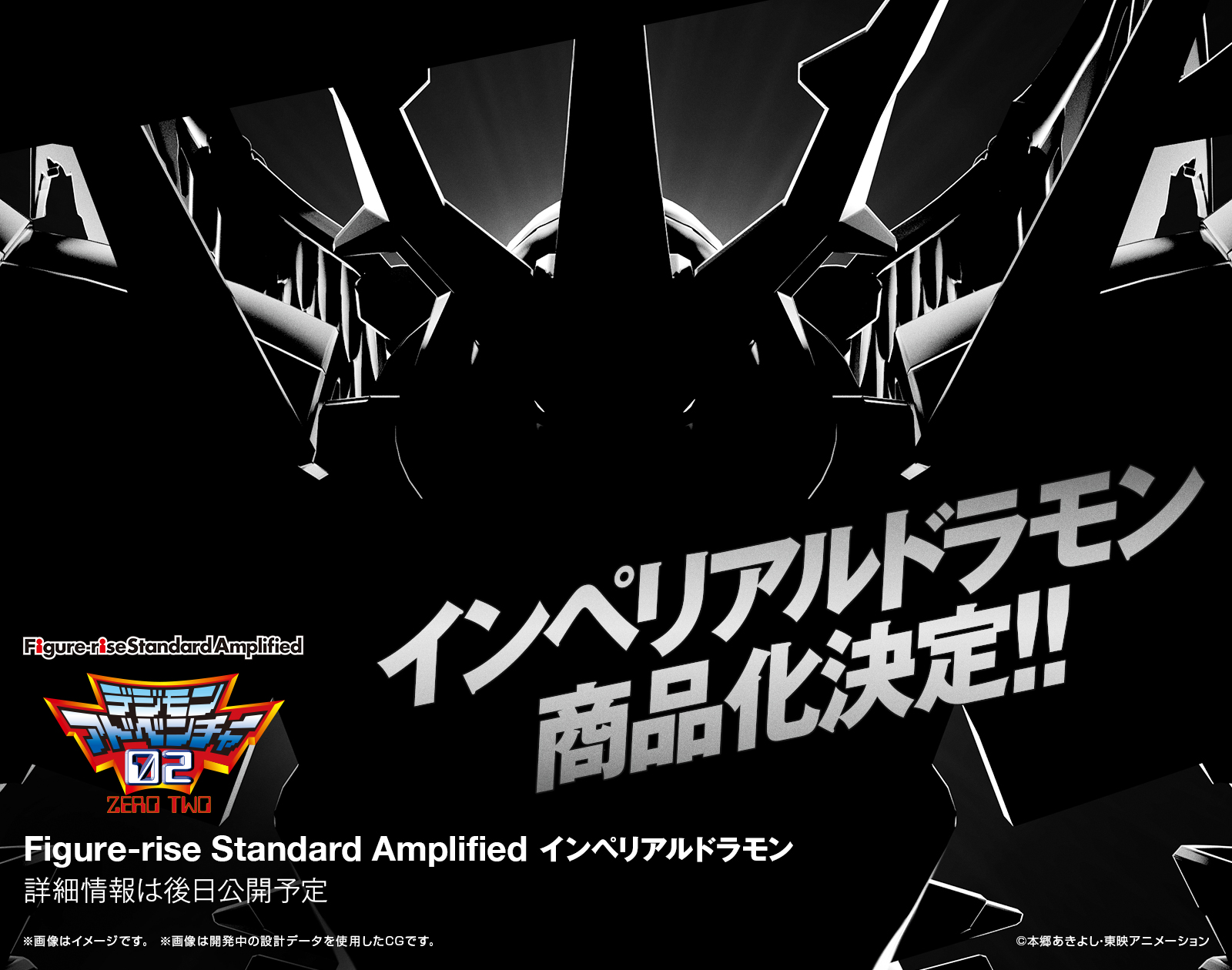 When the Imperialdramon Amplified model kit was announced, it had comments from Seki Hiromi and Kenji Watanabe.
Those have been translated and added to the original article
.
Then a couple of Kizuna updates...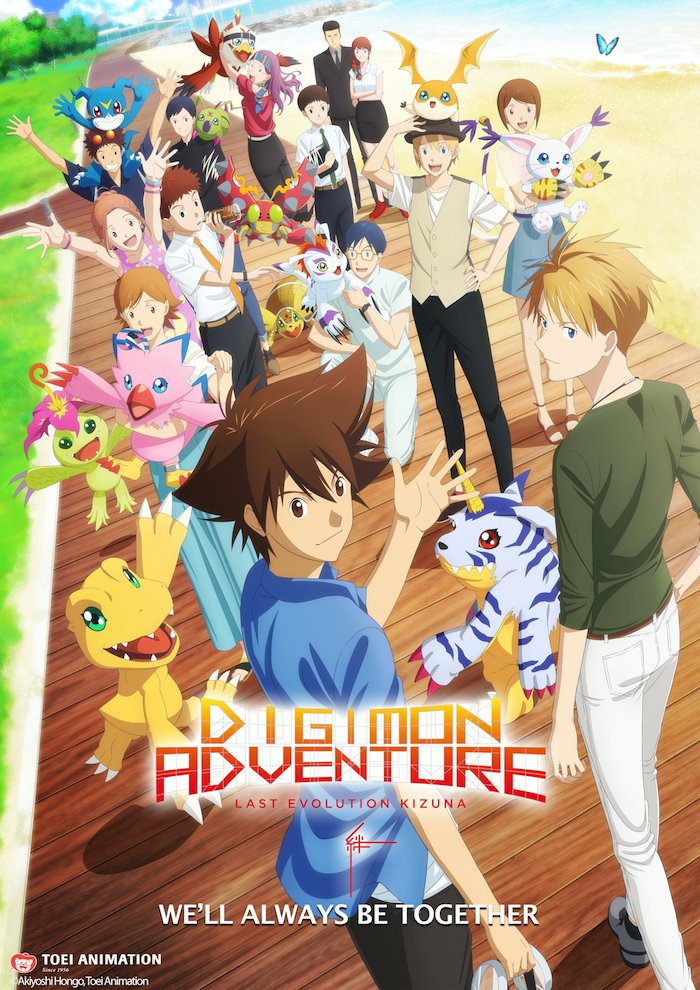 With more theaters in Japan reopening, Kizuna was up to 13 theaters
last week
(with 5 more between then and July.)
It now has
26 listed. A number of these are open, a few more open in the next couple of weeks, and still that one in July.
On top of that, the movie has opened in Hong Kong and Taiwan and been doing quite well, with
the Digimon Adventure 20th Twitter
pointing out it was number 1 with an image someone took and sent in to them.
A friend of the site in China sent in a stack of these because they were quite happy to see it doing well (including the one sent to the official Twitter.)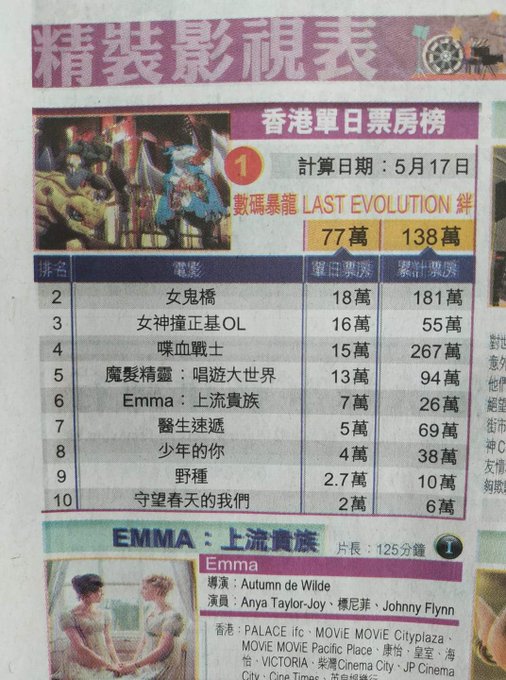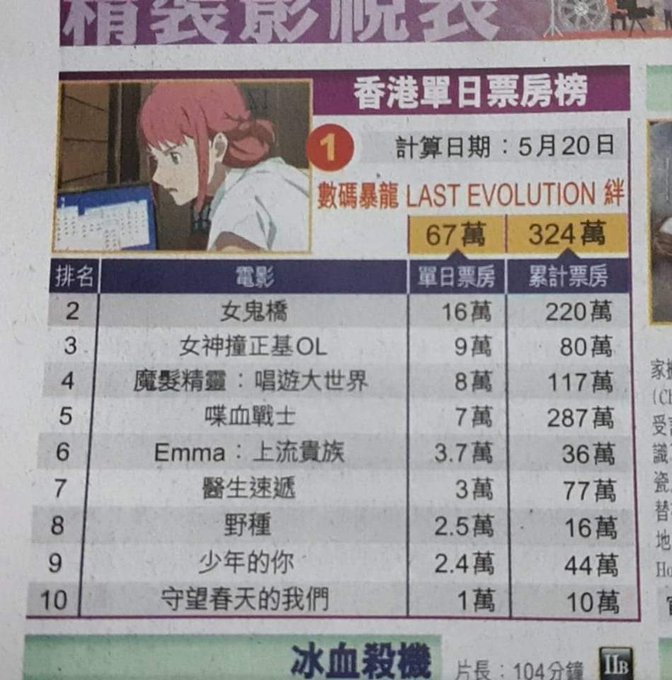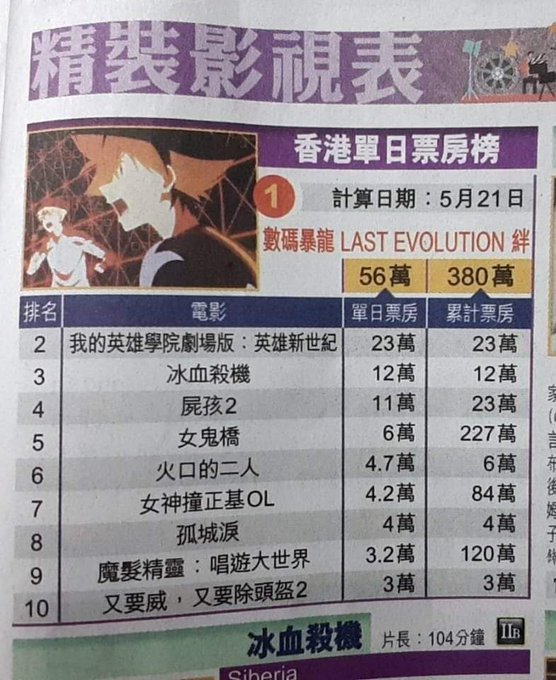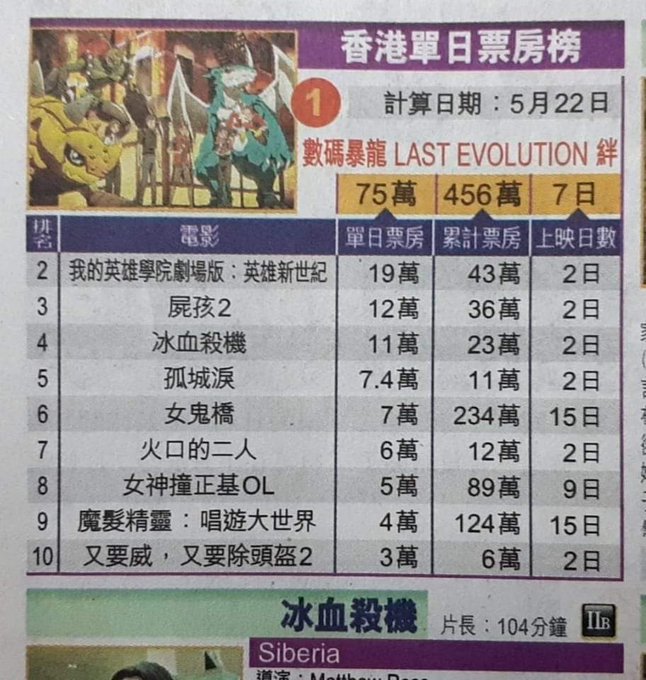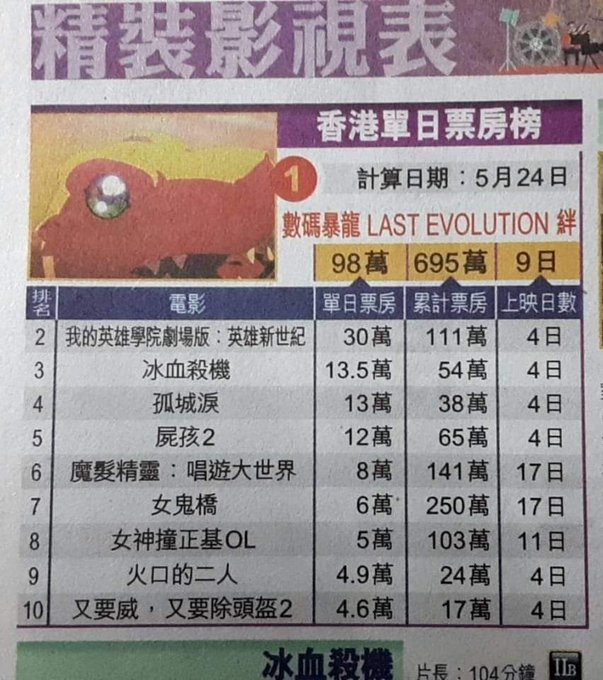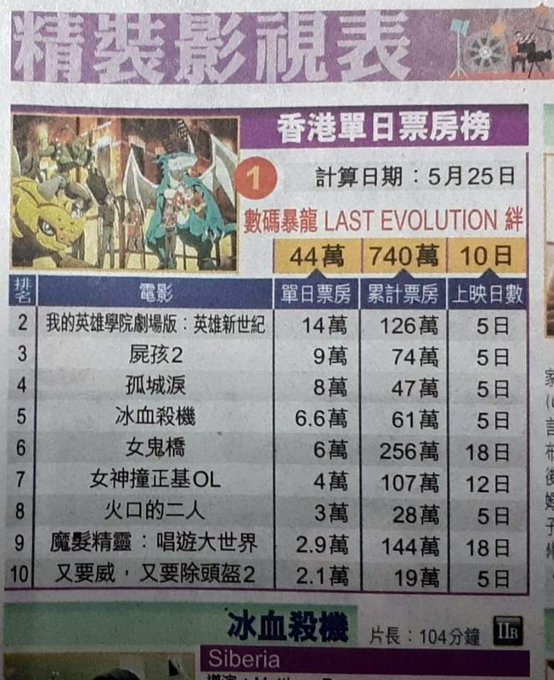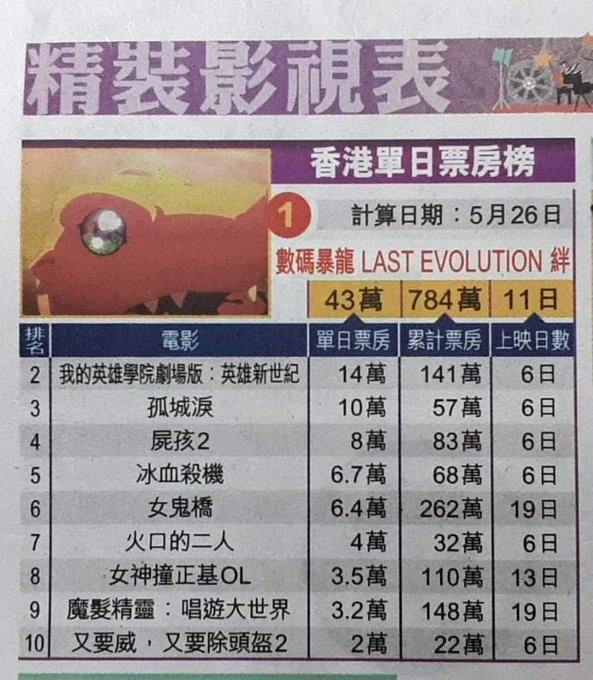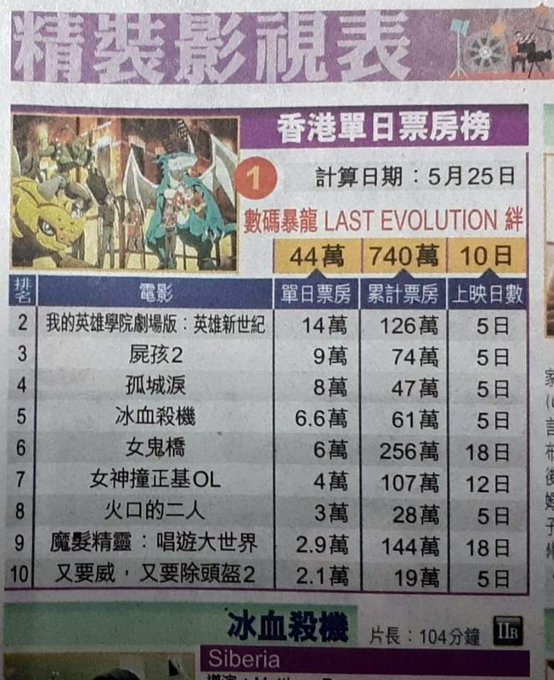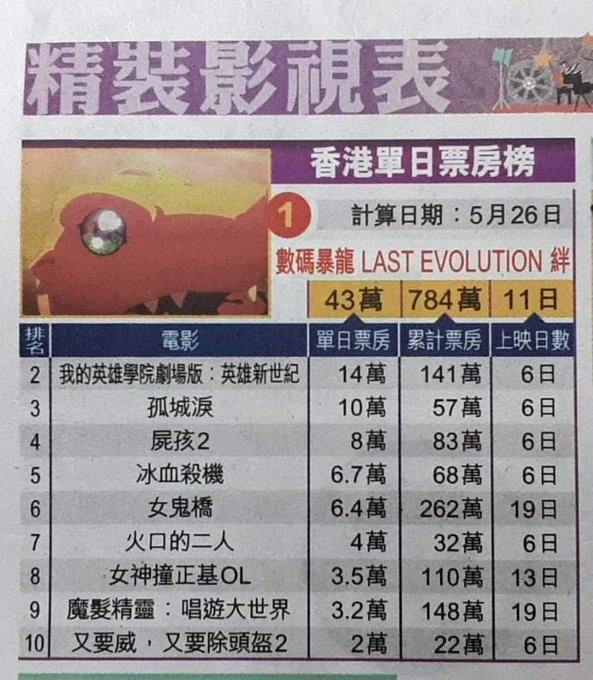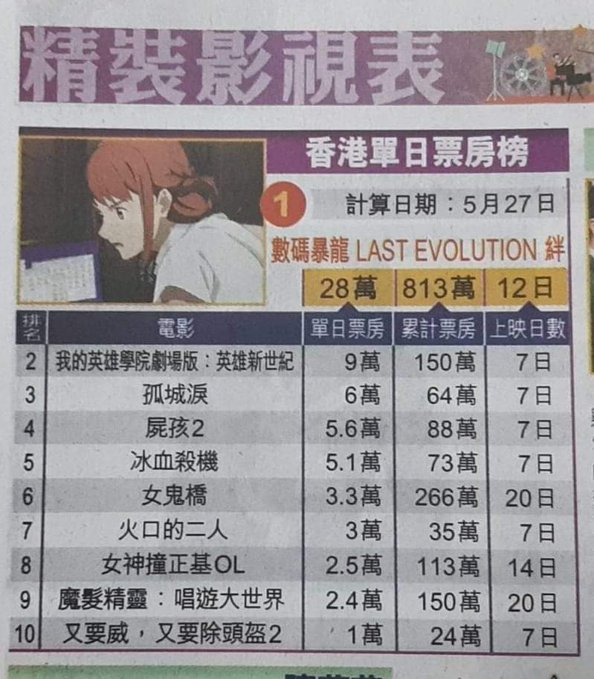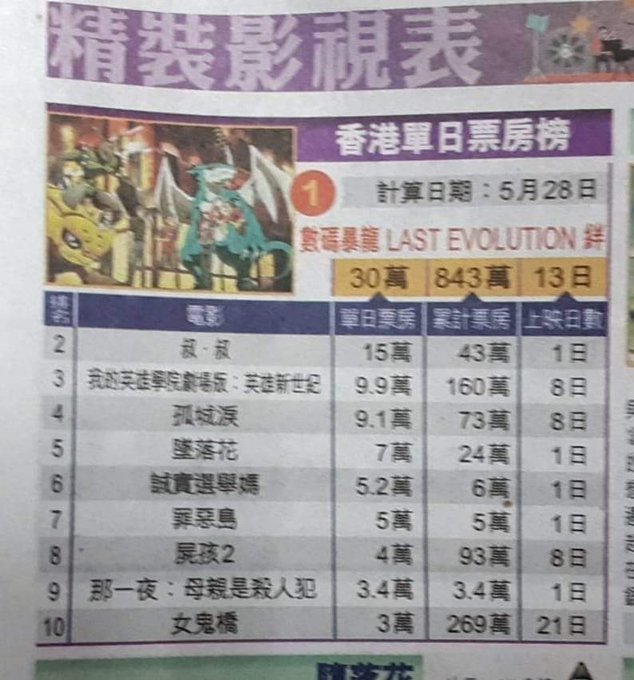 It was number 1 in Hong Kong quite a bit. It appears only a limited number of theaters are open at the moment, so it's take is roughly $1 million at the moment, but that's a nice addition to what it did in Japan.
And last up...
Jeff Nimoy's movie Fame-ish
came out.
I mentioned it awhile back, and we discussed it a bit on the
most recent podcast
, but I forgot to mention it had come out for anyone on the site who wanted to get a copy to watch.
The movie had some good Digimon references in it, and for anyone dissapointed that Brian Donovan won't be in Kizuna, they might enjoy him playing an evil-ish Brian Donovan here, including a bit of talking in the film with his Davis voice.
Jeff wrote a bit about the film
here
.
If you want to watch it it's available on a number of digital platforms, but here are two of the bigger ones:
iTunes
(I nabbed it here because it was available in 4k.)
Amazon
(affiliate link)