Show User Social Media
Hide User Social Media
Joined

Sep 8, 2006
Messages

13,174
A few small updates...
Adventure: is still on hiatus, so
Digimon Web put up some social media art
, and some text, regarding 2 fans enjoying the Kitaro repeats that are playing while Adventure: is off air:
Good morning everyone

Digimon Adventure: is on holiday this week also

At 9am is a rebroadcast of Gegege no Kitaro Episode 2, Terror! Miage-Nyudo.

Vamdemon

and Ogremon

also enjoy watching Kitaro~.
Next up, Adventure director Kakudou
put up an image
he found while cleaning...
Side by side art of all the main heroes from each Digimon series from Adventure thru Hunters. He dates it to roughly 8 years ago, which is pretty close to when the crossover finale of Hunters aired, so it makes sense.
The note on it mentions that Taichi, Daisuke, and Masaru are drawn at heights that are different from their design concepts and asks viewers to 'adjust' that difference in their minds.
Thanks to onkei for the translation of the note.
Then, an Ani-On update.
Ani-On Station closed
due to coronavirus before
the Kizuna 'Part 2' content
could begin, which was to heavily feature the 02 characters.
We knew some people in Japan were still getting some of it, and it was from Torumo. Namco uses Torumo, their online crane game service, for giveaways and online crane games, and they currently have the acrylic sheets of the Kizuna Part 2 Ani-On content as prizes.
Not sure how easy it'd be to deal with it from outside of Japan, but if you want...
Main Torumo Page
Ani-On Kizuna Part 2 Acrylic Sheet (1st listing)
Ani-On Kizuna Part 2 Acrylic Sheet (2nd listing)
And last up, some fun streaming news for those in Japan!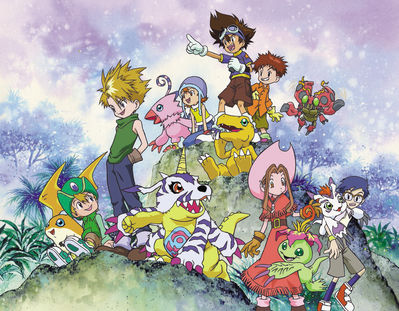 Netflix Japan has announced they have the original Digimon Adventure
!
That doesn't help most of us, but more places to stream anywhere is a good thing.