Show User Social Media
Hide User Social Media
Joined

Sep 8, 2006
Messages

16,402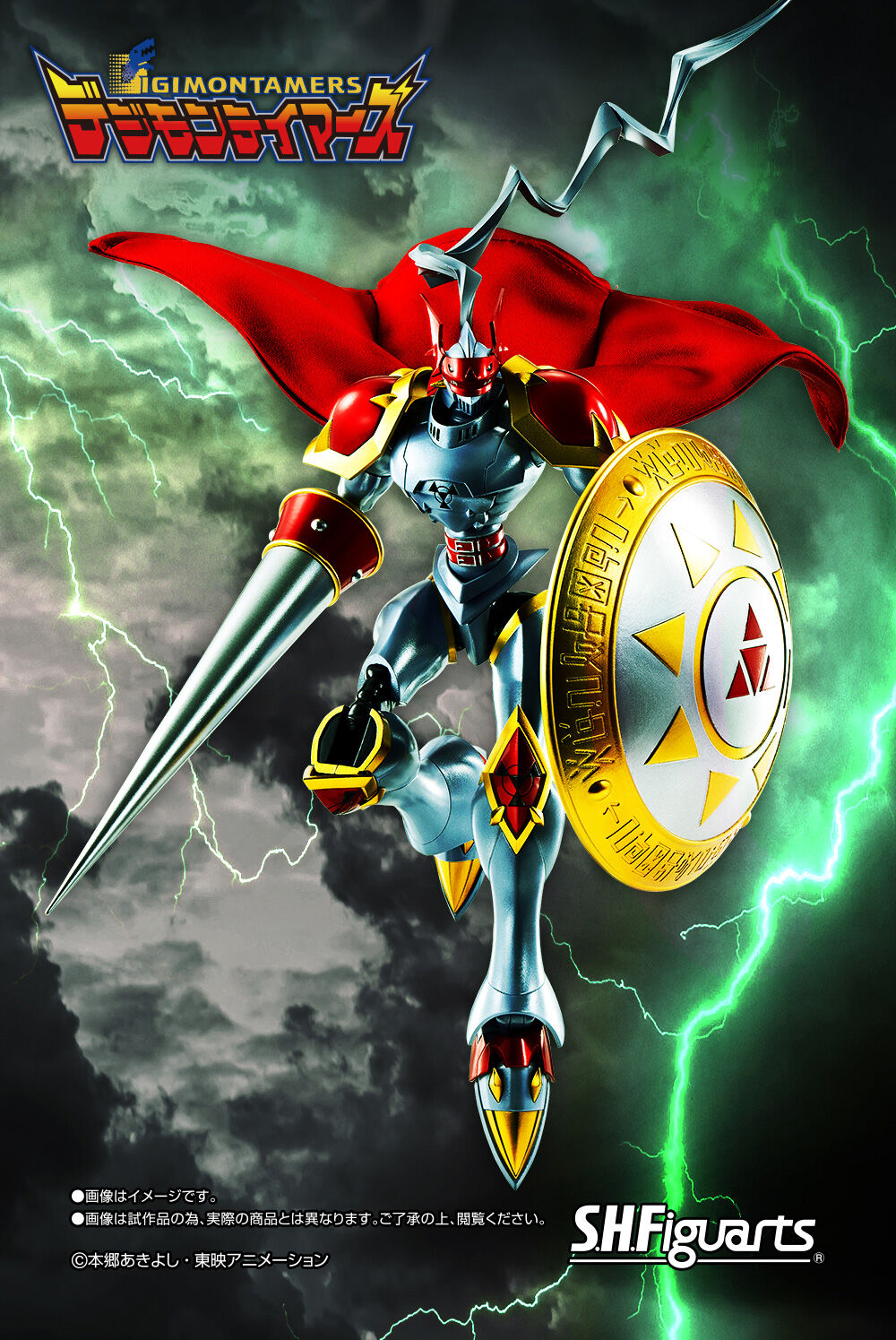 It's been a bit of a wait, but it's time to pre-order SH Figuarts Dukemon Premium Color Edition!
The newest Digimon Figuarts is the first all new Figuarts mold the franchise has gotten in awhile, with the other Premium Color Editions being existing molds with upgrades.
The very fancy new Dukemon figure is also subtitled "The Rebirth of the Holy Knight".
​
As mentioned, this is a completely new figure of Dukemon/Gallantmon, and a large number of design elements are based around playability and posing.
The shoulders use a sliding mechanism so that it doesn't block the face or chest when the arms are raised. The same is also done in the legs/waist.
The joint connectors in the chest allow leaning forward poses with an impressive look.
The ankle also has a slide mechanism which expands the range of motion and allows better contact with the ground.
This was all done to have more "powerful" poses.
Dukemon's armor uses smooth pearl and metallic paints. Gram & Aegis use three types of metallic paint for a brilliant texture.
The paint actually appears to be a significant upgrade over
early prototypes shown off at events
.
The outer edge of the cloth cape has wires to allow it to be posed in detail.
They pose the figure in a number of poses that will be familiar to Dukemon fans to show off just how detailed the posing can be thanks to the new joints.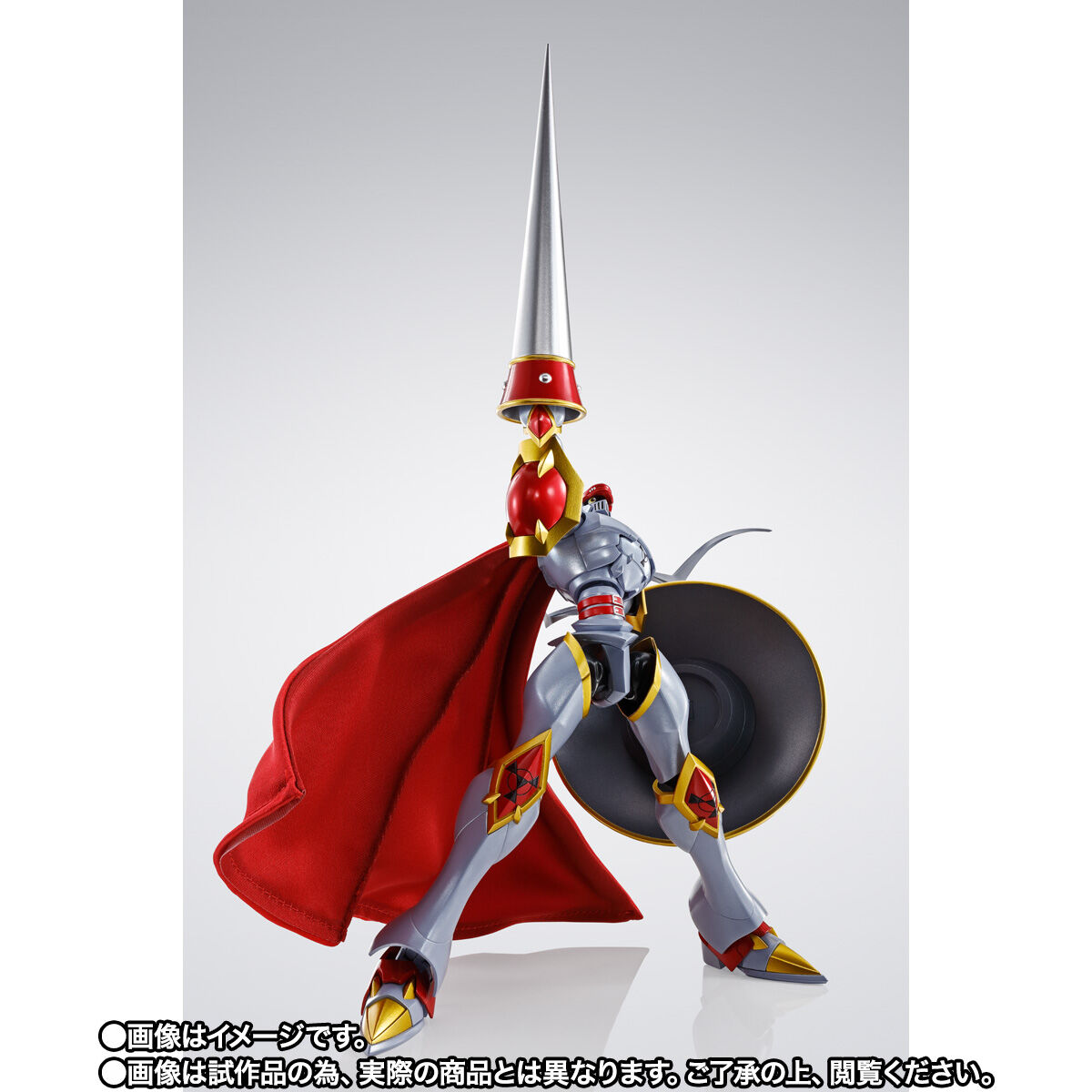 The figure includes:
Main Figure
Changeable wrists
Cloth Cloak
Holy Lance Gram
Holy Shield Aegis
Head Parts
Joint for stand
Stand set
The figure is about 6.9 inches tall.
Pre-orders for SH Figuarts Dukemon Premium Color Edition open a bit under 35 hours at the time of this post at Premium Bandai
. It costs 9,900 yen and will ship in July. They aren't announcing the closing pre-order date, but note once they hit a certain number they may close earlier than they plan to.
Really nice looking figure, with the joints allowing some really impressive poses. With the Japanese marketing text already having both Dukemon and Gallantmon, this one showing up to pre-order in the West likely makes it worth it to wait. Possibly the 'mystery' item
Premium Bandai US was teasing
.
But if you can't wait...
Premium Bandai Japan is currently harder to access, so a bit extra for those who want to pre-order and not wait to see if there is an international release.
Some intermediaries will want not only the urls of the items above, but may ask for the product name in Japanese as written on the page:
S.H.Figuarts デュークモン -聖騎士再誕-
In addition, Nippon-Yasan should be considered defunt at this point. If you have outstanding orders you have paid for, go file a dispute with your method of payment for nondelivery of merchandise.
If you want to be sure to nab something...
We've currently pared down the list of intermediaries we list due to some places closing and others becoming iffy in their communication, calling into question their reliability. If you have any stories, positive or negative, about any intermediaries, DM me with them so we can figure out who might be worth adding (or re-adding), since these aren't affiliate links or anything, simply suggested ways to make it easier for fans to nab stuff.
You'll want to contact an intermediary to get these items sent to you. WtW is not affiliated with any, but here are a selection of intermediaries that have worked well for various WtWers and their friends in the past:
From Japan
Rider Proxy
You'll want to provide your chosen intermediary with the link to the item. Just copy paste the link to the product pages for what you want and send them a message about it and they'll take care of it after they discuss pricing and their policies with you. The links embedded in the news article for the products are exactly what you'll need to send them.
Some of the intermediaries have a full storefront and may have the item listed, so you may want to check that first.