Show User Social Media
Hide User Social Media
Joined

Sep 8, 2006
Messages

15,593
V-Jump time!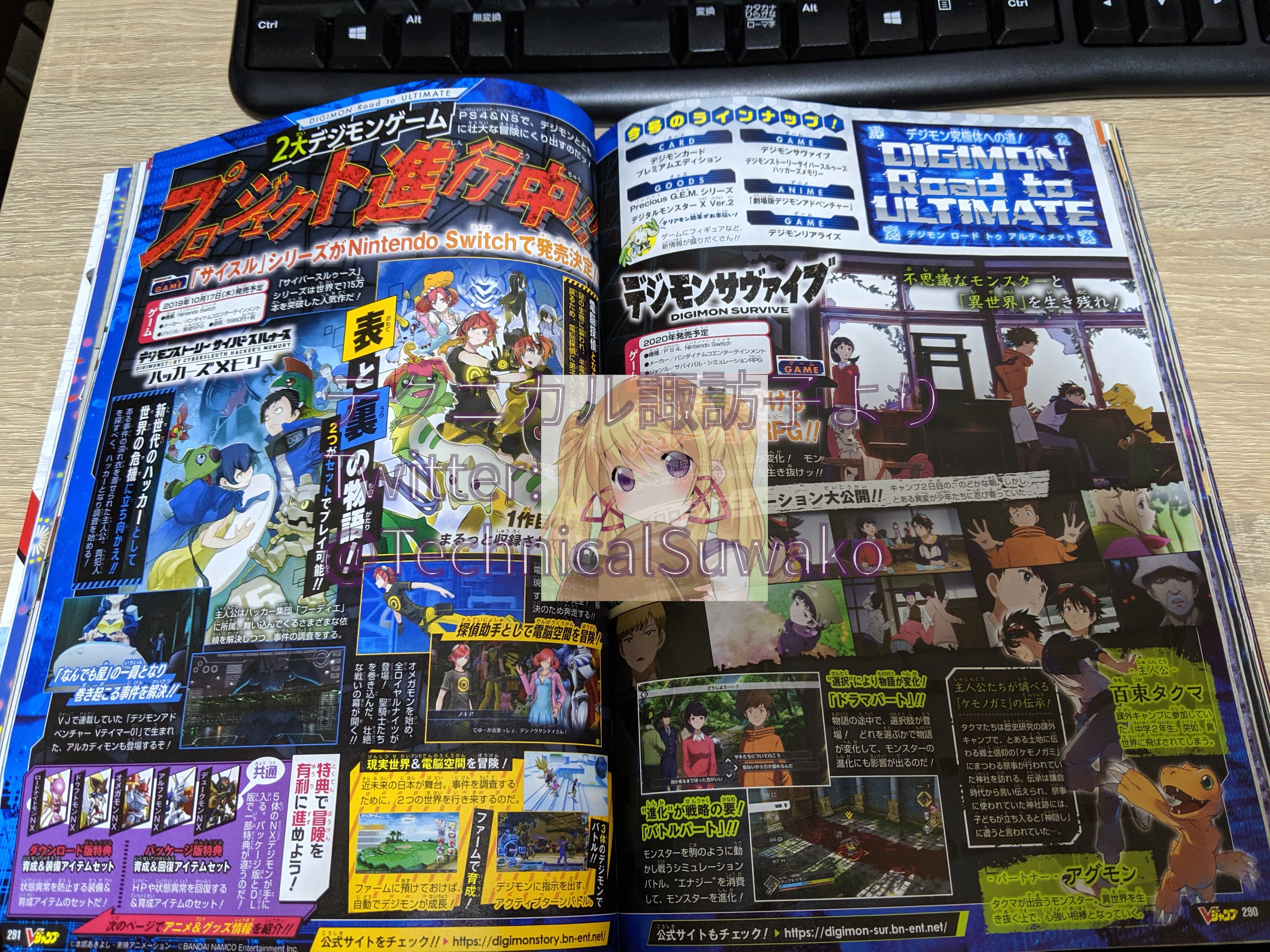 It's just about time for the September issue of V-Jump to come out and we have everything early!
This issue is mostly batches of news for things we got a couple weeks ago, but there are a few new things of interest....
First up, the initial 2 page spread is dedicated to
Digimon Survive
and
Cyber Sleuth Complete Edition
(Cyber Sleuth Hacker's Memory for Switch in Japan.)
Most of the information here is bits we've seen before (and generally recently) for both games, but we'll have them looked over for any new bits to translate shortly.
The main element that will be of interest to most will be the screenshots from
the Digimon Survive animated intro
, as shown at Anime Expo.
The Digimon section has been 2 pages recently in V-Jump, but this month it's expanded to a 3rd page due to the amount of things they are showing off...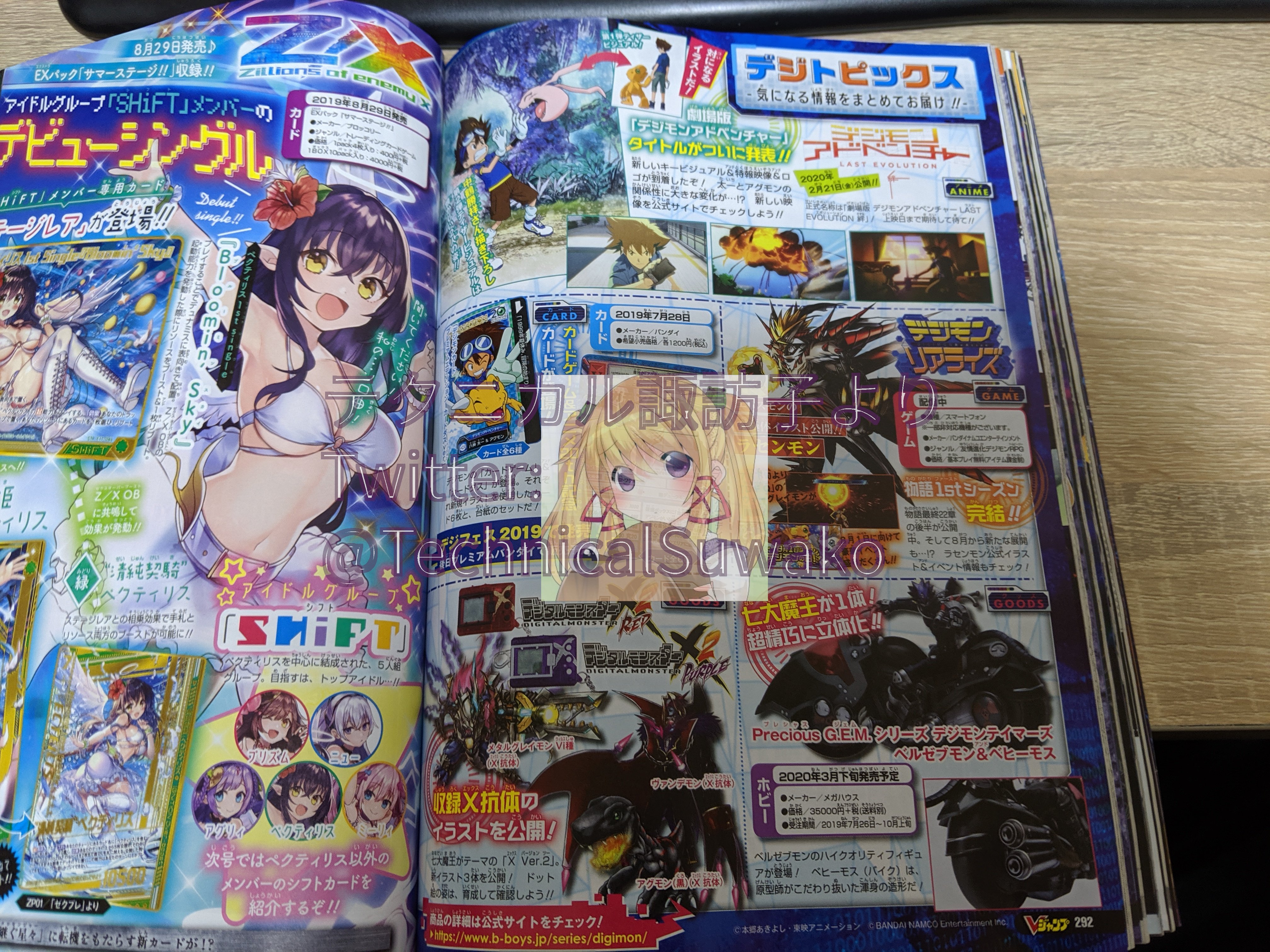 The left portion is for Zillions of Enemy X since there isn't quite enough Digimon stuff to cover 4 pages.
The Digimon content on this spread begins with
Digimon Adventure: Last Evolution Kizuna
, showing off a few promotional screenshots and images, along with showing
various bits of information
we got recently. With DigiFes next week, we can likely expect a bit more next month.
Next is a section featuring
the 'end of Season 1' content for Digimon ReArise
, including Rasenmon.
To the left of ReArise we get a section showing off some of the cards from the Digimon Card Premium Edition releases that
will first be available at DigiFes next week
. Featured are Taichi and Agumon from the Carddass set and Omegamon from the original Digimon card game set (more commonly known as Hyper Colosseum.)
At the bottom right we get a preview of
Precious GEM Beelzebumon and Behemoth
.
Last up, instead of the Digimon social art corner, which has appeared recently, we get new artwork for 3 new Digimon appeaing in
the Digimon X2 V-Pet
:
Agumon Black X is new artwork, but as expected is effectively just a recolor of Agumon X using black and red.
Vamdemon X shows us his new art and our first look at the new design. It appears to keep elements of his regal design, while adding emphasis to elements like his wings and collar. It makes me think Castlevania when I look at it.
MetalGreymon Virus X is the big surprise though. We were expecting a recolor, but he gets an entirely new design as opposed to being a recolor of MetalGreymon X. It appears almost every aspect has been redesigned for this new version of MetalGreymon X, from obvious elements like his energy cannon, to a new armor design and energy wings.
Hopefully we can get some cleaner images soon that doesn't crush the blacks quite so much so we can see more of these new designs.
Thanks to
TechnicalSuwako
for the images.