Show User Social Media
Hide User Social Media
Joined

Sep 8, 2006
Messages

17,360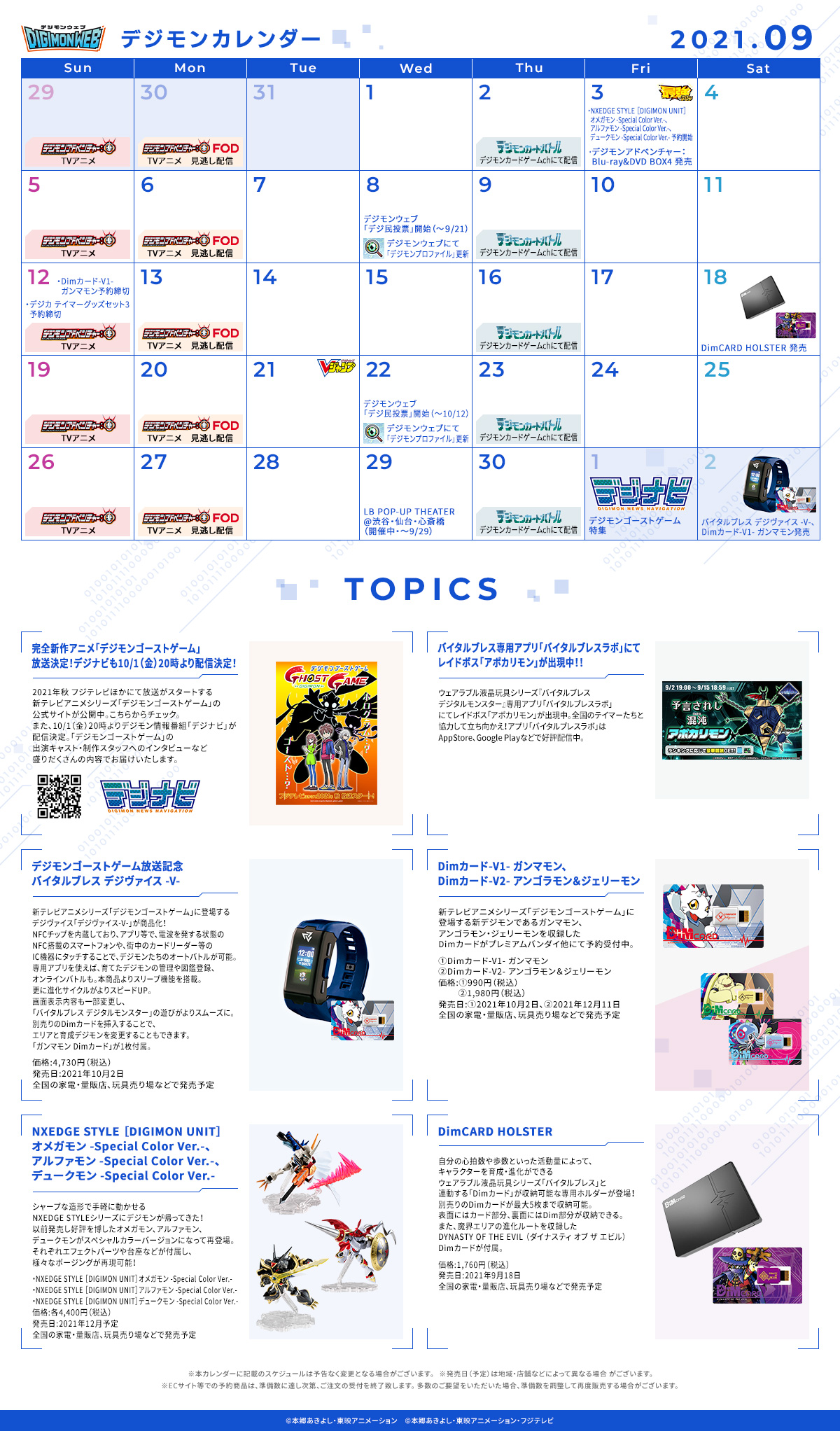 The September Digimon Calendar
has been uploaded!
'Digimon Calendar' will be delivered at the beginning of each month to allow easy 'at a glance' Digimon updates for what is coming up.
Digimon Calendar contains 2 sections...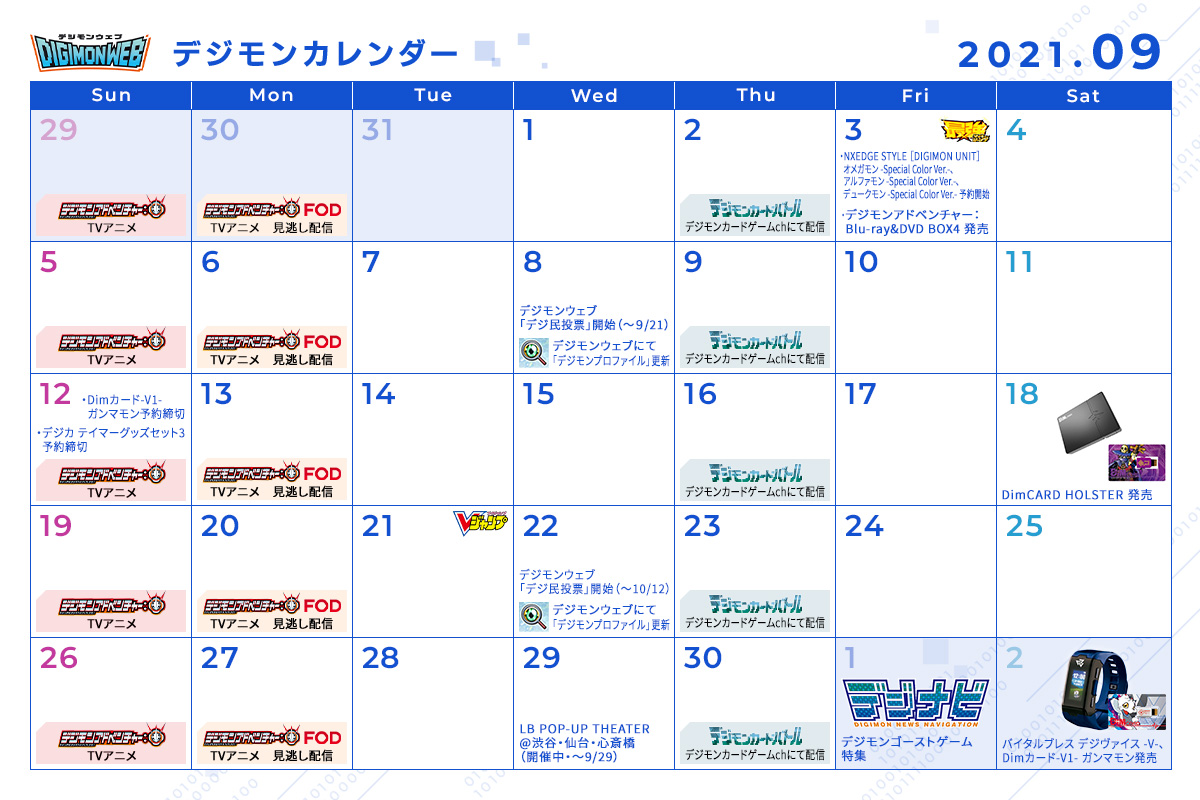 The actual calendar, which is quick at a glance details. (Dates/days are for Japan, based on on where you live it might be off slightly.)
It should be noted, the info, while decently wide, is not comprehensive. For example, they aren't showing Fun Digica and various other things which might be released as a surprise, along with some things that they just aren't announcing specific dates for (and some things that they've just chosen not to list.)
If there is a symbol in the top right, that means there is a magazine with planned Digimon content (the 21st for V-Jump for example.)
The reddish box on Sundays is for episodes of Digimon Adventure: (with the orange box on Monday being on demand repeats going up.)
Yellow boxes are for videos delivered via Bandai (the ones with the logo are delivered by Bandai Mania, which has been Digimon Classroom, Road to Digimon Card Master, etc.).
The slightly greyish boxes on Thursday are for Digimon Card Battle episodes.
Digimon Profile is the 2nd and 4th Wednesday of the month with the magnifying glass icon (as space allows.) Every other Wednesday is also a new fan poll.
There are also various additional things for September: (this isn't comprehensive, some smaller bits aren't translated)
September 3rd-
NXEdge Style Special Color
Figures Pre-Orders Open, Adventure: BD/DVD Box 4 Released
September 12th-
Pre-order Deadline for Gammamon Dim
&
Digimon Card Tamers Good Set 3
[In the case of Gammamon, this is an item we expect to be an ongoing release, so likely a date to guarantee release date delivery in Japan]
September 18th-
Dim Card Holster Release
(w/ Dynasty of the Evil Dim Card)
September 29th- Current LB Pop-Up Theater Shops Close
They also do a few items for October:
October 1st- DigiNavi Digimon Ghost Game Special
October 2nd- Digivice V Released
On top of the calendar itself...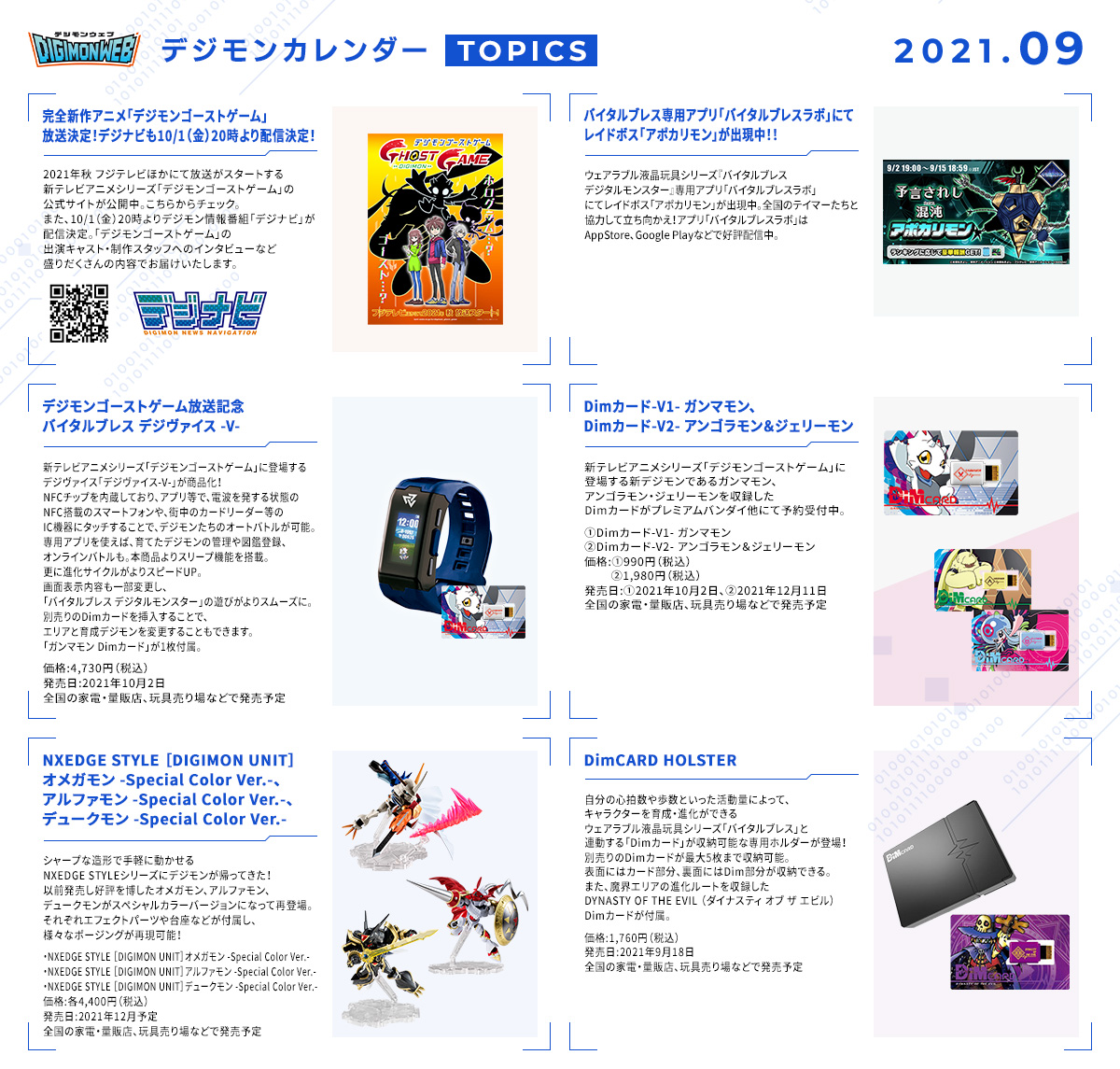 'Topics' covers a few specific items of note. These aren't 'always' related to the month, but are things they want you to know about:
They mention the Ghost Game themed DigiNavi and mention it'll have lots of content, including intreviews with cast and production staff of the new show.
A bit going over the upcoming Digivice V, not really new information, just marketing.
Going over the new versions of the NXEdgeStyle Figures
Detailing Apocalymon as a raid boss in the VB App.
Reminding that the Ghost Game Dim Cards are upcoming.
Going over the Dim Card Holster.
September lineup has a lot of Ghost Game, with a DigiNavi preview announced for October. No start for Ghost Game yet, with Adventure: continuing on, but likely ending this month or early next.