Show User Social Media
Hide User Social Media
Joined

Dec 4, 2017
Messages

53
Want To Sell [UPDATE: 16-06-2018]
Digimon Electronics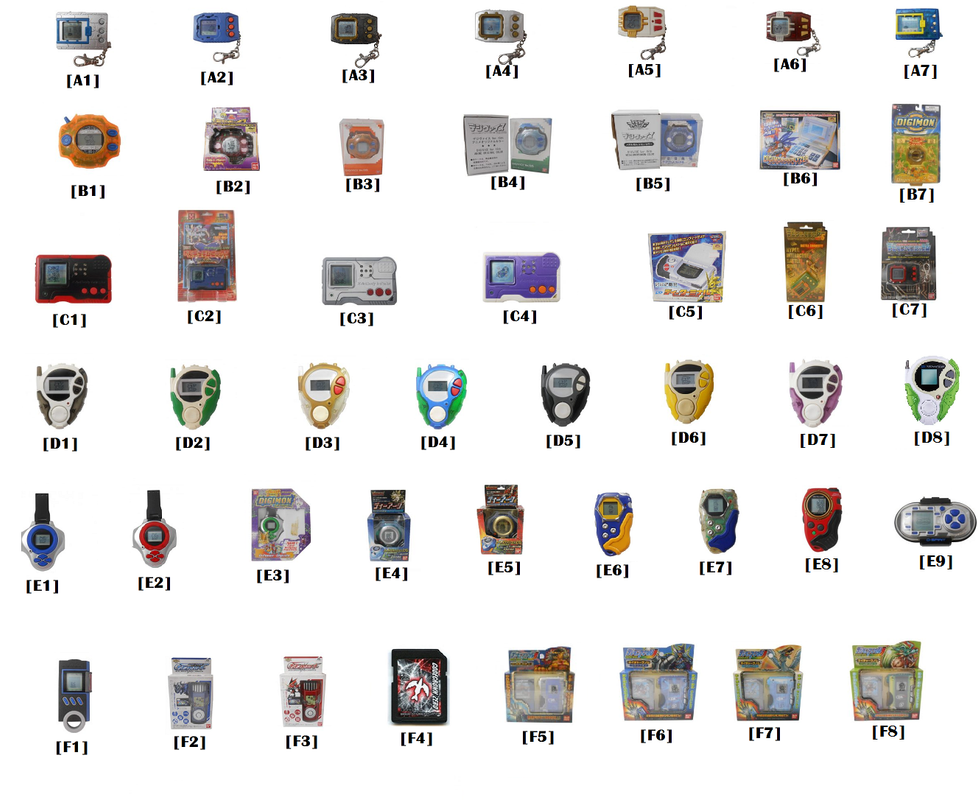 (A1) Digital Monster Version 4 (D-1 Grand Prix Edition) - $100
Loose | In Good Working Condition |
Click here -> [More Details]
(A2) Digimon Pendulum Version 2.0 Deep Savers - $40
Loose | In Good Working Condition |
Click here -> [More Details]
(A3) Digimon Pendulum Version 5.5 Metal Empire - $116
Loose | In Good Working Condition |
Click here -> [More Details]
(A4) Digimon Pendulum ZERO Virus Busters - $115
Loose | In Good Working Condition |
Click here -> [More Details]
(A5) Digimon Pendulum Progress Version 1.0 Dragon's Roar - $69
Loose | In Good Working Condition |
Click here -> [More Details]
(A6) Digimon Pendulum Progress Version 3.0 Animals Colosseum - $169
Loose | In Good Working Condition |
Click here -> [More Details]
(A7) Digital Monster Version 3 - $60
Loose | In Good Working Condition |
Click here -> [More Details]
------------------------------------------------------------
(B1) Digivice D2 US Version 1 Taichi Yagami Color - $130

Loose | In Good Working Condition |
Click here -> [More Details]
(B2) Original Digivice 1999 Version 2 Pink Color - $220
BIB | In Good & Complete Condition |
Click here -> [More Details]
(B3) Digivice Ver. 15th Yagami Taichi Color (Orange) - $150
BIB | In Good & Complete Condition |
Click here -> [More Details]
(B4) Digivice Ver. 15th Anime Original Color - $230
BIB | In Good & Complete Condition |
Click here -> [More Details]
(B5) Digivice Ver. 15th MetalGarurumon Color (Blue) - $138

BIB | In Good & Complete Condition |
Click here -> [More Details]
(B6) Digimon Analyzer (Koushiro's Laptop) - $80
BIB | In Good & Complete Condition |
Click here -> [More Details]
(B7) Digivice D2 US Version 2 Original Clear Color - $200

BIB | In Good & Complete Condition |
Click here -> [More Details]
------------------------------------------------------------
(C1) Digimon Pendulum X Version 1.0 - $65
Loose | In Good Working Condition |
Click here -> [More Details]
(C2) Digimon Pendulum X Version 1.5 - $118
BIB | In Good & Complete Condition |
Click here -> [More Details]
(C3) Digimon Pendulum X Version 2.0 - $80
Loose | In Good Working Condition |
Click here -> [More Details]
(C4) Digimon Pendulum X Version 3.0 - $140

Loose | In Good Working Condition |
Click here -> [More Details]
(C5) Digimon D-Terminal D3 Link System - $110
MIB | Box Opened for Checking |
Click here -> [More Details]
(C6) Digimon Pendulum Version 5.5 Metal Empire (D-1 Grand Prix Edition) - $179
BIB | In Good & Complete Condition |
Click here -> [More Details]
(C7) Digital Monster Version 5 - $135
BIB | In Good & Complete Condition |
Click here -> [More Details]
------------------------------------------------------------
(D1) Digivice D3 US Version 2 Black Color - $100
Loose | In Good Working Condition |
Click here -> [More Details]
(D2) Digivice D3 US Version 1 Green Color - $85
Loose | In Good Working Condition |
Click here -> [More Details]
(D3) Digivice D3 US Version 3 Shakkoumon Color - $190
Loose | In Good Working Condition |
Click here -> [More Details]
(D4) Digivice D3 US Version 3 Paildramon Color - $170
Loose | In Good Working Condition |
Click here -> [More Details]
(D5) Digivice D3 US Version 1 Black Color - $89
Loose | In Good Working Condition |
Click here -> [More Details]
(D6) Digivice D3 US Version 1 Yellow Color - $89
Loose | In Good Working Condition |
Click here -> [More Details]
(D7) Digivice D3 US Version 2 Purple Color - $100
Loose | In Good Working Condition |
Click here -> [More Details]
(D8) Complete Selection Animation D3 Takeru Takaishi Color - $129
BIB | In Good & Complete Condition | Click here -> [More Details]
------------------------------------------------------------
(E1) Digivice D-Power Version 1 Blue Color - $75
Loose | In Good Working Condition |
Click here -> [More Details]
(E2) Digivice D-Power Version 1 Red Color - $60
Loose | In Good Working Condition |
Click here -> [More Details]
(E3) Digivice D-Power Version 1 Green Color - $160

BIB | In Good Condition |
Click here -> [More Details]
(E4) Digivice D-Ark Version 2 Labramon Color - $110
BIB | In Good & Complete Condition |
Click here -> [More Details]
(E5) Digivice D-Ark Version 1 Blue Color - $75
Loose | In Good Working Condition |
Click here -> [More Details]
(E6) Digivice D-Tector Version 1 JP Color - $69
Loose | In Good Working Condition |
Click here -> [More Details]
(E7) Digivice D-Tector Version 2 Clear Blue - $79
Loose | In Good Working Condition |
Click here -> [More Details]
(E8) Digivice D-Scanner Version 3 Red Color - $100
Loose | In Good Working Condition |
Click here -> [More Details]
(E9) Digimon D-Sprit Version 1 - $119
Loose | In Good Working Condition |
Click here -> [More Details]
------------------------------------------------------------
(F1) Digivice Burst Mirage Gaogamon Color - $79
Loose | In Good Working Condition |
Click here -> [More Details]
(F2) Digimon Xros Loader Blue Flare Side - $155
Brand New in Box| Sealed |
Click here -> [More Details]
(F3) Digimon Xros Loader Shoutmon - $90
BIB | In Good & Complete Condition | Click here -> [More Details]
(F4) Digimon Code Crown Zero - $139
Brand New | Sealed |
Click here -> [More Details]
(F5) Digimon Accel Justice Genome - $75
MIB | Box Opened |
Click here -> [More Details]
(F6) Digimon Accel Nature Genome Neptunemon - $65
Brand New | Sealed |
Click here -> [More Details]
(F7) Digimon Accel Nature Genome Valdurmon - $80
Brand New | Sealed |
Click here -> [More Details]
(F8) Digimon Accel Nature Genome Mercurymon - $80
Brand New | Sealed |
Click here -> [More Details]
------------------------------------------------------------
Digimon Figures and Others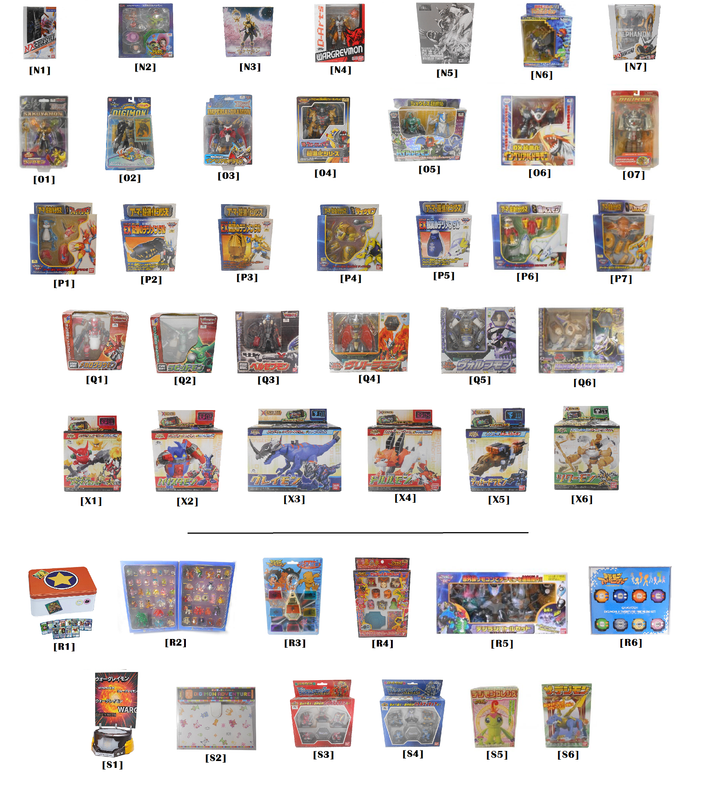 (N1)
Nxedge
Style Omegamon - $100
Brand New in Box| Sealed |
Click here -> [More Details]
(N2) Megahouse G.E.M. Series Mimi Tachikawa & Palmon - $130
Brand New in Box| Sealed |
Click here -> [More Details]
(N3) Digimon Precious Model Sakuyamon - $80
Brand New in Box| Sealed |
Click here -> [More Details]
(N4) D-Arts WarGreymon - $89
Brand New in Box| Sealed |
Click here -> [More Details]
(N5)
Digivolving Spirits 01 WarGreymon Clear Version - $110
BIB | In Good & Complete Condition |
Click here -> [More Details]
(N6) Digimon Savers Cho-Shinka Series 03 Yatagaramon - $110

Brand New in Box| Sealed |
Click here -> [More Details]
(N7) Nxedge
Style Alphamon - $50
Brand New in Box| Sealed |
Click here -> [More Details]
------------------------------------------------------------
(O1)
DReal Sakuyamon - $60
BIB | In Good Condition |
Click here -> [More Details]
(O2) Black WarGreymon Digivolving Figure Bandai US - $195
Brand New in Box| Sealed |
Click here -> [More Details]
(O3) DReal Imperialdramon Fighter Mode - $108
Brand New in Box| Sealed |
Click here -> [More Details]
(O4) WarGreymon Digivolving Figure Super Evolution Series 06 - $145
Brand New in Box| Sealed |
Click here -> [More Details]
(O5) Paildramon Digimon Jogress Super Evolution Series - $115
BIB | In Good Condition (-) ExVeemon tail part is missing |
Click here -> [More Details]
(O6) Imperialdramon DX Super Evolution - $190
Brand New in Box| Sealed |
Click here -> [More Details]
(O7) Black MegaGargomon Warp Digivolving - $225
Brand New in Box| Sealed |
Click here -> [More Details]
------------------------------------------------------------
(P1) Armor Digivolving Veemon Flamedramon - $89
BIB | In Good & Complete Condition |
Click here -> [More Details]
(P2) EX Digimental of Friendship Raidramon Super Evolution - $89
BIB | Never Displayed | In Good & Complete Condition |
Click here -> [More Details]
(P3) EX Digimental of Miracles Magnamon Super Evolution - $120
Brand New in Box| Sealed |
Click here -> [More Details]
(P4) Armor Digivolving Armadillomon Digmon - $100
Brand New in Box| Sealed |
Click here -> [More Details]
(P5) EX Digimental of Reliability Submarimon Super Evolution - $70
Brand New in Box| Sealed |
Click here -> [More Details]
(P6) Armor Digivolving Hawkmon Halsemon - $60
Brand New in Box| Sealed |
Click here -> [More Details]
(P7) Armor Digivolving Patamon Pegasusmon - $95
Brand New in Box| Sealed |
Click here -> [More Details]
------------------------------------------------------------
(Q1) Hybrid Evolution Growlmon WarGrowlmon Digivolving Figures - $72
BIB | Never Displayed | In Good & Complete Condition |
Click here -> [More Details]
(Q2) Hybrid Evolution Gargomon Rapidmon Digivolving Figures - $63
Brand New in Box| Sealed |
Click here -> [More Details]
(Q3) Hybrid Evolution Impmon Beelzebumon Digivolving Figures - $79
BIB | Never Displayed | In Good & Complete Condition |
Click here -> [More Details]
(Q4) Spirit Evolution Vritramon Digivolving Figures - $175
BIB | In Good & Complete Condition |
Click here -> [More Details]
(Q5) Spirit Evolution Lobomon Digivolving Figures - $99
BIB | In Good Condition (-) 1 piece of the yellow sword is missing |
Click here -> [More Details]
(Q6) Spirit Evolution KendoGarurumon Digivolving Figures - $145
BIB | In Good & Complete Condition |
Click here -> [More Details]
------------------------------------------------------------
(X1) Digimon Xros Figure 01 Shoutmon & Starmon - $45
Brand New in Box| Sealed |
Click here -> [More Details]
(X2) Digimon Xros Figure 02 Ballistamon - $45
Brand New in Box| Sealed |
Click here -> [More Details]
(X3) Digimon Xros Figure 03 Greymon - $45
Brand New in Box| Sealed |
Click here -> [More Details]
(X4) Digimon Xros Figure 04 Dorulumon - $45
Brand New in Box| Sealed |
Click here -> [More Details]
(X5) Digimon Xros Figure 10 Deckerdramon - $89
MIB | Box Opened |
Click here -> [More Details]
(X6) Digimon Xros Figure 11 Tuwarmon - $89
Brand New in Box| Sealed |
Click here -> [More Details]
------------------------------------------------------------
(R1) Digimon Card Game D-Ark Version 15th - $135
Brand New in Box| Sealed |
Click here -> [More Details]
(R2) The Digimon Complete Box, Digital Monster Colored 49 Figures Set - $110
BIB | In Good & Complete Condition |
Click here -> [More Details]
(R3) Yutaka Digimon Adventure Tag & Crests Emblem - $85
Brand New in Box| Sealed |
Click here -> [More Details]
(R4) Yutaka Digimon Adventure Deluxe Digivice Set - $75
BIB | In Good & Complete Condition |
Click here -> [More Details]
(R5) Digiradi Battle Set Paildramon VS BlackWarGreymon - $90
Brand New in Box| Sealed |
Click here -> [More Details]
(R6) Charatch! Digimon Adventure Digivice Watch - $120
Brand New in Box| Sealed | Click here -> [More Details]
------------------------------------------------------------
(S1) WarGreymon Evolution Stage - $70
MIB| Tested Only |
Click here -> [More Details]
(S2)
DigiFes
2015 Digibit Collection Smartphone Case - $40
Brand New in Box| Sealed |
Click here -> [More Details]
(S3) Digimon Frontier Battle Figure Set Starter 1 Agunimon - $65
Brand New in Box| Sealed |
Click here -> [More Details]
(S4) Digimon Frontier Battle Figure Set Starter 2 Lobomon - $55
Brand New in Box| Sealed |
Click here -> [More Details]
(S4) Digimon Friend Palmon - $19
Brand New in Box| Sealed |
Click here -> [More Details]
(S4) Digimon Adventure MetalGarurumon Mini Figure - $27
Brand New in Box| Sealed |
Click here -> [More Details]
------------------------------------------------------------
Conditions Guide
Brand New in Box
= 100% New
MIB (Mint in Box)
= Almost Like New But Box may be Opened or Seal is Broken
BIB (Back in Box)
= Opened, May be used for a while then stored back inside the original Box
Loose
= Unit only, Used
*All of the items listed here is Authentic and in Good working condition.
Payment only by PayPal | Will ship worldwide | Combined shipping may be available depends on items size.
If you have any questions or requests regarding the items, please reply to this post in the following format:
[ITEMS CODE] Questions.
Will respond by 1 working day.
Thanks for this awesome forum
Last edited: