Show User Social Media
Hide User Social Media
Joined

Sep 8, 2006
Messages

12,538
Seki and Kinoshita Interviews about Adventure 20th film from V-Jump Web & Otomedia+
Interviews!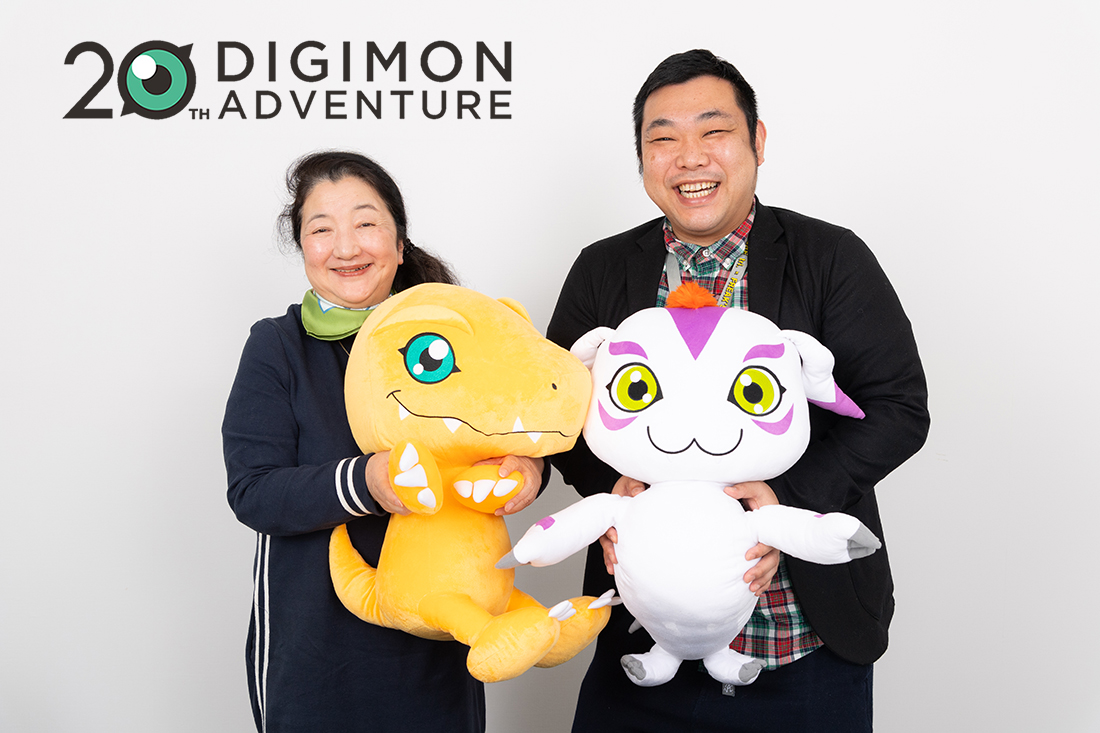 Supervisor (& original Adventure producer) Hiromi Seki and Producer Yosuke Kinoshita have been doing the rounds for early promotional interviews lately for the upcoming Digimon Adventure 20th film (
which we may have a title for...
)
We have a bunch of translated content from a couple of these, which includes a few surprises, letting us know of changes made during production already, along with some vague hints at the director.
Both were translated by onkei, and are written in the 3rd person in many cases. Elements at times have been cleaned up by me.
First up, we have one from
V-Jump Web
. This is additional content, and is not the same as what was in
the newest V-Jump issue
.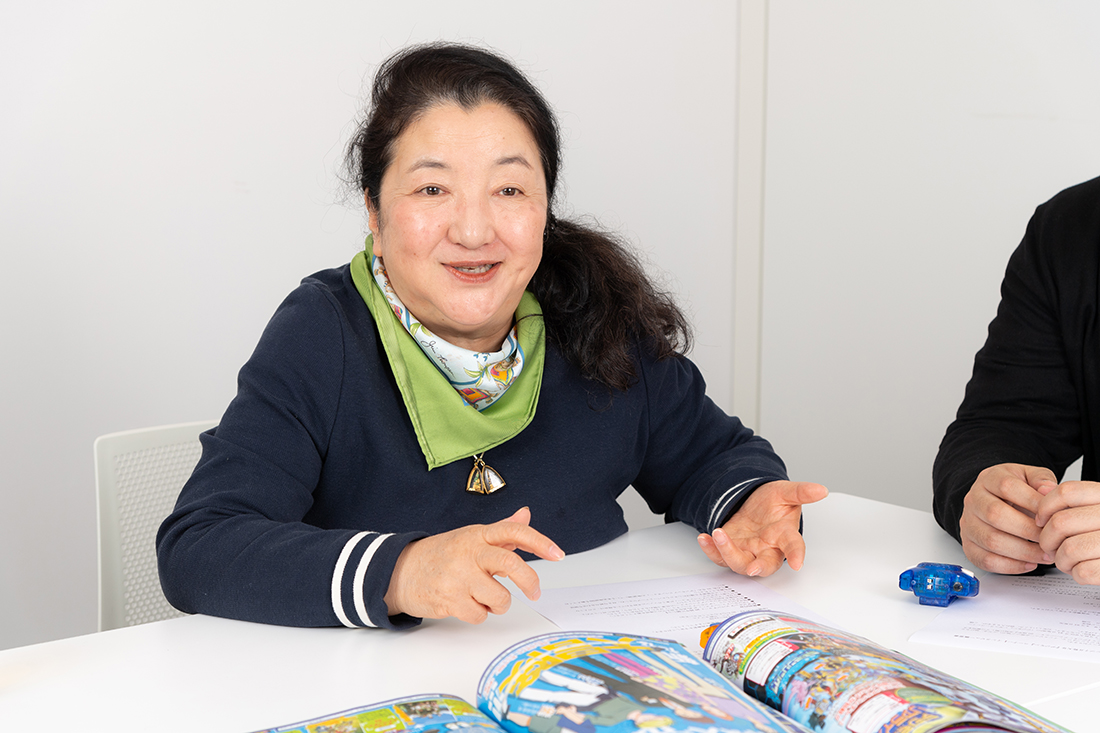 This interview is a short Q&A session.
1. Who is your favorite child and Digimon pair?
Kinoshita: Jou and Gomamon. Gomamon is snubby towards Jou at first, but once he acknowledges him, he becomes very obedient and supportive. He liked watching that transform. Also, Gomamon is just cute.
Seki: Taichi and Agumon. Their relationship was the core of the series, and she has deep feelings for them particularly because her involvement with them was the longest, going from their character designs to how they speak to how they determined which voice actors to use. She also, to her surprise, likes Mimi and Palmon for their bright personalities and quirks.
2. What views do you have of the 20th anniversary Digimon film?
Kinoshita: He'd like it if the people who loved the series in 1999 enjoyed it with their children. That's the sort of content he's aiming for.
Seki: "Digimon Adventure" made 20 years ago had a partial worldview of a "digital" world. In our current times, there are many things in the real world that are made up of "digital" things. So she thinks that if "Digimon" is to continue 10-20 years from now, it would need a stage where the digital and the analog mutually prosper from each other. She thinks that the "analog world" will be the hint to the digital world continuing to evolve and becoming a better world.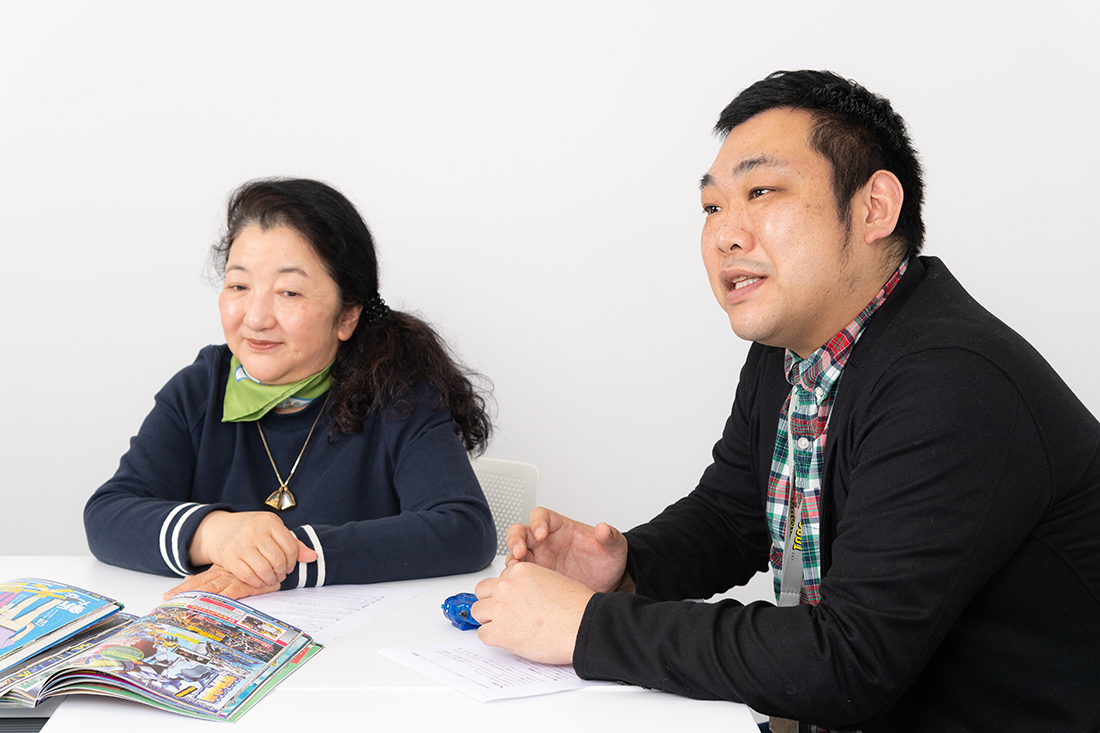 3. Describe your roles for the movie
Kinoshita: As producer, he has to decide on things being finalized and the direction of where he wants the film to go. If Seki (as supervisor) thinks that his decision is wrong, she'll tell him so, and if he's hesitating over something, he discusses it with her. When working on the screenplay, Seki didn't hesitate on stating her opinions on it since she was also a former writer.
Seki: It's easy to say the children and Digimon have a partnership, but difficult to make concrete lines for. She feels that it's her role to bring clarity to anything that is described vaguely.
4. What "evolutions" can we expect in the new movie?
Kinoshita: There's a new gadget. The animation will be a reflection of the times it is set in, as well as the gadget. There are also streets that match the times back then. Also, when people grow up and enter society, their community and world expands. He wants to expand the story in the same way. That's the kind of "evolution" he wants to go for.
Seki: The size of the characters' hands and feet (drawn by Nakatsuru) are different! Their hands and feet are smaller now that they've grown up. That's evolution, in a way. With adult proportions, the characters will be able to make large actions and performances. She thinks that we'll be able to see new forms of expression.
On top of the V-Jump Web content, we also have the
interview from Otomedia Plus Spring 2019 from a few weeks ago
.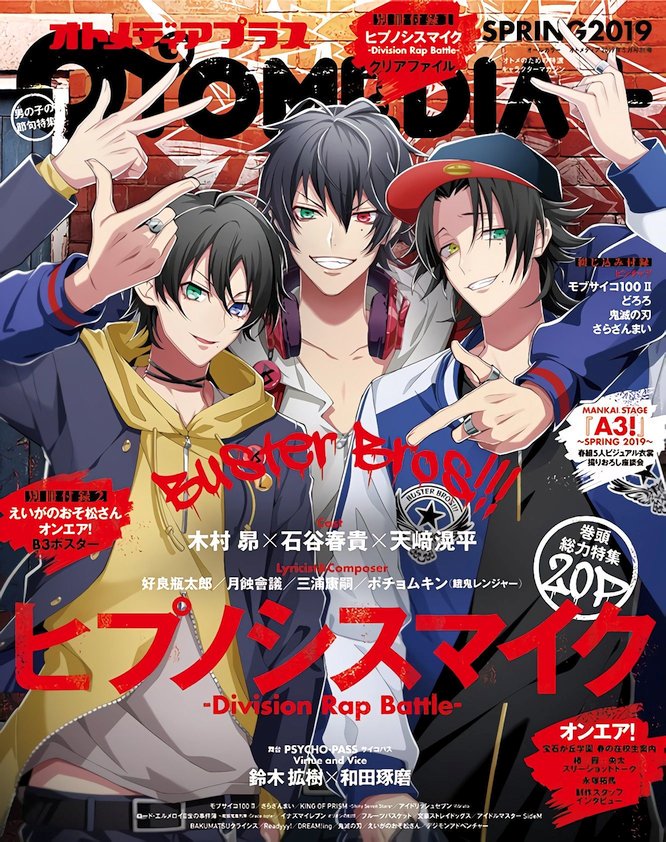 Some of this we got earlier from onkei based on what little could be made out of an early photo, but now we have much more information.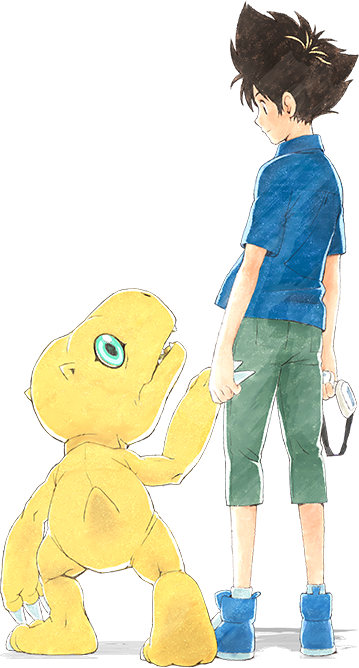 Kinoshita says the illustration of Taichi and Agumon (from the initial poster) is actually taken out of a scene in the movie. There were several other options but their final choice came down to this illustration, which they felt was the closest depiction of the movie's theme.
-Goals of the movie
Kinoshita: "First of all, to make it something that even people who have never seen the "Digimon" series will enjoy. On top of that, we're thinking of making it into a story that fully depicts "bonds." In fact, during our first conference, one of the things we discussed was "What kind of story should we make?" "What word describes 'Digimon'?" and at that time, Seki said "Digimon is about 'bonds' and everyone agreed on that."
Seki: "'Bonds' is easy to say, but there are so many different ways to show it and not enough ways to completely show it either. So, we began by examining how "the partnership between monster and chosen child" should be perceived. 'When drawn like this, could it be called a bond?' 'How does this conversation show the bond between them?' etc. We used these questions on each setting and line to flesh them out. We believe that from the accumulation of this work, there will be a "Digimon" that is the ideal for what we and the fans want Digimon to be."
-Jou and Koushiro's new character designs were approved from their first draft. The slowest to draft was Taichi's. His image only solidified after Nakatsuru drew the key visual.
-Nakatsuru drew versions of Taichi with different goggle designs. Kinoshita says that "There was a version of Taichi with VR goggles as well, but Taichi's goggles are an important item that make up his identity so once we starting applying our concepts into the scenario, we began to say that we should have his usual goggles in this case. That's why, in the end, we reverted back to his original goggles." [So the VR goggles isn't a story element, rather they just were an early production element that has since been removed.]
-Nakatsuru's character designs are already finished at the time of this interview, but Seki and Kinoshita say that we may get the opportunity to see more of his illustrations for various things somewhere later on.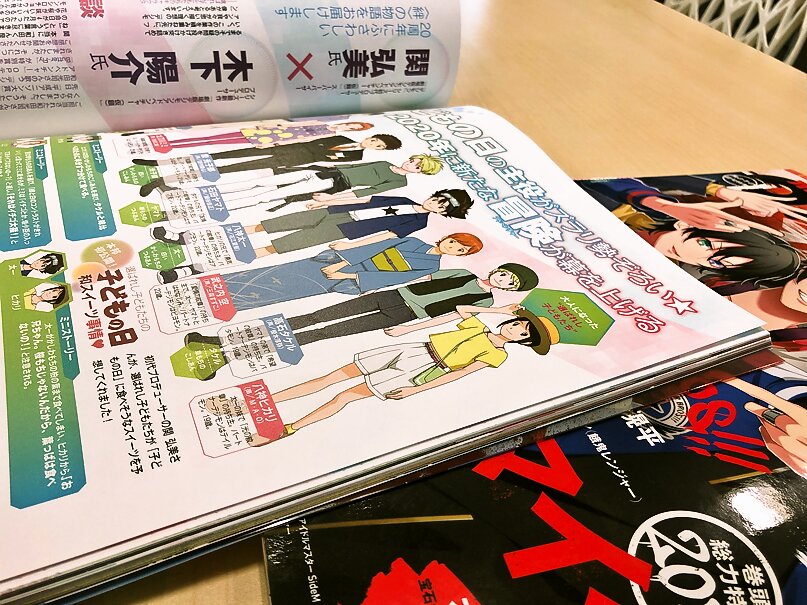 -Since the theme of the magazine interview is about "growth," the interviewer asks who they think grew the most within the series. Kinoshita answers "Yamato" because he thinks his growth is the most obvious by looking him. "Yamato's growth was pretty stereotypical and the way he got back on track was the most nicely done. I think the growth process that relieved everyone most in the group is probably Yamato's."
Seki agrees that "Yamato is a broad-minded boy who has a grasp of the situations of others around him."
-In closing, Seki says that her thoughts on "Digimon" is that it is a series that has both "grown with the times as well as being in the style that reflects the times it was placed in. There aren't many series who have the power and potential to develop new things even after time has passed. That is why I think that "growth" and "ubiquity" are Digimon's biggest charm. As well as the "bit of foresight into the future" of the times."
Kinoshita: "The slightly advanced digital technology and gadgets in Digimon are also incredibly important in helping to shape the setting."
Seki: "Yes. That's why it is important in Digimon that one has a good grasp of the current technology while using it to provide dreams for what could happen with that technology in the near future. I believe that only the people who understand this will be able to continue creating 'Digimon' in future. I can't name names yet, but the director of the theatrical release is someone very capable. I've already looked through their storyboard and from it, I felt that they are a creator who not only has high understanding but has a clear philosophy."
Kinoshita: "While I've inherited the soul of 'Digimon' that has been built up by Seki and various veteran staff, I'm working very hard combining powers with the movie director to bring something suitable for the 20th year anniversary."
-Seki's thoughts on how the kids would celebrate Children's Day was put together into three mini-stories.
Taichi and Hikari: Taichi would eat the oak leaf on the kashiwa-mochi and Hikari would reprimand him. 'Brother, it's not sakura-mochi, so you can't eat the leaf!'
Hikari and Takeru: Hikari would choose to eat white kashiwa-mochi with koshian, and she would share half with Takeru and vice-versa so they can compare tastes.
Sora and Mimi: Sora would choose the kusa-mochi with shiroan and say "The contrast between the green and white is so pretty!" and show Mimi, who would say back "Isn't there any with strawberries or salty azuki beans in it?" to which everyone would reply "It's not strawberry daifuku!"
Also, Seki's thoughts on the boys' favorite mochi for Children's Day.
Jou- white kashiwa-mochi with misoan.
Koushiro- white kashiwa-mochi with koshian.
Yamato- kusa-mochi with tsubuan.
Taichi- white kashiwa-mochi with tsubuan.
Takeru- kusa-mochi with koshian.
A bunch of stuff to look over which goes into details on the thoughts of some of the major staff members of the upcoming film. A lot of it is standard interview fluff, but there is a decent bit telling us where they think the film is going, and even a few bits of where the franchise should potentially go in the years to come.
Huge thanks again to onkei for translating everything.