Show User Social Media
Hide User Social Media
Joined

Sep 8, 2006
Messages

12,999
Secret Digimon Announced in MonMon Memo for the X3! & Who Designed the new Digimon!
Nearly a month since the last one...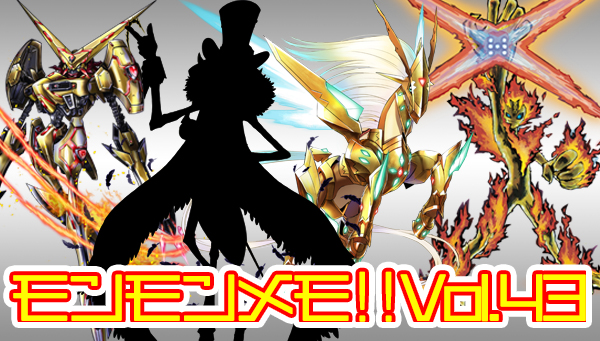 It's time for MonMon Memo 43
! This time they show off the first of the secret Digimon, while also admitting most people probably knew who it was going to be! (Not to mention getting his profile art for the first time!) On top of that, they let us know who designed which of the new X-Antibody Digimon!
The Digimon X2 Red and Purple has begun to be delivered one after the other!
Some of you may already have gotten it and opened it to enjoy it!
Hopefully playing and hearing and holding it has increased your expectations and excitement for the Digimon X3 Yellow and Blue.
Today we will select and announce 'the most seasonable one' among the secret Digimon in the X3! While seasonal, the city was exciting as usual for Halloween last month. There was also a Halloween event in the app game Digimon ReArise!
The Glittering Digiegg that can be obtained at the Halloween Exchange for a limited time.
Many people have already noticed what the secret Digimon is... The Ultimate that can be raised from the Pumpmon in that Digiegg... yes!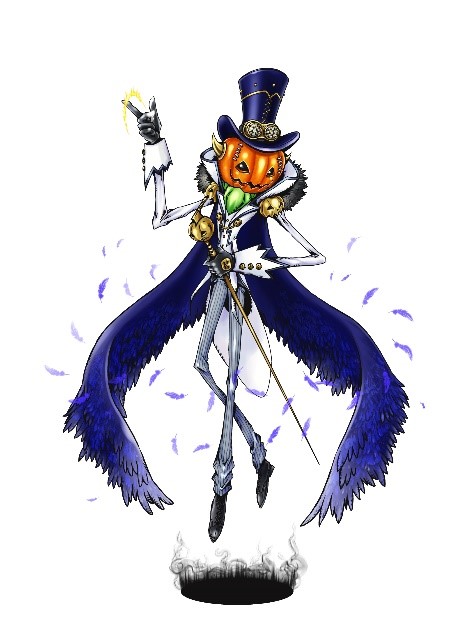 NoblePumpmon!
Following on from the X2, a gorgeous guest appears from the app game Digimon ReArise! It looks like this gentleman!
From watching Digimon Adventure, you can't imagine it from the time it was rampant with Gotsumon in Shibuya! Will there be a time when we can see the combination with Gotsumon's Ultimate evolution someday?
If you can get NoblePumpmon in ReArise, or even if you don't, please bring up NoblePumpmon in the X3!
The first secret Digimon is NoblePumpmon, and three secret Digimon remain!
Although we can't announce the other secret Digimon yet, as a bonus today... we'll be introducing 3 new X-Antibody Digimon whose illustrations haven't been released! Many people have been interested in these.... Then please!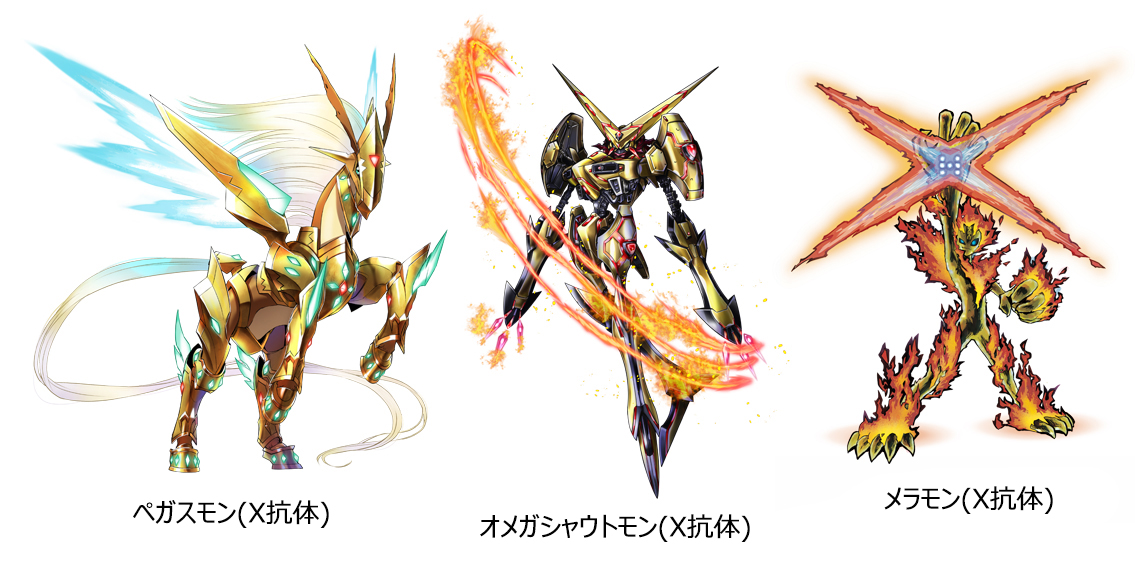 Pegasmon, OmegaShoutmon, and Meramon in their X-antibody forms. Following NoblePumpmon, the Digimon shown today are good in style! Pegasmon is Nakano Haito, and OmegaShoutmon ix Kenji Watanabe. Meramon X is designed by the Plex team.
It's surprising that some Digimon fans will know the designer just by looking at the illustration. The designers for Digimon who first are appearing in the X3 are:
Kenji Watanabe: Wizarmon X, OmegaShoutmon X
As'maria: Rapidmon X
Kagemaru Himeno: Siesamon X, Angewomon X, Terriermon X, Lopmon X
Nakano Haito: Pegasmon X, Cherubimon X (Virtue), Ophanimon X, Gankoomon X
Soh Moriyama: RizeGreymon X, Hououmon X, Examon X, Keramon X
Plex team: Cyberdramon X, Monzaemon X, Justimon X, Meramon X
Wait to see even more! Was everyone who you expected it to be? If you look at the Digimon illustrations while knowing who the designer is, you might discover even more!
Of course, it's good to enjoy the finished illustrations, but if you look at them from the rough designs, you get a glimpse of the "trajectory of trial and error" of the designers!
The Digital Monster Art Book Version X, which is on sale at the same time as the X3, includes the illustrations of the new X-Antibody Digimon, plus rough drawings of them, so don't miss it!
They finish by saying seeya in the next update!
Both the
Digimon X3
and
Art Book Version X
are currently available to pre-order for a few more weeks.
Previous MonMon Memos have included:
Cold Mode
Copymon
New Virus Busters
New Nightmare Soldiers
Silver Blue Special Digi-Eggs
Silver Black Special Digi-Eggs, Plus ones in both!
Jogress Digimon
Password Digimon
Overview of the 20th Pendulum, Plus Enemies in Battle Mode
Kenji Watanabe Pendulum Interview
CSA Digivice tri. Memorial
Additional Digimon showing up in the Pendulum 20th 2nd Wave
RagnaLordmon, Jogress of the 20th Anniversary Legend Arms
Pendulum Art Book Sample Pages, Teasers, and Interview Details
Pendulum Art Book Update- Digimon Designer Round Table! Plus Shikishi Artwork
Introductions for the CSA Digivice 1999 and Terriermon Plush, plus X-Antibody Updates
CSA Digivice 1999 Details
RagnaLordmon and Finalized Wave 2 20th Pendulum Packaging
Pendulum Art Book Preview- Twitter, Armor Evos, Omegamon, Chronicle
Digimon in 2nd Wave of 20th Anniversary Pendulums & Art Book Preview
Digital Monster X and X-Antibody Teasers
Digital Monster X Booklet Details
Digital Monster X Digimon Info & CSA Digivice 1999 Booklet Details
Digital Monster X Map System Info
Digital Monster X Battle System Info
New X-Antibody (Finalized Diablomon X & Sakuyamon X) Digimon Artwork
Digital Monster X Training & Raising Features
The Digimon Lineup for the Digital Monster X & More Reveals
Digital Monster X Summary & Preview from MonMon Memo, plus more Digimon intros!
Digital Monster X Evolution Conditions from MonMon Memo!
The Movements of the Seven Great Demon Lords from MonMon Memo
Data from announcement of Digital Monster X Version 2!
Main Theme of Digimon X2 from MonMon Memo, plus Video Preview
Digimon X2 Lineup Introduction and Character Tease
Raising Information, Road to the Devil
Secret Digimon in Digimon X2 Revealed
The Not Yet Shown X-Antibody Digimon
Last Evolution Kizuna & Digimon X2 at DigiFes
Digimon X2 Booklet Preview
Digital Monster X Ver.3 Intro and Teases
Digimon X3 & Artbook Pre-Order Info & Tease
Art Book Version X Cover, Plus Chronicle X & X3 Teasers