Show User Social Media
Hide User Social Media
Joined

Sep 8, 2006
Messages

17,404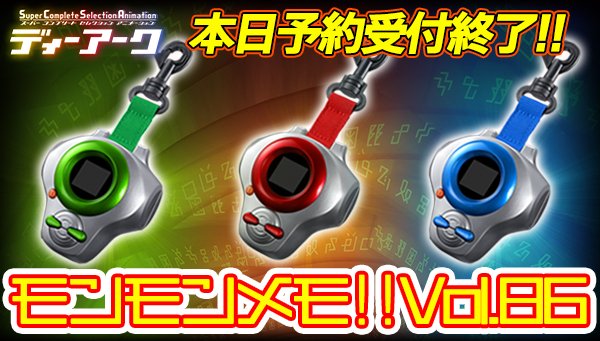 Time for a new MonMon Memo!
MonMon Memo 86
is one last preview for the Super Complete Selection Animation D-Ark before pre-orders close.
The text below is a quicky translation. The translation function on that page was broken at the time of writing this article.
Hello everyone!
I'm N in charge of SCSA D-Ark development.
This is the last introduction to SCSA D-Ark.
I would like to keep telling you the charm of SCSA D-Ark until the end!
This time, I would like to review the points of D-Ark because it is just before the end of orders!
① Voice
The character's dialogue voice has been newly recorded only for SCSA D-Ark!
Ver. Takato Matsuda includes Masako Nozawa, Makoto Tsumura, Tomoko Kaneda
Ver. Rika Nonaka has Fumiko Orikasa and Tomoko Kaneda.
* The voice of Renamon (Yuka Imai) is used by extracting the lines in the program.
Ver. Henry Wong includes Mayumi Yamaguchi, Aoi Tada, Tomoko Kaneda
The new voice of is recorded.
We have recorded so many voices that each character can cover the various lines in the works!
Your favorite lines are sure to be included! !!
In addition, the sound effects that sounds from the main unit is remastered and recorded for SCSA D-Ark.
There are 6 songs in each version, so please look forward to it!
In particular, "One Vision", which is also an insert song of the Ultimate Evolution, includes "One Vision", which has a different melody for each of the three versions, in addition to the usual "One Vision"!
Also, "3 Primary Colors" is a song that is used in the scene where it Evolves into Growmon and wants to degenerate, and after it Evolves into Kyubimon for the first time, and then the scene of farewell to Digimon in the final episode, but I am watching Digimon Tamers. If you are a fan, I'm sure it's a masterpiece that remains in your ears.
② LCD
Many of you may have already watched the video, but you can find a sample video of SCSA D-Ark on the product reservation page and Youtube.
If you haven't seen it yet, please check it out.
[The Youtube embeds are for Japan only, we're including them in case that changes, we may swap for a mirrored archival at some point.]
[SCSA D-Ark ver. Takato Matsuki] feature video
[SCSA D-Ark ver. Ruki Makino] feature Video
[SCSA D-Ark ver. Henry Wong] feature video
Since this video is a video using a sample under development, there may be some differences from the final specifications, but a high-resolution color LCD such as evolution production and commentary, dialogue function etc. is implemented. I am doing a lot of expressions that I can do because I am doing it.
Although it is difficult to convey the image until you see the real thing, it has a really beautiful LCD!
Although it has not been released as a video, of course there is also an evolution production to the Ultimate, so I hope you will enjoy it with your own eyes when you receive it!
③ Card
The card has a built-in special tag for individual recognition on a solid and thick plastic card.
It's a sturdy card, so you don't have to worry about it bending no matter how many times you slash!
In addition, the design of the card has unified the format of the card as a card exclusively for SCSA D-Ark this time.
The card attached to each version can be used across the main body ...
For example, you can card slash the "High Speed Plug-in H" that comes with ver. Rika Nonaka to the D-Ark of ver. Henry Wong.
When you actually slash, the card will be firmly identified and displayed as shown below, and you will hear the voice "High-speed plug-in H Hyper Axel!"!
It is a big feature of this SCSA D-Ark that the more cards you have, the wider the range of play.
④ Setting function
The setting function will be introduced for the first time this time, but the following four functions can be adjusted in total.
■ Display of Digimon
■ Voice at the time of card slash
■ Screen brightness
■ Volume of the main body
"Digimon display" was introduced in the previous Monmon Memo, but in the default state, the Digimon is displayed on the screen so that you can see the growth stage of the Digimon.
It will be a display that is not in the D-Ark used by the Tamer in the program.
It is possible to turn off this display and change to the D-Ark screen that the Tamer have.
"Voice at the time of card slash" is a voice such as "Card slash! Matrix Evolution!" Is activated by Tamer's voice when card slash is done, but for users who want to say this line by themselves The voice can be turned off.
If you use this function, the degree of impersonation will increase!
As for "screen brightness" and "volume of the main unit", it is a convenient function that can optimize the D-Ark according to the place to play and the user to play!
The order deadline is today, March 9th (Wednesday) at 23:00.
If you haven't purchased it yet, please hurry.
This SCSA D-Ark is the best product with all our hearts!
We are working hard to provide products that everyone who purchases will be happy to buy, so we hope you will pick them up!
It will be a while before the item actually arrives, but please look forward to it until it arrives!
Prior details about the Super Complete Selection Animation D-Ark can be found
here
.
US pre-orders will be open for a bit longer,
details here
.
Previous MonMon Memos have included: