Show User Social Media
Hide User Social Media
Joined

Sep 8, 2006
Messages

15,411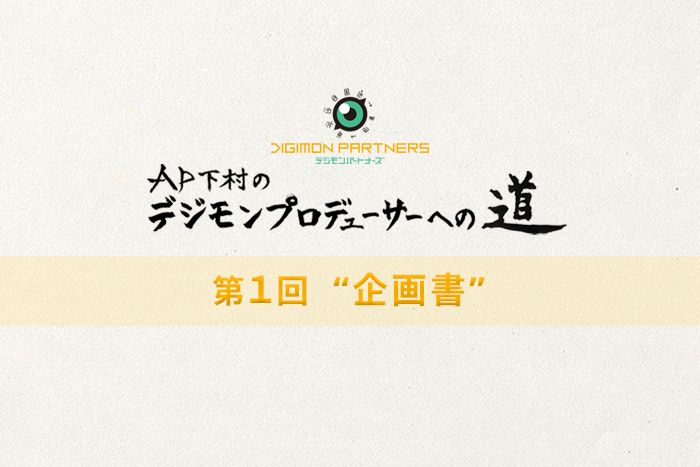 A few months ago we found out
Digimon Partners would have a new series of articles.
Written by Assistant Producer Shimomura, Road to Digimon Producer it would follow his journey in being a producer for Digimon.
The formal articles have now begun.
Volume 1- The Proposal
The translation is the (mostly) machine translation from Digimon Partners with some exceptions.
Various bits have been cleaned up.
The images themselves have been cleaned up by onkei. These will be in quoteboxes, as will any other commentary being added.
Hello everyone! I'm Shimomura, who manages Digimon Partners and works as an assistant producer on the new Digimon movie. This article is a series of reports for Digimon fans as I aim to be the "best Digimon producer".
Today we bring you- Part 1: "The Proposal"!
Last time, we found the proposal for the new DIGIMON ADVENTURE 02 film on Producer Kinoshita's desk.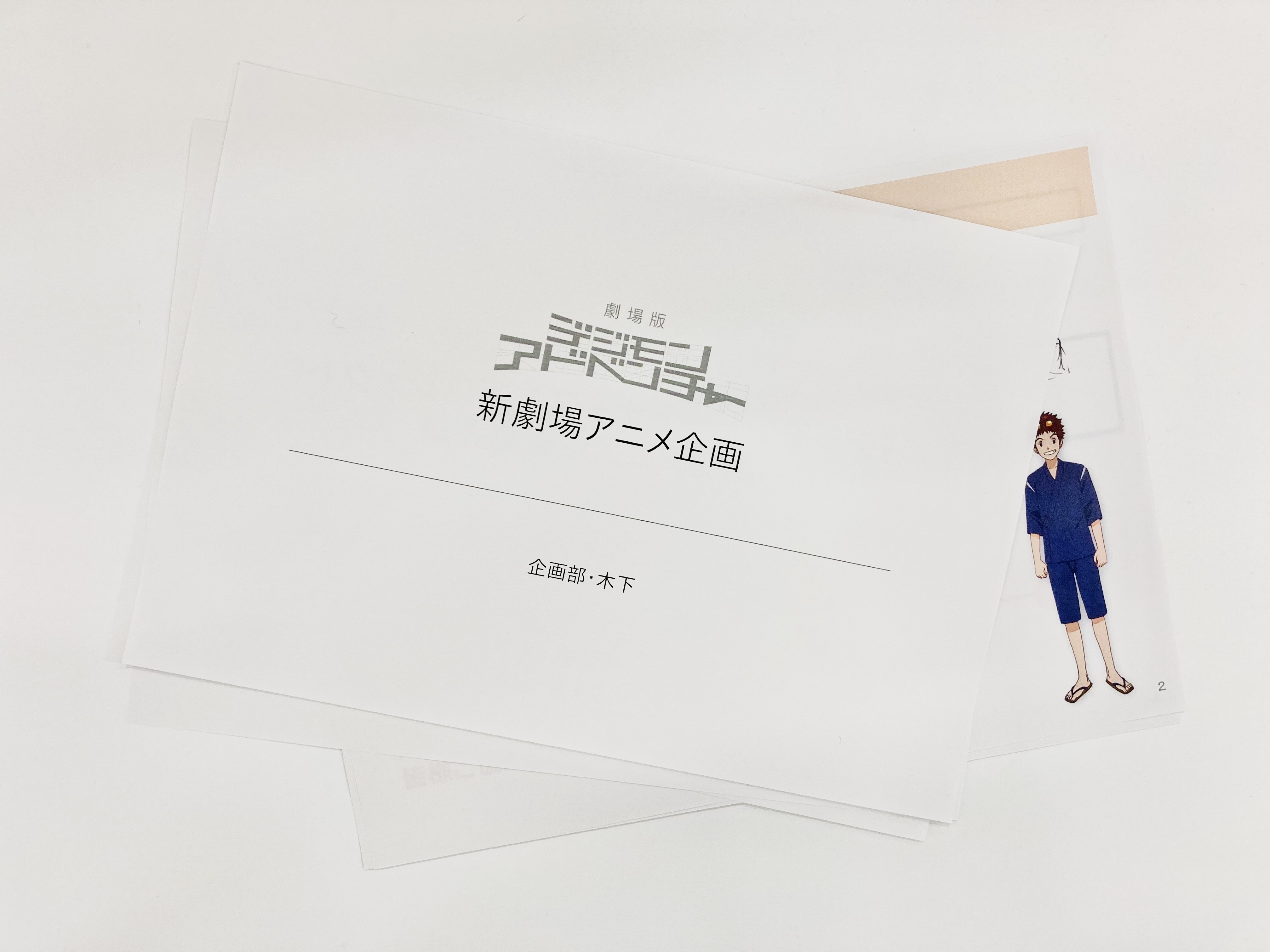 Digimon Adventure: The Movie
Planning project for the newest theatrical animation
Planning by Kinoshita
A quick glance at the contents shows that, in addition to the story and character descriptions of the new film, it also outlines the 'outline' of the film, including the selling points, target audience and staff. It seems that they are going around with this proposal to explain the film to the relevant departments within Toei Animation.
What I saw was still in a state of incompleteness, and it appeared to be only at the stage where producer Kinoshita's personal goals, guidelines, and ideas are being presented. From here, it seems they will be updated through discussions with the director and internal adjustments!
Come to think of it, what kind of proposals have there been for the Digimon anime series so far...?
​
For Company Eyes Only
TV Animation Series
Digital Monster
Monochromon
Planning and Review Materials
H10-8-13
TV Animation "Digital Monsters"
Story image: Fifth grader Yuusuke (雄介) is an ordinary boy that you'd see anywhere. The only thing that makes him different is his confidence in raising the best Digimon. He treats his Digimon as real pets by putting his love into raising them. A monster that he's never seen before appears in his Digimon monitor, and speaks to him. The monster, "Jijimon," an eldest in the Digital World, spoke of things to Yuusuke that were incredible.

[An evil (organization?) Black Hole (? クロアナ?) that has been opposing them since the Digimon world's beginning has begun to make their move. However, if the Digimon world is annihilated, the humans on Earth get annihilated as well. Yuusuke, in the Digimon world, is the only chance to save mankind by raising the strongest soldier/knights among the Digimon.]

And so, the days with Yuusuke and his Digimon friends against Black Hole begins.
Encounters, friendship, partings...
Within the days of hard battle, Yuusuke gradually realizes something:

[Yuusuke isn't the one raising the Digimon, he is taught by the Digimon and grows from them!!]
The above document is dated "August 1998", so it appears to be a planning document from more than a year before the broadcast of Digimon Adventure. The title of the document is also " DIGITAL MONSTER Planning and Review Document", and the storyline described is completely different from that of "Adventure". It is a very "under consideration and production" planning document, and it is deeply moving to think that this was the starting point for the Digimon Adventure we all know and love, and that it was updated many times over the years...!
A small note. The document does appear to be labeled August for Heisei 10, which is 1998, and not a year before the broadcast of Digimon Adventure. The translation of that was checked, it appears this is simply a mistake, or he's gotten mixed up and it's a later revision of an older document.

August 1998 would have been around when Kakudou was approached to be director and, based on comments from others involved in the franchise, things began to change quickly to have the various upcoming media more formally cross polinate ideas and imagery, with Kakudou suggesting many ideas.

The character artwork in the corner of the one image is from, if I recall, an old guide book.
Onkei noted that these were very pixelated, so some bits have been omitted or guessed as best she could based on what is visible.
New TV Series Proposal
Digimon Adventure
Yomiko Advertising Inc.
Toei Animation Co. Ltd
Project Details
Fleshing out the Digital World!

Part 1: Strengthen the story and worldview!
File Island, the center of the Digital World where Agumon and co. live, is filled with fights between Virus and Vaccine Digimon, and the discovery of new Digimon species... The Digimon world is full of mysteries to the children, a complete "unknown world."
For the viewers to watch the anime "Digimon" as easy viewing and make it interesting to them, how about making this story an adventure tale that is similar to Jules Verne's "Deux ans de Vacances"?

Three main points for this:
(1) 7 human children are transported from the current Japan to the Digimon world and begin an adventure! There is drama between their clashing with each other and in their individual stories!
(2) Adventure in the unknown Digimon World: What is the digital world? What is the secret of its workings?
(3) And... friend or foe? The variety of Digimon that appear before the childrens' path!! Involving drama with this will bring out the Digimon's unique characteristics as well as tension!
End-of-the-world "Robinson Crusoe" tale with boys and girls...
Adventure! Action!! Survival!!!

One day, 7 boys and girls suddenly end up in an unknown world called the Digital World... Various troubles await them!
To return back to their world and to their families, they must sometimes rely each on their own wisdom and courage, and sometimes band together to form a power unified between all seven of them. In this way, they each move step by step forward together...
Supporting the kids are their partners: 7 cute and reliable Digimon! The Digimon evolve as a reflection of the 7 children's growth, unraveling the mystery of the Digital World while becoming irreplaceable friends. They fight together against the unknown Digimon who attack them!
This story is a survival adventurer's tale involving human children and Digimon!!
A presentation to kids that address the problems of the 21st century--The new TV series "Digimon Adventure" will become the "Deux Ans de Vacances" of the Heisei era!!
Character Introduction
Taichi Yagami (5th grade, male)
Digimon Partner: Koromon -> Agumon -> Greymon
5th grader in Monden Elementary. Ace striker of the school's soccer club. While he is confident in his physical endurance, he isn't as great in [pixelated], and he's the type to act first before putting his thoughts into words. He's been able to pull things off before by having a "just watch me, I'll get it done" attitude. However, this habitual style of his won't work in the Digital World, a world without common sense, and has the possibility of bringing about the most failures. His way of raising Digimon may also be a cycle of trial and error.

(Virtues) Passionate, proactive, optimistic, courageous, doesn't falter, has the charisma to be a leader, stable emotions, believes in people easily
(Faults) Doesn't fully listen to others, can be unsympathetic and non-empathic, makes assumptions, doesn't view himself objectively
(Development) Takes in other people's views empathetically, and learns to be sympathetic. Realizes that he can be objective. Learns to be more observant.
(Attitude towards his Digimon) A strange pet. Accepts him easily, even all his eccentricities. Treats him like his other half/younger brother.
(Extra notes) Finds fun in [pixelated]. A natural adventurer.
Yet another project proposal was found. The contents described, such as the outline, storyline and character modelling, are the same as those that were actually broadcast. It seems to be a planning document created to explain Digimon Adventure to people outside the company after production had progressed to some extent. Reading it in writing as the 'intent' of the work, it seems to change the way we look at the anime a bit!
This second proposal discusses what is functionally the final version of Adventure. At various events Kakudou has carried copies of what appears to be the same planning document (although his being much larger and including later information also) to use as examples while talking, mostly notably the roundtable stream for Hacker's Memory.

The document brings up both Robinson Crusoe and Deux ans de Vacances (Two Years' Vacation), which have been noted many times to have influenced Adventure, although I don't recall if we ever knew they were formally mentioned in the proposal/planning documents.

This proposal was done with art and design work that was used in the final version, rather than early samples/test images, so may have been a more formal version later to show to production partners.
Summary of this volume.
▶Even if you call it a 'proposal', the content changes depending on the circumstances of its production and use!
▶The proposal talks about the producer's thoughts and commitment to the work!
▶In the early days of planning Digimon Adventure, the story was something else entirely!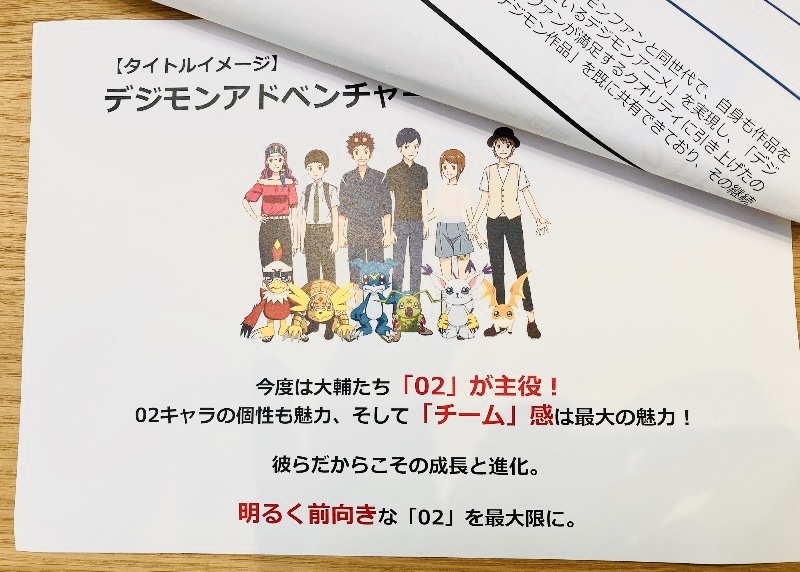 Digimon Adventure 02
Daisuke and co from "02" are the main characters this time!
The individual characters of 02 are what makes them charming, but most of all it's their "teamwork"!
Their growth and evolution.
Bring out the "cheerful positivity" that identifies 02.
Digimon anime has a history of over 20 years. Even if we talk about a "new film" in one word, we have to ask ourselves, "What should we do?" What should we take over from existing works?" is one of the key points! So, how will this project turn into a story?
We'll keep sending out reports, so stay tuned for the next one!
An interesting look at what may have been, and the early planning document proposal data for Adventure, with only a peek thus far into the new 02 movie.
Last edited: