Show User Social Media
Hide User Social Media
Joined

Sep 8, 2006
Messages

15,581
A small weekend update...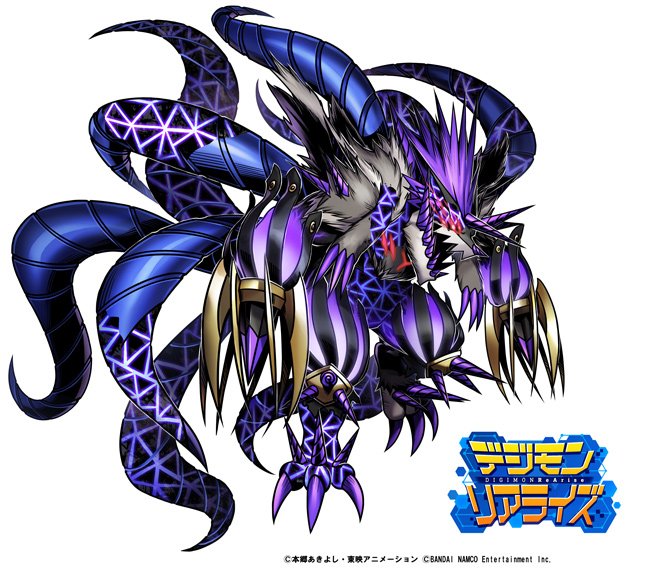 Artwork and a short profile for Rasenmon: Rage Mode was
posted to Twitter
by the ReArise account!
We're going with 'Rage' for the translation for gekiko for now until we find out what Bandai will use in the English translation of ReArise (something like Fury is also a likely translation)
Rasenmon: Rage Mode
At the time of it's evolution, the data of negative emotions flows in from others, and it can't control that dark power. This evil Ultimate level Digimon with nine tails acts as a destroyer that scatters destruction around with it's rage.
Hopefully we get the same for Erismon's other Ultimate soon!
Prior details about Rasenmon: Rage Mode can be found
here
.
Update- A larger profile translation from garm. It isn't mentioned where this is from, assuming it's in the game?
Ultimate/Bewitching Beast/Data
A ruthless, nine-tailed Ultimate level Digimon that became unable to control its dark power due to the large volume of negative emotion data that got mixed in while it was evolving from Perfect level. The moment its evolution is complete, its body comes under the full control of its rampaging power of darkness; what results is an entity of destruction that devastates all in its surroundings solely on impulse. It suffers from inner conflict stemming from its fear of and attempts to reject the swirling negative emotions inside of itself, which gave rise to its destructive impulses and subsequently its vicious personality.
Its Special Moves are extending its large, spiral-shaped tails and skewering the opponent over and over again (Desperate Vortex), and pouncing on the opponent, devouring their Digicore directly (Predator's Bite). Not only that, it is able to rotate the blades on its wrists at high speed, creating tornadoes that indiscriminately tear apart everything in their surroundings (Spiral Hell).