Show User Social Media
Hide User Social Media
Joined

Sep 8, 2006
Messages

12,999
A few ReArise pre-registration updates!
First up, it's been announced that pre-registrations have gone over 500k, so everyone gets the Pumpkinmon egg that will evolve to the new Mega Digimon!
They've put up
a small clip
of Pumpkinmon to celebrate!
On top of that they've announced 2 more pre-registration bonus items, although it appears one was announced by accident...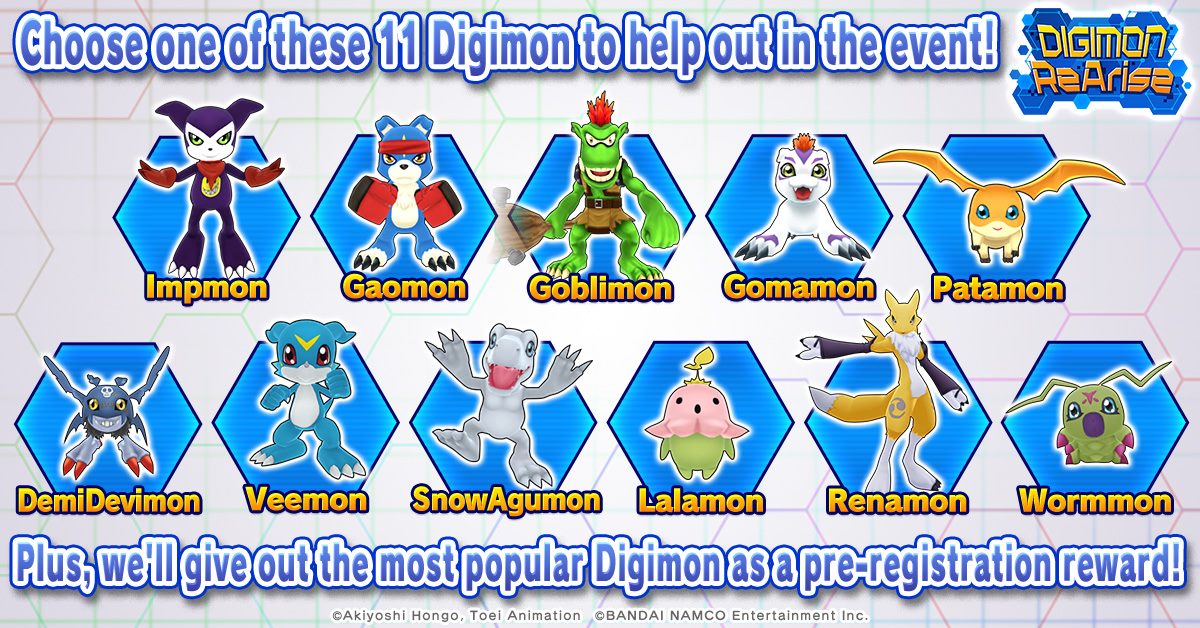 First is the one that appears to be an accident.
This is based on
the fan vote
that was run as a pre-registration event for ReArise in Japan.
Choose which Digimon you want to help in an event between: Impmon, Gaomon, Goblimon, Gomamon, Patamon, DemiDevimon, Veemon, SnowAgumon, Lalmon, Renamon, and Wormmon.
The one with the most votes will be given out as a pre-registration reward. (The winner in Japan was V-mon.)
Due to the image seemingly going up by mistake, we don't know what (if any) the pre-registration number for this one actually is.
It was connected to
this Facebook post
, so post your favorite there for now until they clarify...
That post itself describes a 'different' pre-registration bonus though...
That one is an 800k pre-registration bonus that unlocks a decoration item for everyone. The image was seemingly meant to be digicode that would say what the item was, but with the wrong image up we don't know...
Hopefully those 2 get fixed up and clarified.
Update- They removed the prior Facebook post with the wrong image and posted the correct one as a few people have noted.
It says 'Butterfly'
The game is currently listed on
the Google Play Store
for Android users and
the Apple App Store
for iOS users.
Digimon ReArise has no solid date announced for when it may launch, although the Apple App Store lists October 21st as a stand-in date.