Show User Social Media
Hide User Social Media
Joined

Sep 8, 2006
Messages

16,666
Time for a batch of stuff for the weekend!
​
After Digimon Adventure: episode 47 aired
,
Digimon Web
put up profile art of Atamadekachimon and Minidekachimon, both of which made their first anime appearances in the episode (and their first major appearance since their introduction, as they were included as sprites in a product from a contest, and then basically never heard of again until now.) The attached message:
Thanks for watching episode 47 The Villains of the Wasteland!

Nohemon was a cool & austere Digimon

Atamadekachimon & Minidekachimon made their 1st appearance in the anime!

Official illustrations! And added to the reference book tomorrow!

(A total of 6 Digimon will be added this week!)

Please look forward to next time, episode 48 The Attack of Mugendramon
Prior to the episode, they had some fun earlier in the week with teasers...
​
The messages attached to the original
tweets
(
2
):
Since Twitter now supports portrait images, we'll show a silhouette of a certain Digimon that will appear in the next Digimon Adventure:!

This Digimon only appeared as a sprite in the Digimon Savers product DigiWindow.

After 15 years, the Digimon will make it's 1st anime appearance & have an official illustration released! Look forward to it!
Along with the silhouetted "certain Digimon" shown off yesterday, this Digimon is also making it's first appearance in the anime.

His voice is very nice

Digimon Adventure: airs the day after tomorrow, May 9th
And we get new art by Kenji Watanabe!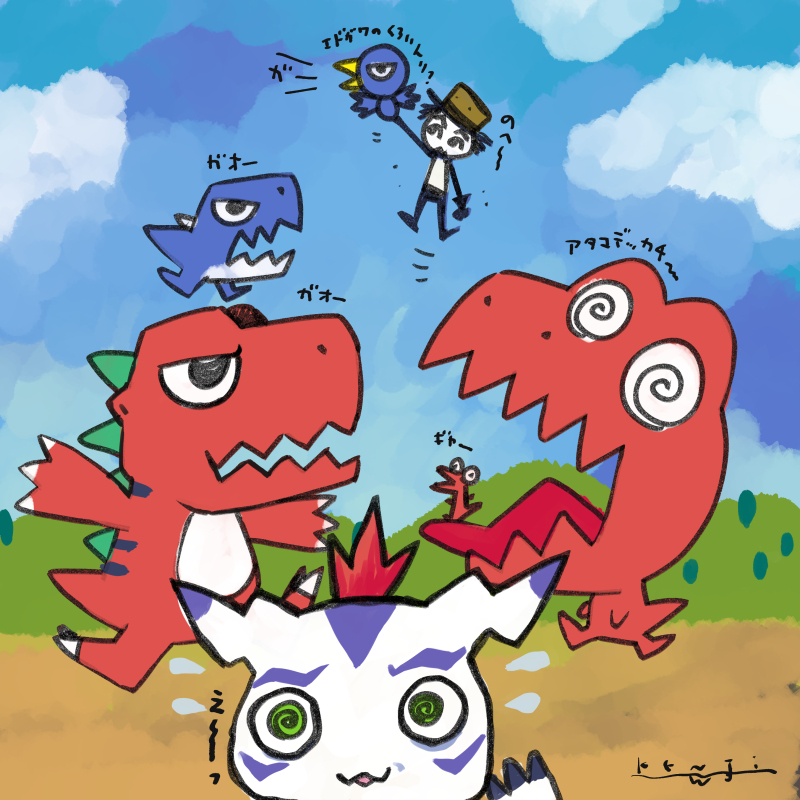 We get some very cute art
of the primary conflict happening in the episode, along with a confused (or maybe worried) looking Gomamon. The attached message:
Villains in the Wasteland... water is important.
And then from our friends in China...
A really nice Digimon product display. An overall look at current and historical products in the brand (most of the display appears to be pieces from a display that went up before Adventure: aired in Japan, with additional elements that were likely ready to go in case toy shows in Japan started up again), it's a rather impressive look at Digimon stuff, with some neat updates of current things (I'm not sure we've seen the Pulsemon display egg before...)
The display is in Guangzhou and being put on by Toys Star, a Chinese affiliate of Bandai.
There is also a video showing more of the display on bilibili, but it won't embed properly at the moment.
You can find it here if you want to watch
.
And last up... updates from Konaka!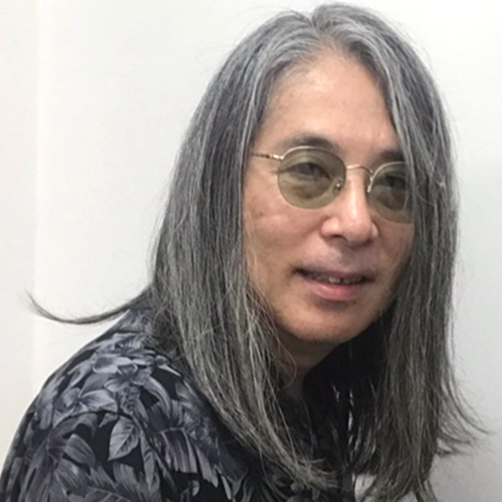 Konaka has done a number of Digimon Tamer blog entries!
The recent entries being covered are:
Episode 15 Part 1
Episode 15 Part 2
Episode 16 Part 1
Episode 16 Part 2
Episode 17 Part 1
Episode 17 Part 2
Tamers Digital World
Episode 18 Part 1
Episode 18 Part 2
Prior Konaka Tamers' Blog Details:
Tamers OP, ED, Insert & Character Songs, Story Retrospective Intro, & Episode 1
Episodes 2 & 3
Episodes 4 through 9
Episodes 10 through 14
Like last time...
A few random things gleamed from them... A small list of bits from these (overall), as he goes over a lot, hopefully there is time for us to do a full translation later. Some of these details are things we knew, but perhaps further clarified... (these are quickly translations, but hopefully mostly accurate)
Episode 15
The second cour 'Devas' arc begins in earnest. This time powerful enemies emerge who are more clearly hostile to humans.
Jenrya speaks seriously about how only they can stop the Digimon, but Terriermon is playing behind him.
In the blog, the first person perspective for Ruki and Juri is written as "I", but the default for girls back in those days was "atashi". He says it feels strange to write I now. It feels inelegant. In a Lain online viewing event, there were viewers who felt uncomfortable when "I" was used.
The 'flag of the Digimon Tamers' that is raised is a reference to Seven Samurai. Takato and friends do not know the original film.
He feels it took him the full season to depict how the three groups of Digimon and Tamers finally united. He didn't originally use Seven Samurai as a guide. His intention was to add an aspect of reality to the Digimon anime, which is why they weren't united at the start.
The process ended up feeling a cool episode was akin to act 1 of Seven Samurai. He doesn't remember for sure who said it, Maekawa, Masaki, or maybe Tsunodou.
He was so excited by this, that's how the flag ended up being designed. Culumon takes a spot alone, like the farmer in Seven Samurai.
The kids now show up as a group to see Guilmon, for some reason Hirokazu is introducing him. The overall groove feels very "Ultra Q"-like, but it might have felt fresh to elementary school students in 2001.
He describes various elements of Japanese theater that tie into the episode, literally and metaphorically.
Jenrya is returning on the train. Terriermon is playing, it is a good thing there are no other passengers. (He notes that at the time, the Oedo line was very empty.)
The popularity of Bruce Lee in Japan in the 1970s is brought up, and Konaka muses on if Terriermon saw Enter the Dragon with Jenrya. He then wonders if children in 2001 would know about it?
Jenrya pulls out his phone. 3g in Japan was ahead of the rest of the world. But this line wouldn't have good mobile reception until 2013, so Jenrya has to run to ground level.
In 2018 he learned from Koji Watanabe there is an undisclosed facility in the underground area of Shinjuku Central Park. In the audio drama the same year, NYX, the successor to Hypnos was set up here. He wonders what it actually is. A FEMA camp? [Koji Watanabe is a science fiction writer who helped write elements of the Cyber Sleuth games, and was also at the Hacker's Memory livestream, which is likely the meeting Konaka is referring to.]
The mood of the drama turned from the grimness of the prior episode. He thinks the children in the audience were likely relieved.
Episode 16
"Urasawa, about the upcoming class camping trip, Ruki goes to a private school, so she won't be along on the trip. But I'd like you to send her out somewhere." "Yes, yes." Konaka doesn't know if there was a conversation like this between Seki and Urasawa.
Terriermon seems calm, Moumentai.
And Culumon is here.
And Takato looks heavy on Guilmon. Be patient, Nami-sensei will be asleep soon. Juri wants to know why Takato brought Guilmon.
Singing on the bus, the teacher is asleep. Konaka wonders if the singing was recorded separately from the main show portion.
With an image of Takato's sleeping bag being filled up without Takato in it, Konaka just gives the title of the 1979 Clint Eastwood movie "Escape from Alcatraz".
The students are playing in the river. This episode broadcast just before summer vacation on July 15th.
Teacher Mori asks if he should apply suntan oil to her. It's fine, you are dismissed. Good luck Mori...
Issei Futamata played Sinduramon (and apparently the talking owl.) He also played Ultraman in Ultraman Tiga episode 49.
Episode 17
After fun times, the story will begin to drive.
The origin of Digimon in this series will be revealed this time. Masaki is mainly in charge around here, including the mystery around the blue card.
Yellow coat on a hanger... it's unclear if this is a real human being. It was described more solidly than he expected, so he will adjust it in later writings.
The project will be terminated and the server will be turned off. The survival of Digimon will end. But... something is noticed. This area isn't known in the main story, but someone installed a door that allows Digimon to escape... Shibumi. A mysterious person.
He's happy he finally was able to get a snapshot of the entire modified Palm Pilot at the same time. He seems interested that you can unfold the keyboard, but not flip it out, akin to a later Blackberry.
He discusses how he uses Qwerty on smartphones, using flick input isn't possible for him. He didn't even try to remember it. Although he learned Palm's Graffiti method. Qwerty keys on a smartphone are too small to easily reduce typing errors. It reduces situations where he wants to try to type vigorously. He once carried around a Bluetooth mini-keyboard, but he felt that was unnecessary, so he gave it up.
Various paragraphs are based on the nostalgia for the way Akihabara used to be. Kaizawa apparently went out to do location scouting with an assistant in 2018, but due to snow they couldn't do it. The goal of using real locations can be a burden.
2 Devas appear at the same time.
When they card slash, Ruki chooses enhanced plug-in W. Jenrya chooses Thor's Hammer. Wow... Terriermon is running with such a huge hammer.
Gargomon is petrified. A defeat flag.
Gargomon's Matrix Evolution.
From here, the voice is changed to a processed human voice instead of synthesized. He doesn't know why. His guess is because 'Matrix' can be said closer in English.
Gargomon's banked evolution is lively with many sound effects like fireworks and percussion instruments.
Rapidmon!
The voice is still Terriermon.
GOLDEN TRIANGLE! It's emerald green instead of gold, perhaps to match the color of Rapidmon.
His father enters Jenrya's room. Terriermon no longer pretends to be a doll.
There are things only Digimon can understand... There will certainly be such a thing. Digimon have already evolved their own intellect. They have different values. Even if the Digimon they partnered with happened to be able to built a sympathetic relationship with their children.
Tamers Digital World
As a pseudo intermission before the Digital World, he does a post regarding it. Most of it is links to his old tweets about it.
He mentions how Adventure and 02 had many episodes set in the real world, and those were the ones that were most impressive to him. That's why the base of Tamers is the real world.
They didn't want to make it a casual come and go digital world. It was important that it was a decision they made on their own. Konaka himself is not very interested in digital worlds, which is why the series is how it is. He was at a loss how to show it, but it was necessary for Digimon. It's hard for him to write when he doesn't have a vision in his head.
He began to be worried around episode 7, which is how far ahead the planning was. The plan was to start the digital world arc around episode 27 (the third cour beginning), but there was a strong request to start it either [if I'm reading it right, the request was not from the stations or the Digimon planning team. In the past it has been mentioned that Bandai wanted them to speed it up to get there for product sales, although there isn't any specific mention from Konaka regarding that here..]
In the second cour, the Tamers became more aware of themselves, while the difficulty of fighting among people began to show up (good for drama), and the Deva enemies were all unique with worthwhile drama. He would have liked to continue this story (the collaboration elements of 17 and 18 he considered fun.) However, the schedule moved up 3 episodes to start the Digital World Arc in episode 4. He thanks Producer Seki for the utmost persisting that did this.
Most of the rest is his tweets, with some minor additional commentary. He mentions how Kaizawa and Kakudou were odd for directors at Toei at the time. They made images using 3d software, and there weren't others like that.
The spherical CGI imagery in the digital world was by well known director and designer Shinji Aramaki. Konaka is sorry for the trouble he caused the digital compositing staff for the detailed imagery.
He corrects an old tweet of his. He did not mean to say "AI" for artificial intelligence. Rather, "AL", for artificial life.
Episode 18
Episode 18 is directly linked to 17. The power of the Devas can't be shown if they are defeated every time. But if you keep losing, you lose the specialness of the heroes and Digimon who evolve to perfect. He struggled to find the right balance. In the previous episode 2 Devas were shown, and only one was defeated.
The shop 'Alamanda' is apparently based on 'Almanda' which is at the Roppongi intersection. It has the same color and looks similar. He has never had a meeting here.
There are many advertising companies in Roppongo. Ruki wears clothes she doesn't light, and behind her is advertising featuring her mother.
Ruki's mother and grandmother have a conversation, The main crux of it is that Seiko knows Rumiko is worried about Ruki.
Rumiko was waiting at the door when Ruki came home. School children taking a walk at this hour? Where are they. "Here"
Vajramon was friends with who was defeated last time. He thinks the story is more convincing if you think of Vajramon having an obsession with Renamon almost like a love affair, rather than as a substitute for his fallen comrade.
Renamon ponders silently. There are things to consider in Vajramon's defense. Renamon is in an unnatural position of being a Digimon in the real world. Finding a reason for her existence as she deepened her bond with Ruki. But Digmon are Digimon, They are different from humans.
Vajramon sees Culumon. Another Digimon serving humans? Out of my way, and he gets kicked away. In pursuit. Culumon is in trouble!
He then shows off various links to locations he's mentioned previously, including ways they have changed since Tamers began.
Renamon says firmly that she is a Digimon who evolves with her partner.
Renamon waits for Ruki's card behind her back. It's as if they are players in a doubles match, and their attitude is based on that they trust themselves completely.
"Oh, it's "I"." He realized he was in the room for the recording, but the wrong wording was used (he discusses this in a previous episode.) It is 20 years later and he feels regret.
A blue card is in Ruki's hand. Culumon also seems motivated.
After 20 years he noticed that the circle inside the card (during the CGI card separation animation) is spinning.
Slash!
The Kyubitmon to Taomon banked evolution is original drawings by Ken Otsuka.
The red crystal on the yin and yang mark on the forehead of Kyubimon.
A tremendous power enters Kyubimon.
A dragon and a dazzling light.
The eyelids open, and rotating in front of the moon and the sun. They approach each-other as the rotation speed slows down gradually.
The sleeves are beautiful. The ring erodes as she stands up.
Taomon!
Vajramon is upset that it has evolved into a figure closer to humans and states the evolution is wrong. Who decides this is a mistake?
Ruki is fascinated by the wonderful movements of Taomon.
Renamon has become very strong. Illustrated by the moonlight Renamon is beautiful.
She looks away from Ruki with kind eyes. At the end, the end part of 3 Primary Colors plays. There wasn't much room for it, but he liked to hear the song.
Ruki's words in the song seem abrupt, but they were in harmony with the first half.
For Ruki beauty is not about wearing fancy clothes and smiling. She has her own aesthetics, and Renamon has become a symbol of that.
It isn't as simple as rebellion. It's a conflict happening in an elementary school student who hasn't reached puberty yet. She can make up with her grandmother quick, but she doesn't easily understand her mother. Maybe it's not the right time yet. It's not so simply that it can be resolved peacefully.
The scenario capturing the subtleties of the heart was unique to Yoshimura Genki. He has heard you can't say these elements are "uniquely feminine" now, but it's a strange story.
Profile art of a few Digimon who never had some, new Kenji Watanabe art, photos of a fun product display, plus a bunch of Tamers from Konaka is a good batch for the weekend.