Show User Social Media
Hide User Social Media
Joined

Sep 8, 2006
Messages

14,169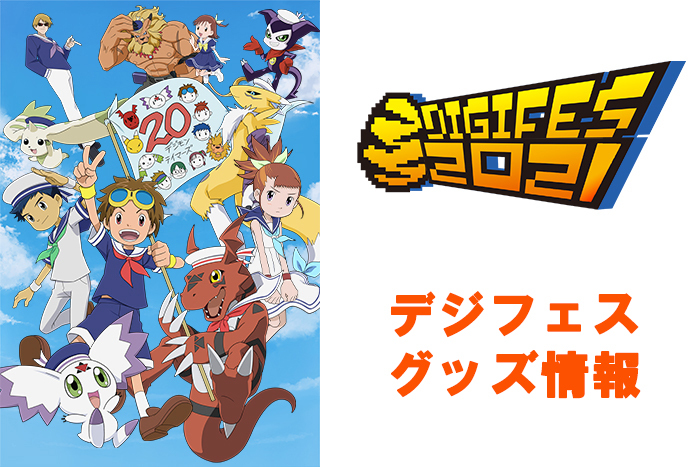 After getting the DigiFes 2021 key ar
t, we also
got the information
about the products that will be sold at the end.
They aren't currently announcing the sale times, but it would likely be the hours around DigiFes, plus a bit earlier and later.
On to the products!
First up are products exclusive to DigiFes. And we begin with the pre-sale products.
The shirt features the DigiFes 2021 logo along with silhouettes of the Takato and Guilmon art. If there is anything on the back we don't know about it yet. It costs 3,080 yen.
Wristbands with the DigiFes logo are 880 yen each (Takato, Jenrya, Ruki available)
A muffler towel is 1,980 yen.
These 3 presale items can be bought early thru July 19th, but will also be on site at the event.
Can Badges featuring the new artwork are 440 yen each. There are 7 and they will be random.
An A4 size clear file for 770 yen.
Acrylic keychains of the characters are 880 yen. There are 7 types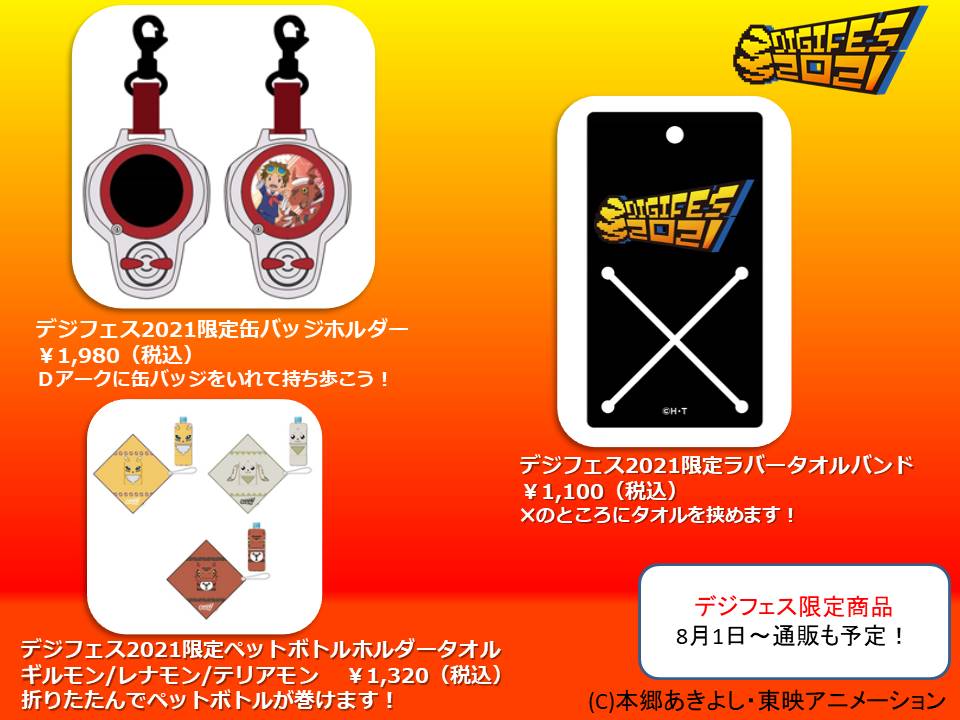 A can badge holder which is designed as a D-Ark is 1,980 yen
Towel bottle holders that feature artwork of the main Digimon from the series as they appeared in the series eyecatches - 1,320 yen, 3 types available
A DigiFes Rubber Towel Band fior 1,100 yen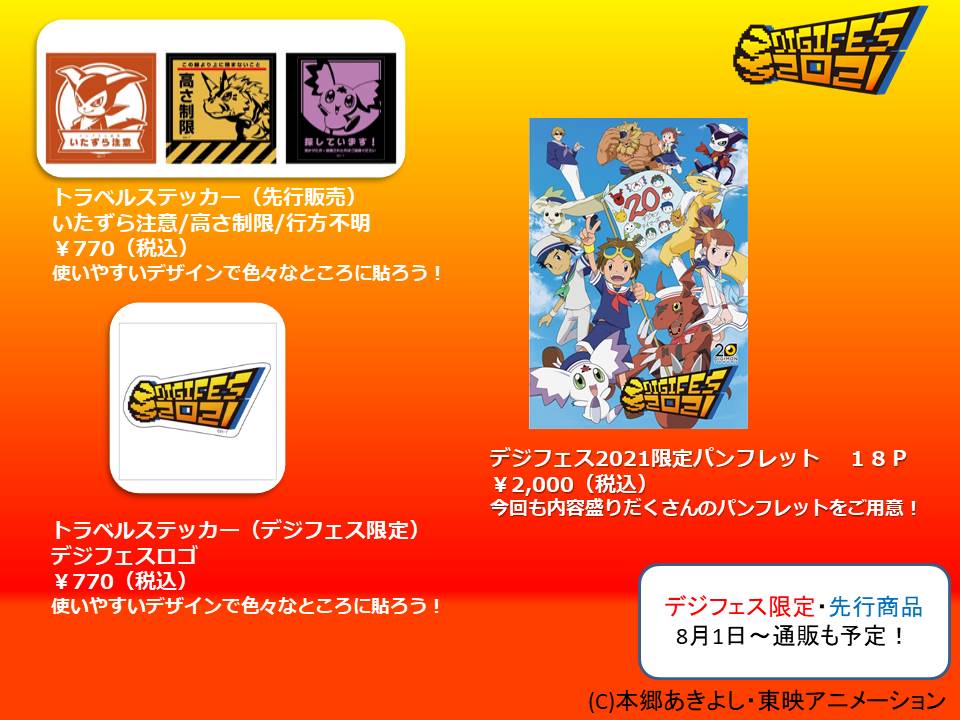 Character Travel Stickers for 770 yen each. These will be available elsewhere, but will be at DigiFes early.
A DigiFes exclusive travel sticker for 770 yen.
A DigiFes souvenir pamphlet for 2,000 yen. These have often been the most wanted DigiFes items, this time ti's 18 pages.
The rest of the items will be at DigiFes early, but will be sold elsewhere.
A vinyl flat pouch themed after the hand drawn blue card for 1,100 yen
Glass Magnets designed after the eyes of the Digimon from Tamers, plus Agumon. These are 660 yen. There are 7 packed randomly.
Then rubber magnet hooks. These are 1,980 yen, and it appears it might be a 2 pack set with both Lopmon and Terriermon, but not sure of that at the moment.
Rubber Magnet hook- 1,980 yen (Terriermon and Lopmon, it appears this may be a set of two)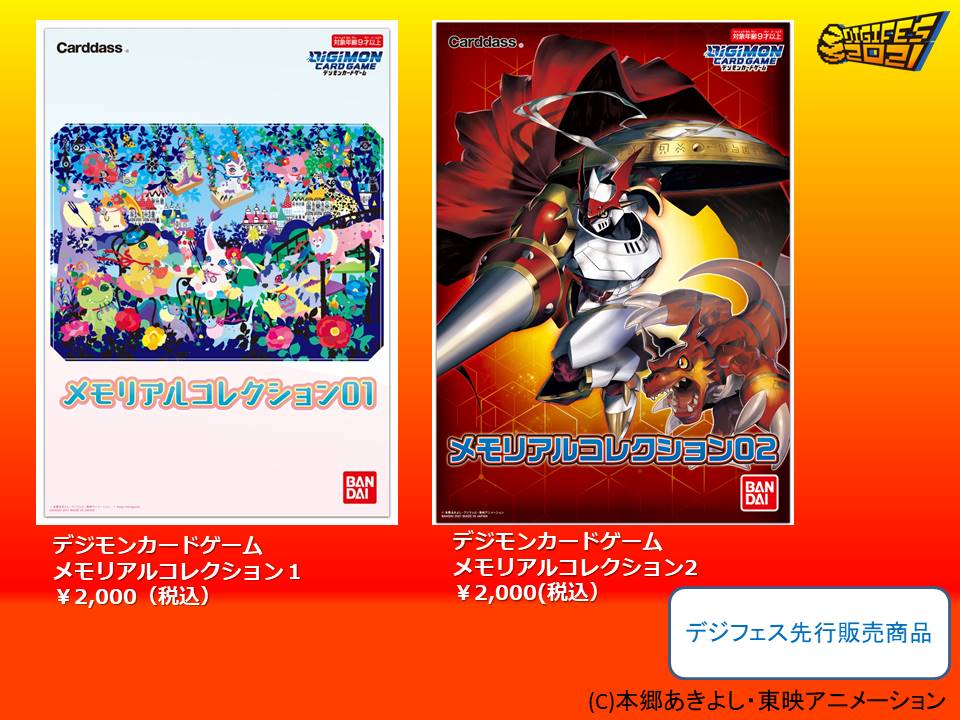 Last up are 2 different Digimon Card Game Memorial Collections
The first features cutesy artwork of the Adventure/: Digimon, while the second is Tamers themed.
The nummber of cards isn't currently known. They are a decent bit more in cost than the similar Premium Edition sets they did for the old card game, so we will see how many cards they come with.
One is themed after Adventure/: with cute art, while the other is Digimon Tamers themed.
Overall a nice set of exclusive and early items, with the art being very good for this sort of thing.
Prior DigiFes 2021 news can be found
here
,
here
,
here
,
here
, and
here
.
If you want to try and nab anything...
We've currently pared down the list of intermediaries we list due to some places closing and others becoming iffy in their communication, calling into question their reliability. If you have any stories, positive or negative, about any intermediaries, DM me with them so we can figure out who might be worth adding (or re-adding), since these aren't affiliate links or anything, simply suggested ways to make it easier for fans to nab stuff.
You'll want to contact an intermediary to get these items sent to you. WtW is not affiliated with any, but here are a selection of intermediaries that have worked well for various WtWers and their friends in the past:
From Japan
Rider Proxy
Be aware many intermediaries do not carry items from specialty shops since they can't be ordered online. You will need to ask them and explain what you want very carefully (perhaps with a photo.) Some intermediaries will potentially still not be willing to get the item (or may only be willing to at great cost.) Realistically to get anything from the pop-up shop at a reasonable cost you'll have to find someone who is actually going and ask them to pick you up something.
Some of the intermediaries have a full store front and may have the item listed, so you may want to check that first.