Show User Social Media
Hide User Social Media
Joined

Sep 8, 2006
Messages

16,891
After a look at a few early products
we finally have a look at the big lineup!
With DigiFes 2019 just a few weeks away, it isn't a surprise that it's about time to find out about what products will be sold at the event.
The big surprise is
just how MUCH there is though
.
If you want details about DigiFes itself and not 'just' the products that will be on hand, those details can be found
here
.
On the day of DigiFes, July 28th at 9:30am and end at 1:30pm they will do sales for ticket holders. Those who have tickets can line up starting at 7:30am. Only ticket holders will be sold to in this period.
2pm to 9pm will be open sales, whether you have tickets or not. Line begins forming at 1:30pm.
First up, DigiFes exclusive products...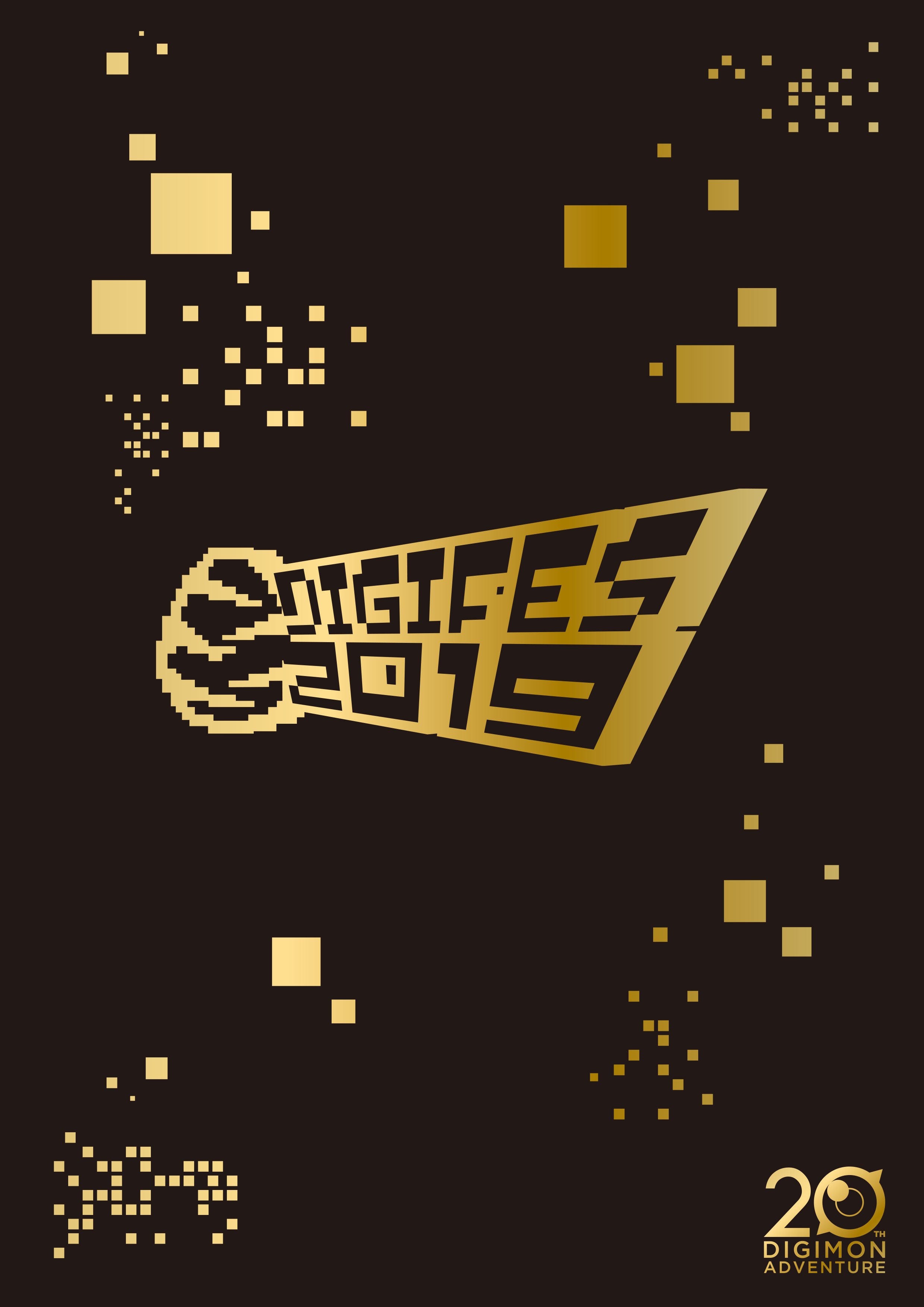 DigiFes 2019 20th Anniversary Memorial Brochure, 2,000 yen.
A memorial brochure celebrating 20 years since the beginning of the broadcast of Digimon Adventure. A4 full color, 32 pages, color foil stamping.
Looking back on 20 years, there are messages from producers and directors of the various series'. There are messages from the DigiFes 2019 performers, and info and a director interview with the staff of Digimon Adventure Last Evolution Kizuna! It is a book worthy of the 20th Anniversary of Digimon now, and the Digimon from now on.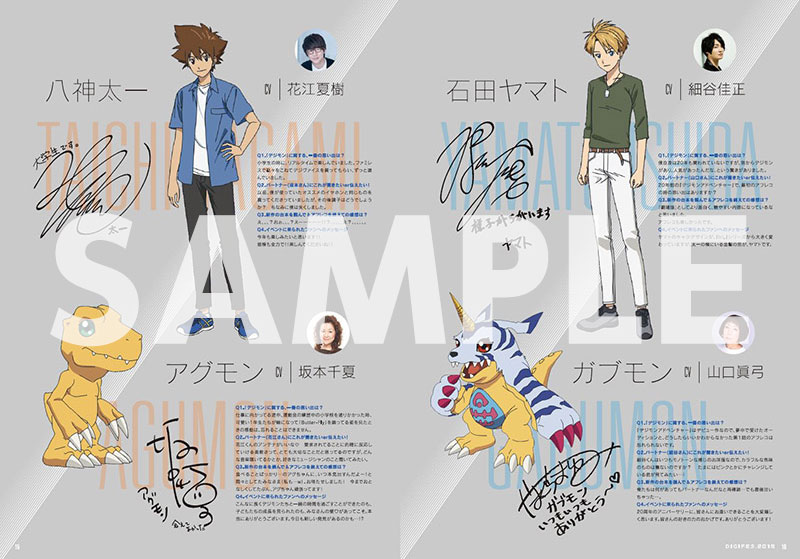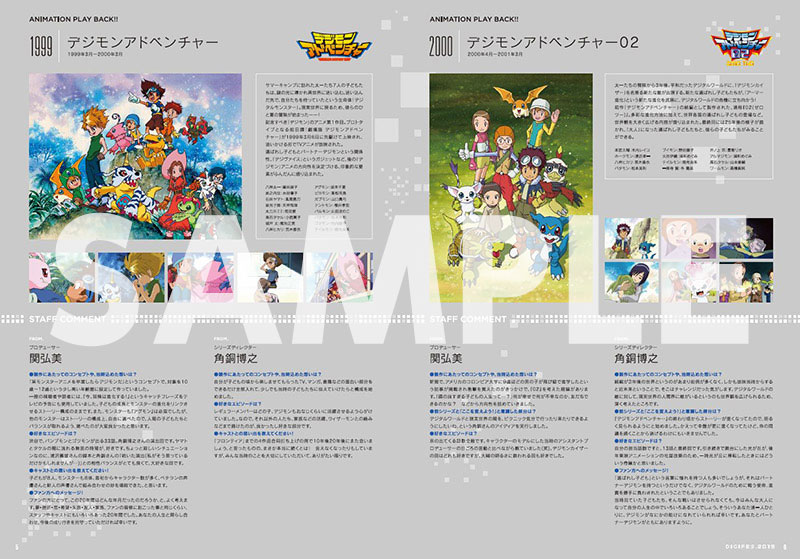 Contents include:
20th Anniversary Chart
Messages from Staff:
Digimon Adventure, Producer Hiromi Seki and Director Hiroyuki Kakudou
Digimon Adventure 02, Producer Hiromi Seki and Director Hiroyuki Kakudou
Digimon Tamers, Producer Hiromi Seki and Director Yukio Kaizawa
Digimon Frontier, Producer Hiromi Seki and Director Yukio Kaizawa
Digimon Savers, Producers Atsutoshi Umezawa & Hiroaki Shibata and Director Naoyuki Itou
Digimon Xros Wars, Producer Hiroaki Shibata and Directors Tetsuya Endo & Yukio Kaizawa
Digimon Universe AppliMonsters, Producer Daichi Nagatomi and Director Gou Koga
Digimon Adventure tri., Producer Yosuke Kinoshita, Director Keitaro Motonaga
Messages from all of the DigiFes 2019 Performers: Natsuki Hanae, Yoshimasa Hosoya, Suzuko Mimori, Mutsumi Tamura, Hitomi Yoshida, Junya Ikeda, Junya Enoki, MAO, Chika Sakamoto, Mayumi Yamaguchi, Atori Shigematsu, Takahiro Sakurai, Kinoko Yamada, Junko Takeuchi, Miwa Matsumoto, Yuka Tokumitsu, Ayumi Miyazaki, AiM, Junko Noda, Naozumi Takahashi, et al.
New Item: Digimon Adventure Last Evolution Kizuna Information and Director Interview
The brochure is sure to be one of, if not 'the', most popular item.
If you buy the brochure between 9:30am and 4:00pm you will get a guaranteed exchange ticket, as the brochure contains information about the content of the event. Beginning at 4:30 the ticket can be exchanged for your brochure.
The next few items are from the early pre-buy set, before we swing back for one more exclusive item...
Canvas totebag with keychain, 1,800 yen. Features a design using the movie visual. Includes 20th Anniversary keychain.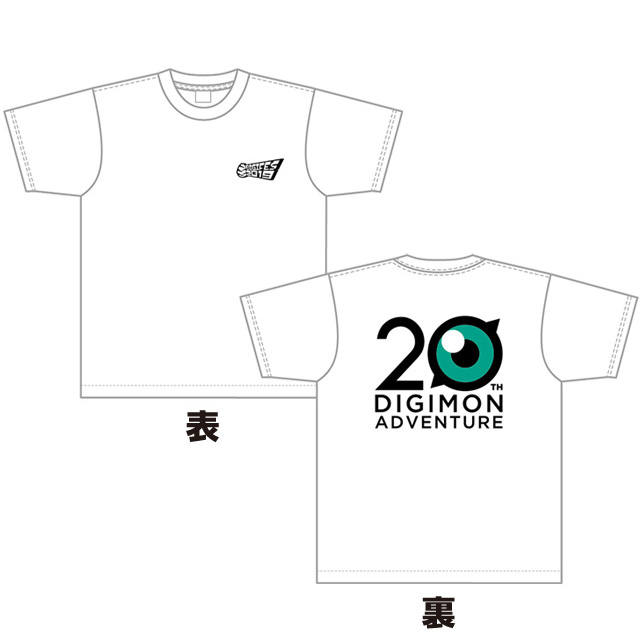 DigiFes T-Shirt, 3,200 yen. Features front and back embroidery. Available in small, medium, and large.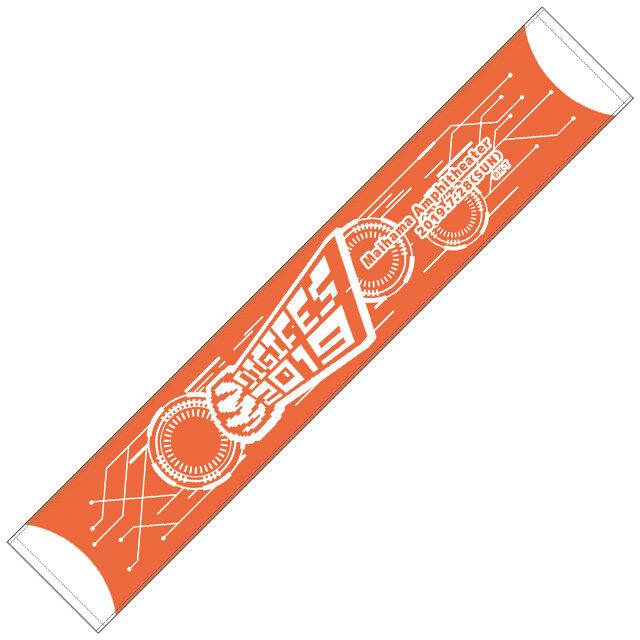 DigiFes Muffler Tower, 1,800 yen. Heat up the festival with this towel!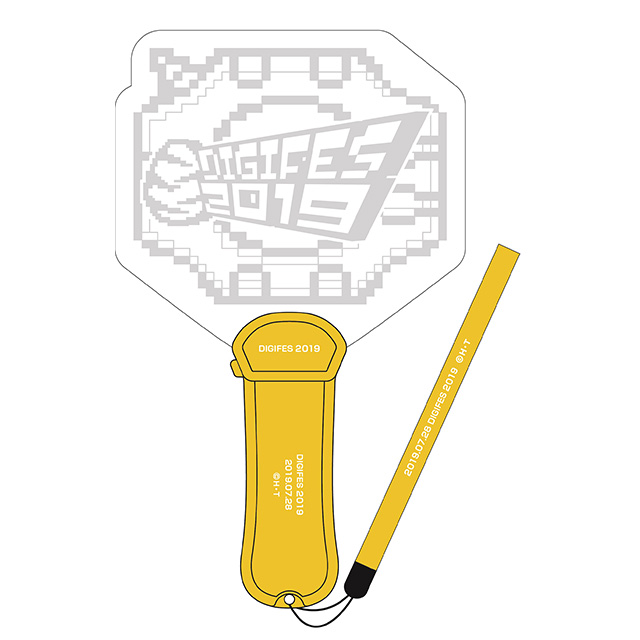 Penlight (plate light), 2,200 yen. This years is a Digivice type with all 8 colors. Energize the DigiFes!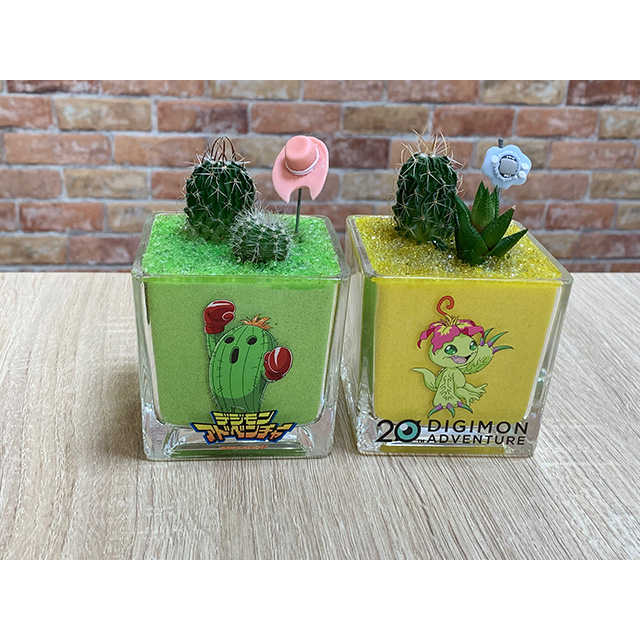 Cactus (two types), 2,900 yen each. Palmon and Togemon are cactus...
Then we have items that will be sold early exclusively at DigiFes, but will later get a release elsewhere after DigiFes ends.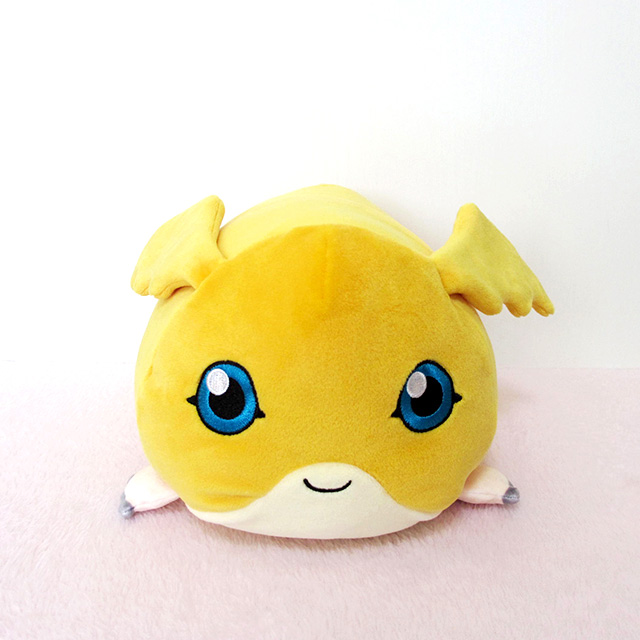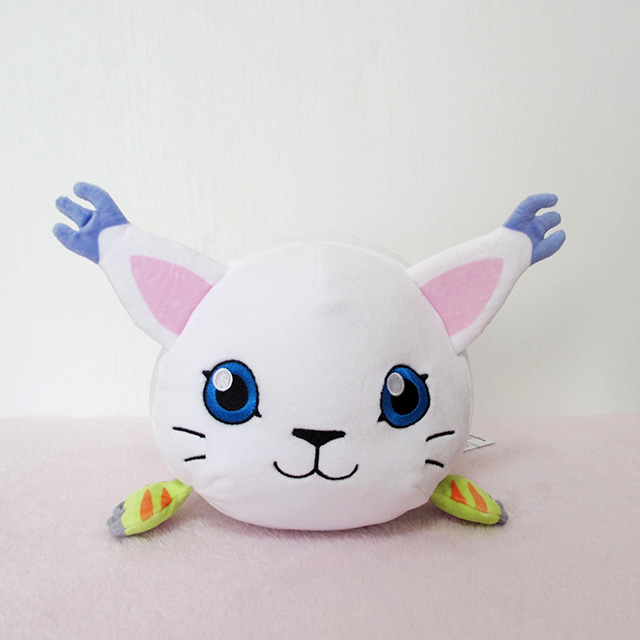 DigiDigiCushion, 1,600 yen each. Available in both Patamon and Tailmon. Can you give up this cushion once you touch them?
Super Evolution Item Metal Charms, in box. 600 yen each. There are ten types of charms showcasing the various special items of the franchise.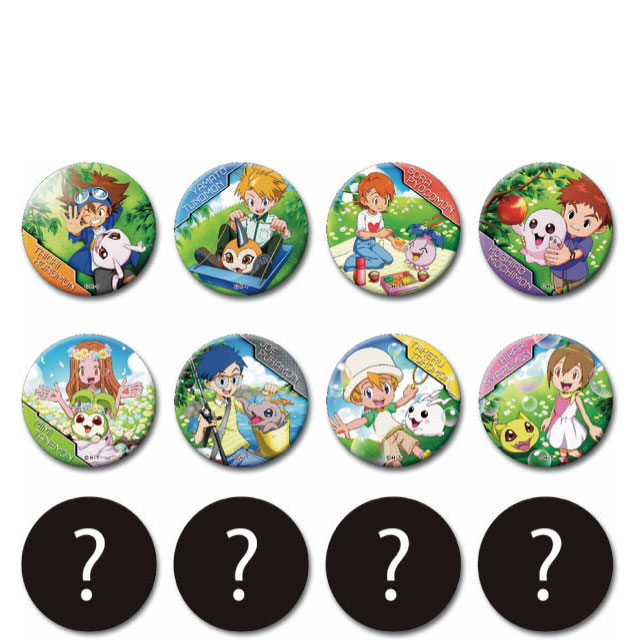 Can badges, 400 yen each. There are 12 types with new drawings, 4 of which are a mystery.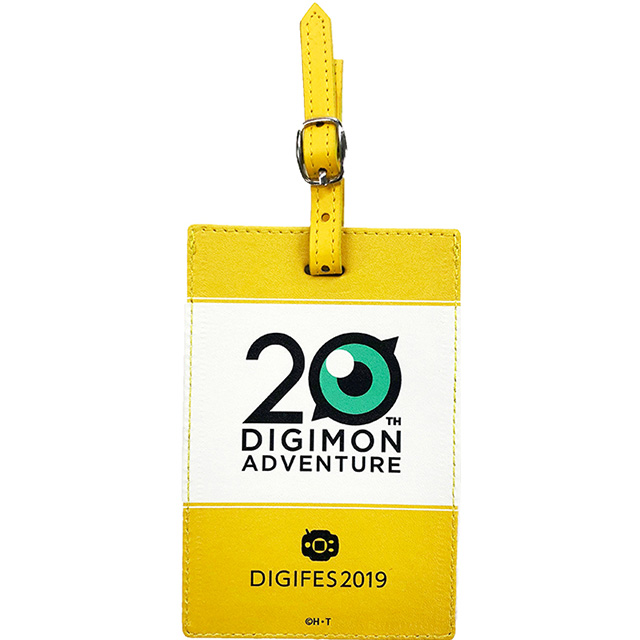 Luggage tag, 1,500 yen. If you are traveling this summer, attach this to your traveling luggage.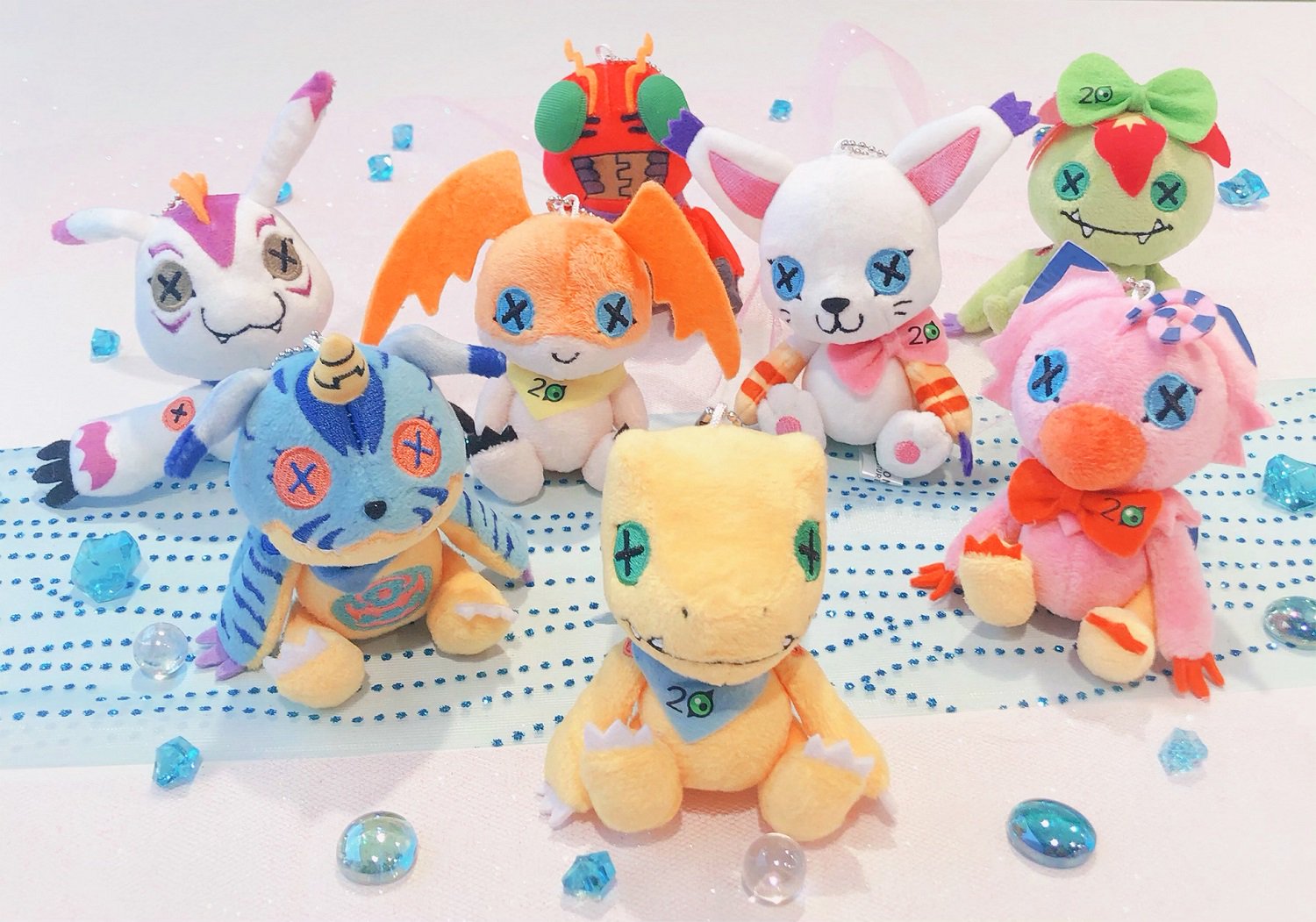 Digimon Stitches Mascots, 970 yen each. These eight plush Digimon friends became cute stuffed animals.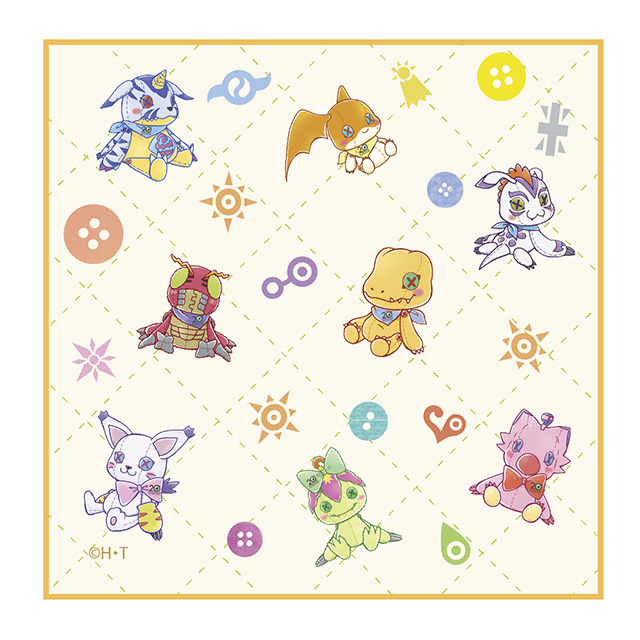 Digimon Stitches Mini Towel, 800 yen. A cute towel using the Digimon Stitches designs.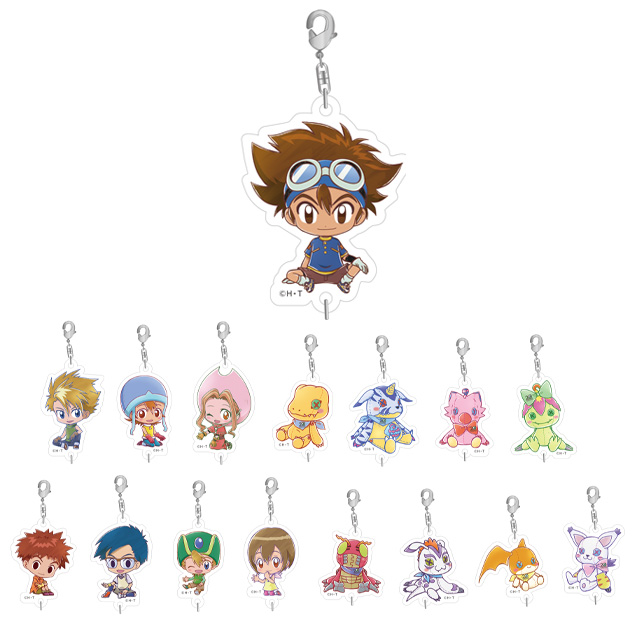 Digimon Stitches Acrylic Charms, 600 yen each. There are 16 of these featuring all the kids and Digimon
Digimon Stitches Can Badges, 370 yen each. There are 16 of these featuring all the kids and Digimon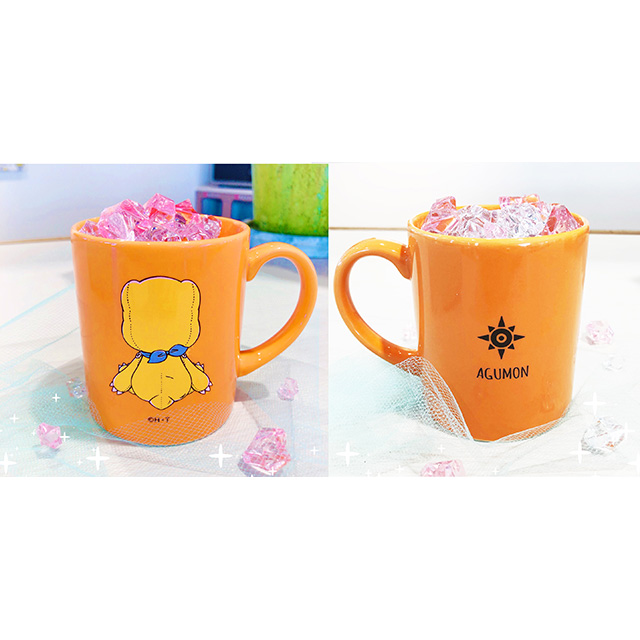 Digimon Stitches Agumon Color Mug, 1,800 yen. The cure back view of Agumon is the main thing here.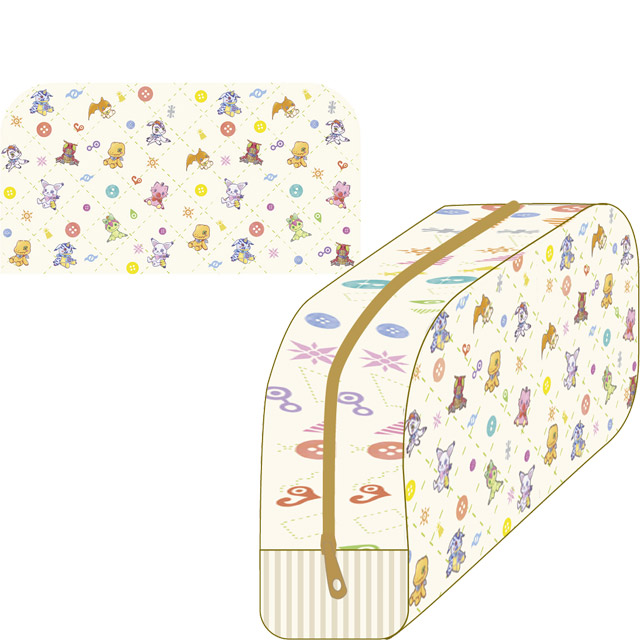 Digimon Stitches Pouch, 2,100 yen. A pouch featuring the Digimon stuffed toy artwork.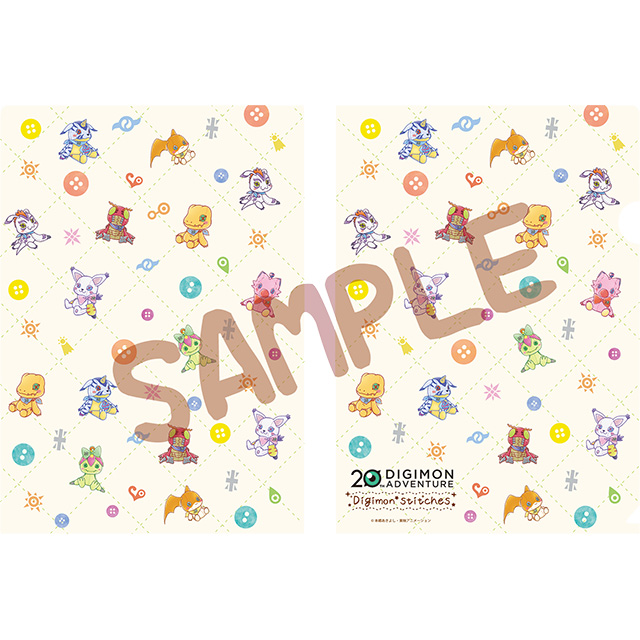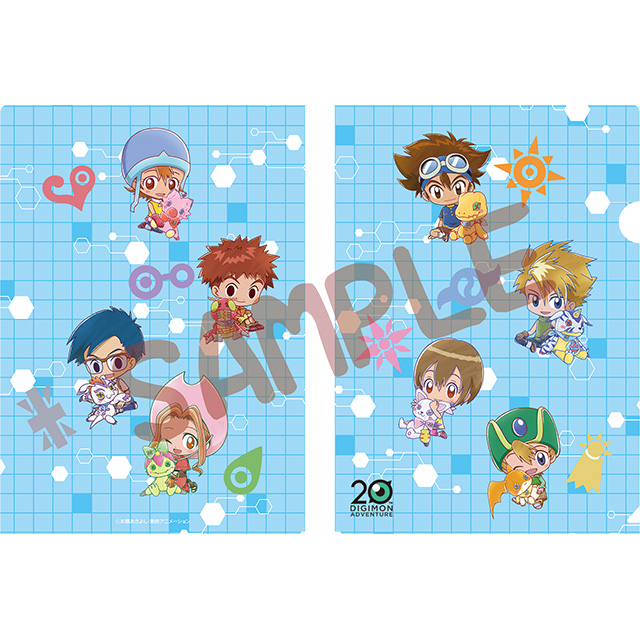 Digimon Stitches Clear File, Total and Partner Pattern, 350 yen each. Clear files featuring the Stitches artwork.
Digimon Stitches Washi Tape, 600 yen. Masking tape featuring the Stitches artwork.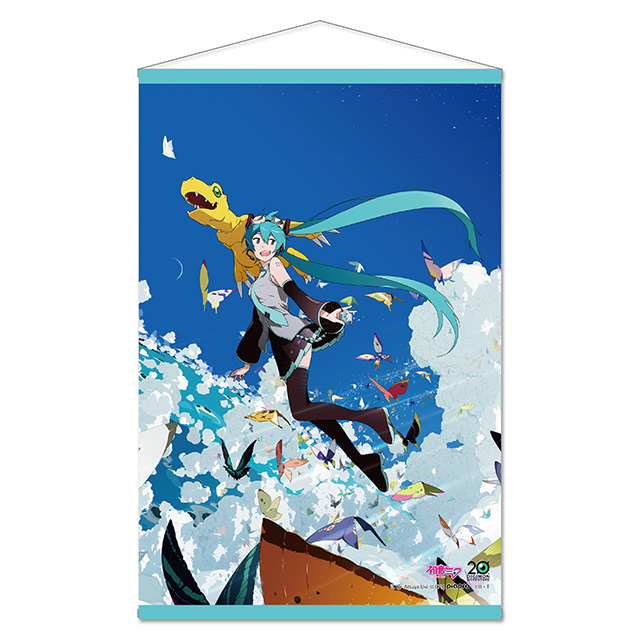 Digimon x Hatsune Miku Tapestry, 2,100 yen. A b2 size collaboration featuring the collaboration visual.
The collaboration was first announced earlier this year
.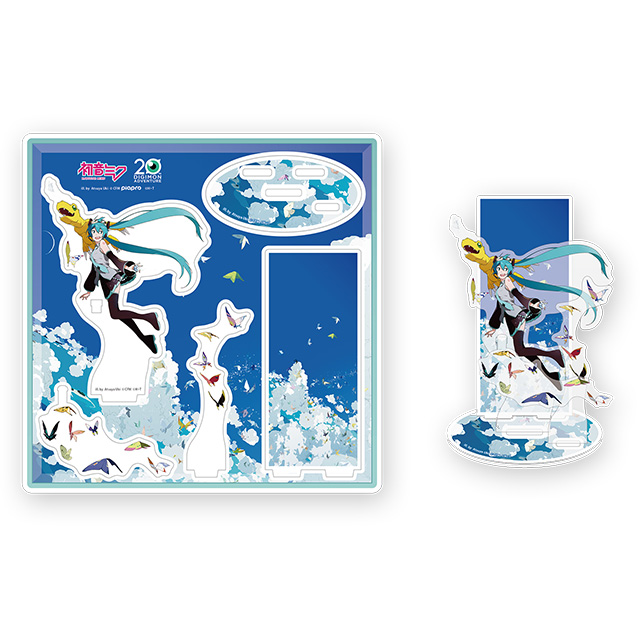 Digimon x Hatsune Miku Acrylic Stand, 1,600 yen. This acrylic diorama features the collaboration artwork.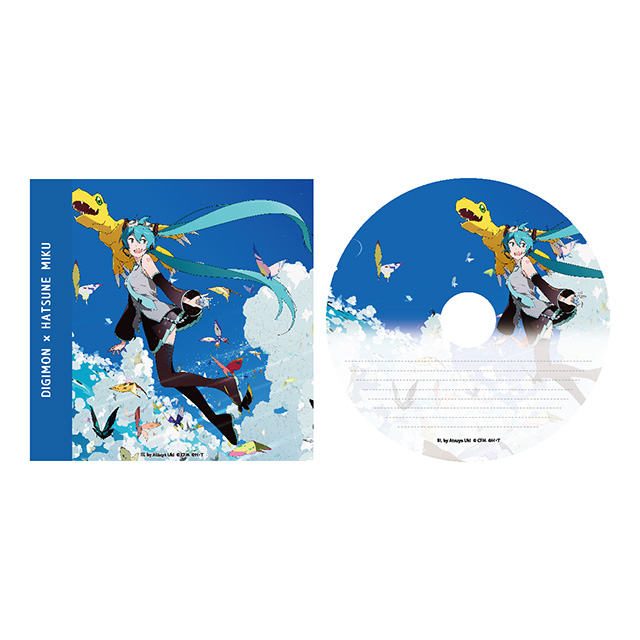 Digimon x Hatsune Miku CD Type Memo, 980 yen. A CD Memo pad using the collaboration visual. The CD case is a permanent storage version.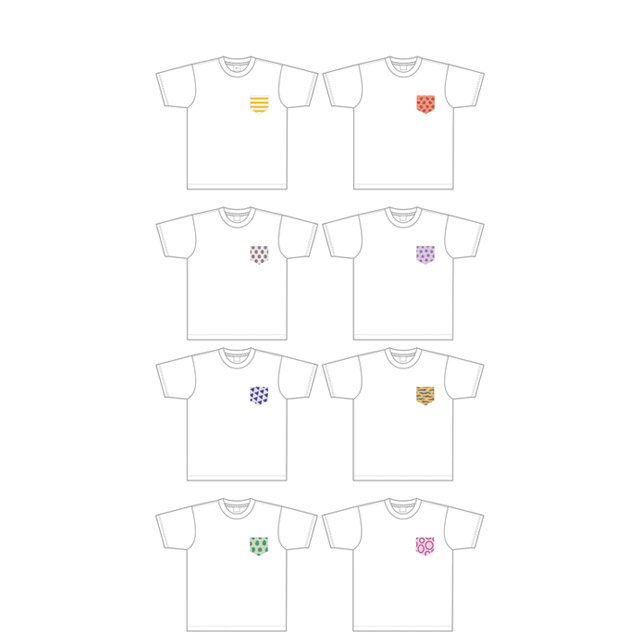 DigiEgg T-shirts, 3,000 yen each. Eight shirts that each feature a chest pocket designed after a partner Digiegg.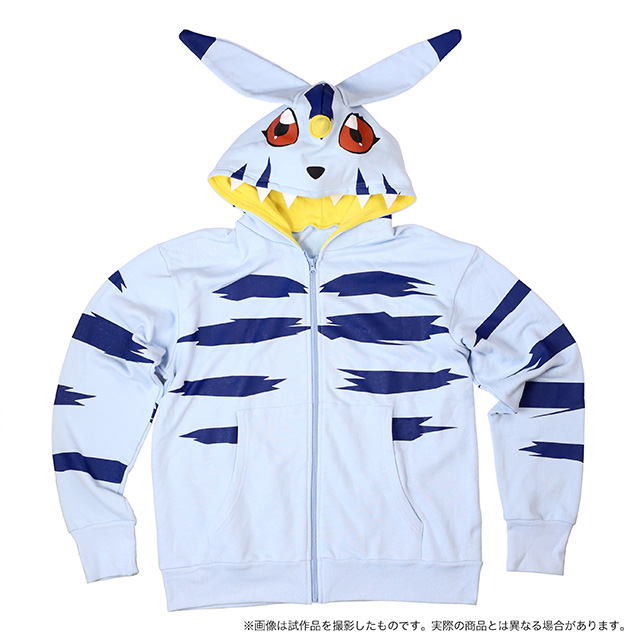 Digimon Partner Hoodies, 10,000 yen each. These hoodies are designed after Agumon and Gabumon and are labeled freesize. They were first seen last year at Jump Festa and are
based on hoodies worn by Taichi and Yamato in a tri. collaboration
.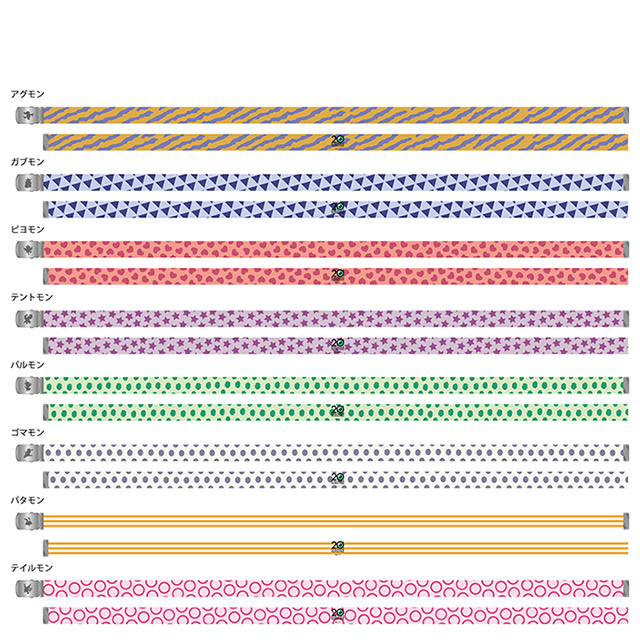 Egg pattern Gacha Belt, 2,500 yen. Eight belts with digiegg themed designs.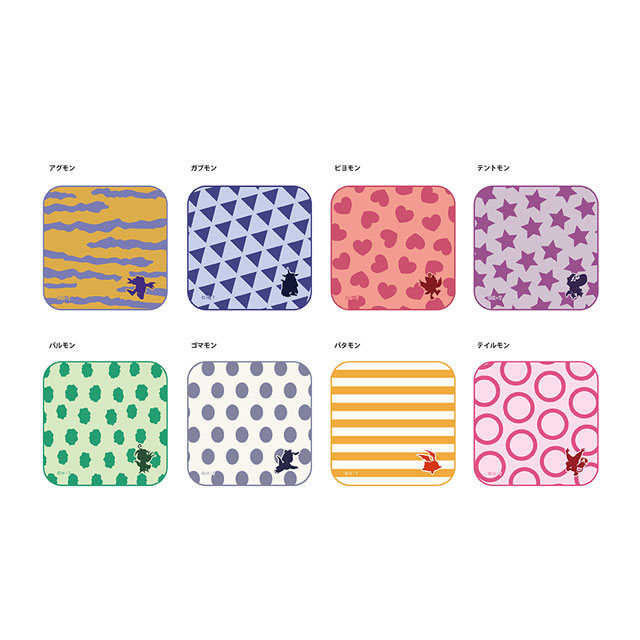 Egg pattern hand towels, 700 yen. Cute hand towels with egg patterns, eight types available.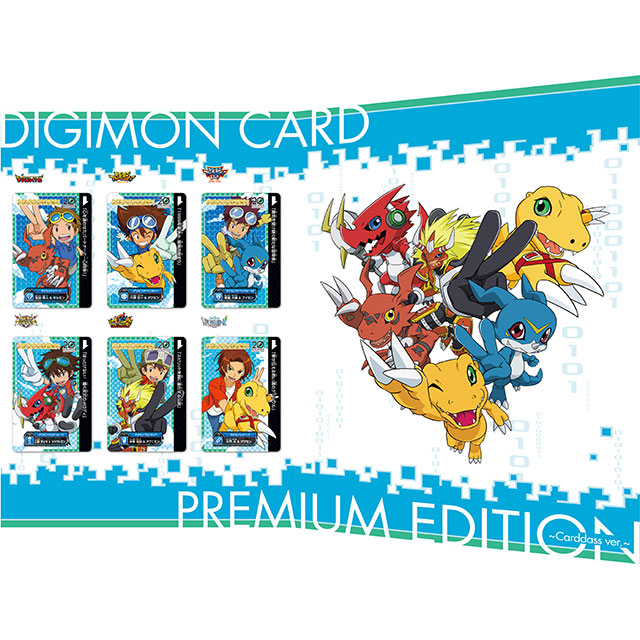 Digimon Card Premium Edition, Carddass Version, 1,200 yen. A collection of illustrations drawn using the Carddass format. It's a card set with plenty of 20th Anniversary style that you can enjoy seeing the 'V sign' of various protagonists and their partner Digimon.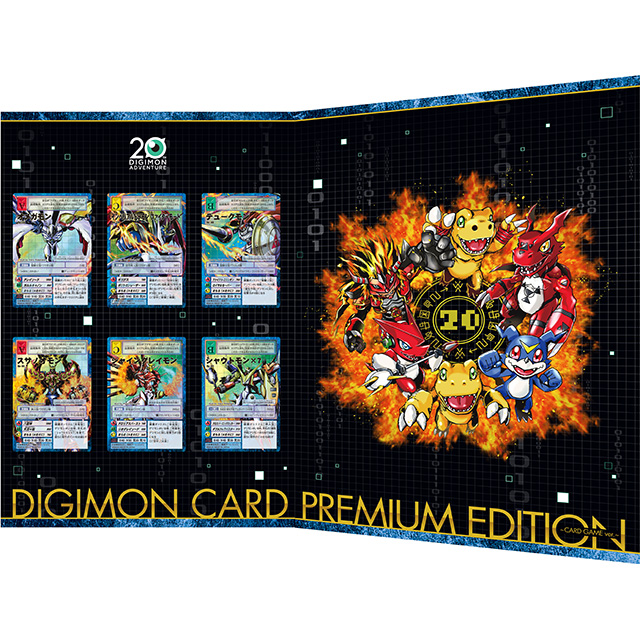 Digimon Card Premium Edition, Card Game Version, 1,200 yen. New illustrations by Kenji Watanabe for all 6 and the text is new. A collection featuring six popular Digimon.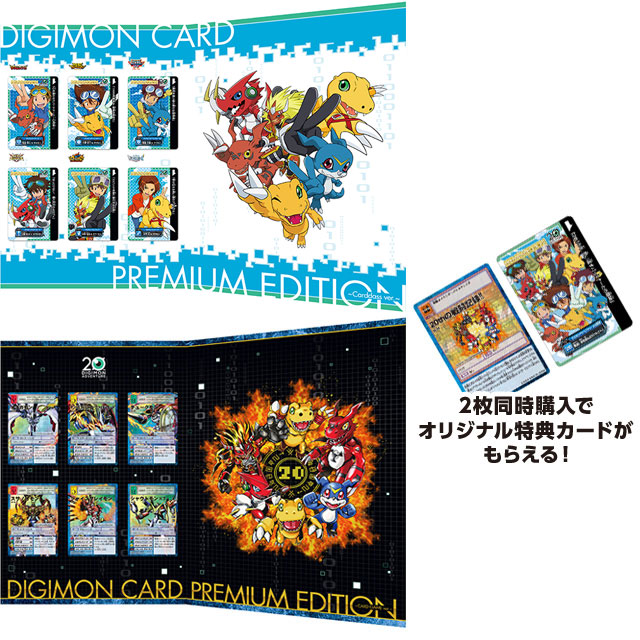 Digimon Card Premium Edition, Simultaneous Purchase Set, 2,400 yen. By both together and 2 additional cards are included.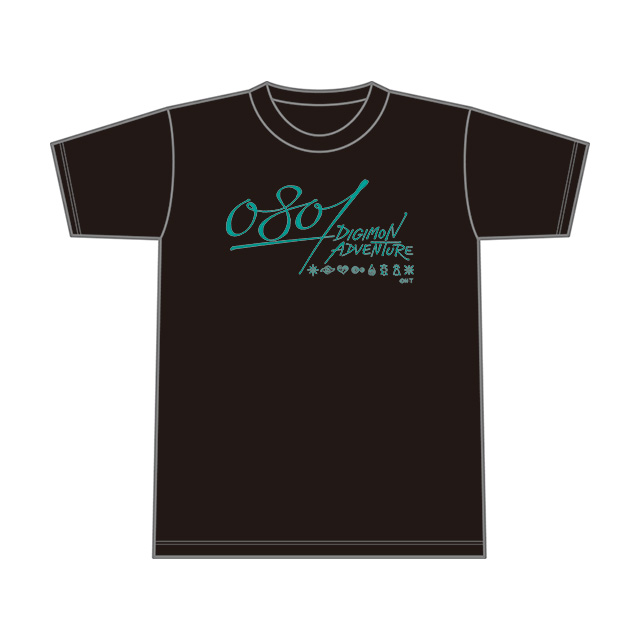 Digimon Adventure 0801 shirt 2019, 2,700 yen. This previously announced shirt will b e sold at DigiFes first.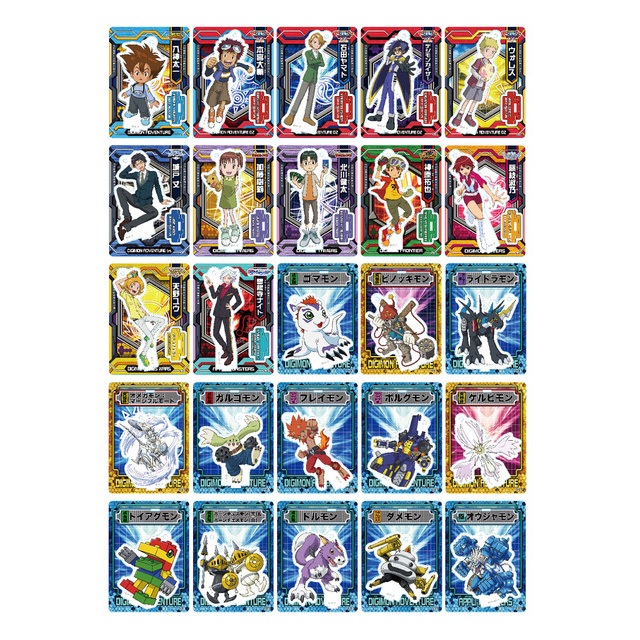 Digimon Acrylic Cards 5th set, 640 yen each. The 25 acrylic card set will be released first at DigiFes.
This and the above t-shirt can be easily pre-ordered
.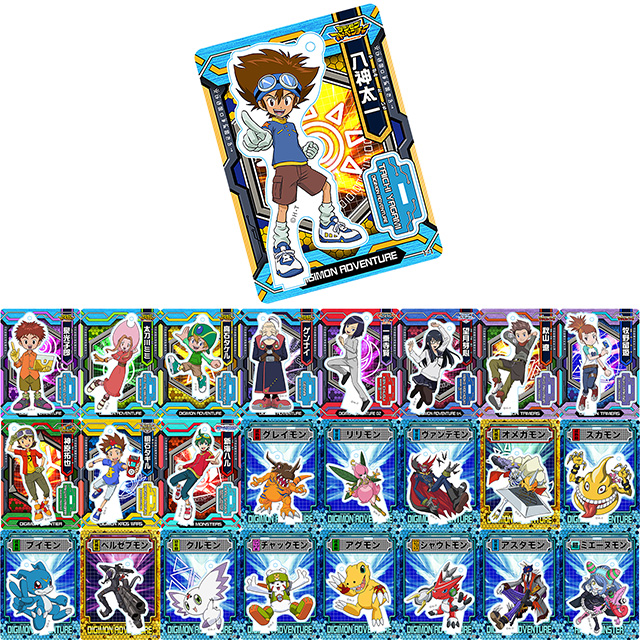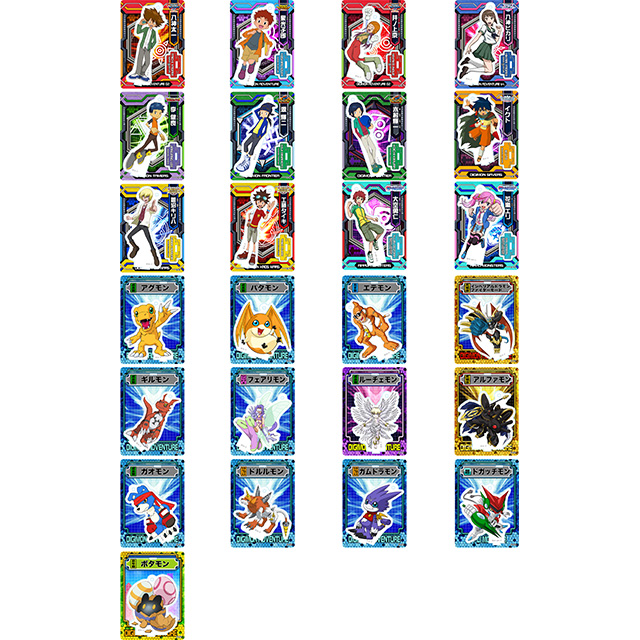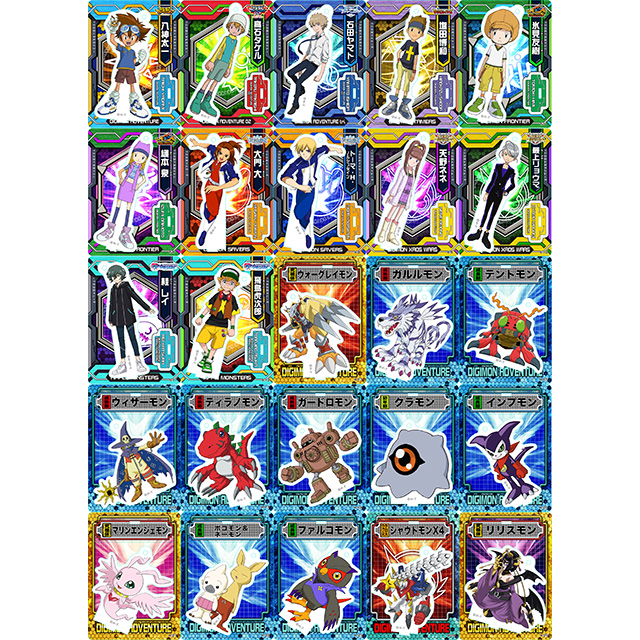 Digimon Acrylic Cards 1st thru 4th sets, 640 yen each. The 4 prior sets return!
And one more item...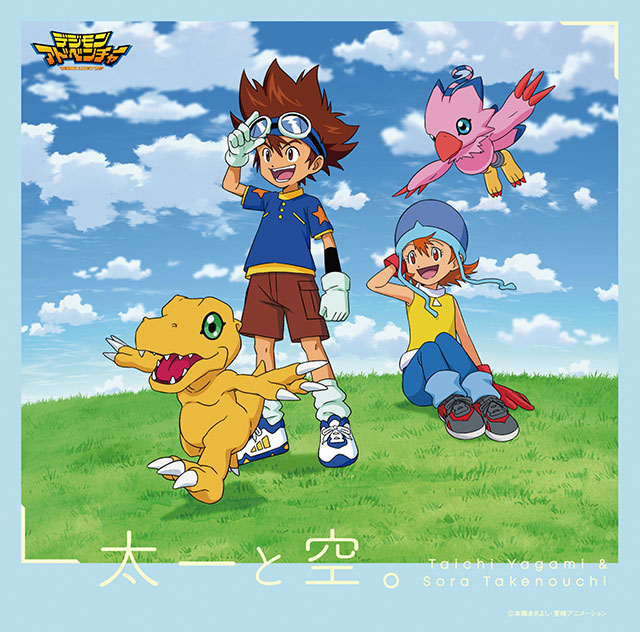 An (early exclusive) CD, Taichi and Sora, 2,500 yen. A best of album that collects the music related to Taichi Yagami and Sora Takenouchi. I 'think' the art of Taichi and Sora is new and Agumon and Piyomon is old?
Update- Tracklist and credits
from FeelMee
:
1. Butter-Fly
2. Go On For Eternity!
3. Tomorrow Will Be More -Theme of Sora Takenouchi-
4. I'll Turn My Courage Into Wings -Theme of Taichi Yagami-
5. If we fly together
6. Sky Blue Wind
7. The New Sun
8. Shiny Days
9. Team
10 I Wish
Song Credits: (1) Taichi Yagami, Agumon, Yamato Ishida, Gabumon, Jou Kido, Gomamon, Koushiro Izumi, Tentomon
(2,4,7) Taichi Yagami
(3,6,8) Sora Takenouchi
(5) Sora Takenouchi and Piyomon
(9) Taichi Yagami and Agumon
(10) Sora Takenouchi, Piyomon, Mimi Tachikawa, and Palmon
It is listed as an early item, so the CD will be sold elsewhere.
The
Digimon Music Producer also showed an image of the cover with a message
...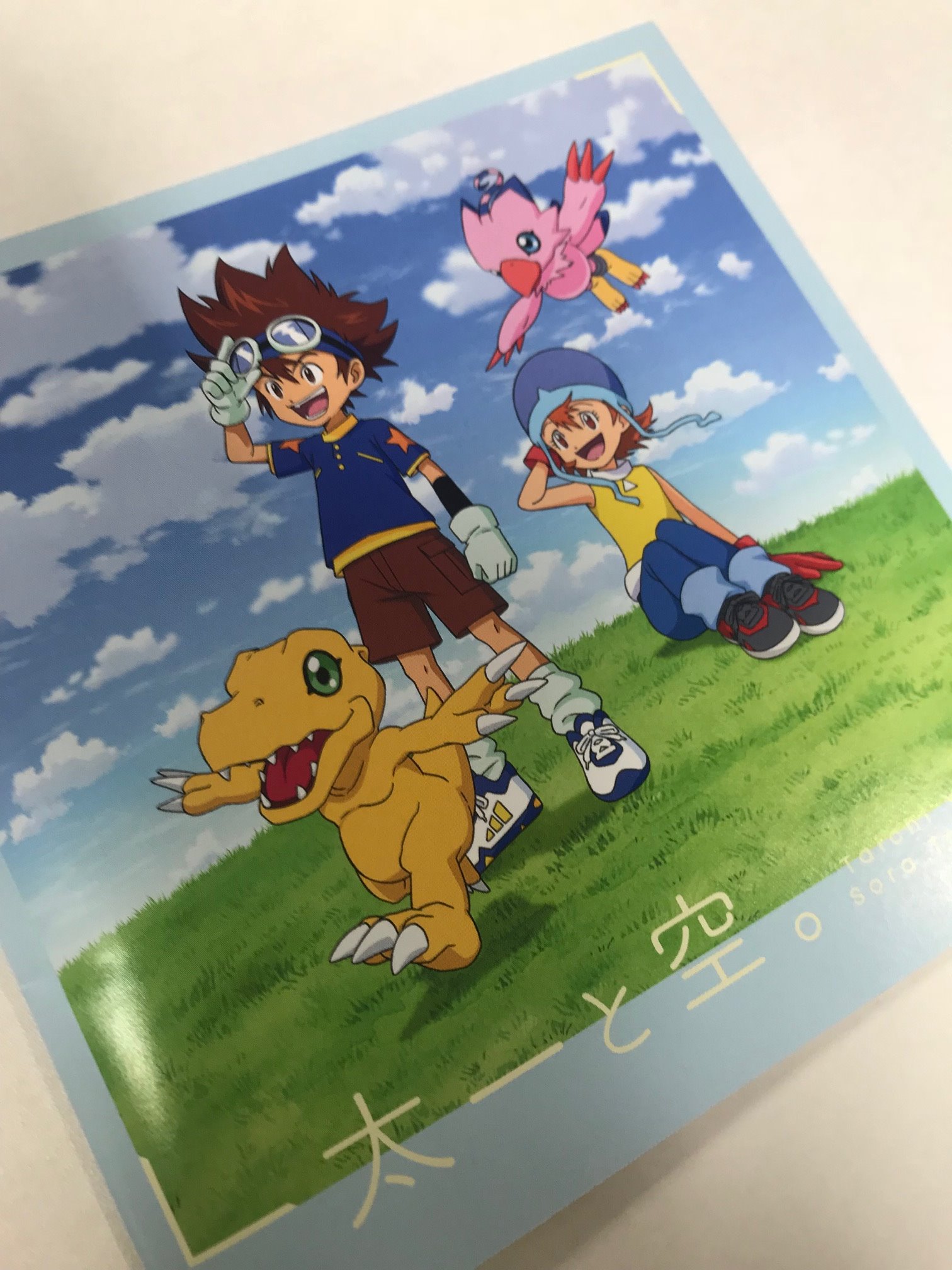 Taichi and Sora... I tried to make a single album. The origin of character songs in Digimon music. A smiling face, but also tears, and everything was put into this. It will be sold at DigiFes 2019.
25 other Digimon CDs will be on hand to buy.
Various items have purchase limits on how many you can buy.
The products this year look pretty crazy in general with a wide range of things, both useful and less so, with various themes and designs.
You'll want to contact an intermediary to get these items sent to you. WtW is not affiliated with any, but here are a selection of intermediaries that have worked well for various WtWers and their friends in the past:
From Japan
Rider Proxy
Nippon-Yasan
You'll want to provide your chosen intermediary with the link to the item. Just copy paste the link to the product pages for what you want and send them a message about it and they'll take care of it after they discuss pricing and their policies with you. The links embedded in the news article for the products are exactly what you'll need to send them. Be aware that many (most in fact) intermediaries do not deal with live event products, so you may have to look elsewhere.
Some of the intermediaries have a full storefront and may have the item listed, so you may want to check that first.
Thanks to onkei for some translation help on the CD stuff.