Show User Social Media
Hide User Social Media
Joined

Sep 8, 2006
Messages

15,827
After a preview of a few products we finally have a
list of products for DigiFes 2017
!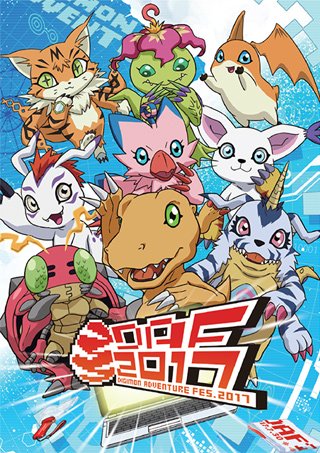 There will be various items sold at DigiFes 2017, and we already know the list they've provided isn't a complete list (much like the various pop-up shop product listings.)
We know there will be an exclusive CD, and we expect a number of other prior Digimon items to show up again, as is the standard for this type of event.
If you want details about DigiFes itself and not 'just' the products that will be on hand, those details can be found
here
.
So first up, let's start with items that will be exclusive to DigiFes 2017.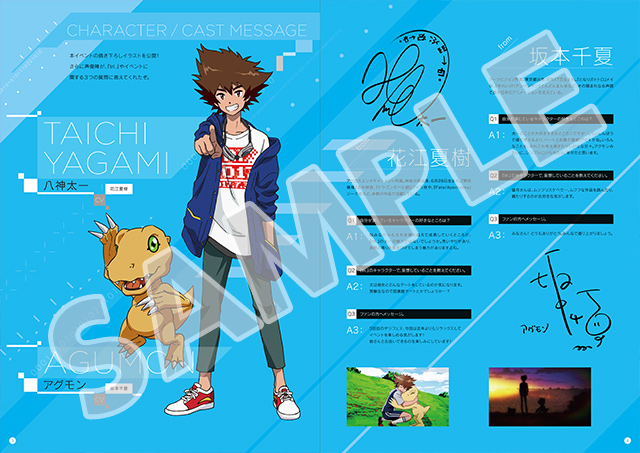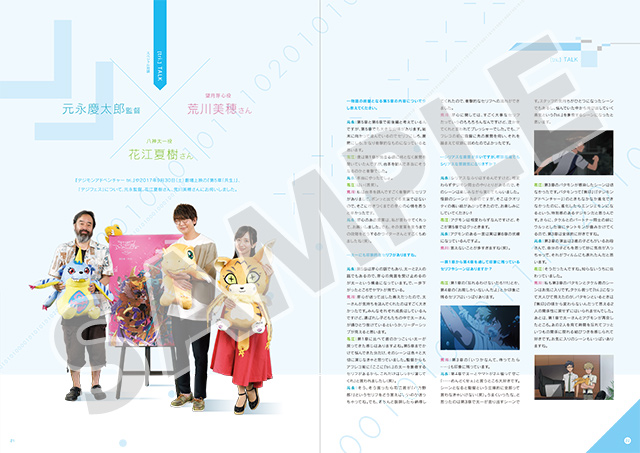 First up is this souvenir booklet/pamphlet (the cover is at the top of the article.) This will have interviews, character pin-ups, and other materials. It costs 2,000 yen.
This butter-fly charm lights up in 9 colors and is meant to be held up at the venue during performances. It's 3,000 yen and it was one of the items that was included in the
early pre-sale bundle
that Toei did.
This muffler towel is meant to be worn over your shoulders and used to wipe away sweat. It's 2,000 yen and it was one of the items that was included in the early pre-sale bundle that Toei did.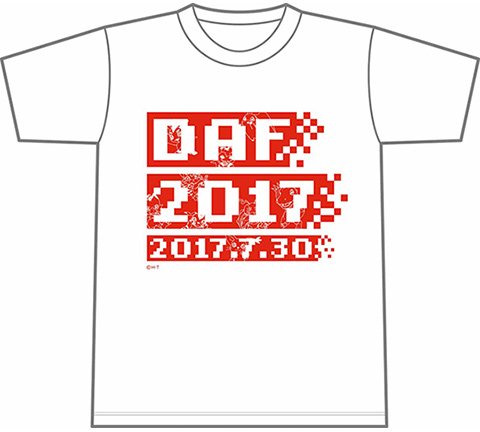 This is a very basic and cleanly designed DigiFes t-shirt. Lineart of the Digimon is integrated into the design. It's 3,500 yen and it was one of the items that was included in the early pre-sale bundle that Toei did.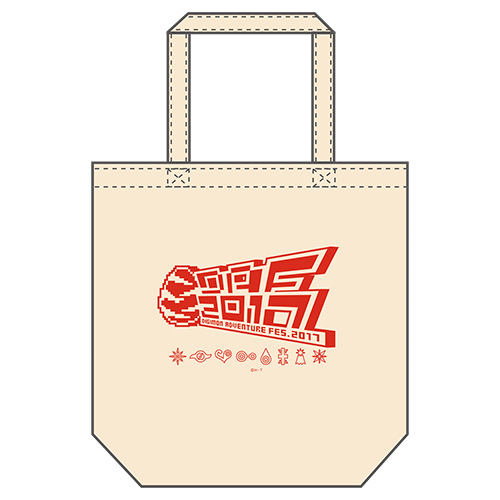 The neck strap and tote bag from the
pre-sale bundle
will not be on sale at DigiFes.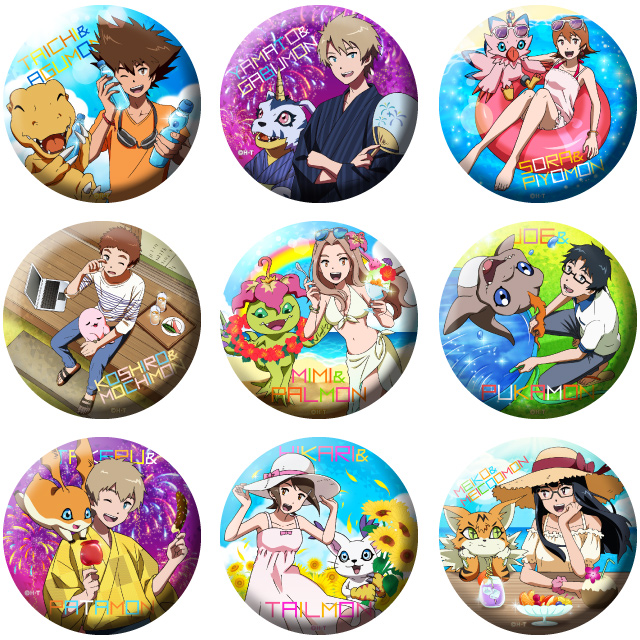 Can badges! These can badges are very interesting because it appears the theme for these are that they are tri. themed 'sequels' to the very well received Adventure can badges that were
sold at the Digimon Adventure The Real World exhibition
. These are all gorgeous and pick up from that series of can badges very well. No doubt these will be very popular. The can badges are 400 yen each and will be randomly packed.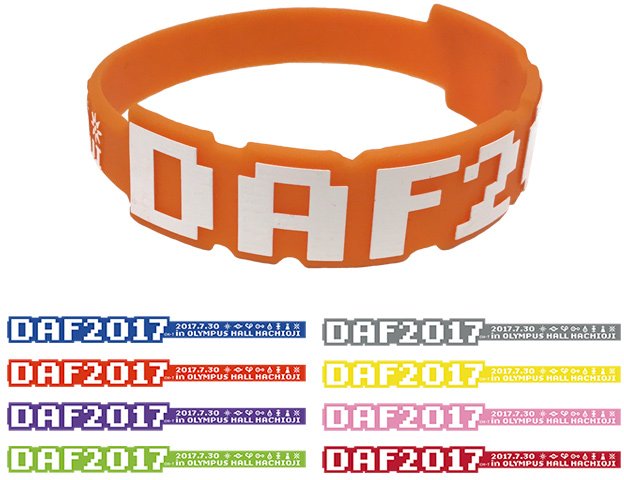 The DigiFes wristbands this year come in 9 colors with a nice big DigiFes logo on it. Details about the event and crest symbols are also on the band. They are 700 yen each and come randomly packed.
This mobile device battery features the DigiFes 2017 key art. It costs 4,500 yen.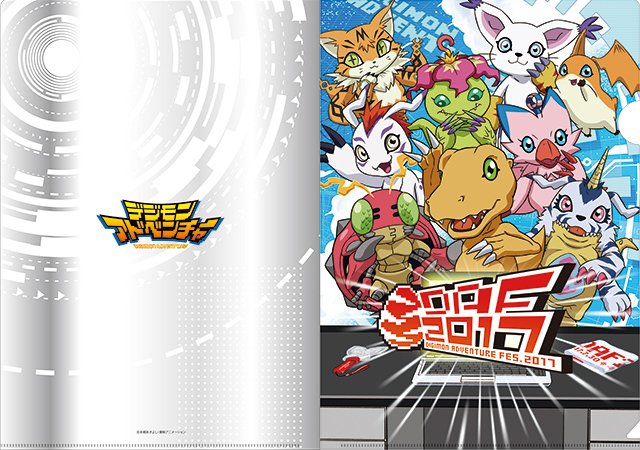 This clear file features the DigiFes key art on the front and the Digimon Adventure logo and a circle digital design on the back. It costs 400 yen.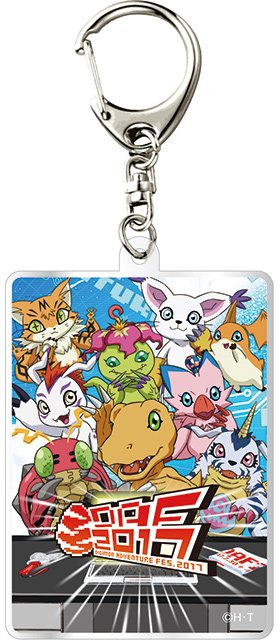 A very basic but nice looking acrylic keychain featuring the DigiFes key art. It's 600 yen.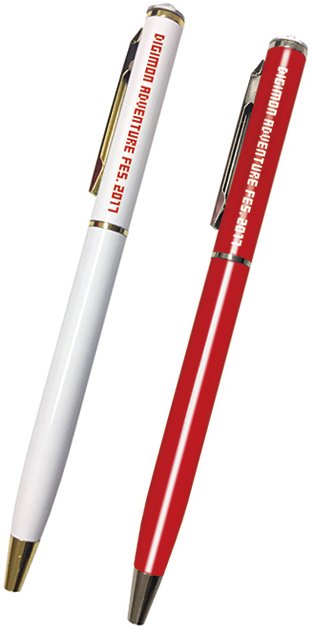 These are DigiFes themed ballpoint pens. They come in red and white and have a crystal glass topper. Each is 900 yen.
DigiFes themed masking tape! This features the character artwork from the DigiFes 2017 key art. It comes with roughly 33 feet of tape and costs 500 yen.
Then we have an item that is making yet another return.
The lifesize Meicoomon plush is back again! It recently resurfaced at the 20th pop-up shop. It's still unclear if they've made more of these, or if they held back stock from the pre-order. There is no notice about how limited the item may be at DigiFes. It's 7,500 yen.
Then we have a mess of items that will be sold at DigiFes before their standard release, with quite a few of them being unannounced.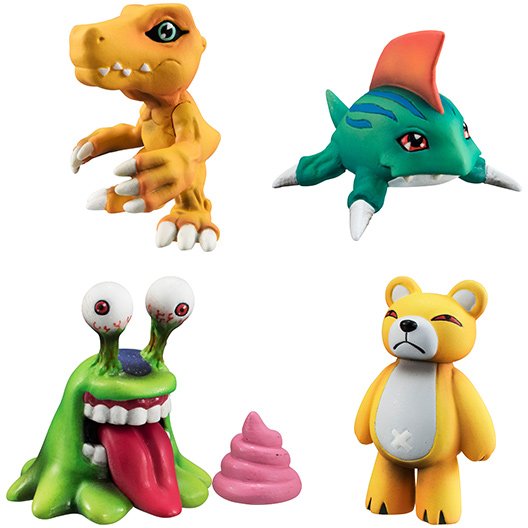 The Digital Monster Capsule Mascot Collection Version 1.0 figures will be showing up at DigiFes! These 4 figures represent 4 of the better known Digimon from the 1.0 V-Pet, based on their original artwork. They will be on hand at DigiFes in Gacha machines. Each go at a Gacha machine is 300 yen and the figures will obviously be random.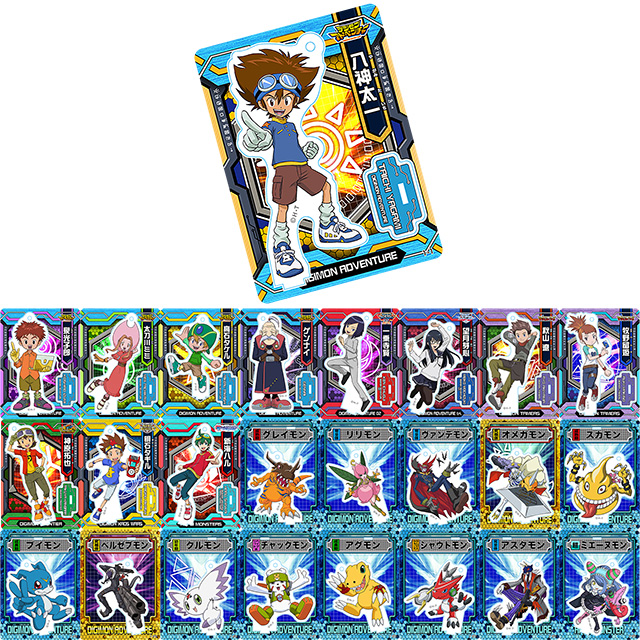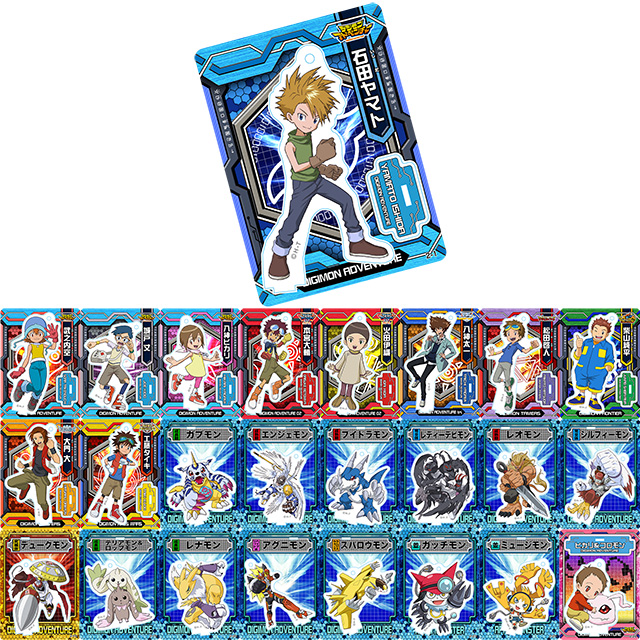 Series 1 and 2 of a series of acrylic cards. Each set features 25 cards for a total of 50. Each card can split apart into a standee or a keychain. The cards cover the breadth of the franchise in animated form, from the first Adventure movie all to way to Appmon, with a few suprises (V-dramon! Manga reference maybe?) All the cards feature brand new and fantastic looking artwork. They are 600 yen each and random packed (although it'll be possible to choose which series you want a random pack from.)
Update- The DigiFes website originally had images that showed the wrong distribution of cards between series 1 and 2. The images just above have been replaced with the corrected versions.. Be aware of the differences if you planned to try and get ahold of these.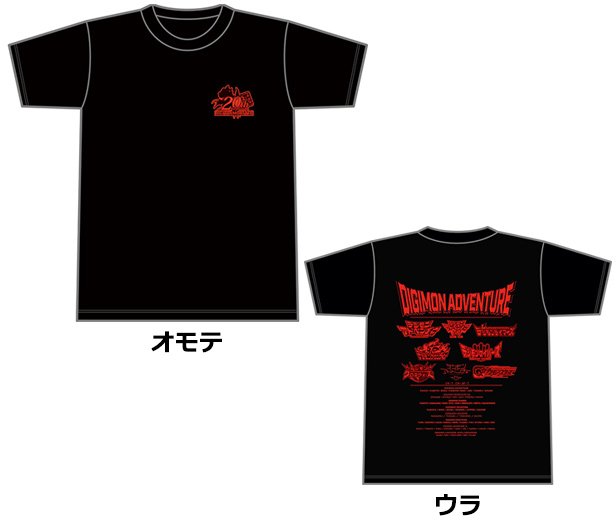 This 20th Anniversary T-Shirt features the 20th Anniversary logo on the front. On the back it has Digimon Adventure in big English text, along with the show logos for the various animated series. There is text below the logos, but it simply isn't readable at this size (although a number of us have sized out the text and we are reasonably sure it's the name of the kids from each Digimon series.) It's 3,000 yen.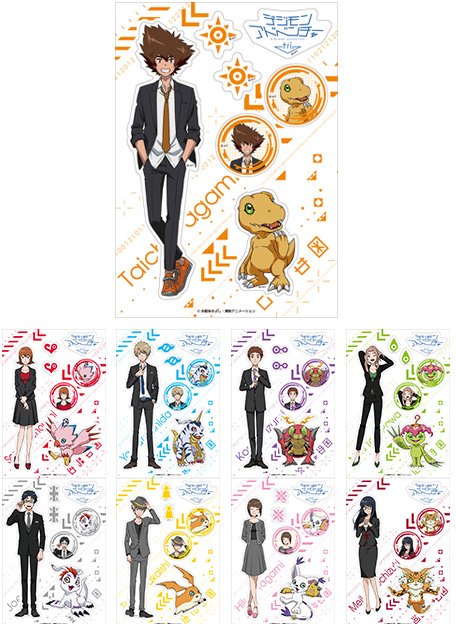 These tri. themed cloth character stickers use a weaker than normal adhesive so they can be removed and put elsewhere multiple times. Each features the tri. kids in fancy clothes along with their Digimon. Each (minus Meiko) appears to contain 7 stickers: kid, Digimon, kid in circle, Digimon in circle, 2 crest symbols, and a tri. logo. Meiko appears to have 5 (no crest symbol stickers.) Each is 700 yen.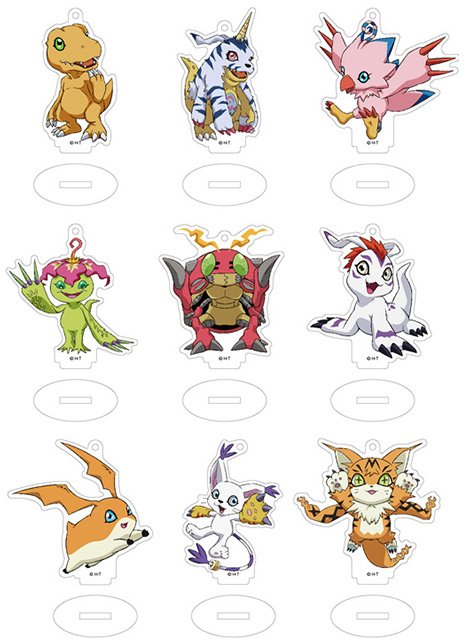 Acrylic stands/keychains! You pop these off and they can be used as either a stand or a keychain. The artwork of the Digimon is the same as the stickers above. They are 800 yen each and random packed.
These mini tapestries feature the kids in their stylish fancy clothes. They are listed as A4 half size. If I'm correct that means they are roughly 4.2 by 11.7 inches. They cost 1,200 and are randomly packed.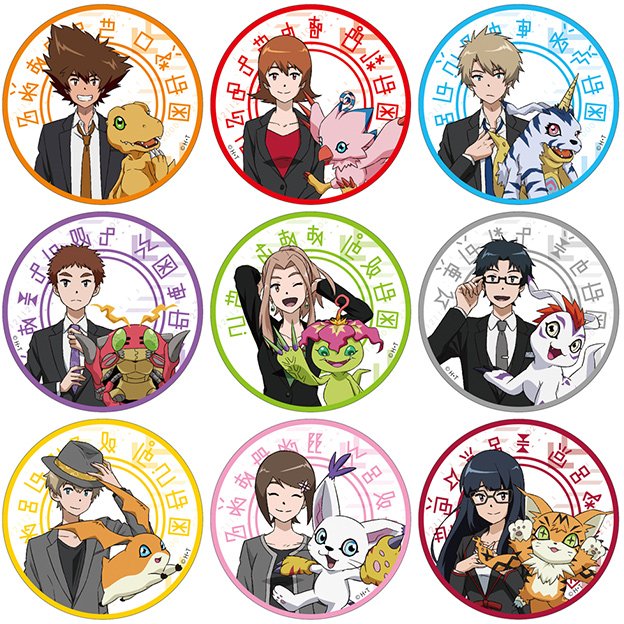 These 9 can badges use the fancy clothing artwork again. They are listed as being roughly 3 inches. They are 400 yen and randomly packed.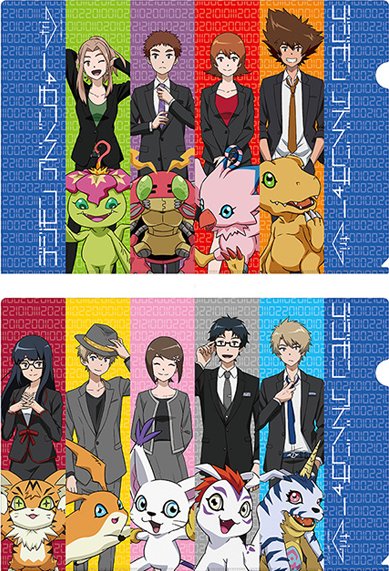 Fancy clothes again! These are A4 size clear files (8.3 by 11.7 inches.) There are two types and each costs 300 yen.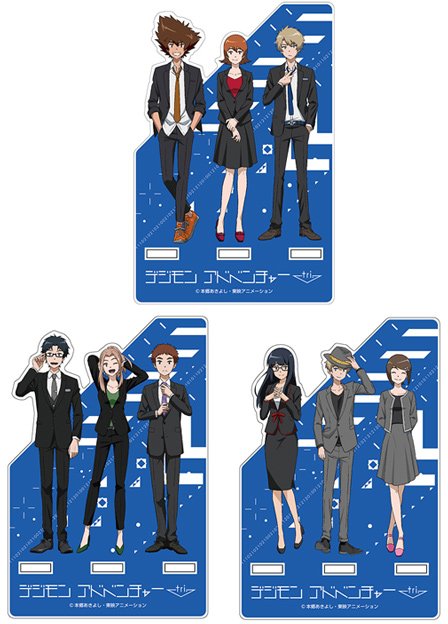 These acrylic smartphone stands also use the fancy clothing artwork. There are three types and each costs 1,800 yen.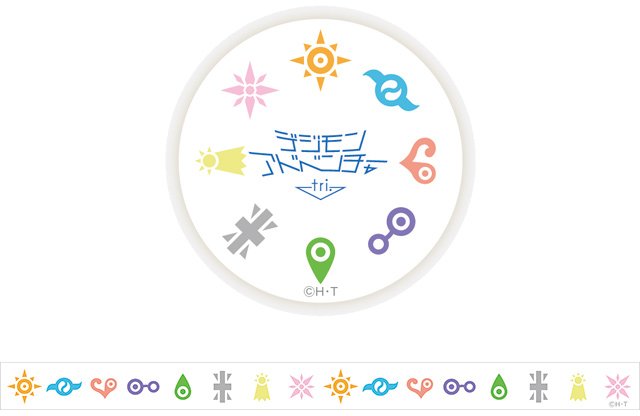 More masking tape! This features the 8 crest symbols. It comes with roughly 33 feet of tape and costs 500 yen.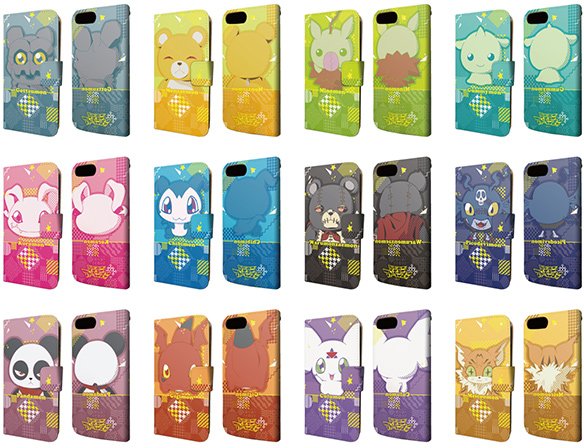 iPhone cases! These are new designs in a series of folio-style phone cases they've made previously. They are sized to fit the iPhone 6, 6s, and 7. There are 12 designs and each costs 3,200 yen.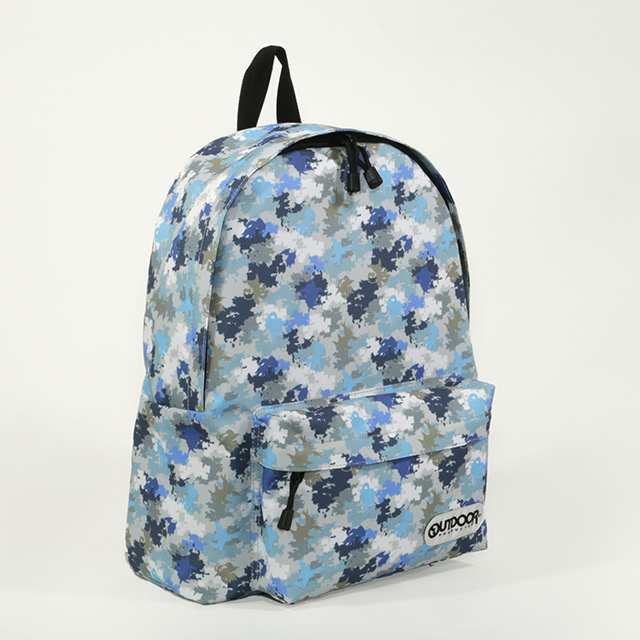 This backpack by Outdoor Products continues a collaboration that has gone on for awhile with Digimon. This new backpack features a pixel camouflage pattern. If you look carefully at the camouflage you may see 9 familiar looking silhouettes. The backpack is 9,500 yen.
A number of interesting looking products ranging from tri. specific stuff to the entire franchise. I think the 'sequel' can badges and the fancy clothing products will be highly wanted by fans.
Some info on the sales periods for those who will be in Japan:
From 10am to 1:30pm on the day of DigiFes they will only allow those with tickets to either DigiFes performance to purchase items. The line will begin at 8am.
From 2pm to 9pm anyone can purchase items, even if you do not have a DigiFes ticket. The line will begin at 1:30pm.
You'll want to contact an intermediary to get these items sent to you. WtW is not affiliated with any, but here are a selection of intermediaries that have worked well for various WtWers and their friends in the past:
From Japan
Rider Proxy
Nippon-Yasan
Japan Hero
You'll want to provide your chosen intermediary with the link to the item. Just copy paste the link to the product pages for what you want and send them a message about it and they'll take care of it after they discuss pricing and their policies with you. The links embedded in the news article for the products are exactly what you'll need to send them. Be aware that many (most in fact) intermediaries do not deal with live event products, so you may have to look elsewhere.
Some of the intermediaries have a full storefront and may have the item listed, so you may want to check that first.