Show User Social Media
Hide User Social Media
Joined

Sep 8, 2006
Messages

13,599
A few different bits of product news...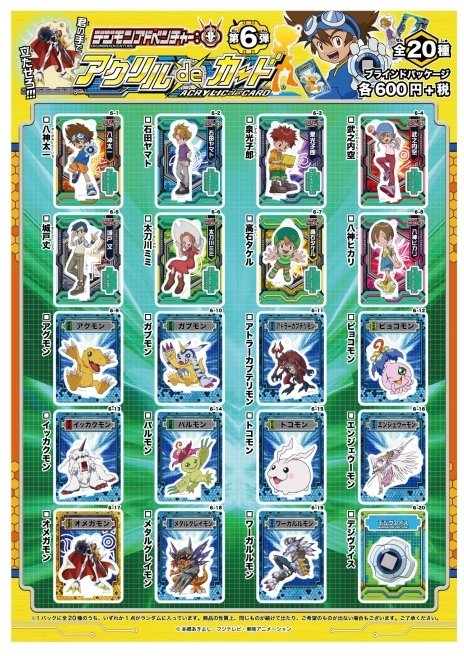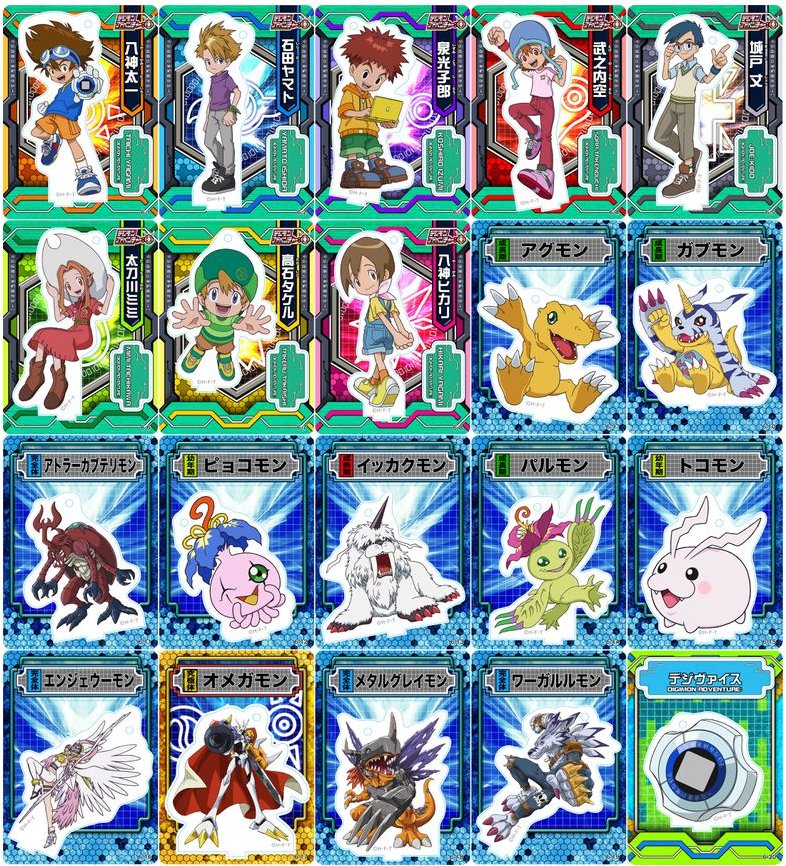 First up, the newest series of acylic cards, this time based on Digimon Adventure:. And they 'are' labeled as series 6 now.
We first found out about these with the announcement of an early release at
the current LB Pop-Up Theater Shops
, but they can be pre-ordered easily now.
They are being sold in a boxes of 20 and ship in August.
Pre-orders at a few different places that help the site:
CDJapan
, 12,000 yen
HobbyLinkJapan
, $120.39
The previous sets were quite popular, and these will likely be heavy imports.
The 6th series of acrylic cards (like the previous sets) can stay as cards or have pieces pop off and combine into an acrylic stand.
The 20 for the set are all from Digimon Adventure:- Taichi, Yamato, Koushiro, Sora, Jou, Mimi, Takeru, Hikari, Agumon, Gabumon, AtlurKabuterimon, Pyocomon, Ikakkumon, Palmon, Tokomon, Angewomon, Omegamon, MetalGreymon, WereGarurumon, and the Digivice:
Next up, a quick CD update...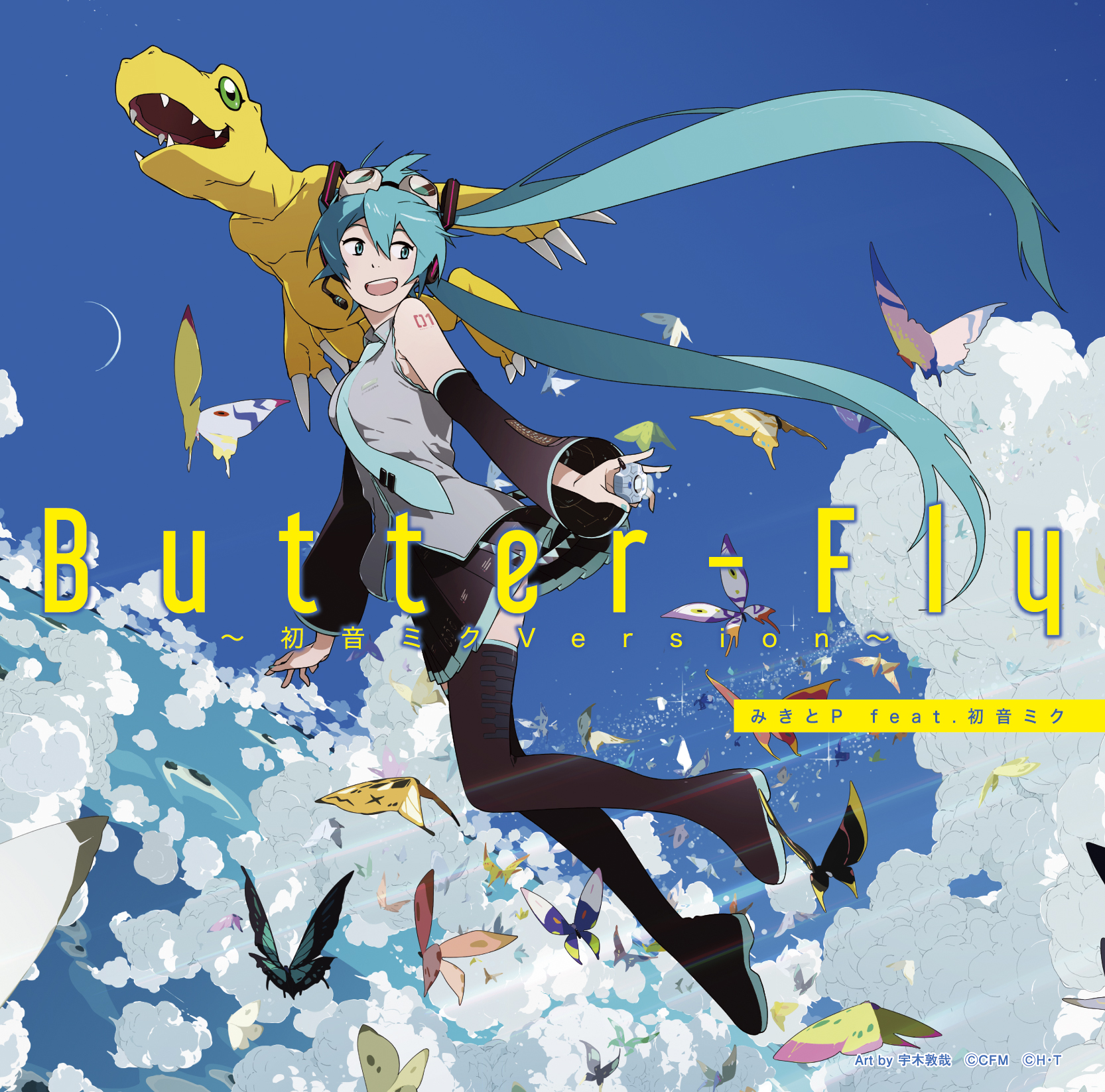 The Butter-Fly Hatsune Miku version CD/DVD combo that was formally announced last week is up for pre-order at CDJapan: (Affiliate link)
Butter-Fly Hatsune Miku version CD/DVD
It will be out for September 2nd for 1,364 yen
The release includes:
Butter-Fly Hatsune Miku Version
Butter-Fly Hatsune Miku Version off vocal version
a DVD featuring the music video of Butter-Fly Hatsune Miku Version
Previous details about the CD and music can be found
here
.
And then a Digimon Survive update...
Amazon orders for Digimon Survive on Switch appear to be in the midst of being cancelled by Amazon, sent along with a generic message:
Hello,
Due to a lack of availability, we will not be able to obtain the following item from your order. We've canceled the item and apologize for the inconvenience. If you see a charge for the canceled item, we will refund you within 1-2 business days. If you are still interested in purchasing this item, it may be available from other sellers. Please visit the detail page for this item below.
The Switch version had had pre-orders disabled on Amazon for awhile, and this appears to be a step further without any information on if it's being cancelled due to Bandai telling them to, Amazon not getting information and choosing to cancel it, etc.
Notably, they aren't the only major retailer in the US who has changed their Survive on Switch listing. Target and Wal-Mart have both removed their Digimon Survive listings (Wal-Mart's listing is still up for their 3rd party retailer program, but selecting from Wal-Mart themselves disables it.)
There has been no notable information on Digimon Survive for a decent chunk of time, which isn't inherently abnormal in games, but with some listings vanishing and at least some pre-orders being cancelled, fans looking forward to it will likely wonder what is going on, if anything, more than they already had been.
The last bit of 'news' for Digimon Survive was Famitsu saying the game had been delayed with no new release date.
A Bandai rep claimed this was a typo from Famitsu
.
Update- Various Twitter users are reporting preorders of 'Prinny 1 & 2: Exploded and Reloaded' (a Switch port/collection of the Disgaea spinoff series) are also being cancelled by Amazon.
It is scheduled for release this October, and was only announced earlier this year. Wal-Mart and Target still list Prinny for Switch, so it isn't clear if it's related to Survive or just coincidental timing.
Thanks to Muur for the heads up regarding Prinny.
Digimon Survive can currently 'still' be pre-ordered at Amazon.com on Xbox One and PS4: (affiliate links)
Digimon Survive for PS4
Digimon Survive for Xbox One
Last edited: