Show User Social Media
Hide User Social Media
Joined

Sep 8, 2006
Messages

17,381
A big stack of product related things to go over!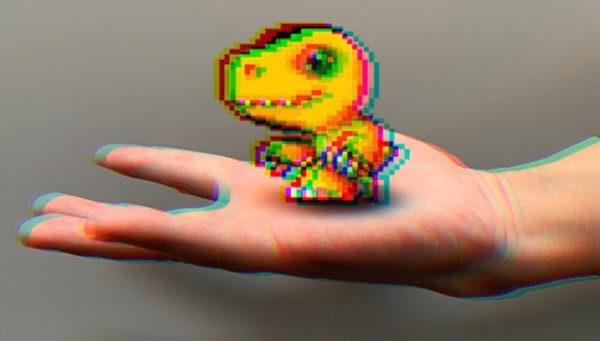 First up,
another new teaser for Project VB
. The upcoming Digimon project
got a previous teaser last week
. The new teaser shows off a nice full color spreit of Agumon, and appears to be teasing something related to augmented reality. The attached text:
Open up a new form of evolution.
Project VB will be formally announced on December 7th.
Then...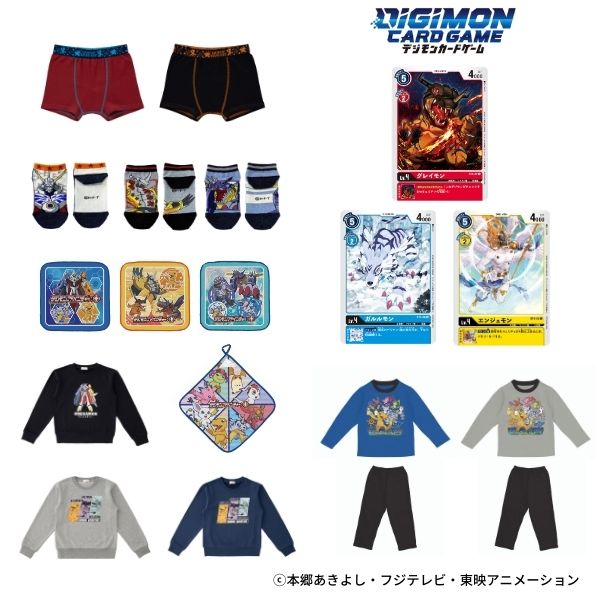 A bunch of kid sized apparel.
These all come with parallel cards for the Digimon Card Game.
Coming out in November for 1,298 yen are junior boxer briefs. A 2 pack comes with both colors. Sizes are 140, 150, and 160cm.
The design on the band is Agumon and Gabumon silhouettes with the crests.
This includes the Garurumon parallel card
we just found out about
.
On top of a general release, these can be nabbed
from Premium Bandai already
.
Then a few things in December...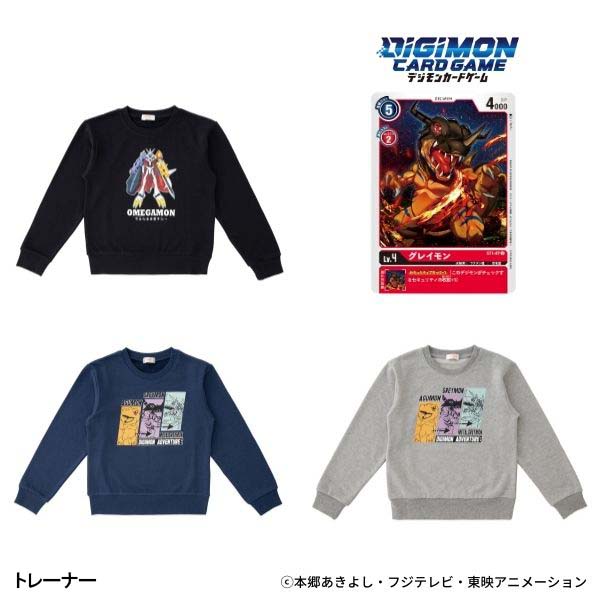 Sweatshirts for 1,417 yen. There are two designs. Omegamon comes in black, while Agumon evolution comes in blue and gray. The sizes are 130, 140, and 150 cm.
It includes a Greymon parallel card we haven't seen before. It's a parallel of his card from Starter Deck 1 (ST1-07.)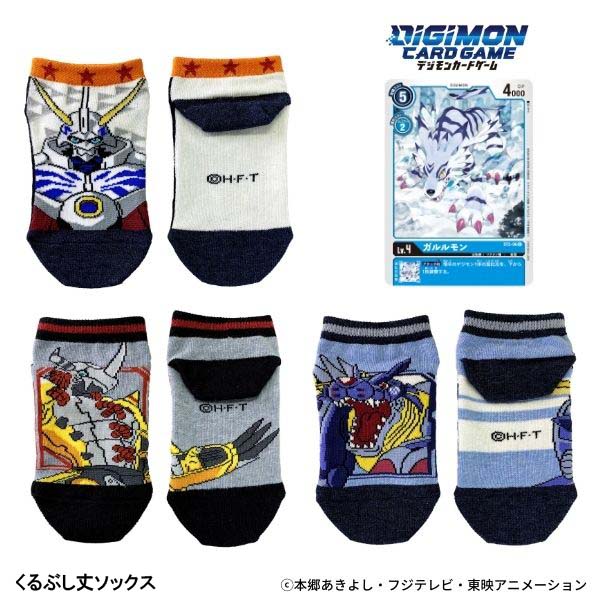 Ankle length socks for 539 yen. These come in 3 designs- Omegamon, WarGreymon, and MetalGarurumon. The size is listed as 15-20cm.
It includes the Garurumon card.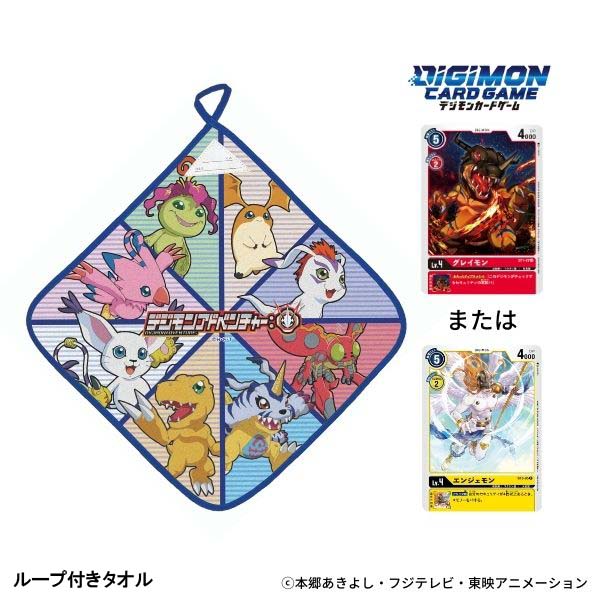 A small towel with a loop is 660 yen. It features art of all 8 Adventure: partners and the show logo. It's 30x30cm.
It comes with either the Greymon card, or the Angemon parallel card
we first saw a week or so ago
.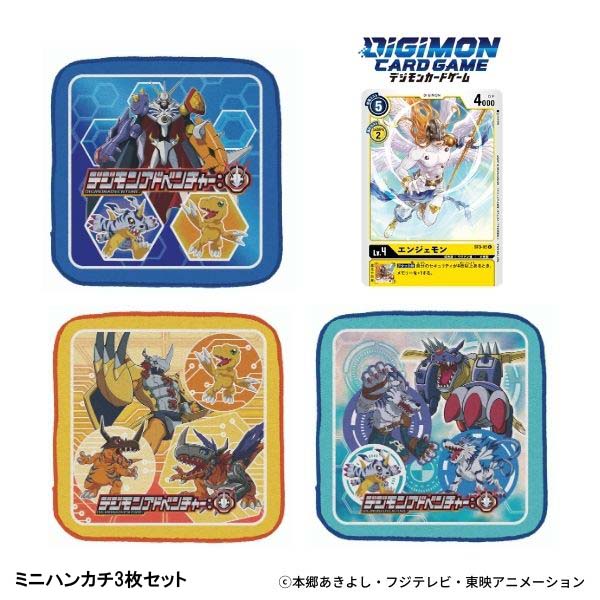 A set of 3 mini handkerchiefs are 550 yen. One is based around Omegamon, one WarGreymon, and the other MetalGarurumon. They measure 16x16cm.
It comes with the Angemon card.
Next up, plushes!
It's some more crane game plushes!
These plushes are each about 6.2 inches tall. While not marked as series 2, they appear to be a new wave of the (roughly translated) 'child wanting attention' plushes
that we got wave 1 of a few months ago
. There are plushes for Patamon, Gabumon, and Terriermon.
They will show up starting on December 8th as prizes at crane games (and other games of skill) at arcades in Japan. They aren't currently listed as being exclusive to any specific chain or type of machines.
Nice to see the actual plush designs instead of the renders, as the real plushes always look better.
Then we have various Black Friday related things...
Premium Bandai has formally announced
the previously teased (and pseudo-announced)
Digimon Card Game Tamers Set
As expected, it's:
a polyster and rubber playmat
a set of card sleeves (60 total)
Both items feature the artwork longtime Digimon artist As'Maria did for the parallel cards (and promo poster) for Digimon Card Game Booster Set 2 Ultimate Power.
Pre-orders are currently open at Premium Bandai Japan for 4,180 yen
. They close on December 28th and it ships in April.
In the US you will want to wait though...
Pre-orders open at 9am Pacific on Black Friday
(under 12 hours from now) for $35. Pre-orders close on December 24th and it ships in May.
At the same time, a first come first serve coupon
will appear on their Black Friday
page that makes the Tamers Set $30.
If you are going to order from Premium Bandai Japan...
You'll want to contact an intermediary to get these items sent to you. WtW is not affiliated with any, but here are a selection of intermediaries that have worked well for various WtWers and their friends in the past:

From Japan Rider Proxy Nippon-Yasan

The Bandai Premium store has also chosen to affiliate themselves/recommend a few potential shops to be used as intermediaries for non-Japanese buyers:

Buyee From Japan

(this From Japan link shows various items that they waive commission fees for.)

Samurai Buyer DEJapan

You'll want to provide your chosen intermediary with the link to the item. Just copy paste the link to the product pages for what you want and send them a message about it and they'll take care of it after they discuss pricing and their policies with you. The links embedded in the news article for the products are exactly what you'll need to send them.

Some of the intermediaries have a full storefront and may have the item listed, so you may want to check that first.
And then, various retailers have Digimon things on sale for Black Friday. There are too many to go through (and many retailers are offering various coupons, general discounts, etc.), but here are a few potential items of interest:
Humble Store has the Steam/PC version of Digimon Story: Cyber Sleuth- Complete Edition
for $20. If you are a Humble Choice member, that's further discounted to $16.
CDJapan has a 1,000 yen off coupon
if you spend 10,000 yen or more. (affiliate link)
HLJ has Digivolving Spirits AtlurKabuterimon
discounted to $54.86, along with discounted shipping. (link helps the site)
Bluefin (the US distributor of Digivolving Spirits) has Digivolving Spirits Alphamon
discounted to $30. It appears they keep selling out of planned stock and adding more, as the 'add to cart' button keeps vanishing.
Amazon has the Blu-ray/DVD combo set of Digimon Adventure: Last Evolution Kizuna
for $16.87, and it also stacks as part of a '
get 3 for the price of 2
' deal they have going on. (affiliate links)
No doubt a bunch more Black Friday deals going on, but that should be a good list to start with for anyone looking for Digimon stuff.
Big list of Digimon products before the biggest shopping day of the year for many people!