Show User Social Media
Hide User Social Media
Joined

Sep 8, 2006
Messages

16,928
A stack of product updates...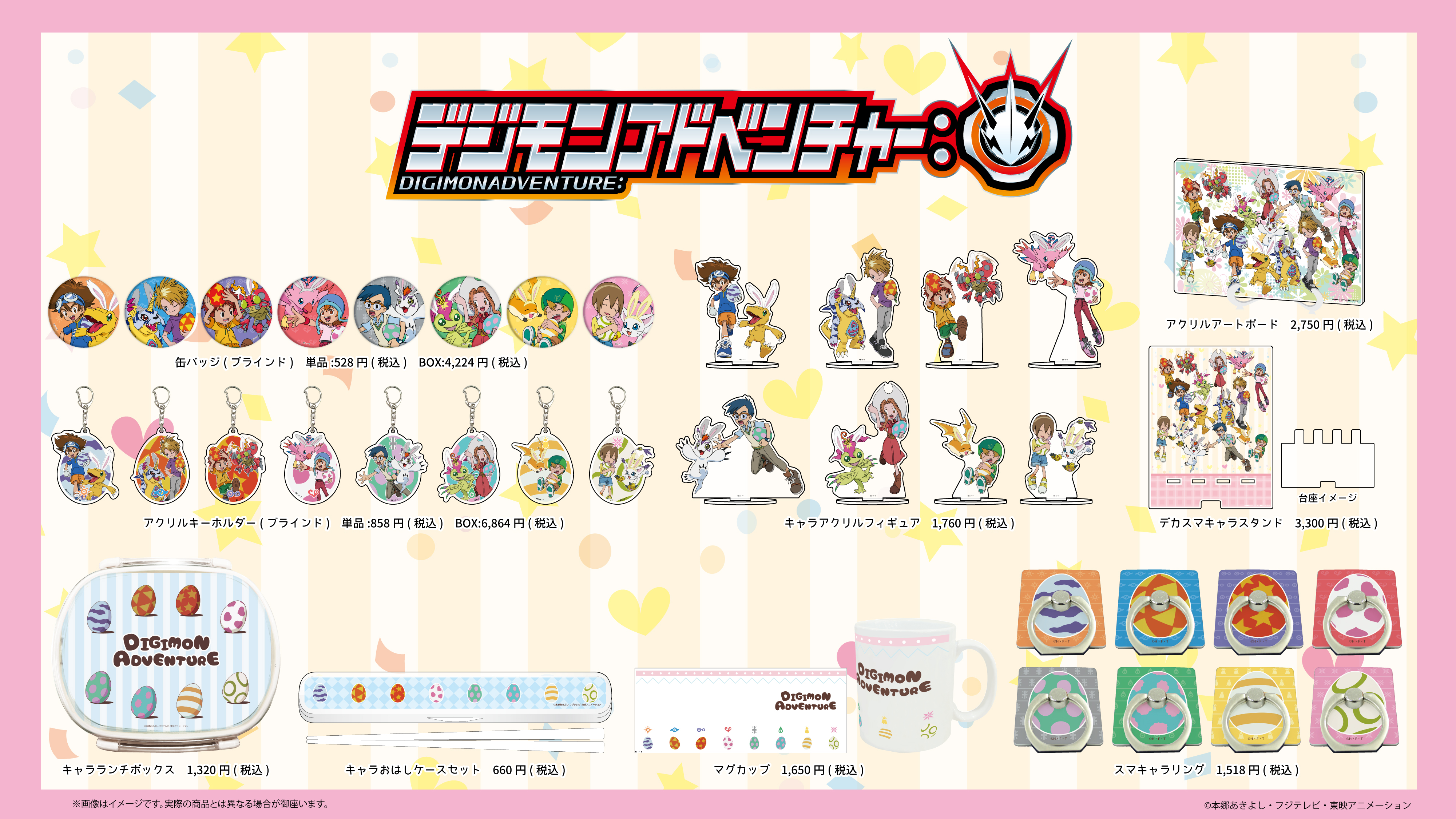 First up, t
he GraffArts Easter Adventure: products
are getting a general release in May, and they're up to pre-order now (CDJapan links below are affiliate links.)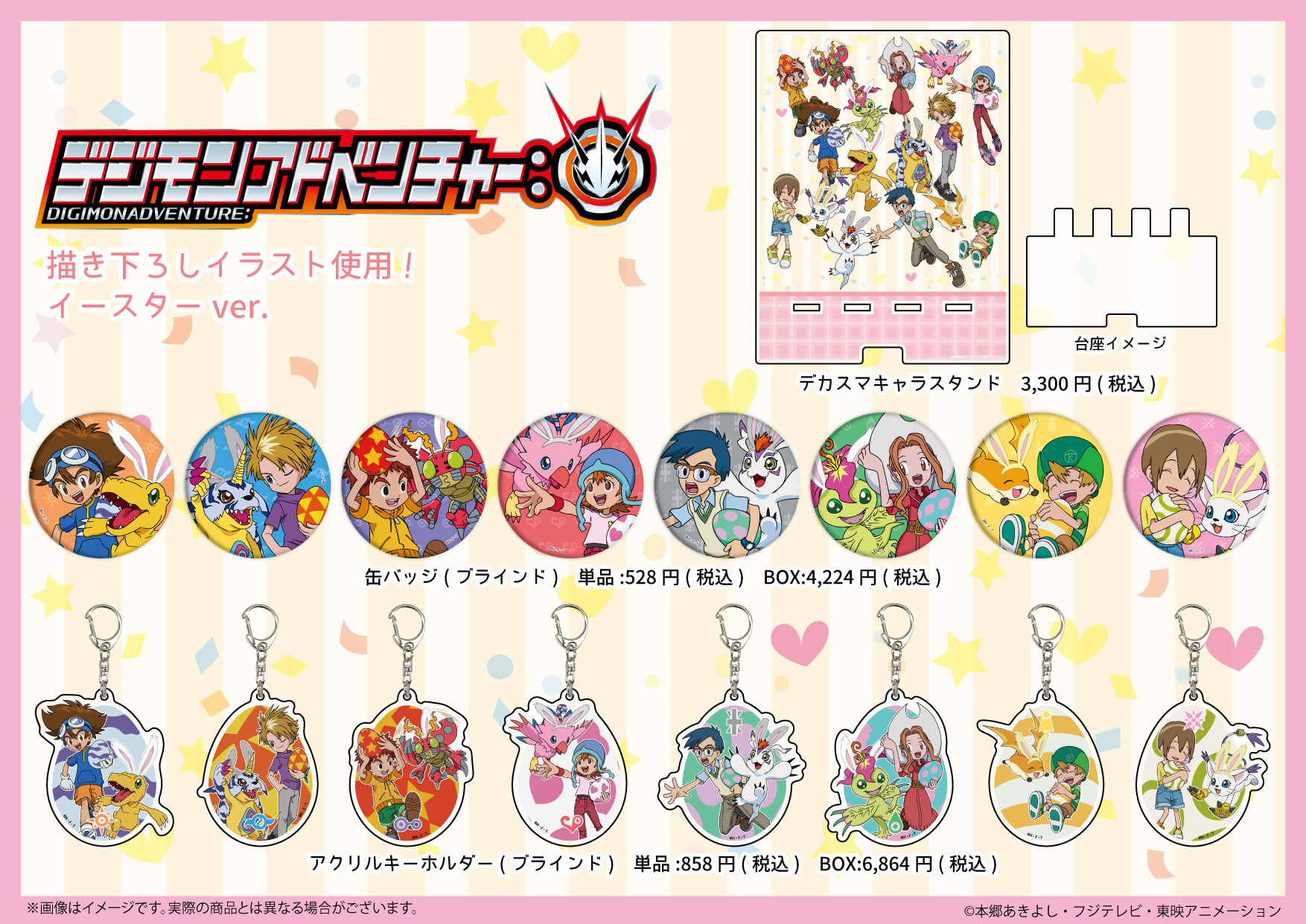 An acrylic phone stand
with everyone on it for 2,760 yen.
Can badges
. A box of 8 blindpacked is 3,533 yen.
Acrylic key chains
. A box of 8 blindpacked is 5,741 yen.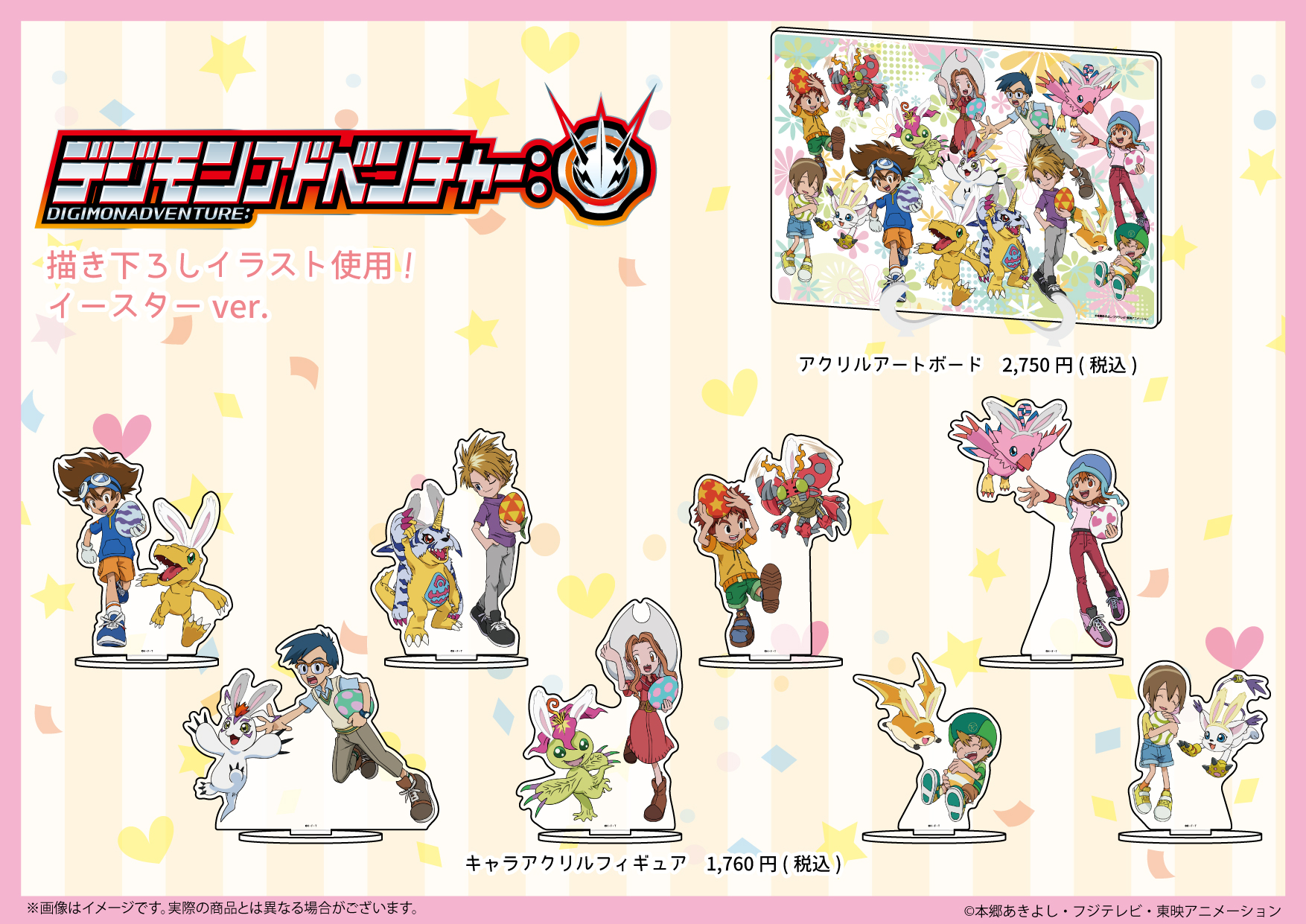 Acrylic art board of everyone
for 2,750 yen.
Acrylic stands of each character duo for 1,472 yen.
Taichi
,
Yamato
,
Koushiro
,
Sora
,
Gomamon
,
Mimi
,
Takeru
,
Hikari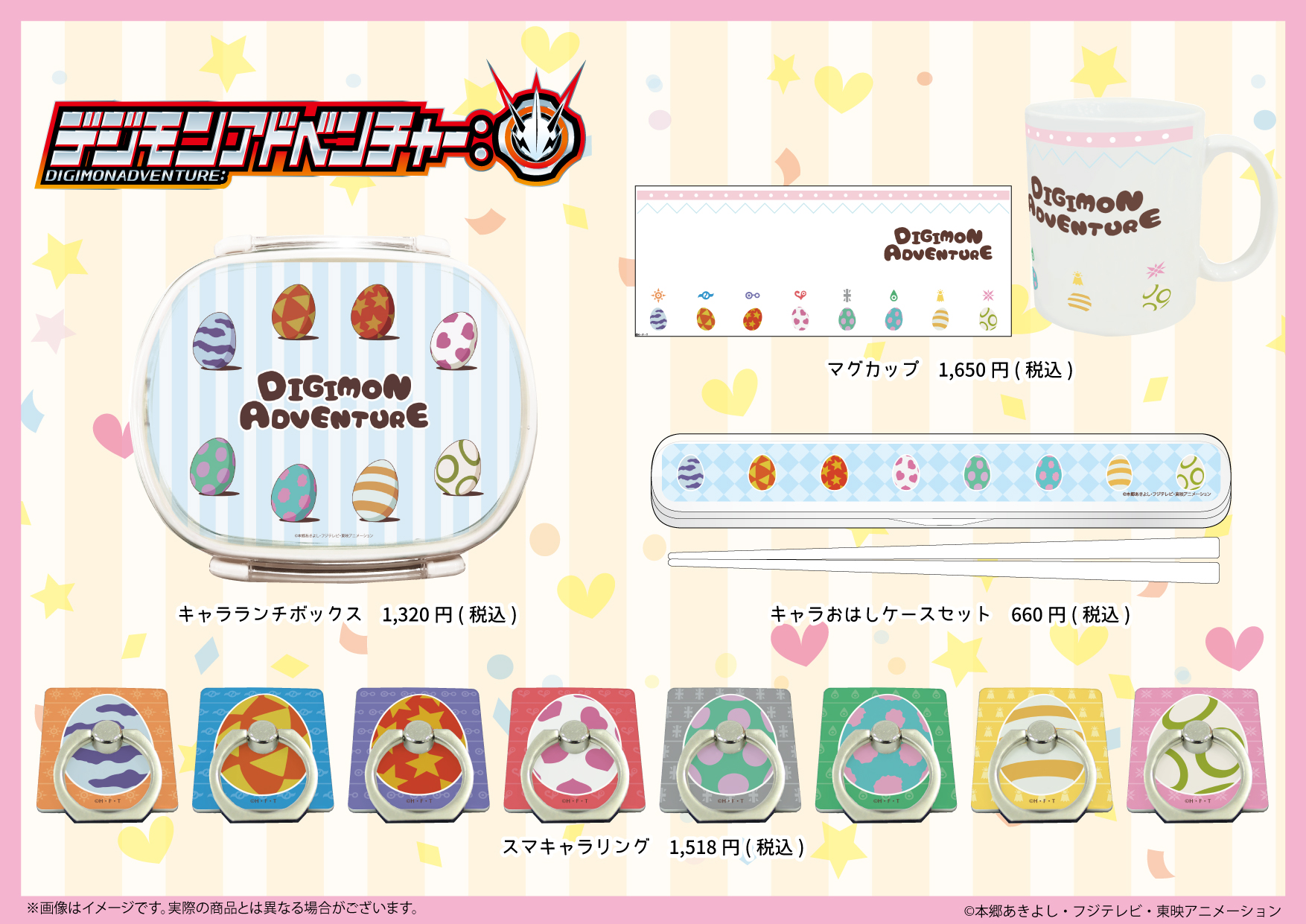 A lunch box
for 1,104 yen.
A mug
for 1,380 yen.
Chopstick with case set
for 552 yen.
Smartphone ring holders for 1,518 yen each.
Agumon
,
Gabumon
,
Tentomon
,
Piyomon
,
Gomamon
,
Palmon
,
Patamon
,
Tailmon
Then next up, a few new Adventure: products.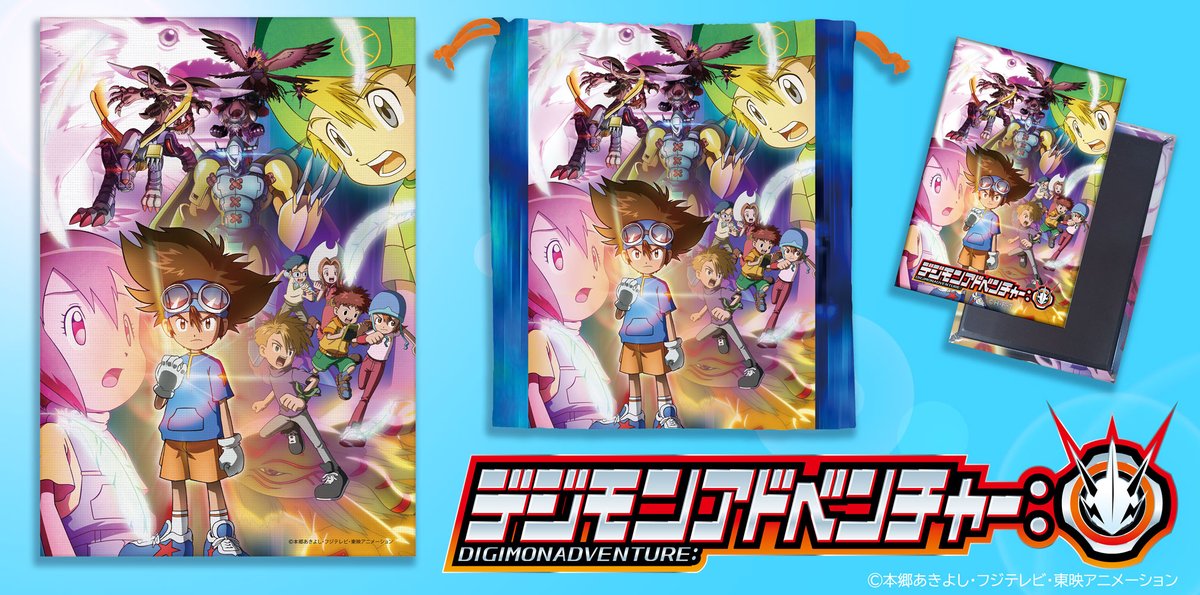 These products are exclusive to Fuji TV affiliated shops, and
their online store
. FujiTV Shop Tokyo has confirmed they have them, while other stores are a 'maybe' at the moment.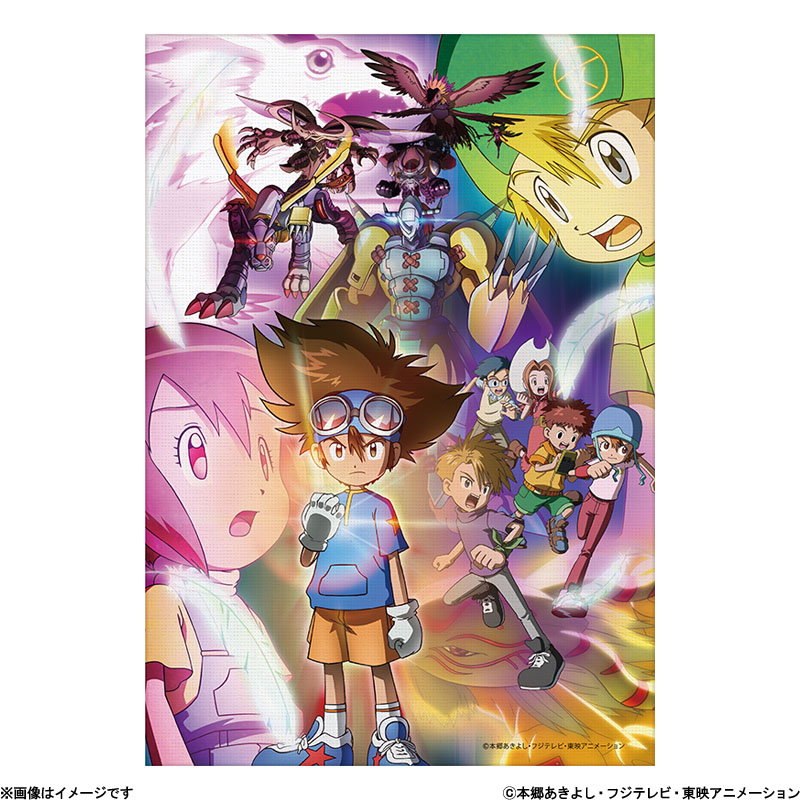 First is a canvas art board
featuring the current series key art. It measured roughly 6.4 wide, 10.7 tall, and .7 deep in inches. It costs 3300 yen.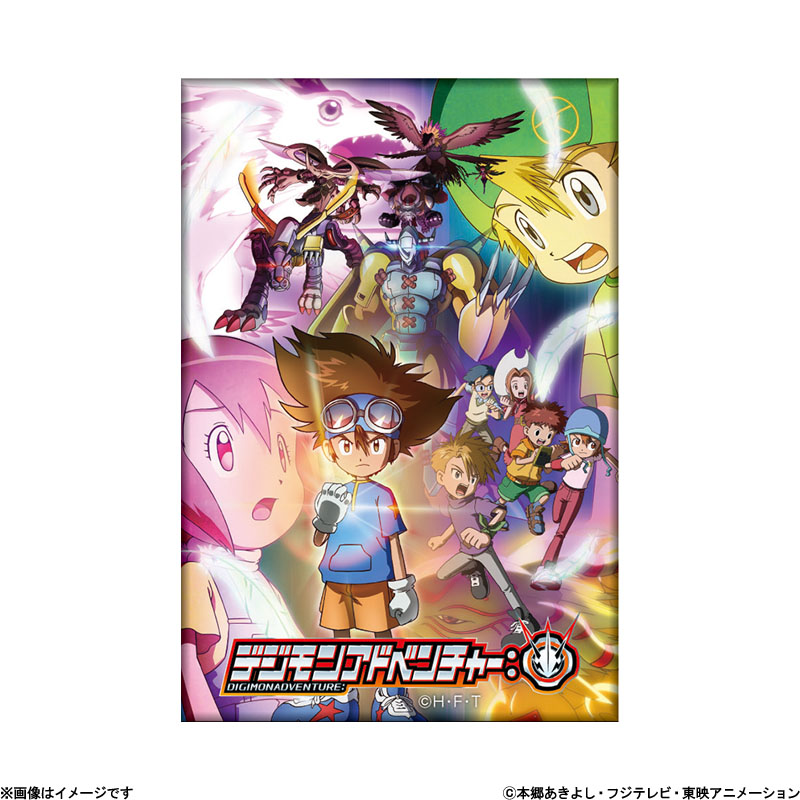 Then there is a can magnet
for 495 yen.

​
Last up is a drawstring bag
. The back featured the show logo along with the digital square motif and angel feathers. It costs 1,100 yen.
Online orders will ship later in April.
FujiTV Shop Tokyo posted a few photos
of the items that arrived...
​
And last up, branded from the original Adventure....
Clothing brand Hipshop has announced half a dozen pairs of premium Digimon Adventure collaboration underwear.
Each includes nice quality printing on both the front and back. They mention new artwork. There is definitely some old art used here, but some of it does appear to be new/revised versions in some ways. Nice packaging is also included for each pair.
Each single pair is 2,500 yen,
while a set of all 6
is 15,000 yen.
The sizes available are:
Medium- 76-84cm Waist
Large- 84-94cm Waist
LL- 94-104cm Waist
Detailed previews of each pair...
Agumon
Gabumon
Patamon
MetalGarurumon
WarGreymon
Omegamon
If you wanted fancy Digimon underpants.... this is seemingly the thing for you.
A wide range of things to nab for fans of both Adventure and Adventure:.
While the Adventure: Easter products are easy to pre-order, the FujiTV and Hipshop products are less so, so you'll want to use an intermediary to grab those...
We've currently pared down the list of intermediaries we list due to some places closing and others becoming iffy in their communication, calling into question their reliability. If you have any stories, positive or negative, about any intermediaries, DM me with them so we can figure out who might be worth adding (or re-adding), since these aren't affiliate links or anything, simply suggested ways to make it easier for fans to nab stuff.
You'll want to contact an intermediary to get these items sent to you. WtW is not affiliated with any, but here are a selection of intermediaries that have worked well for various WtWers and their friends in the past:
From Japan
Rider Proxy
Be aware many intermediaries do not carry items from specialty shops since they can't be ordered online. You will need to ask them and explain what you want very carefully (perhaps with a photo.) Some intermediaries will potentially still not be willing to get the item (or may only be willing to at great cost.) Realistically to get anything from the pop-up shop at a reasonable cost you'll have to find someone who is actually going and ask them to pick you up something.
Some of the intermediaries have a full store front and may have the item listed, so you may want to check that first.