Show User Social Media
Hide User Social Media
Joined

Sep 8, 2006
Messages

12,875
Just about time...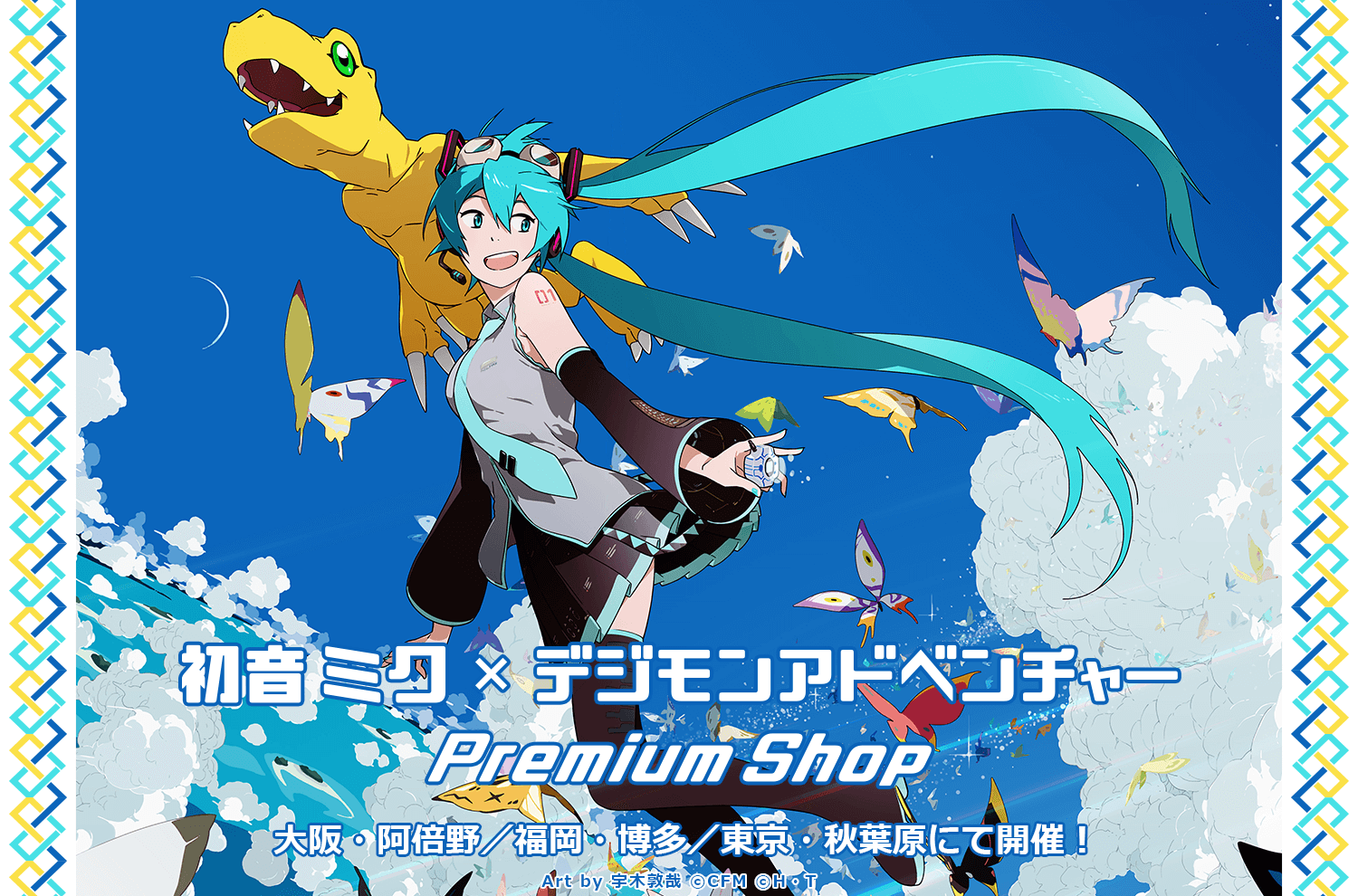 The first of the
Hatsune Miku x Digimon Adventure pop-up shops
opens tomorrow in Japan, and we finally have product details.
First up, for those who will be in Japan over the next few weeks and wants to catch the various shops, the shop will be held:
November 2nd thru 10th on the 4th floor of the
Hoop Shopping Mall
in Abeno, Osaka
November 16th thru 24th on the 2nd floor of the
Canal City Hakata
in Fukuoka
November 21st thru 27th at
the Akihabara Container,
which is right near the Akihabara Station Central Gate in Akihabara
A number of items to go through. These are all new items, and not likely to show up many places outside of the pop-up shops (although historically items do show up in a few minimal places after, but if you can, figure out a way to get them now.)
All the items use the various Miku x Digimon artwork that has shown up, so let's look at those before we get into the products themselves...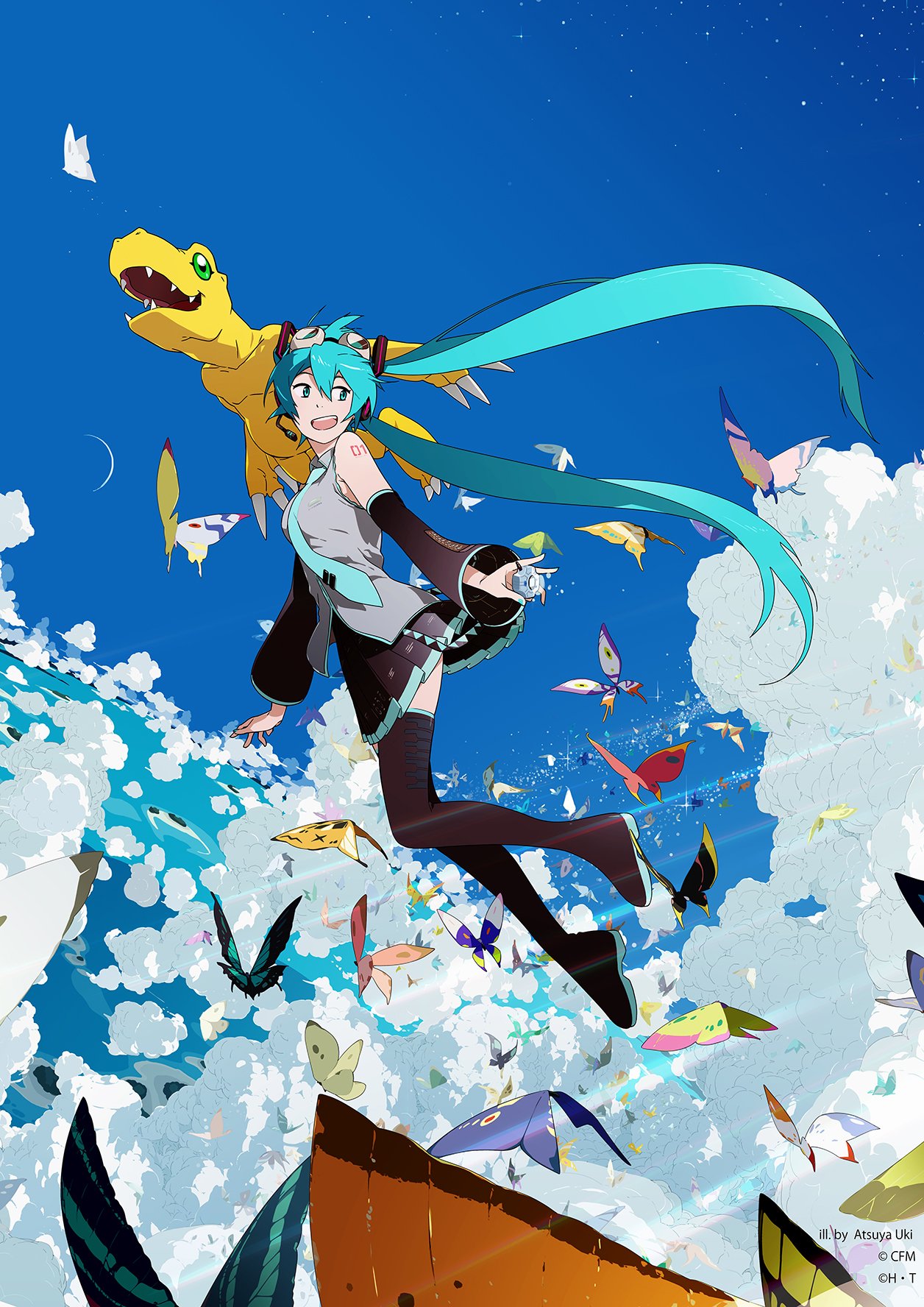 Uki Atsuya, the character designer for tri., did the main collaboration image, which shows Miku and Agumon with a number of Digimon styled butter-flies around them.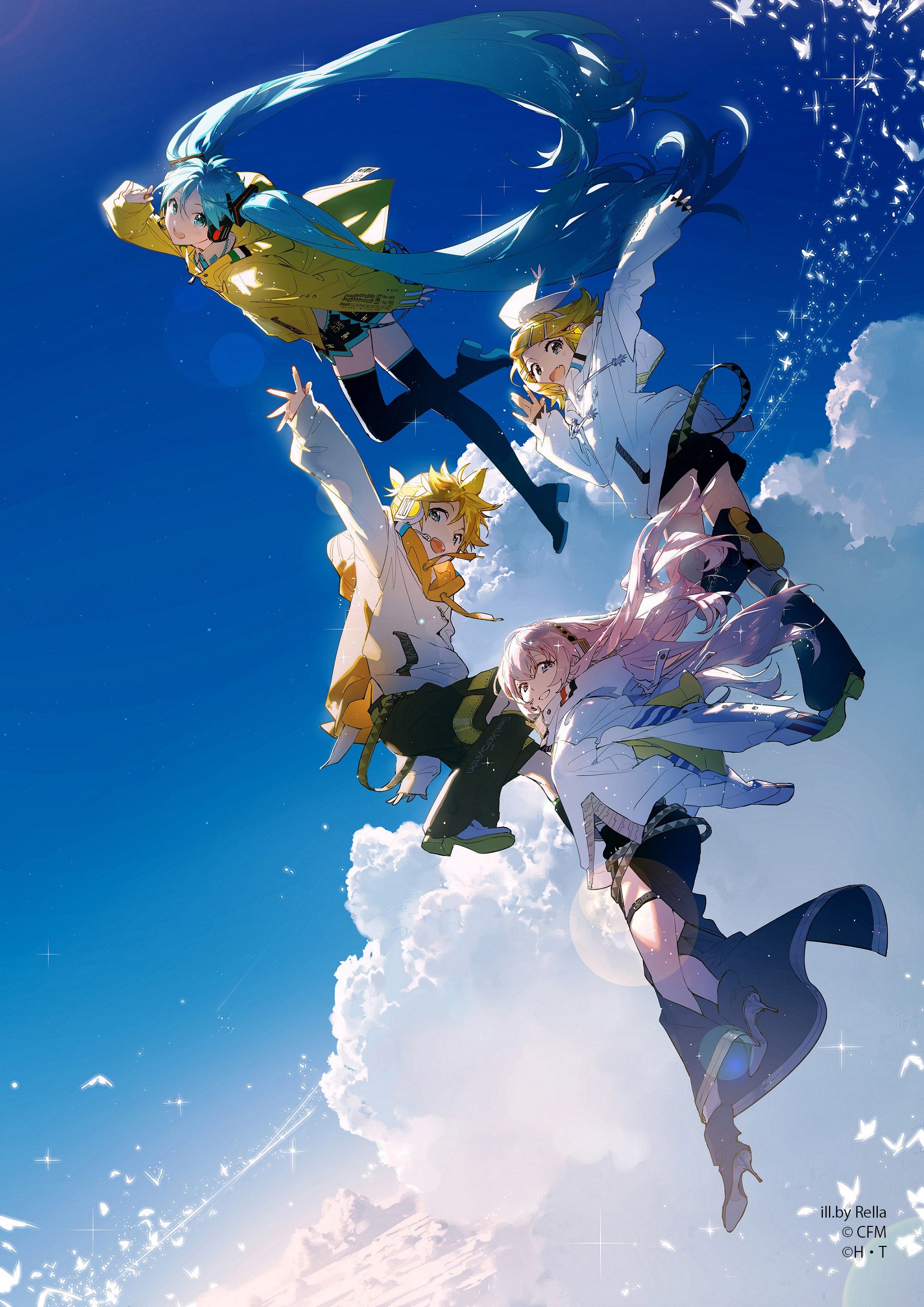 Rella, who has done an image themed on the initial tri. key art by Uki Atsuya, this time showing the Vocaloid characters in their Digimon themed outfits.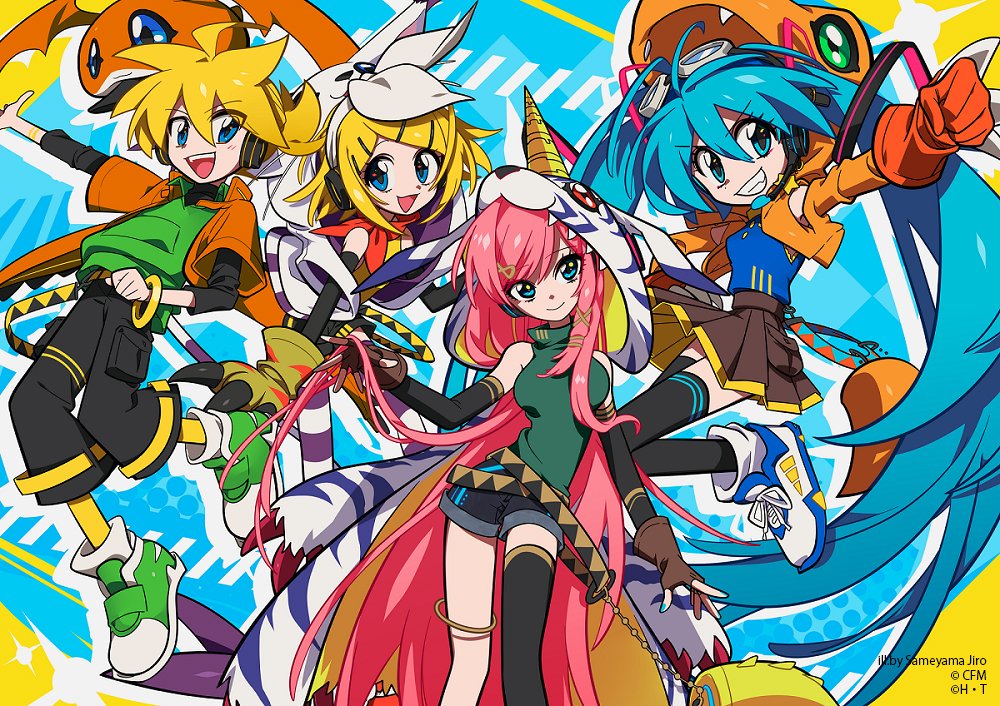 Sameyama Jiro, who has done images of the characters dressed in outfits based on the kids and their Digimon (going off their DIgimon their initial outfits were themed off of.)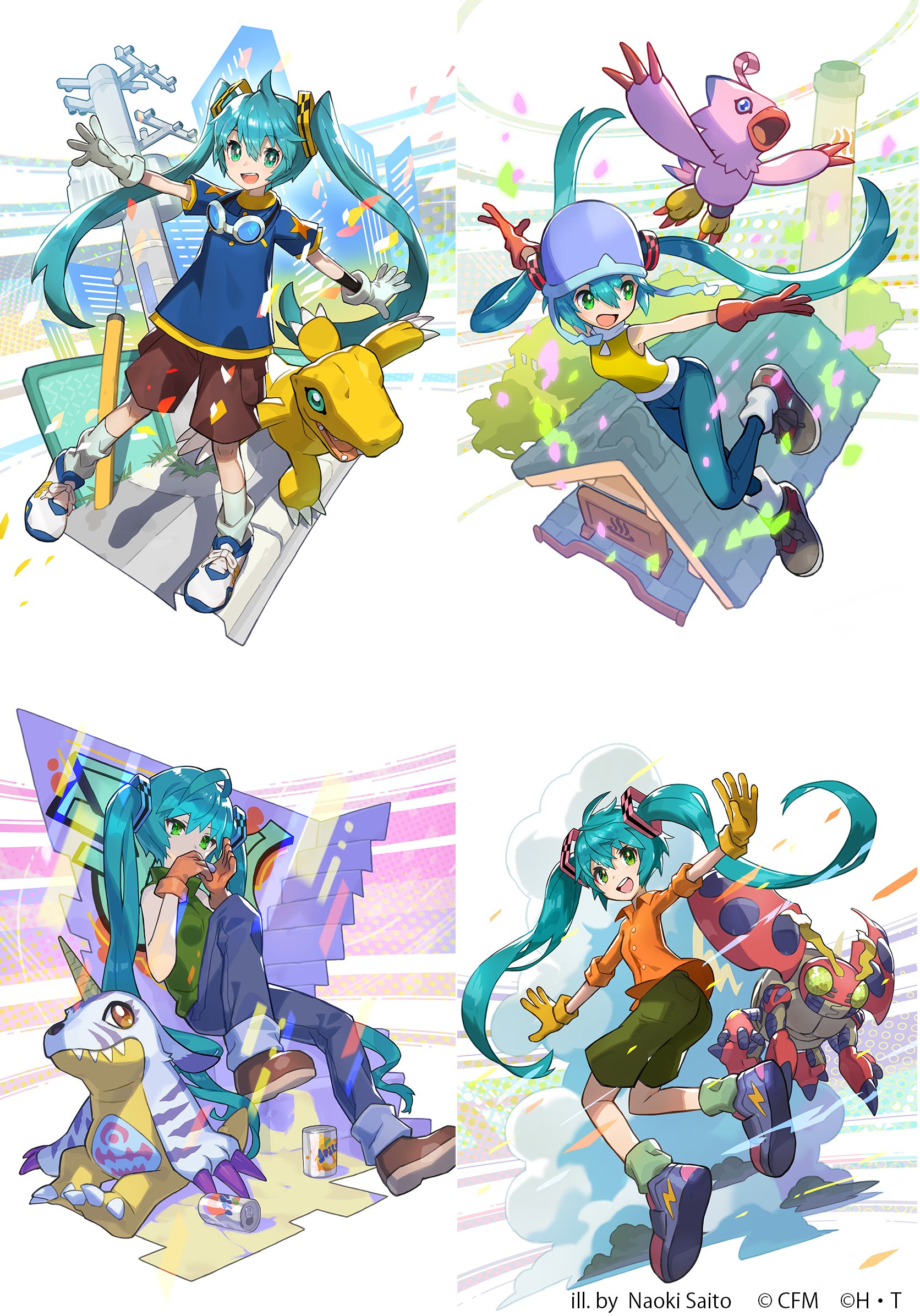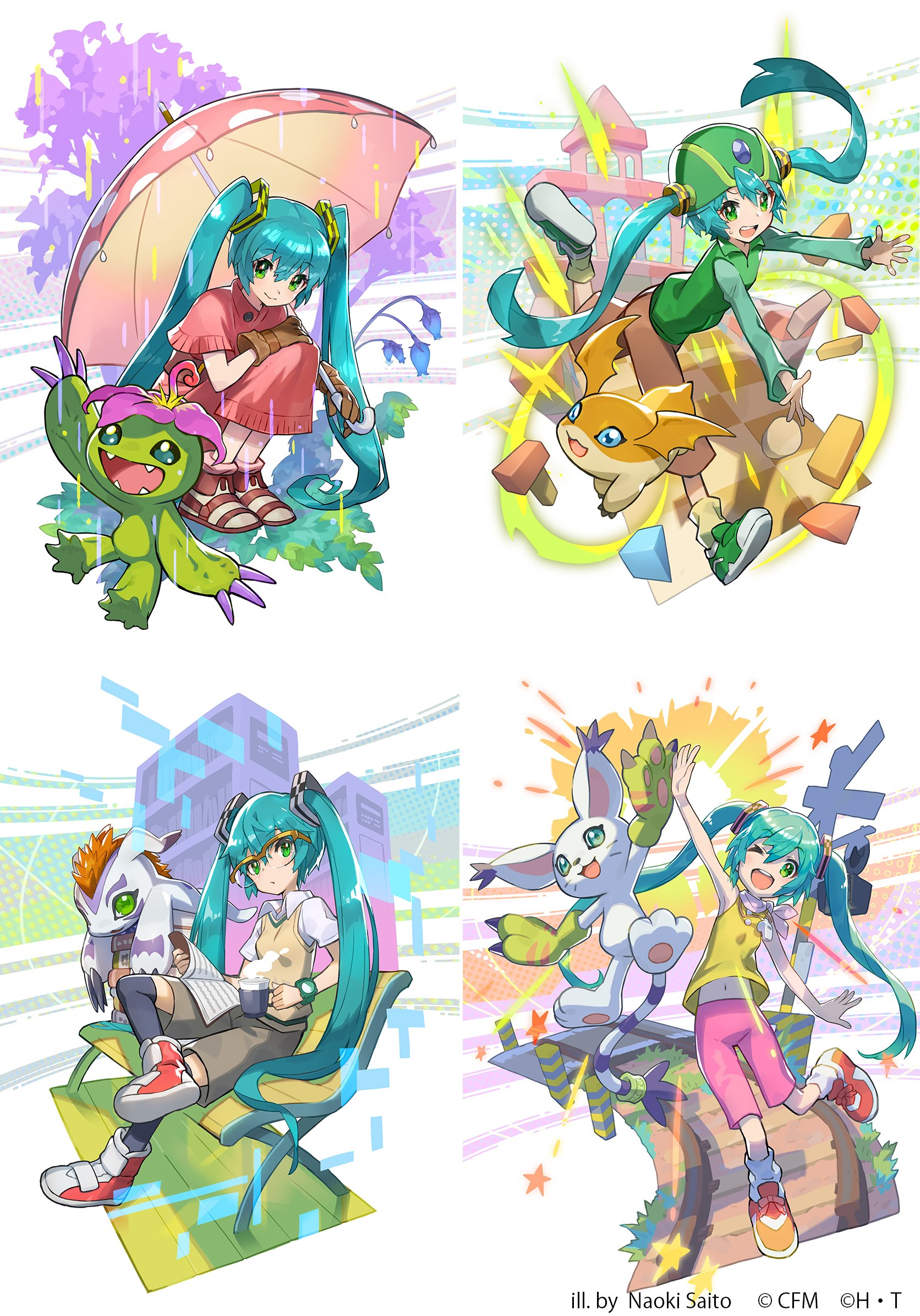 Naoki Saito has done images of Miku as each Chosen Child along with their Digimon. Saito is likely an artist a number of people might be familiar with via their work on Pokemon or Dragalia Lost (among others.)
Onto the products!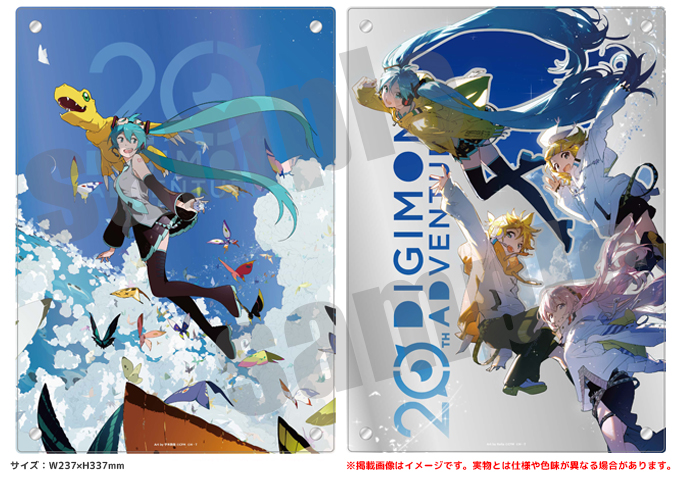 We start off with something a bit more premium. 3 layer acrylic panels. This comes in 2 styles and each costs 20,000 yen. They measure roughly 9.3 x 13.2 inches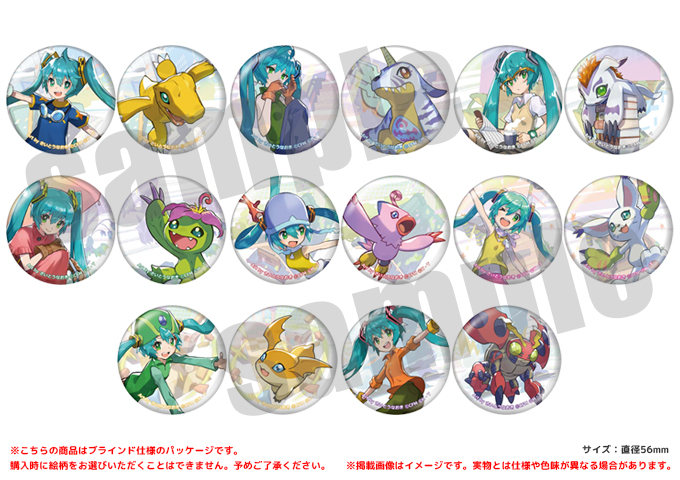 Can badges! There are 16 of these of all 8 Digimon and the 8 Miku cosplay designs randomly packed for 400 yen each. Each is roughly 2.2 inches in diameter.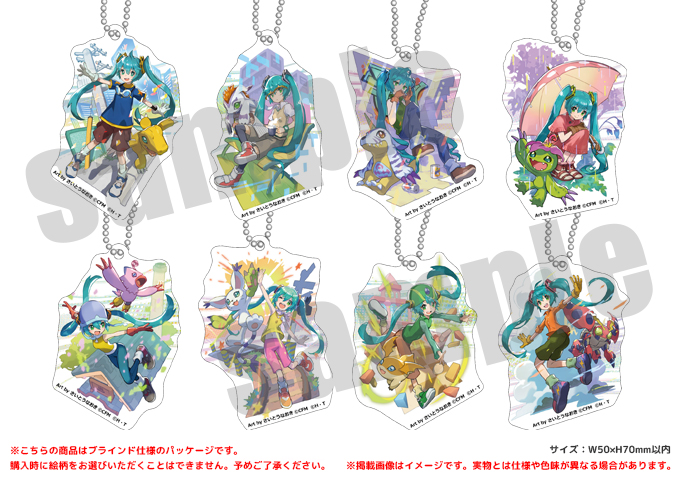 Acrylic keychains! The 8 of these are randomly packed for 700 yen each. They measure roughly 2 x 2.7 inches.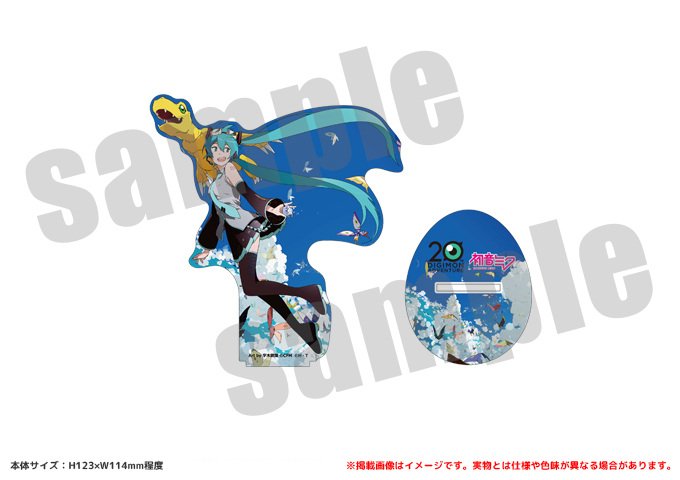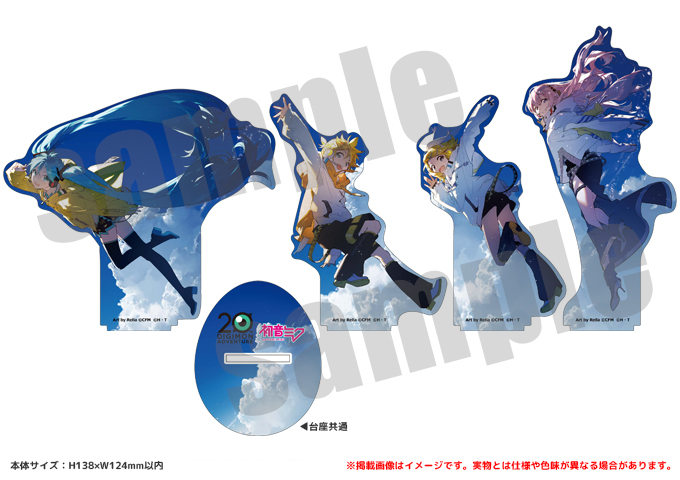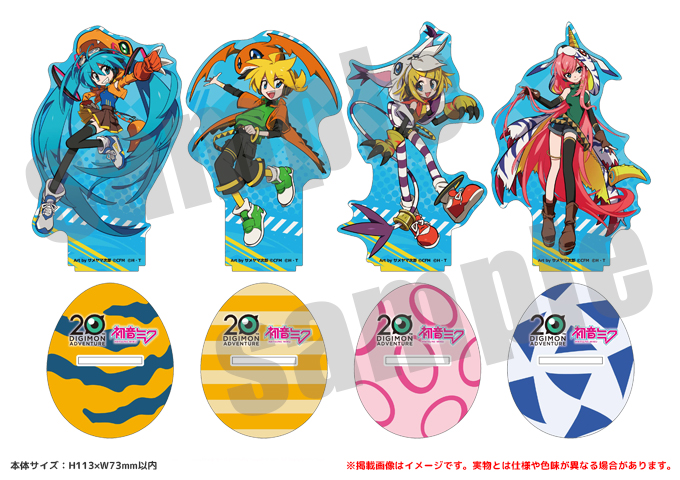 Acrylic stands! Since they started doing these as tri. went on, it feels like acrylic stands have been quite popular. Each of these is 1,400 yen, and none are labeled as being random.
The Miku one (Uki Atsuya art) is roughly 4.8 x 4.5 inches. The design is similiar, but not identical to, the one that was sold at DigiFes.
The Rella art ones are each roughly 5.4 x 4.9 inches.
The Sameyama Jiro ones are each roughly 4.4 x 2.9 inches.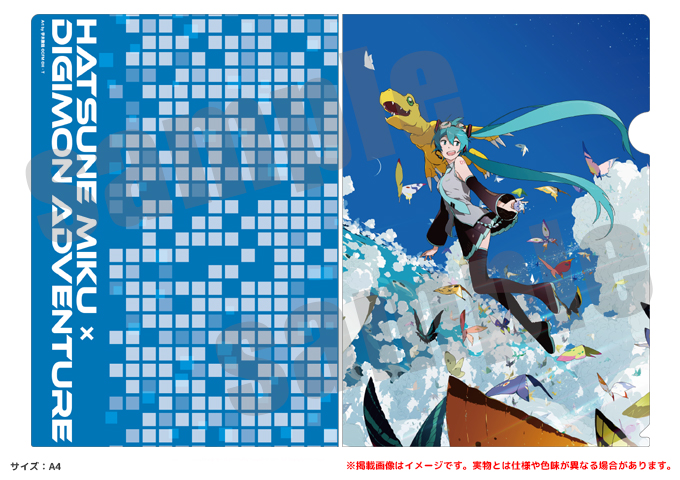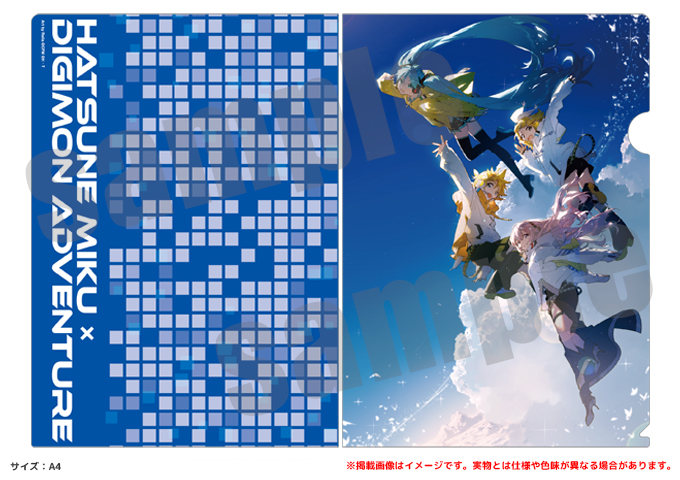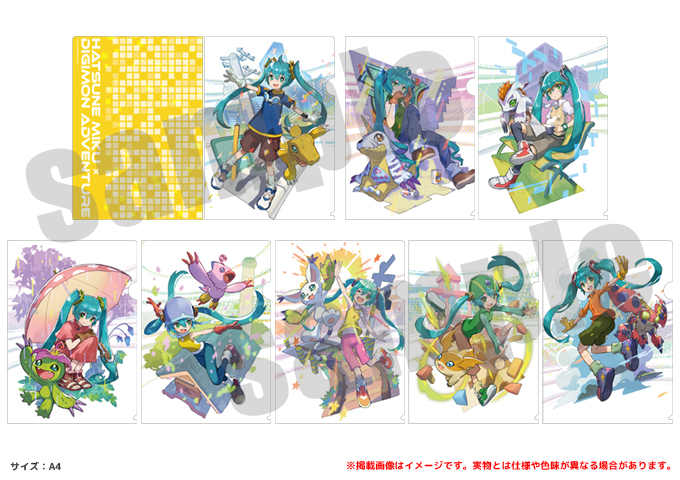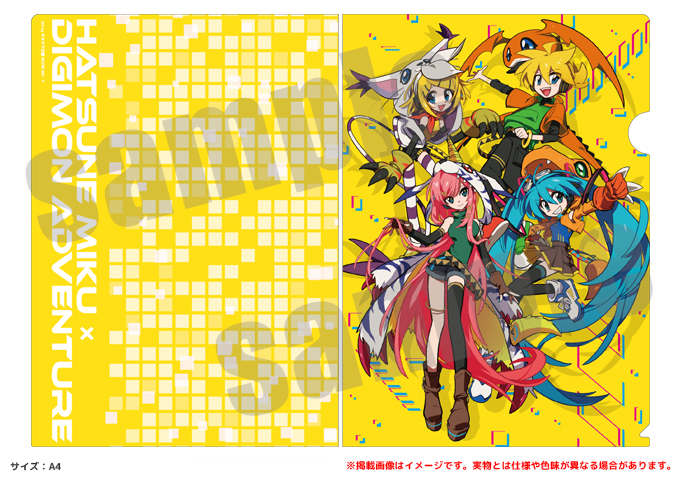 Clear files! Each piece of art gets it's own A4 size (8.27 x 11.69 inches). These aren't random packed, and since Naoki Saito did 8 seperate pieces of art, that means there are 11 total. Each is 350 yen.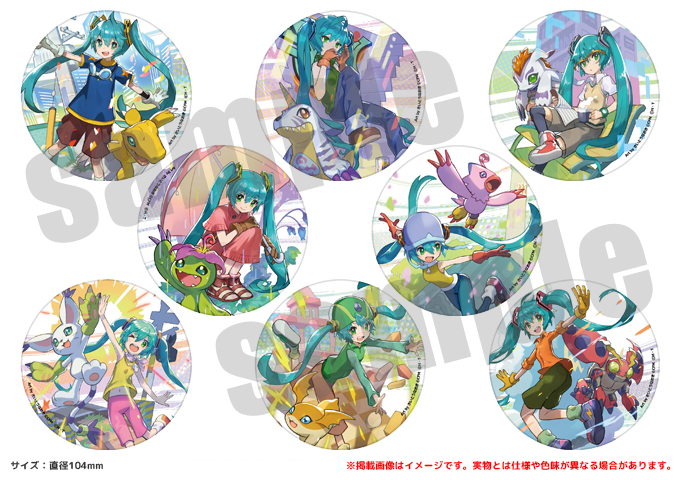 Coasters! These 8 ceramic coasters use the Naoki Saito artwork. Each is 550 yen and they are 'not' labeled as randomly packed. Each is roughly 4.10 inches in diameter.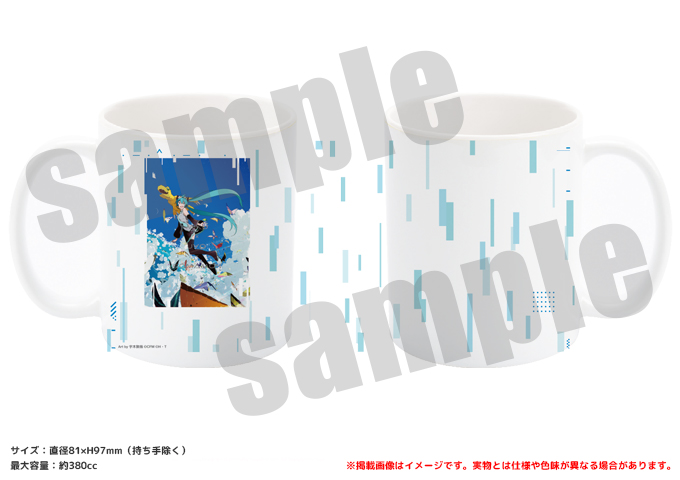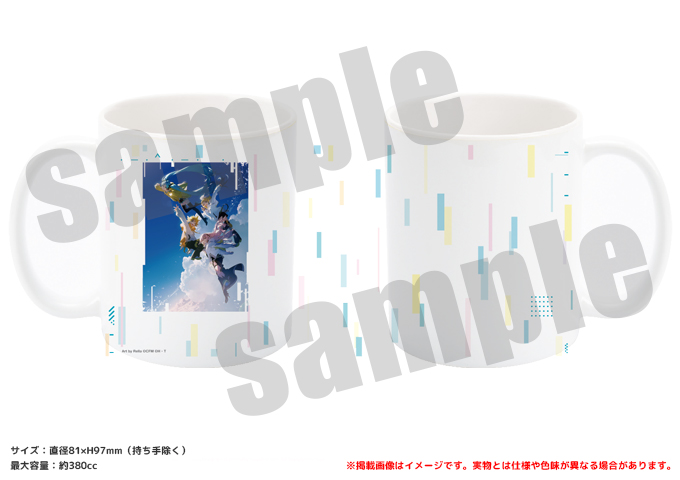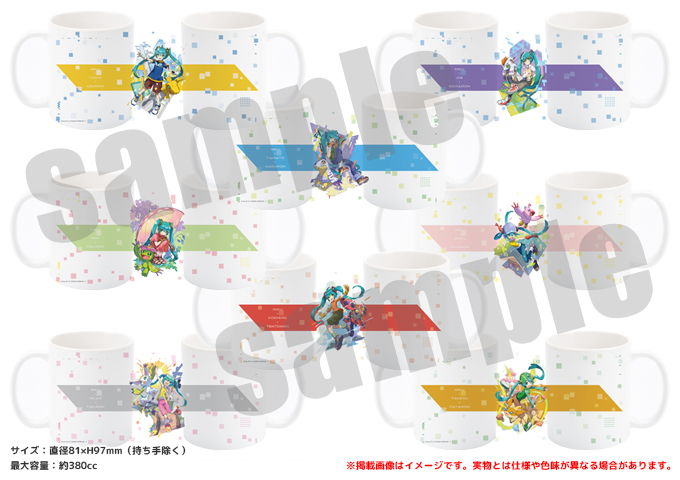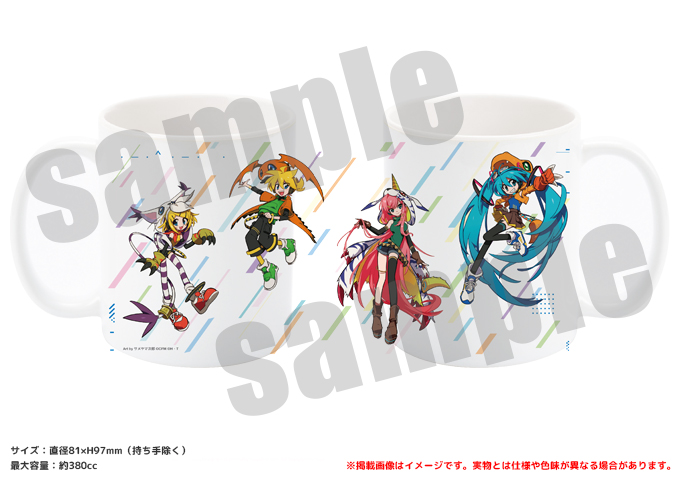 The various pieces of artwork also each get their own mug! Each mug is 1,500 yen and isn't randomly packed. Each mug is roughly 3.2 inches in diameter, 3.8 inches tall, and can hold 1.6 cups of liquid.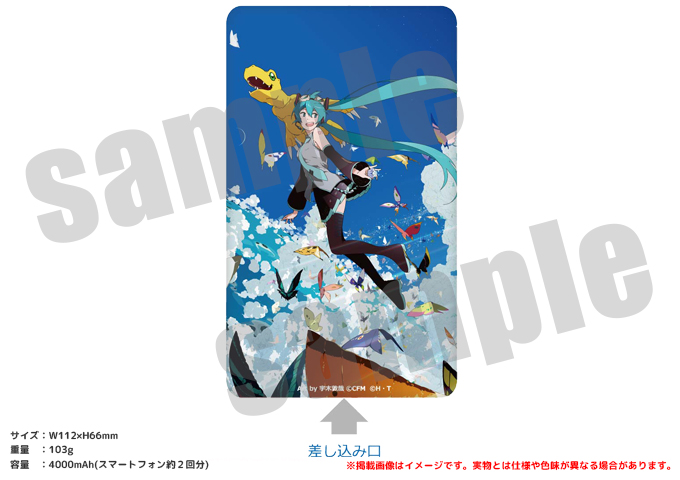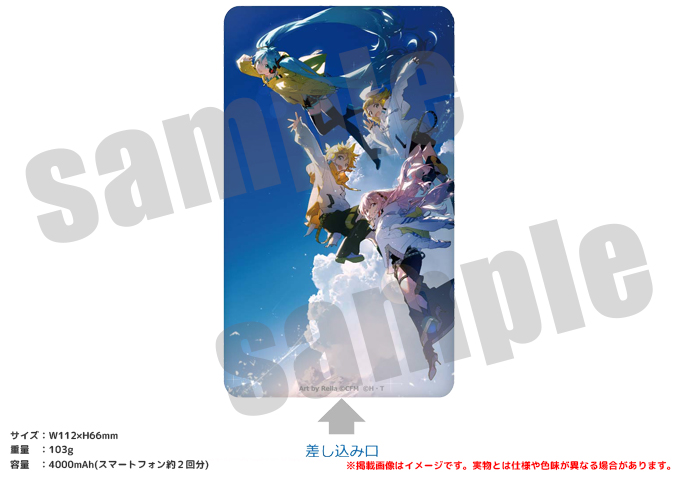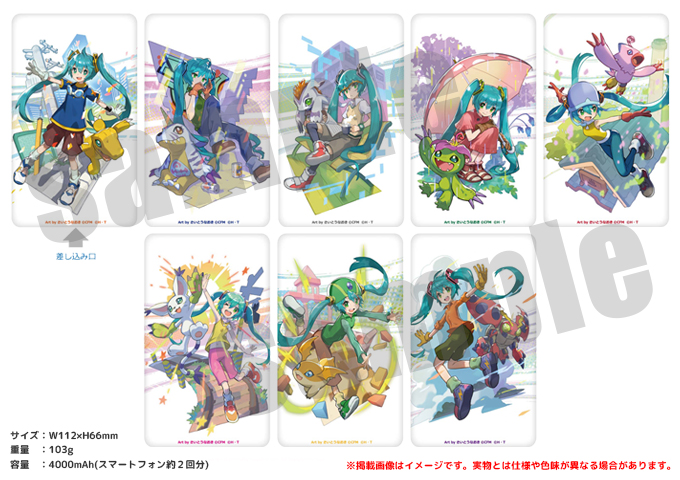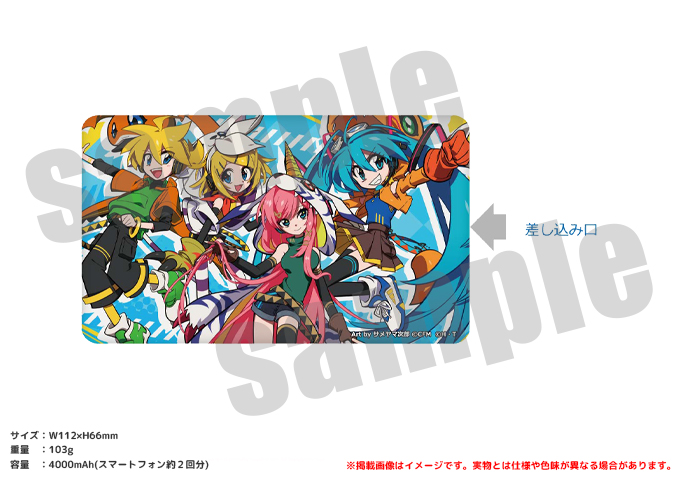 Each piece of art also gets a mobile battery. Each battery holds 4000 mAh and they aren't randomly packed. The arrow in the images shows where the port is on the battery. Each is 4,500 yen.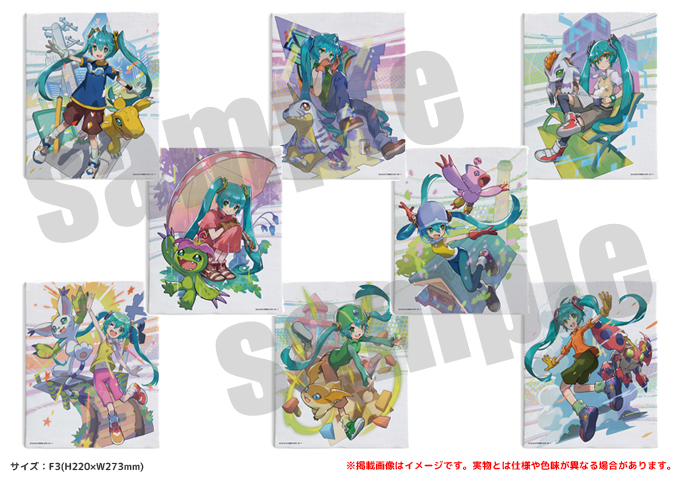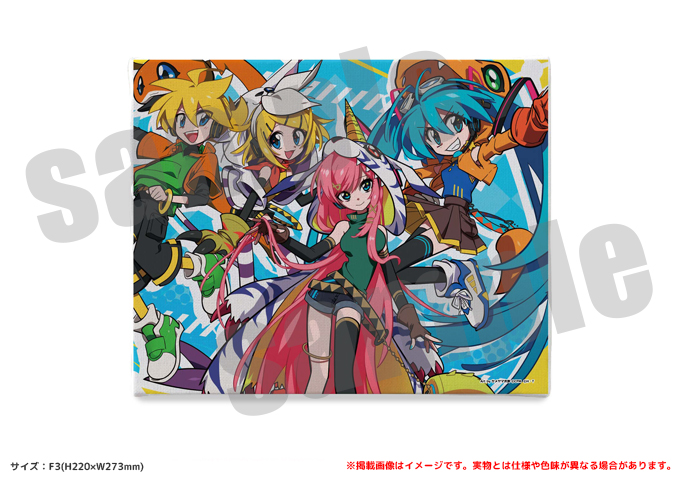 Art panels featuring the Naiko Saito and Sameyama Jiro artwork. These are significantly more affordable than the fancier panels for hte other art at 2,800 yen (and not randomly packed.) Each measures roughly 8.6 x 10.7 inches.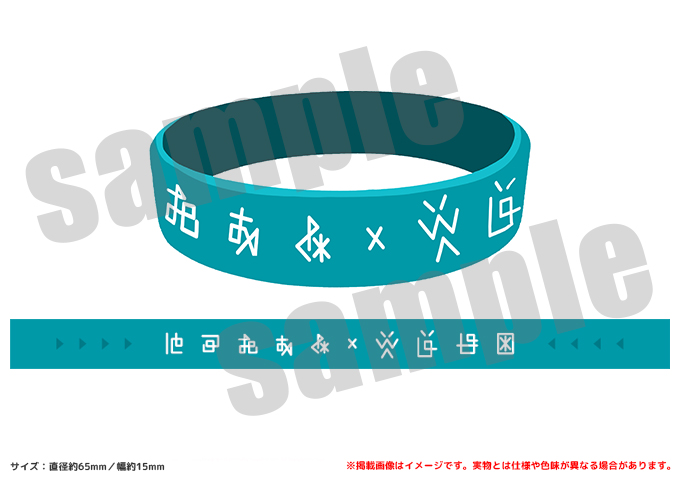 A rubber wrist band. It costs 550 yen. It's roughly 2.5 inches in diameter and .6 inches wide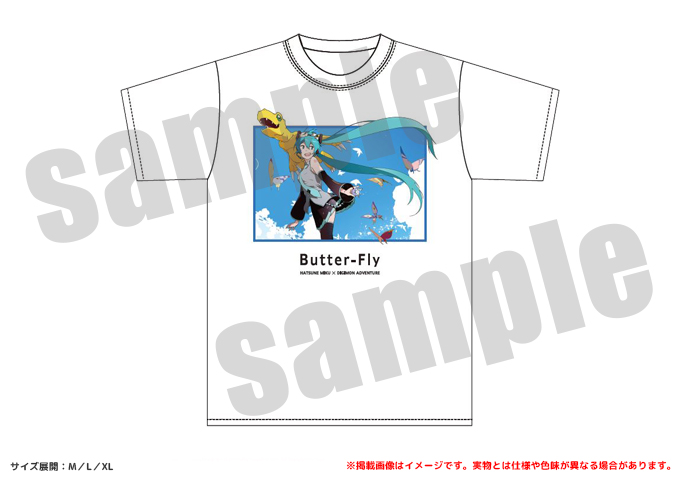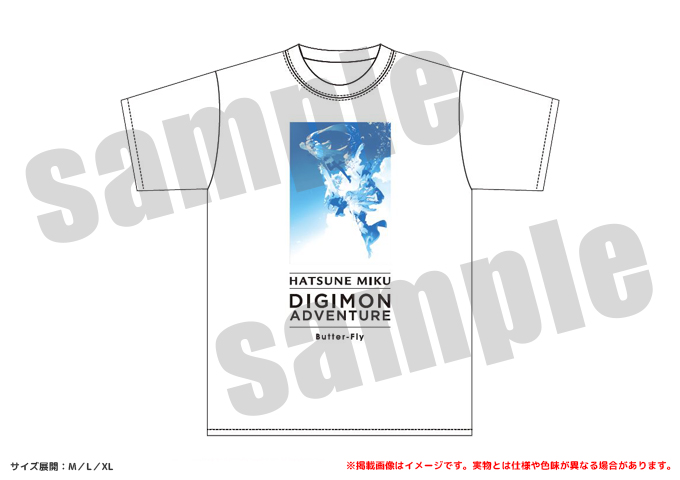 Shirts! First up we have the Butter-Fly Collaboration shirt, using the Uki Atsuya art, using a wide version of the art. Next is the Hatsune Miku Digimoji shirt, featuring a monochrome badge version of the Uki Atsuya art on the front, and Digimoji on the back. Last up is the Vocaloid Fly shirt, featuring the Rella art in a monochrome style. Each shirt is 4,000 yen and comes in Meidum, Large, and X-Large (be aware of Japanese clothing sizes if you decide to order these.)
A few additional details...
Miku goods by R4G (a fashion/design brand) will also be sold at the shops, these items we aren't going over because they aren't Digimon related.
Second...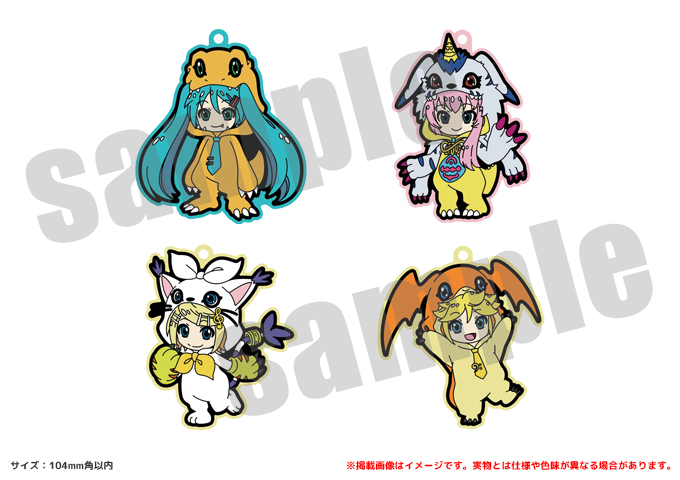 An image is up on the store server for rubber keychains featuring the Toei collaboration art. Whether these got cancelled, or just weren't ready for the first store is unknown, but they may or may not show up.
Update-
These will be available beginning 11/7 for 650 yen each
.
And last, the bonus items...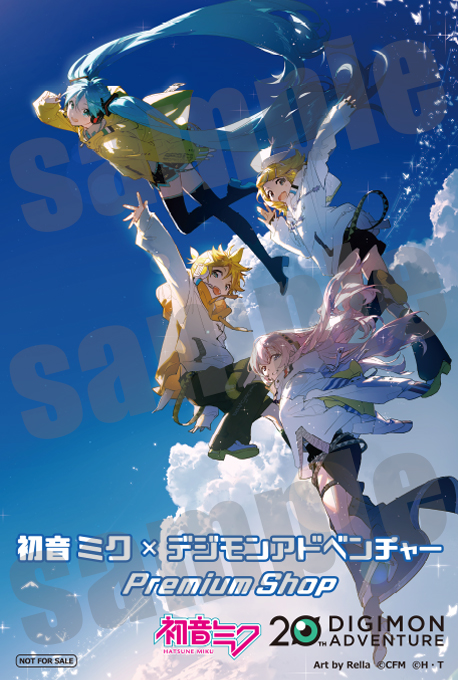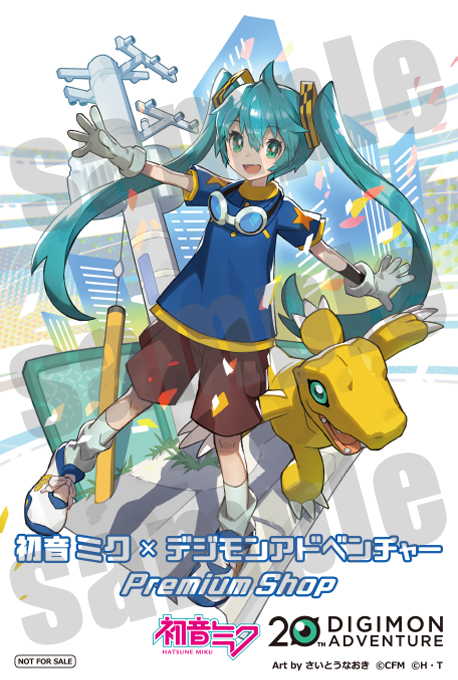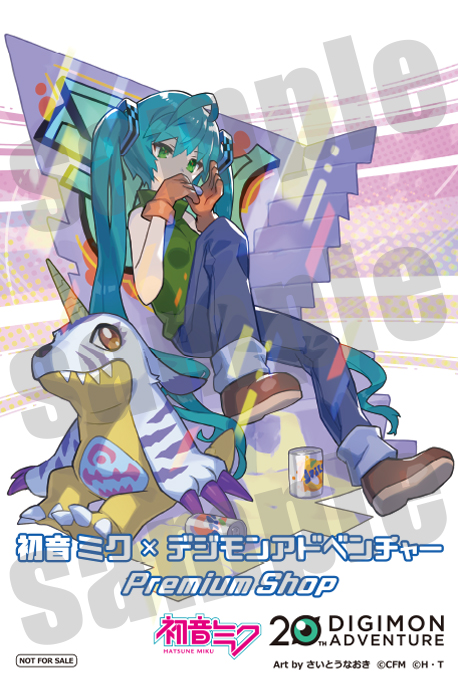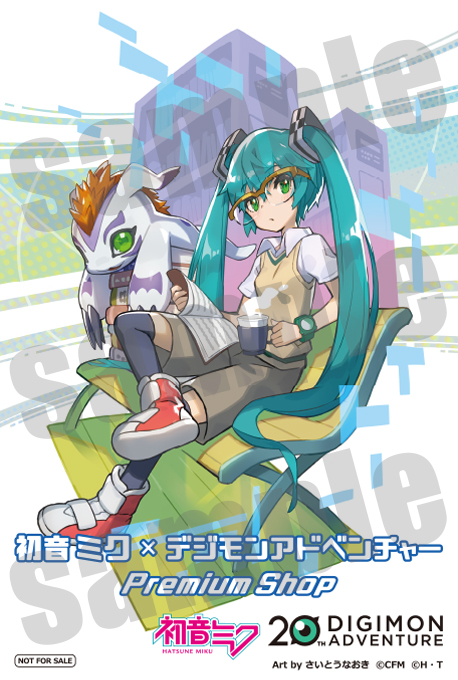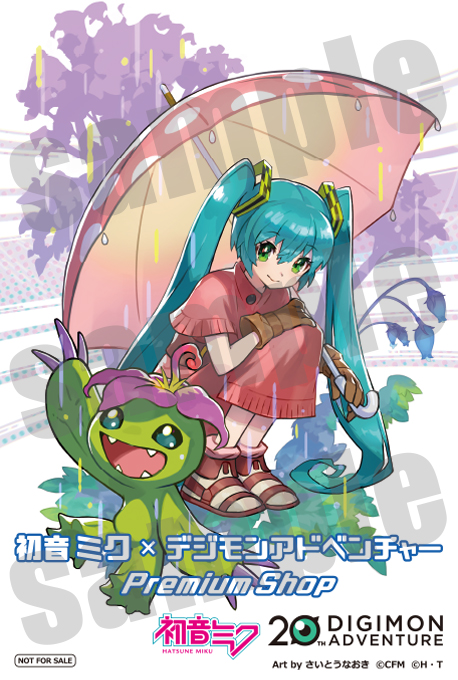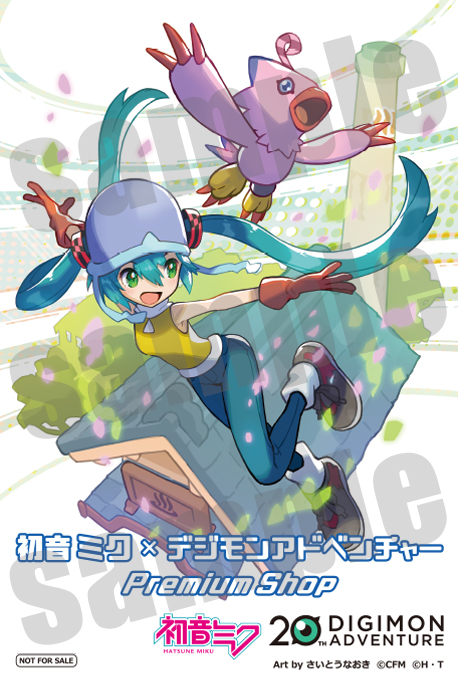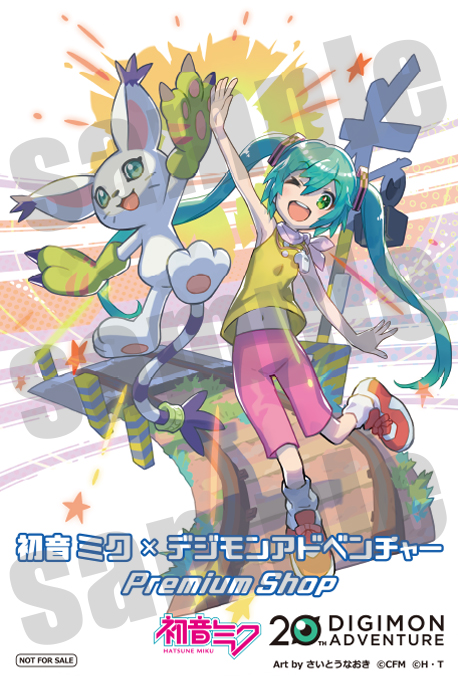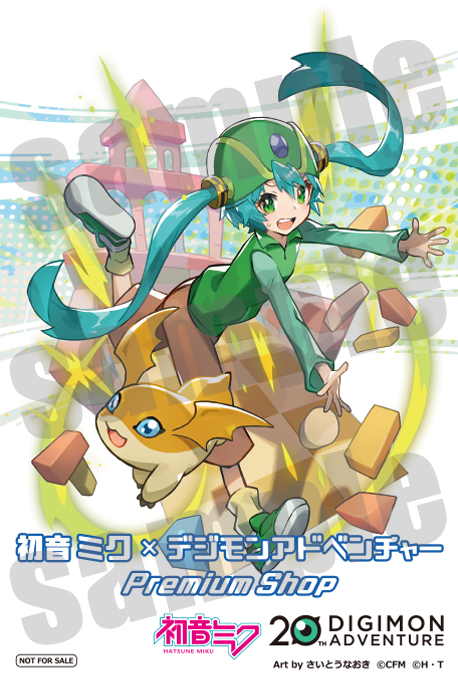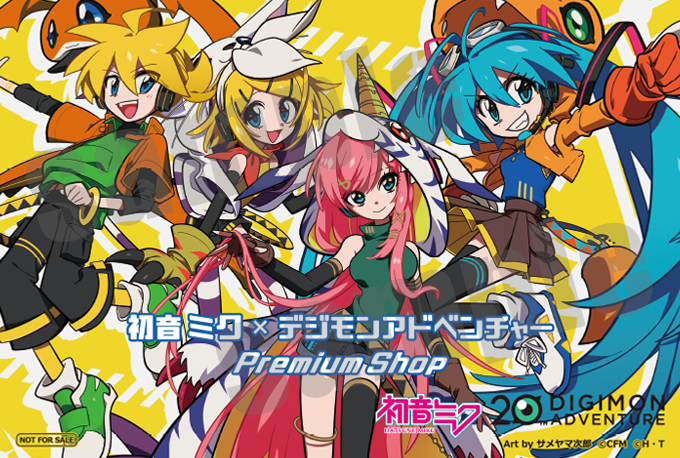 For every 3,000 yen spent you get 1 of 11 postcards featuring the various collaboration key art. The postcards will be given out at random.
Postcards will be limited in stock.
We'll see if any additional items show up at the store (or perhaps the later stores), but it's a wide lineup with most things having multiple art selections to choose from.
Prior details of the Hatsune Miku x Digimon Adventure collaboration can be found
here
and
here
.
You'll want to contact an intermediary to get these items sent to you. WtW is not affiliated with any, but here are a selection of intermediaries that have worked well for various WtWers and their friends in the past:
From Japan
Rider Proxy
Nippon-Yasan
Be aware many intermediaries do not carry items from specialty shops since they can't be ordered online. You will need to ask them and explain what you want very carefully (perhaps with a photo.) Some intermediaries will potentially still not be willing to get the item (or may only be willing to at great cost.) Realistically to get anything from the pop-up shop at a reasonable cost you'll have to find someone who is actually going and ask them to pick you up something.
Some of the intermediaries have a full store front and may have the item listed, so you may want to check that first.