Show User Social Media
Hide User Social Media
Joined

Sep 8, 2006
Messages

15,594
Just a few days until another figure is out!
It's been a long time since we first got a peek at Digivolving Spirits MetalGarurumon and he will be finally out this Saturday!
Despite being the second figure, it has felt like, at times, that MetalGarurumon hasn't had a chance to show off as much as Diablomon and Angewomon.
We finally get a
nice extended preview
of him from Tamashii though!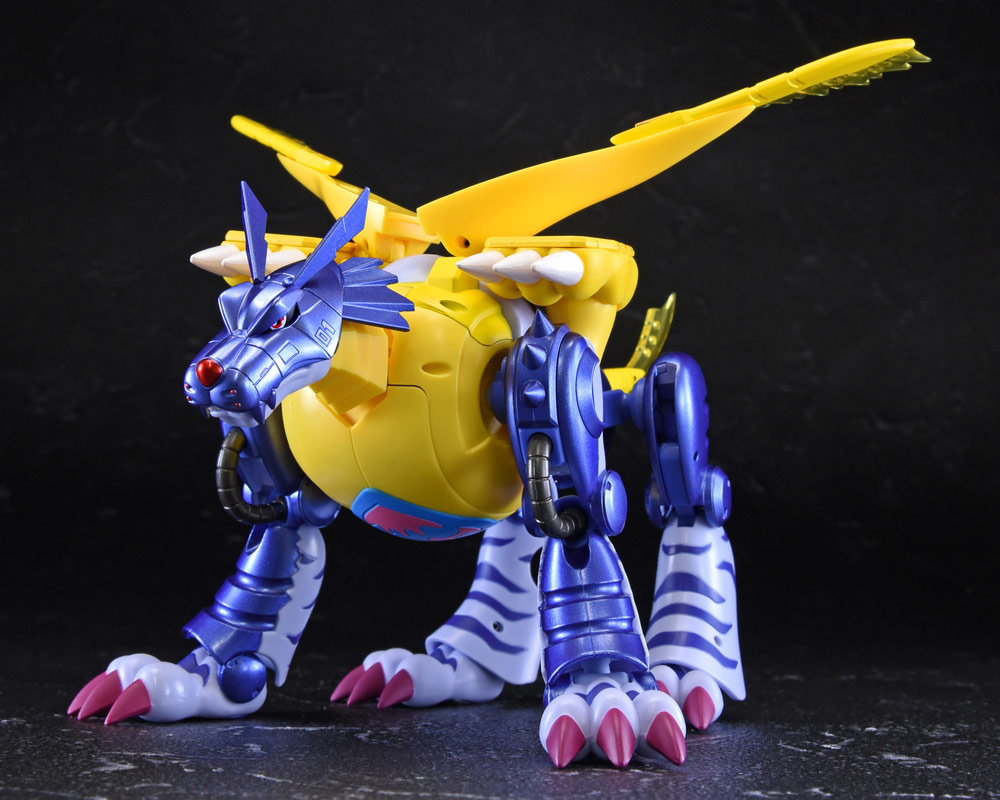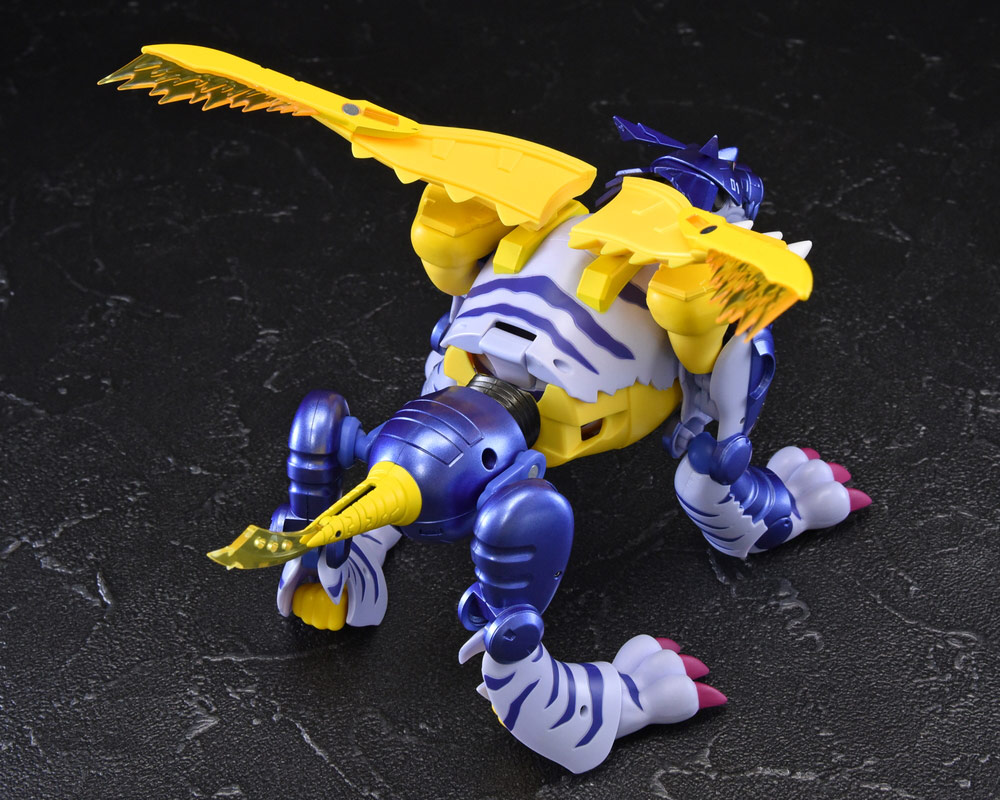 They bring up the metallic blue paint giving him a real sense of quality.
In addition they put effort into improving the proportions of the figure from the original version from almost 20 years ago.
The figure has a dramatic look that balances the appearance of being a wolf and being a mechanic being with weapons.
The figure has lots of little details. His mouth opens and closes, and even his ears can move.
The neck, knee joints, waist, and wings can all move to help him pose. The legs are ball-jointed so they can be spread to help you come up with more dynamic poses.
They made sure Gabumon's toes (that become MetalGarurumon's shoulder missiles) would be white this time.
In addition, there is die cast metal, along with texturing in various places to enhance the feel of the figure.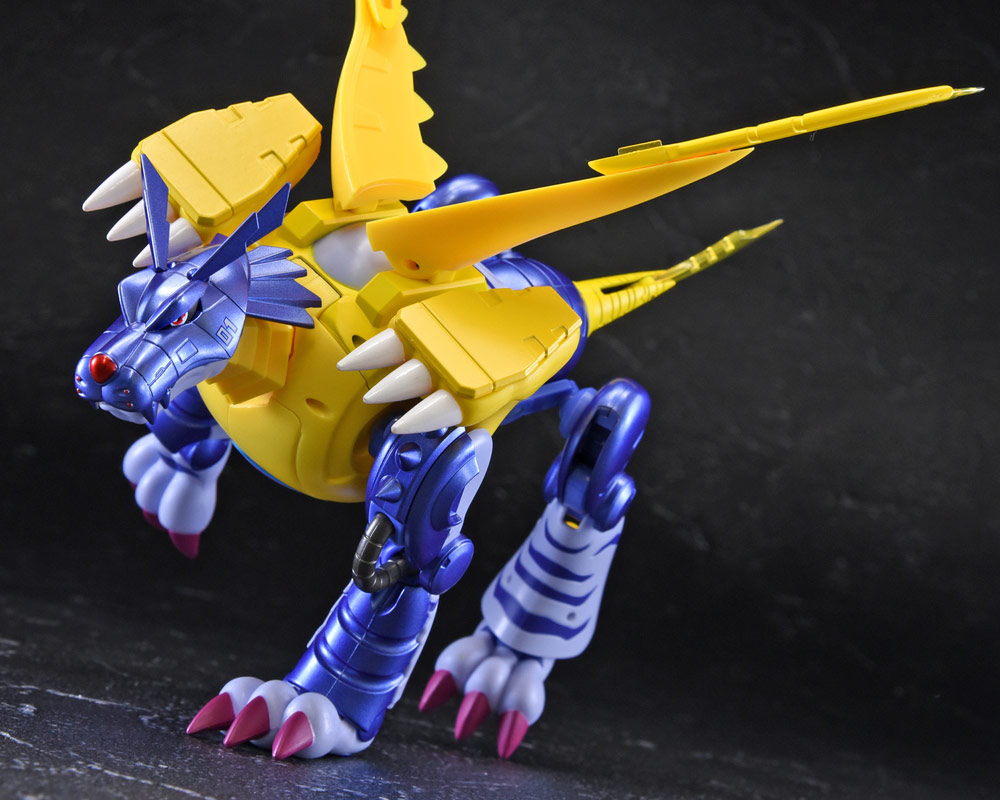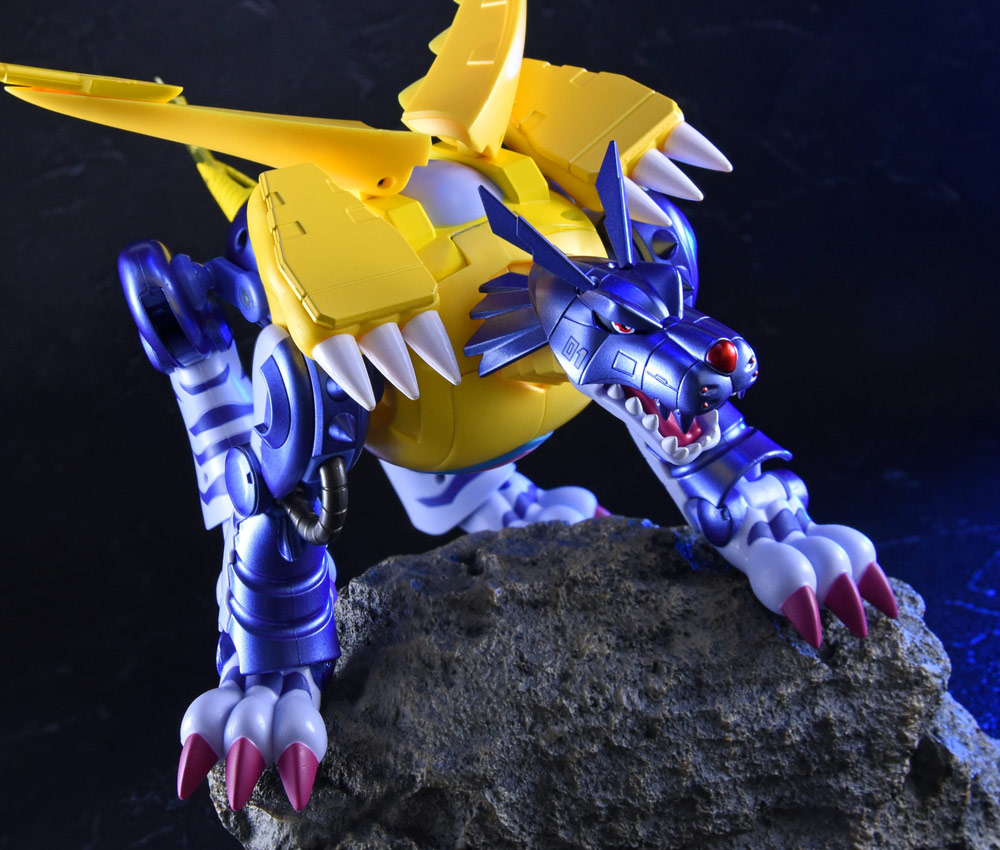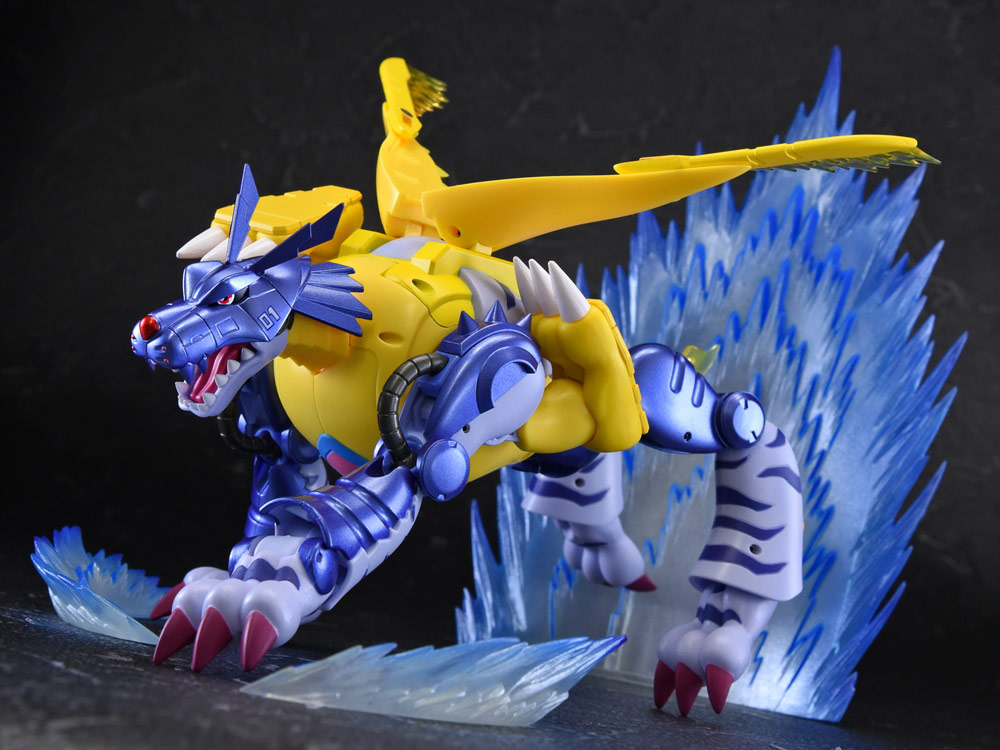 He's a fierce character who can pose in various dynamic ways.
They've gone to extra length to give him a wide range of motion.
They suggest using a Tamashii Effect accessory (sold separately) to imitate ice effects.
They then go into detail showing off how to transform the figure...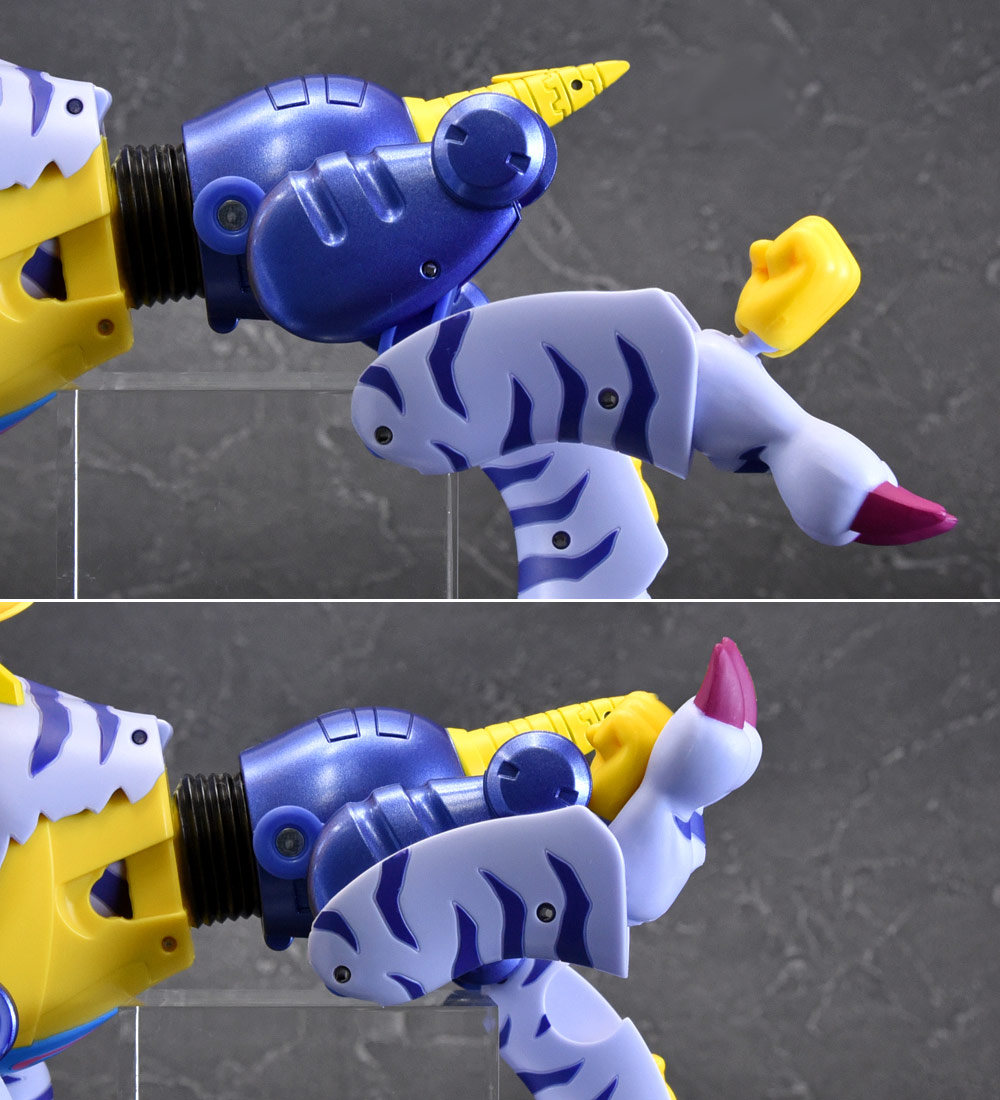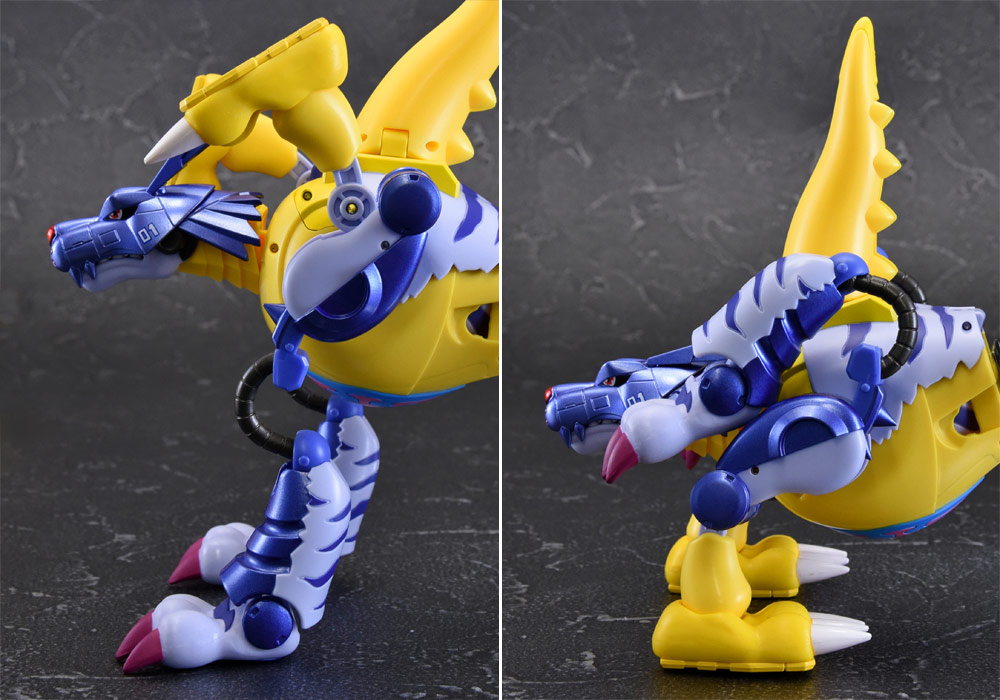 The basic transformation mechanism is quite similiar to the old figure, spinning the torso around and folding the feet into place. They recommend doing this slowly.
You take out Gabumon's face and flip around MetalGarurumon's head to the inside of the torso.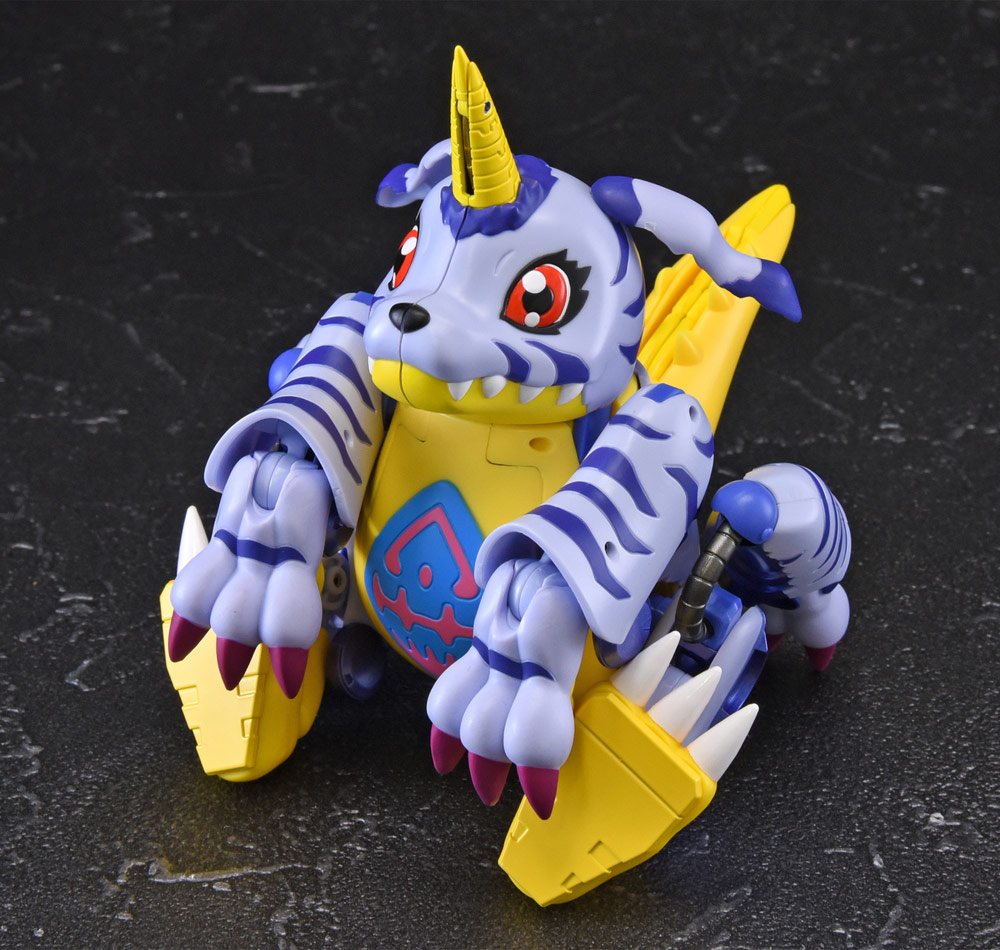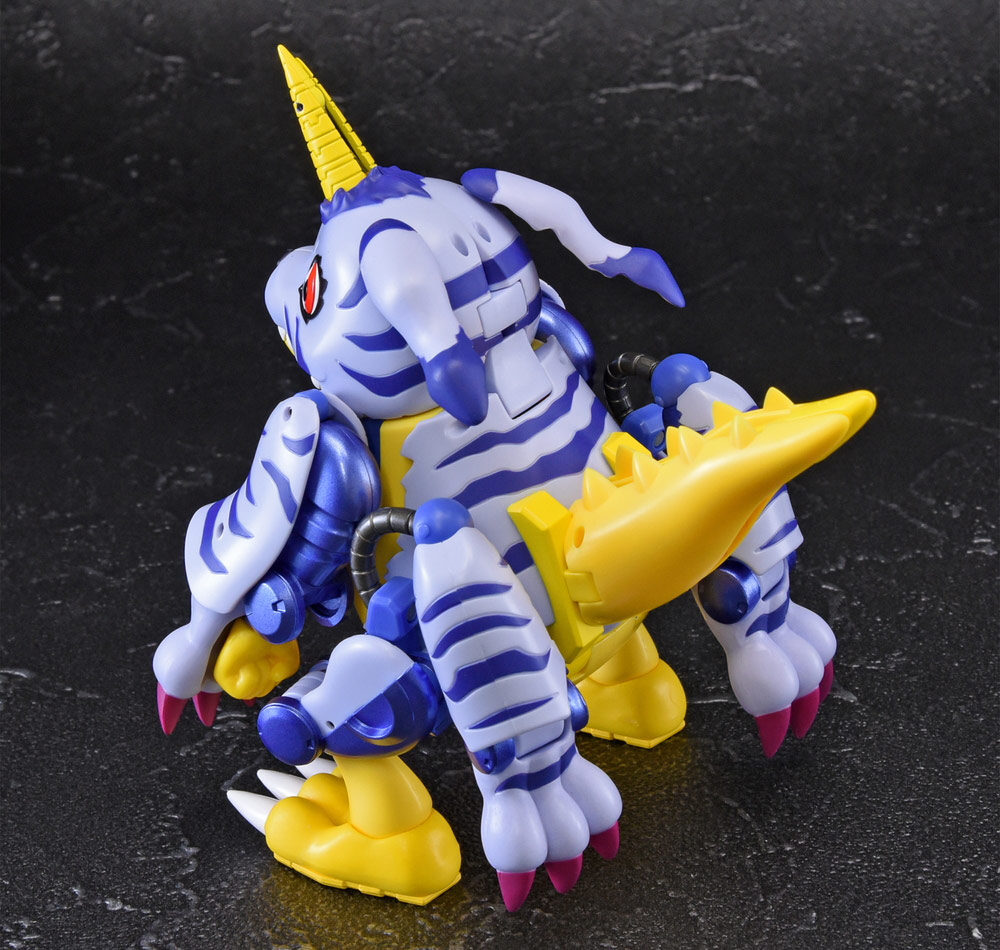 While MetalGarurumon is cool.... Gabumon is cute!
MetalGarurumon's armor folds inwards which changes the structure and feeling of the figure overall.
They mention that Gabumon's ears are even made of a softer material, and the design of the stomach looks charming.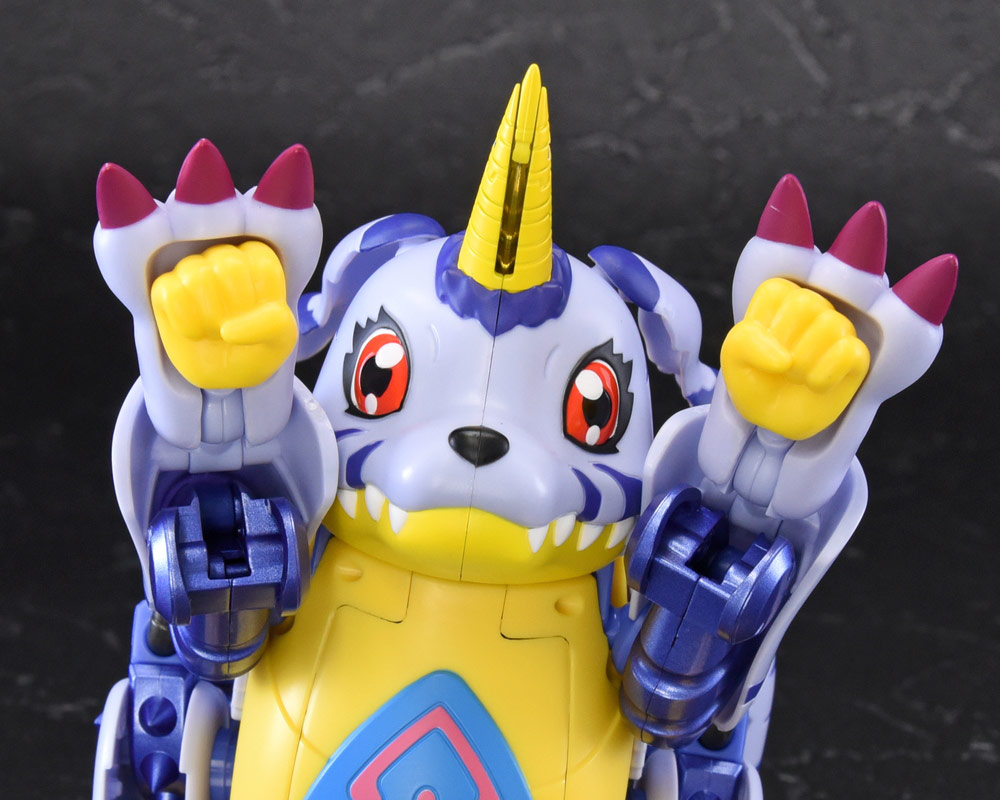 To match the overall theme of Gabumon being covered in Garurumon's fur, they doubled up on the hand design. They redesigned the shape from the shoulders to the fingertips to help it look cuter and simply be better.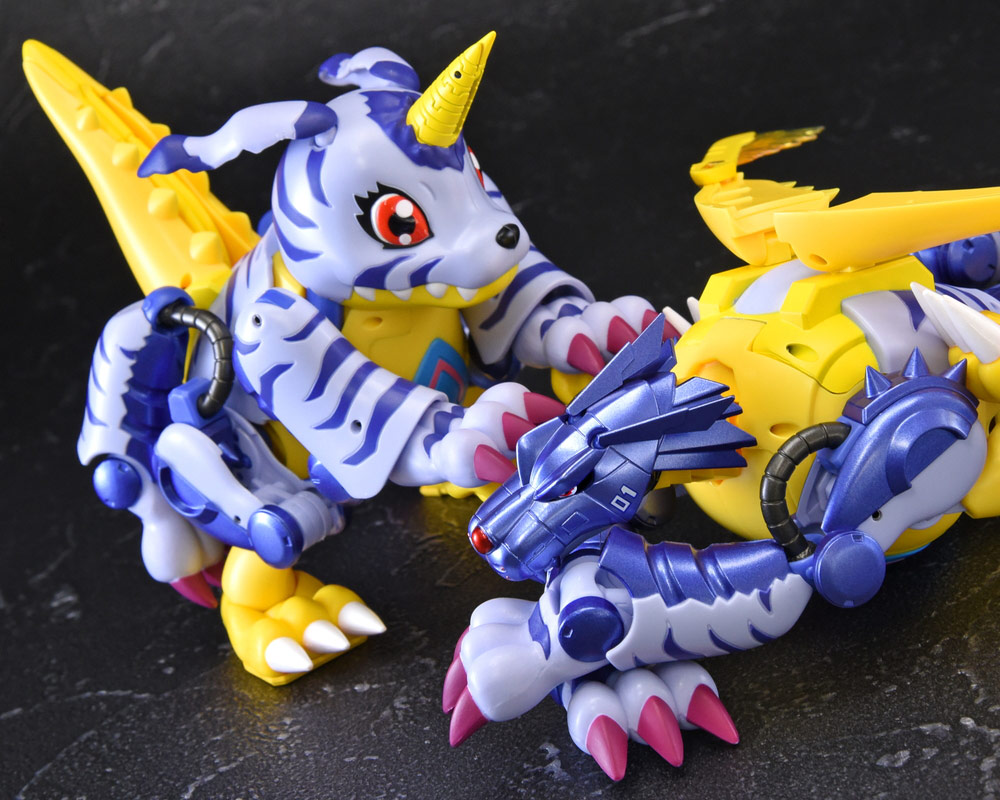 Much like the first Digivolving Spirits figure, WarGreymon, this figure goes from Child to Ultimate level to emulate Warp Evolution.
They show the figure in both modes above.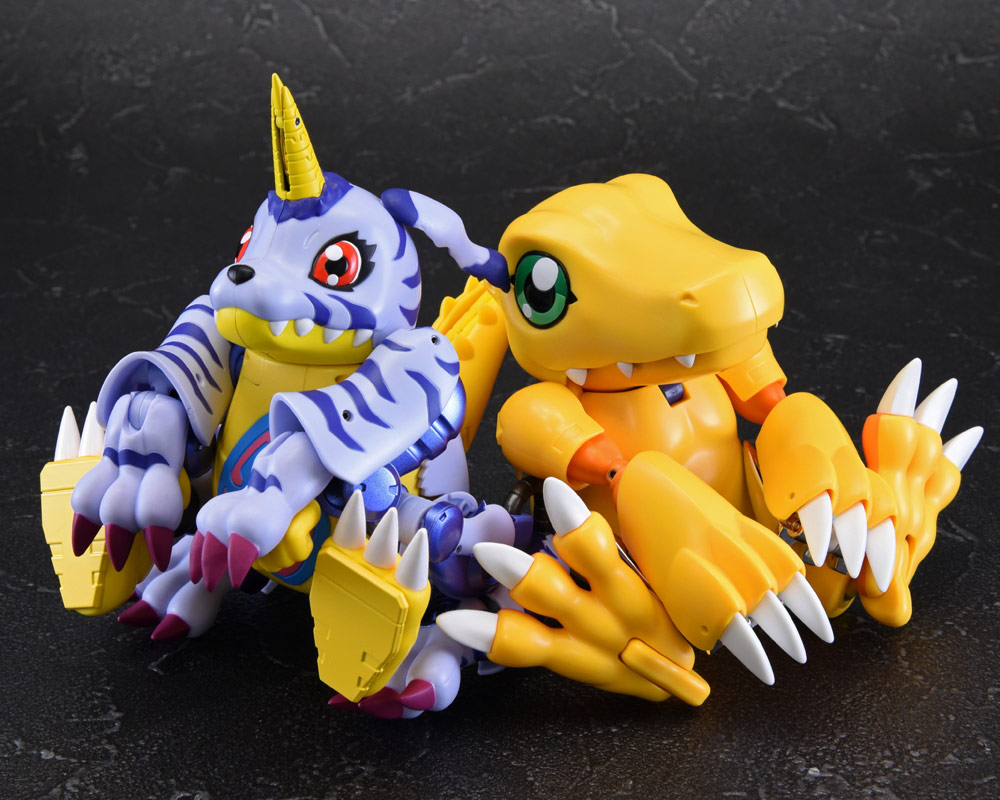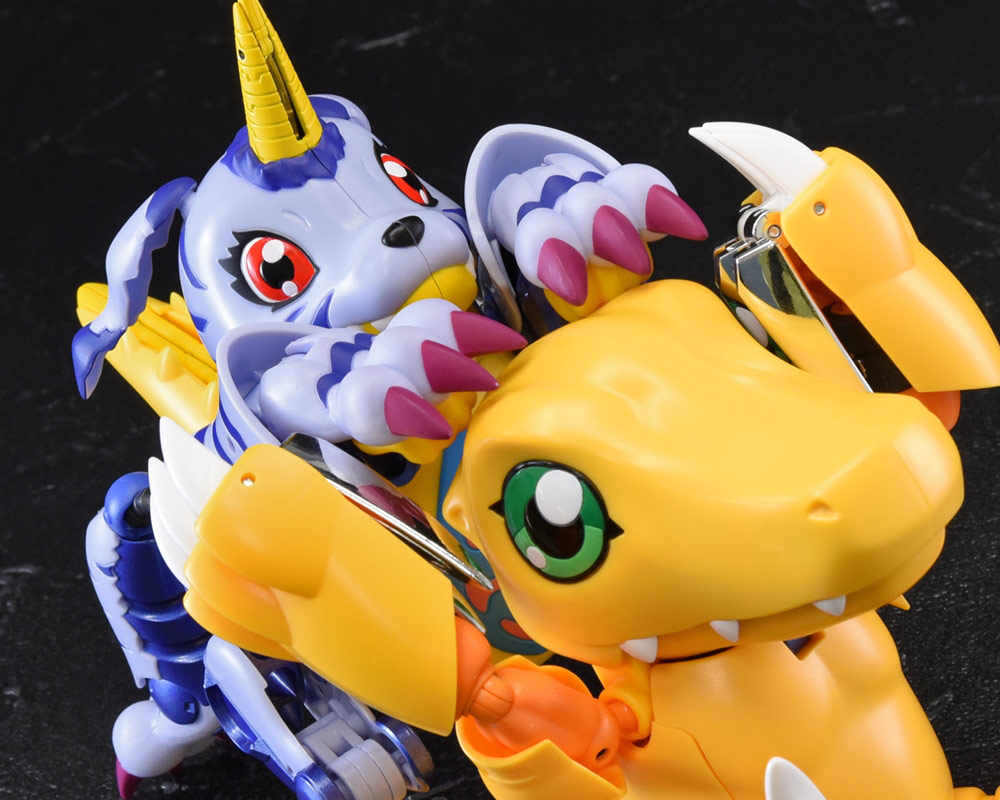 They gathered the child forms of the first four Adventure figures together (they mention that they know Tailmon is an Adult) to show off their cuteness together
Tailmon in this image is a factory sample and Tentomon is a prototype.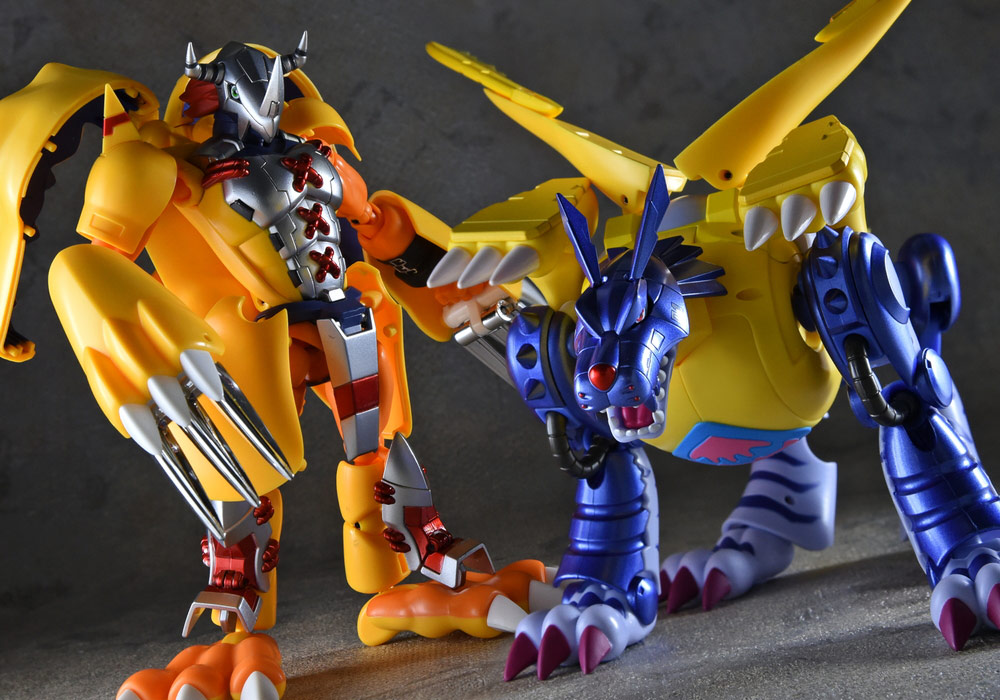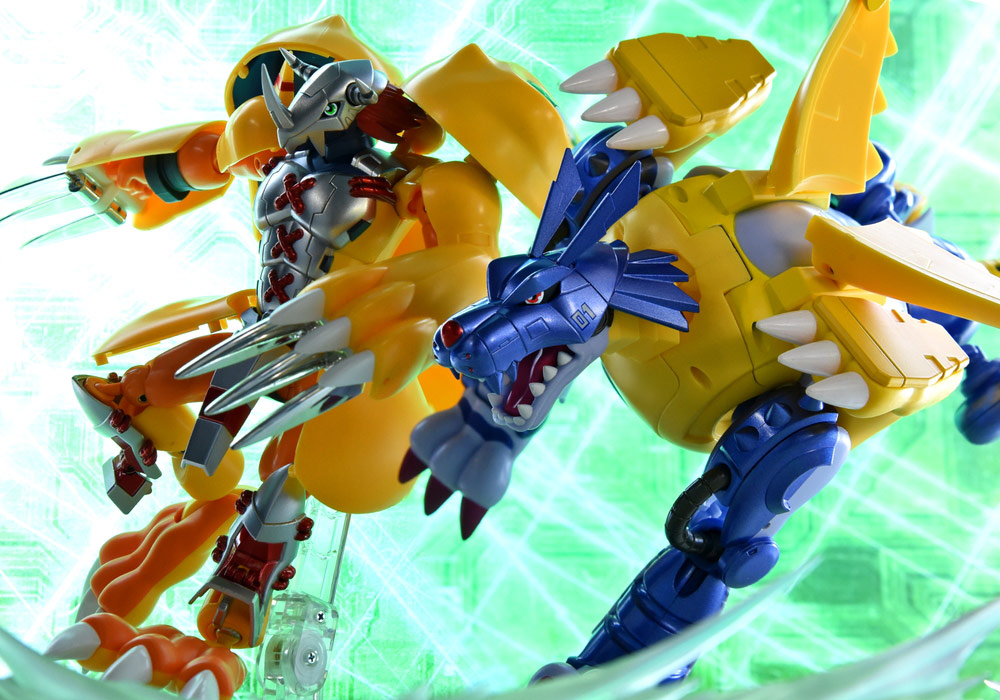 Both WarGreymon and MetalGarurumon appeared in the movie Our War Game. Side by side poses can be reproduced using both Digimon for everyone's enjoyment.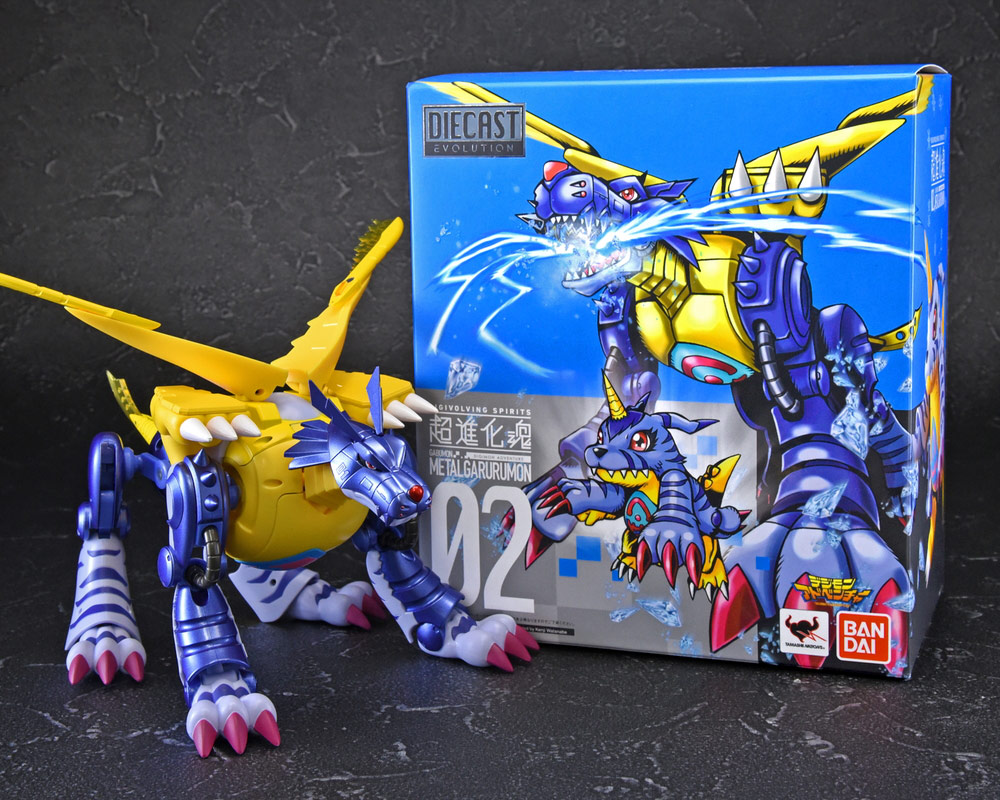 The final box for MetalGarurumon has fantastic new art by Kenji Watanabe. They mention how the box is textured and has a nice feel.
To help with decoration they plan to have all boxes for Digivolving Spirits be the same height.
The third Digivolving Spirits figure, Diablomon, is scheduled for March. The packaging has been finished at this point. They made a dark design that feels opposed to WarGreymon and MetalGarurumon. They even made sure Diablomon is facing the opposite direction from WarGreymon and MetalGarurumon to help show off them being on opposite sides.
In addition, they've done a short video of the transformation process!
The video features the figure as Gabumon being tranformed into MetalGarurumon with some level of detail shown. Then then show a short version of WarGreymon being transformed into Agumon!
The video additionally has commentary for what's happening on screen, and the commentator himself is someone special! Volcano Ota! Ota was the project head/director of the team that created Digimon over 20 years ago!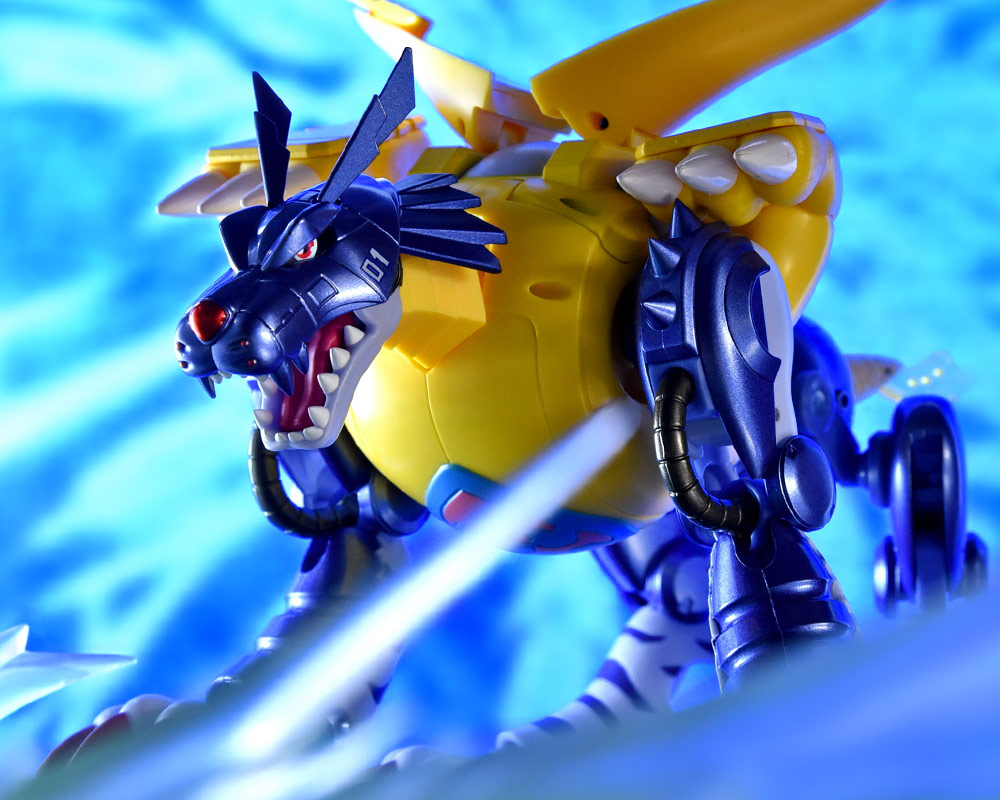 Digivolving Spirits 02 MetalGarurumon will be on sale January 20th and is available to order.
#02 MetalGarurumon (Affiliate links):
Digivolving Spirits MetalGarurumon at Amazon USA
Digivolving Spirits MetalGarurumon at CDJapan
(currently not available, may change)
He looks like a rather impressive figure and hopefully he arrives quickly for everyone who ordered him. US pre-orders are scheduled for late February instead of in a few days.
And they tossed in one more thing...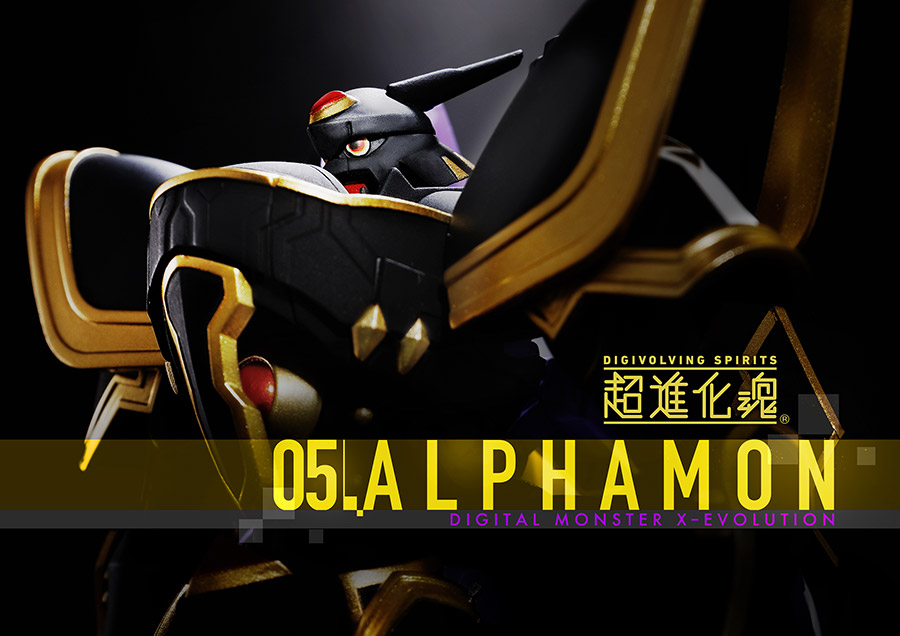 A tease image for Alphamon! This hopefully means we will be getting more news about him soon!
And of course, other Digivolving Spirits figures are available to order...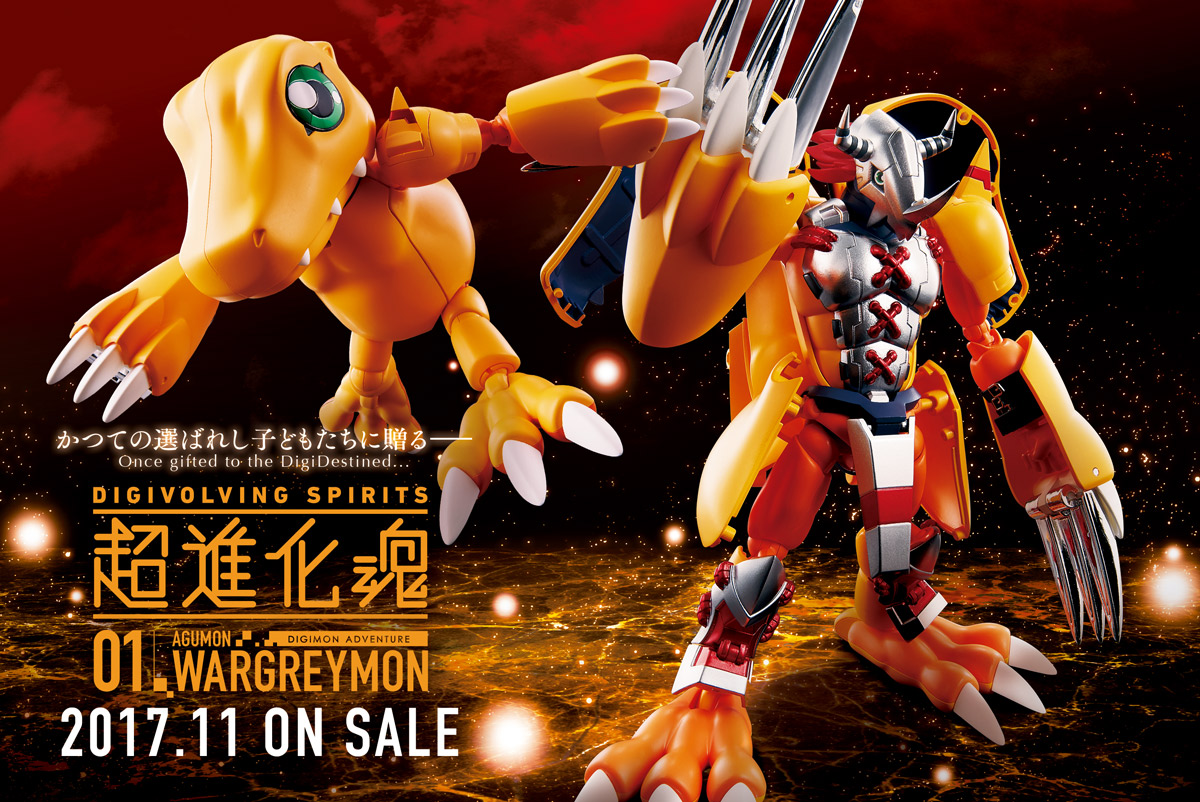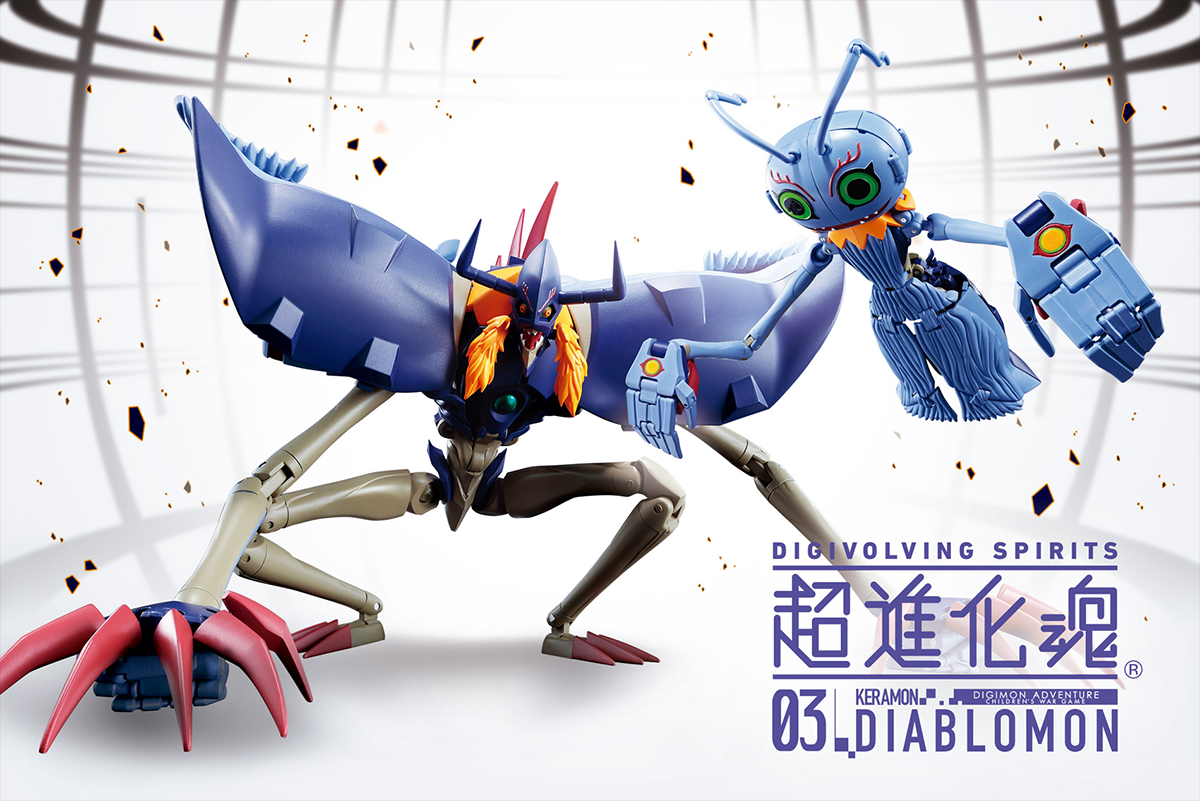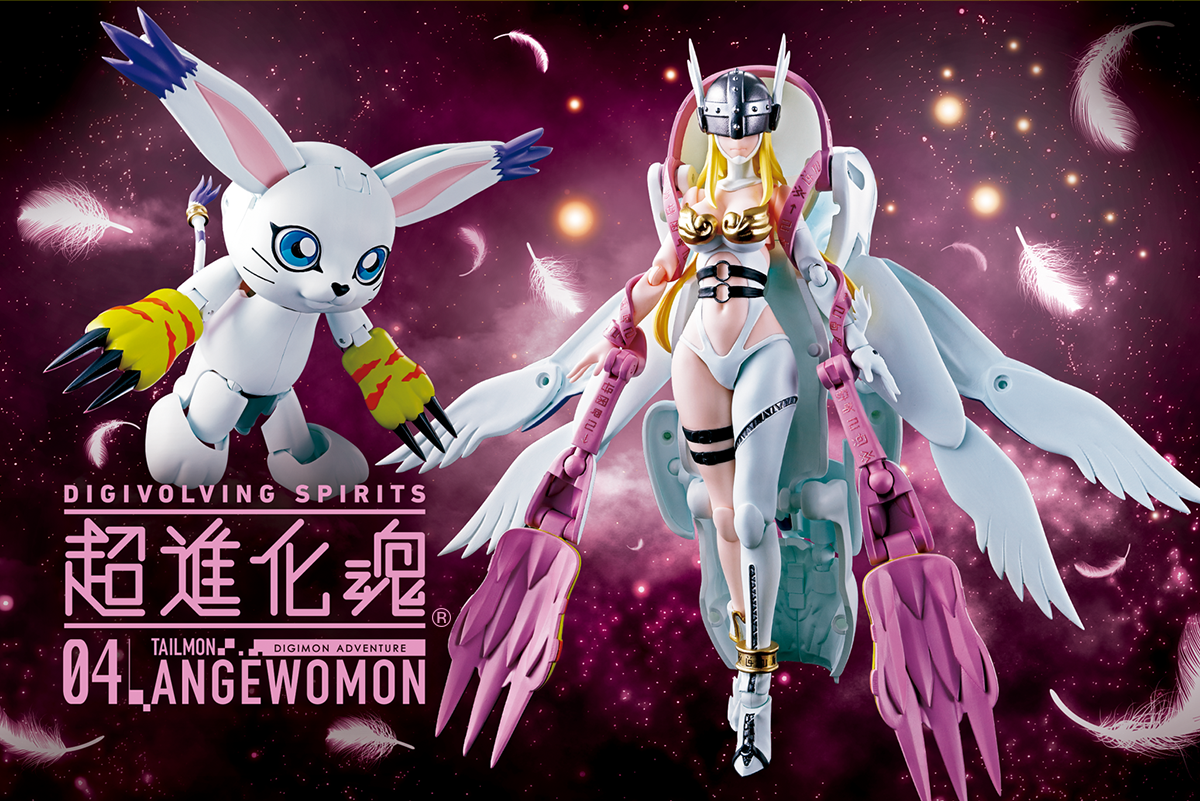 #01 WarGreymon (Affiliate links):
Digivolving Spirits WarGreymon at Amazon USA
Digivolving Spirits WarGreymon at CDJapan
(currently not available, may change)
#03 Diablomon (Affiliate link):
Digivolving Spirits #03 Diablomon at CDJapan
(currently not available, may change)
#04 Angewomon (Affiliate links):
Digivolving Spirits #04 Angewomon at CDJapan
Digivolving Spirits #04 Angewomon at Amazon USA
And while we have the teaser for #05 Alphamon above, no pre-order details just yet...