Show User Social Media
Hide User Social Media
Joined

Sep 8, 2006
Messages

16,417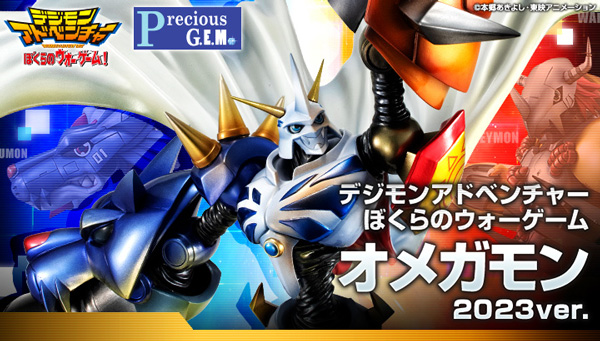 We only found out about it a few days ago
, but the new/updated version of the Precious GEM Omegamon figure is nearly up for pre-oredrs and we have images and details for...
Precious GEM Digimon Adventure Our War Game Omegamon 2023 Version!

The physical setup of the figure itself is the same as the original being almost 2 feet tall, with the Grey Sword pointed upwards.
The main focus on the new Our War Game 2023 Version of the figure is updated coloring, to be more like the movie, and also giving it a goldenish glow based on the light that appeared when Omegamon first showed up in the film.
The stand has also been changed to yellowy & gold to match the new style.
Pre-orders for Precious GEM Digimon Adventure Our War Game Omegamon 2023 Version open a bit over 24 hours from the time of this post
for a super high 29,700 yen. It ships in August 2023.
Precious G.E.M.シリーズ デジモンアドベンチャー ぼくらのウォーゲーム オメガモン 2023ver.
It looks nice, but probably not nice enough for many people to rebuy it if they own the original, especially with the new even higher price tag.
A few extra bits...
Premium Bandai Japan is currently harder to access, so a bit extra for those who want to pre-order and not wait to see if there is an international release.
Some intermediaries will want not only want the urls of the items above, but may ask for the product name in Japanese as written on the page. Those names are given above, directly below the pre-order links.
If you want to be sure to nab something...
We've currently pared down the list of intermediaries we list due to some places closing and others becoming iffy in their communication, calling into question their reliability. If you have any stories, positive or negative, about any intermediaries, DM me with them so we can figure out who might be worth adding (or re-adding), since these aren't affiliate links or anything, simply suggested ways to make it easier for fans to nab stuff.
You'll want to contact an intermediary to get these items sent to you. WtW is not affiliated with any, but here are a selection of intermediaries that have worked well for various WtWers and their friends in the past:
From Japan
Rider Proxy
You'll want to provide your chosen intermediary with the link to the item. Just copy paste the link to the product pages for what you want and send them a message about it and they'll take care of it after they discuss pricing and their policies with you. The links embedded in the news article for the products are exactly what you'll need to send them.
Some of the intermediaries have a full storefront and may have the item listed, so you may want to check that first.