Show User Social Media
Hide User Social Media
Joined

Sep 8, 2006
Messages

17,421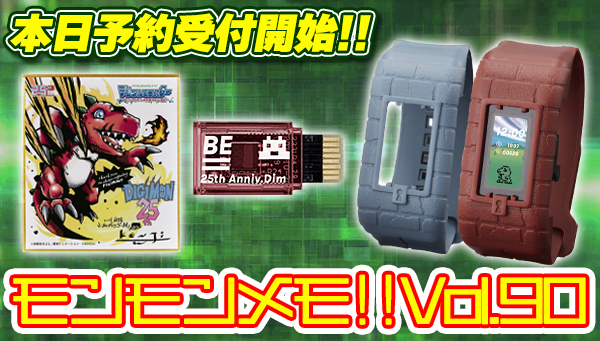 Time for a new MonMon Memo!
MonMon Memo 90
is a preview of the 25th Anniversary Vital Bracelet BE to celebrate pre-orders being open.
The translation is the provided one from Digimon Web, with minor touch-ups at best otherwise.
Dear Digimon fans! Hello!
At Belle Salle Akihabara, the Digimon Museum is open from today to Sunday, July 31!
Details of Digimon Museum are here ↓〉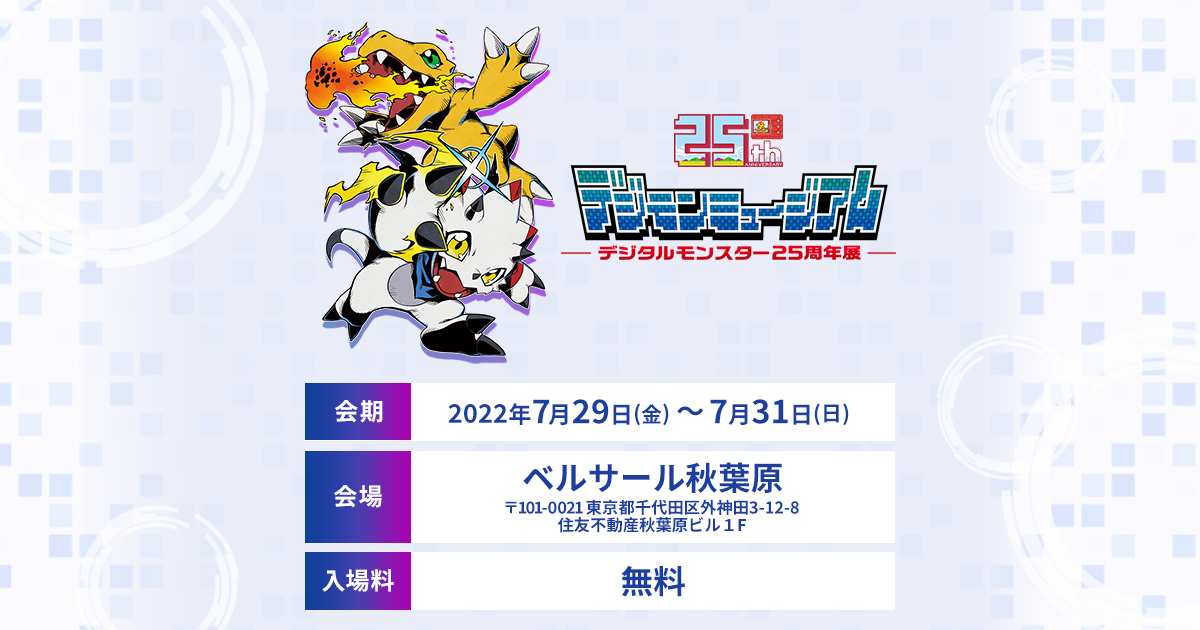 デジタルモンスター(デジモン)の情報はデジモン公式総合サイト「デジモンウェブ」で!

digimon.net
And finally, "VITAL BRACELET BE Digital Monster 25th Anniversary Set" has started pre-orders at Premium Bandai!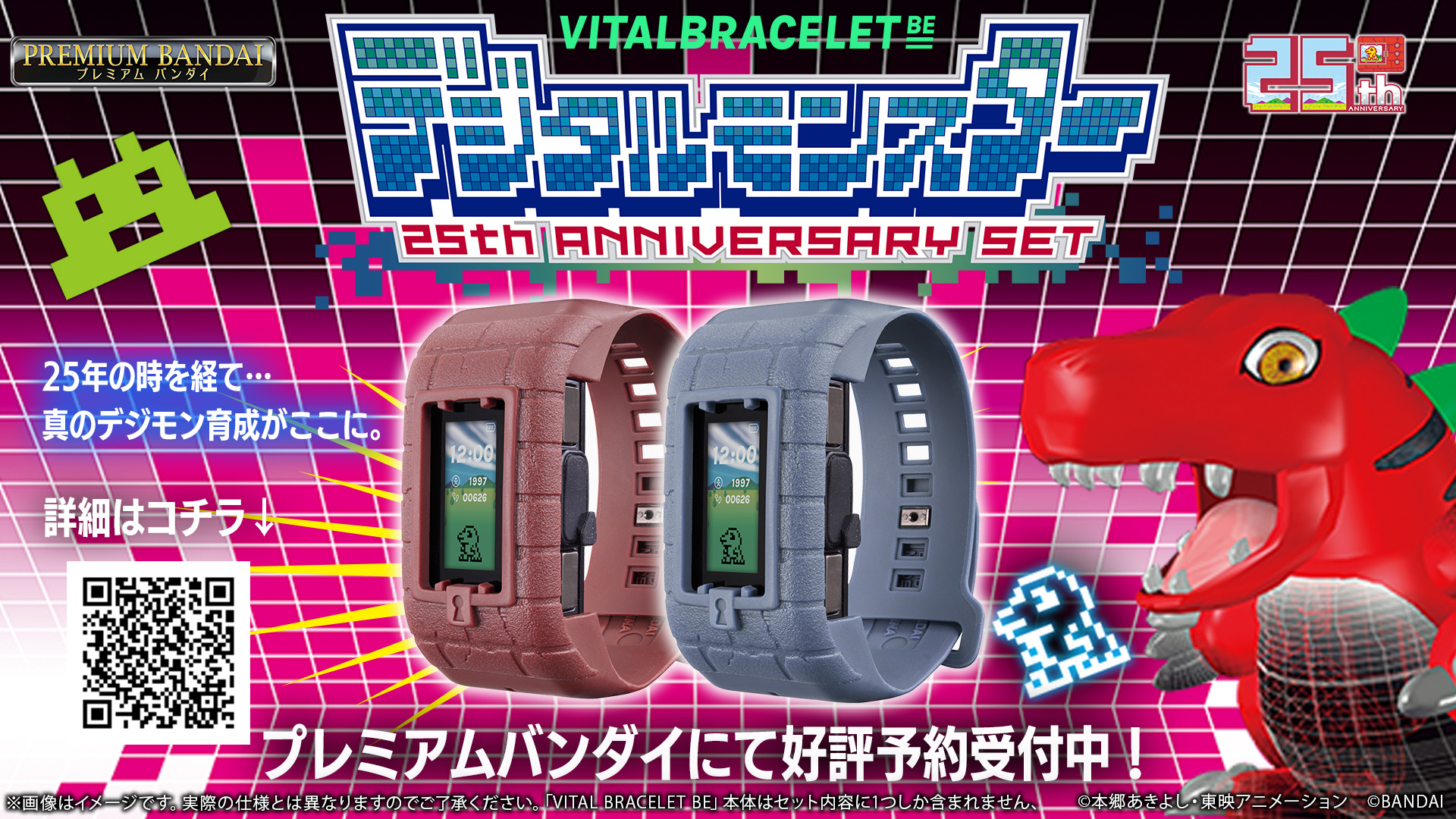 This time it will be a full volume article, but I would like to introduce "VITAL BRACELET BE Digital Monster 25th Anniversary Set" gutsily!
(1) Memorial set contents
This product is a limited memorial set commemorating the 25th anniversary of Digital Monster.
- Digital Monster Limited Cover: VITAL BRACELET BE with Original Brown
・ Digital Monster Limited Cover: Original Gray
・BEMEMORY Digital Monster 25th Anniversary Dim
・Digital Monster 25th Anniversary Colored Paper Ver. DIGIMON EVOLUTION
is an all-in-one set!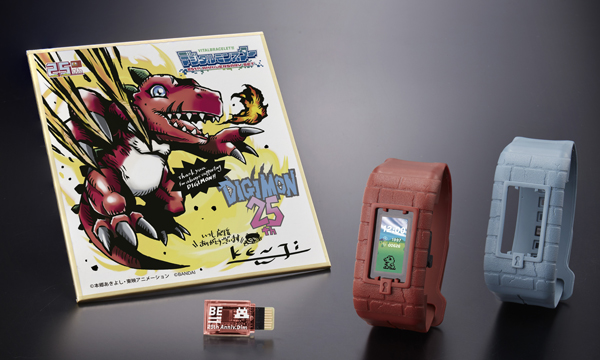 The Digital Monster Limited Cover is a limited cover with the motif of the design of the first generation "Digital Monster Ver.1"! It's a nostalgic design.
The cover is replaceable, so you can change the color and wear it according to the mood of the day.
In addition, the color of the buttons and the belt part of the main body is also limited coloring with the image of the button color of "Digital Monster Ver.1"!
In addition, you can also play with an optional exchange band that will be released in the future, so if you think that "Digital monster limited cover is too flashy at work!", please replace it with an exchange band and play,
In addition! In commemoration of the 25th anniversary of Digital Monster, a mini illustration colored paper drawn by Kenji Watanabe will be included!
The commemorative colored paper that was also used on the product package of "Digital Monster Ver.1" at that time and has an impressive illustration of Tyranomon is emotional-MAX.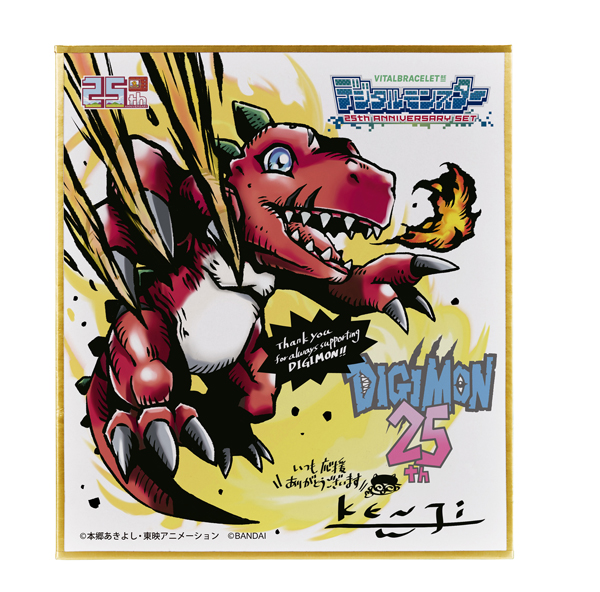 (2) Evolved play
By using the BEMEMORY included in the set, you can enjoy the cultivation of nostalgic black and white dot Digimon!
The "Vital Breath" series is a wearable-type liquid crystal toy that allows you to enjoy nurturing Digimon based on activity data such as your own heart rate and steps.
In VITAL BRACELET BE, we have increased our power in various parts from the previous "Vital Breath" series!
【Just by walking, the Digimon evolution route is released! 】 Partner various Digimon! 】
In ADVENTURE, you can play just by walking with your partner Digimon.
Aim for the default number of steps in each chapter and actually walk! When you reach the predetermined number of steps, enemy Digimon from each chapter will appear, and winning battles will unlock your evolution route.
There is a possibility that the evolution route of Digimon will increase just by walking, it is a mode that can be played easily.

The recorded Digimon is centered on the Digimon that was recorded in "Digital Monster Ver.1", and nostalgic Digimon such as Agumon, Tyranomon, and Numemon are in the line up.
And as you clear the ADVENTURE chapter...
The evolution route of Pulsemon will be released! Black and white dots, of course!
This product will be the first time that Pulsemon will be made into black and white dots, so I am looking forward to it.
There's still so much to see and do about the recording!
Everyone loves Monzaemon... What an ultimate evolution it will be!
Its name is also ... It's ShinMonzaemon!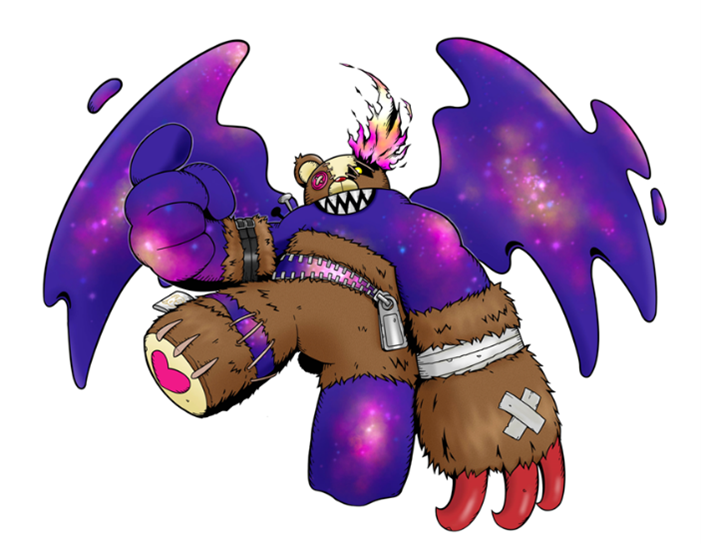 It's cute, but... Kinda creepy! It's a fascinating Digimon!
Try to walk and battle to increase your evolution routes and raise a lot of partner Digimon!
[True Digimon cultivation is here.] Grow your one and only partner, Digimon! 】
You can enjoy four workouts just like the previous Vital Breath.
・Squats
- Crunch
・Punch
・Dash
With this VITAL BRACELET BE, the limit on the number of training sessions has been removed, and you can challenge yourself to train as much as you want, when you want!
In addition, the status of the Digimon you are training will change depending on the training result.
For instance... If you train a squat successfully, you will receive PP (points necessary for evolution), if you succeed in crunch training, your HP will increase, and if you work hard at training, the Digimon you are training will become stronger as much as you work!
You can only increase your stats within 100 hours of the birth of a Digimon from Digitama, so you can strategically challenge training in your daily life and only ... Try to grow the one and only strongest Digimon!
In order to evolve Digimon, it is necessary to achieve the conditions like Vital Breath so far.
【Evolution Timer× Vital Value× Winning Percentage×Number of Battles× PP (Trophy Elements so Far)】
Digimon will evolve by achieving each of the above conditions, so please try to challenge battle and training aiming to achieve the conditions!

【Battle with tamers around the world with the app! 】 Engage in more strategic battles! 】
The number of Digimon that can be cultivated simultaneously has increased from "VITAL BRACELET BE" this time.
Since it is possible to save up to 1 body on the main screen and up to 3 figures on the main body backup, training in the main body is more powerful.
In addition, in the NFC Auto Battle, one of the Digimon in the backup will appear as a support Digimon during the battle and attack the enemy!
In addition, through the dedicated application, you can enjoy real-time online battles with tamers from all over the world together with cultivated Digimon!
Since it became a real-time battle from this battle, the action of the tamer will be important! For more information, please wait for information about future apps.
Also, the battle will be a 2-on-2 battle, so the fun of strategically thinking about your Digimon combinations has increased!
As before, you can continue to enjoy the NFC battle function that is carried out by touching NFC devices in the city!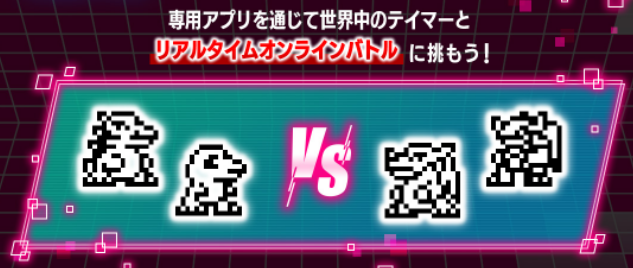 【Outstanding ease of play!】 The main body SPEC has also evolved! 】
In response to everyone's request, "VITAL BRACELET BE" has added a living waterproof specification equivalent to IPX4!
In addition, the thickness of the main body has also become about 10% thinner than the previous "Vital Breath" series, so it has evolved into a specification that is easier to play.
You can also continue to play Dim cards in VITAL BRACELET BE!
However, please note that some functions such as Digimon status fluctuations are not supported.
* For details, please check the "VITAL BRACELET VE" official website.
This concludes the product introduction of "VITAL BRACELET BE Digital Monster 25th Anniversary Set".
You can enjoy the latest Digimon cultivation with nostalgic black and white dot Digimon, it has become the ultimate emo product!
It is a super memorial set suitable for celebrating the 25th anniversary of Digital Monster, so please make a reservation!
〈
Pre-order details here
〉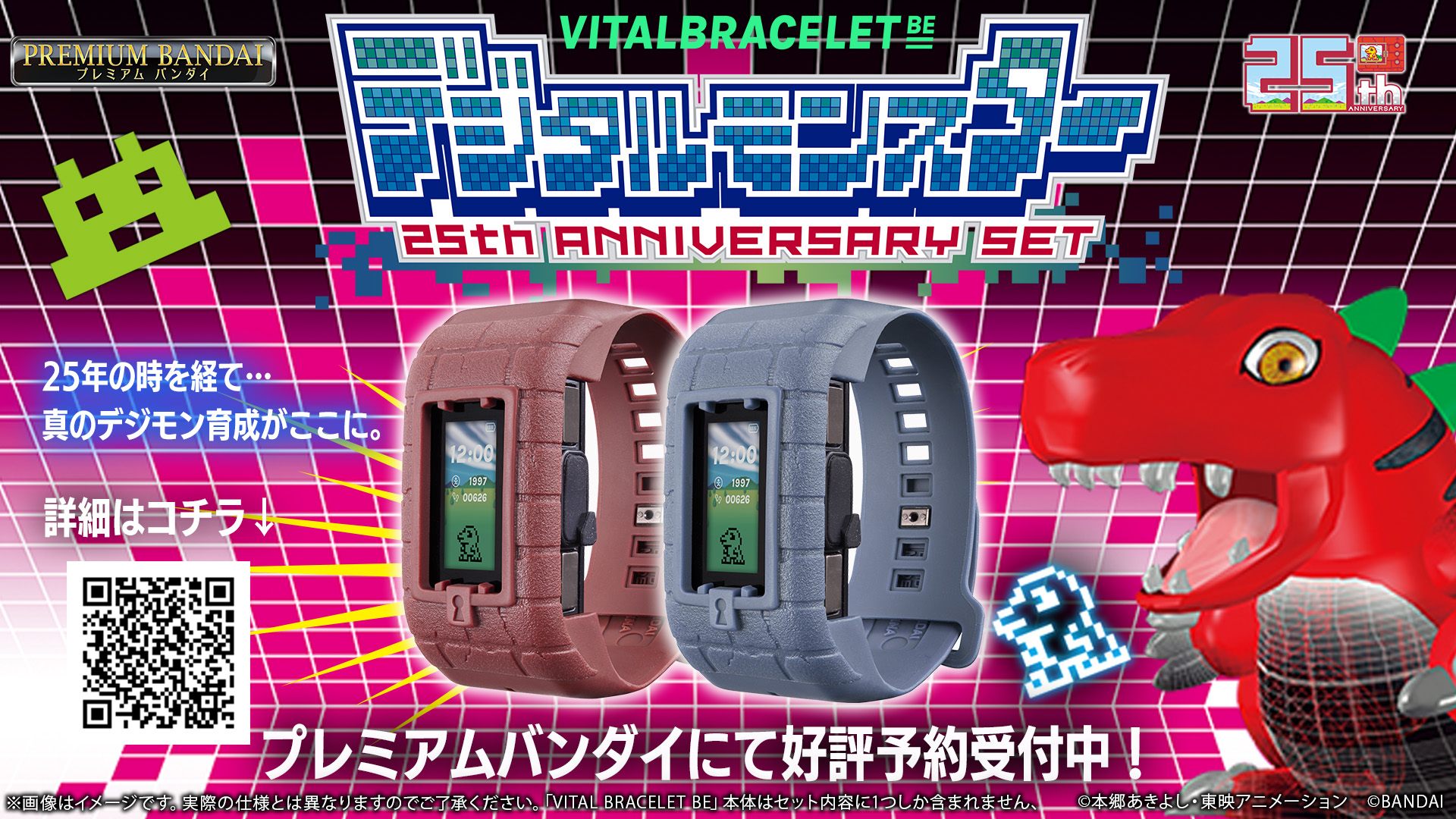 See you in the next update!
* "BEMEMORY Digital Monster 25th Anniversary Dim" included in the set is scheduled to be sold to the general public in the fall of 2022.
※ The image is an image. Please note that it is different from the actual specification.
* The information contained herein is current as of July 29, 2022.
* Product specifications are subject to change without notice.
Previous MonMon Memos have included: