Show User Social Media
Hide User Social Media
Joined

Sep 8, 2006
Messages

12,734
I mostly feel whelmed...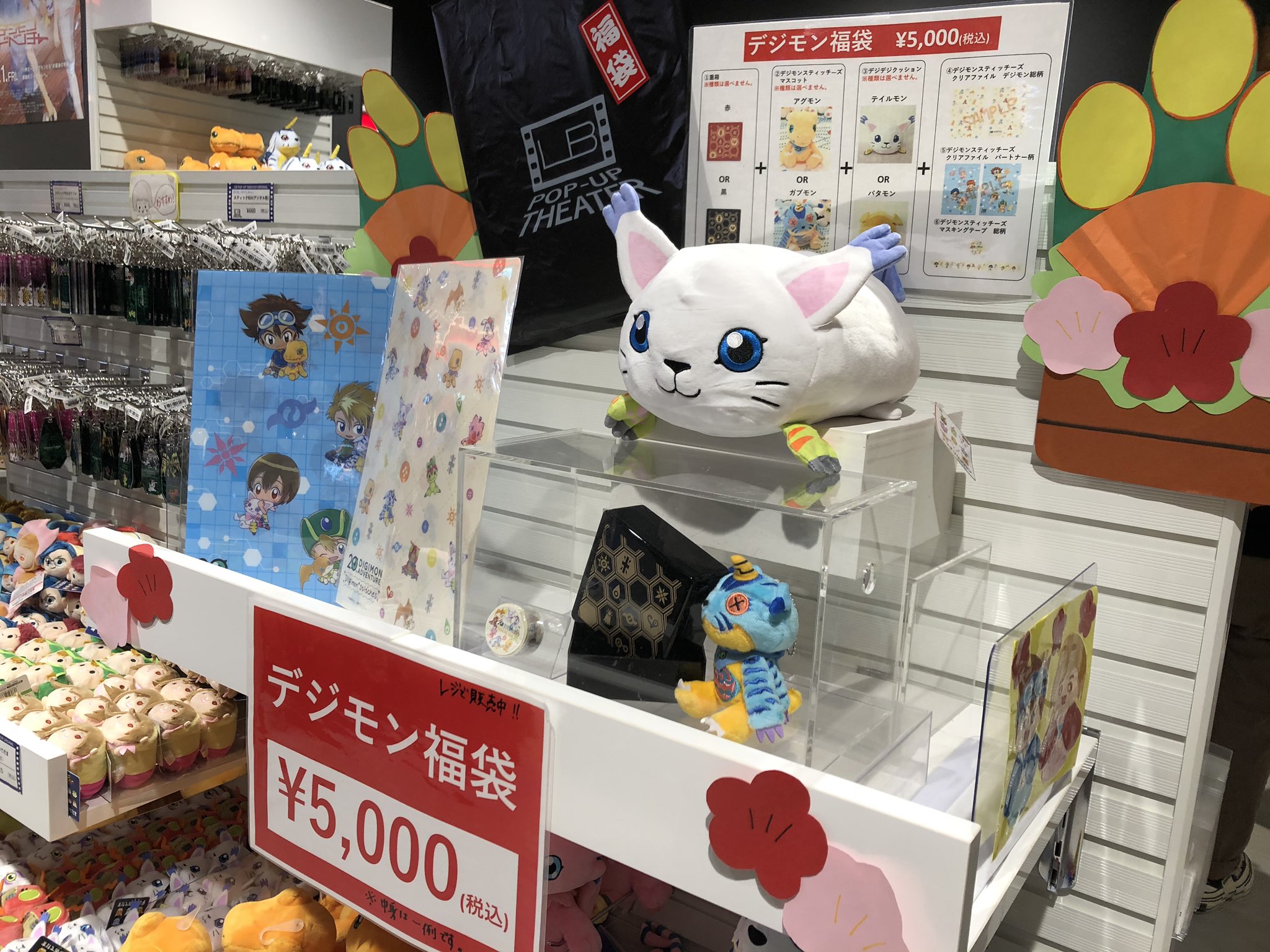 After a preview a few days ago
, we now know exactly what is in the Digimon fukubukuro (lucky bags) from the Pop-Up Theater pop-up shop.
The photo posted by
the Pop-Up Theater Twitter shows the display
that explains it, plus
ca37313cw
put up a photo that shows a close look at the listing above that explains it in detail.
The item exclusive to the bag is a jubako (the multitiered boxes to hold food that you've likely seen in anime.) You get a red or black one at random, both with a crest design.
Also included with the bag is a number of items that were sold at DigiFes 2019:
Item 2- Agumon or Gabumon Stitches Mascot Plush (random)
Item 3- Tailmon or Patamon DigiDigi Cushion (random)
Item 4- Digimon Stitches Clear File, Digimon pattern
Item 5- Digimon Stitches Clear File, Partner pattern
Item 6- Digimon Stiches masking tape.
The Limited Base Pop-Up Theater will sell 200 Digimon fukubukuro starting January 2nd for 5,000 yen. There will be 200 bags total, with 6 items in each bag, including products that are exclusive to the fukubukuro. At this point we 'think' they are sold out, but we aren't sure.
Overall it doesn't feel like a great lucky bag, but I guess it depends on your interest in the various items that were sold at DigiFes, plus the multi-layer box and the quality of it (people on Twitter who got one seem generally pleased with their buy, so it appears the box might be nice.)
Update- Thanks to m1nty for closer up photos of their lucky bag.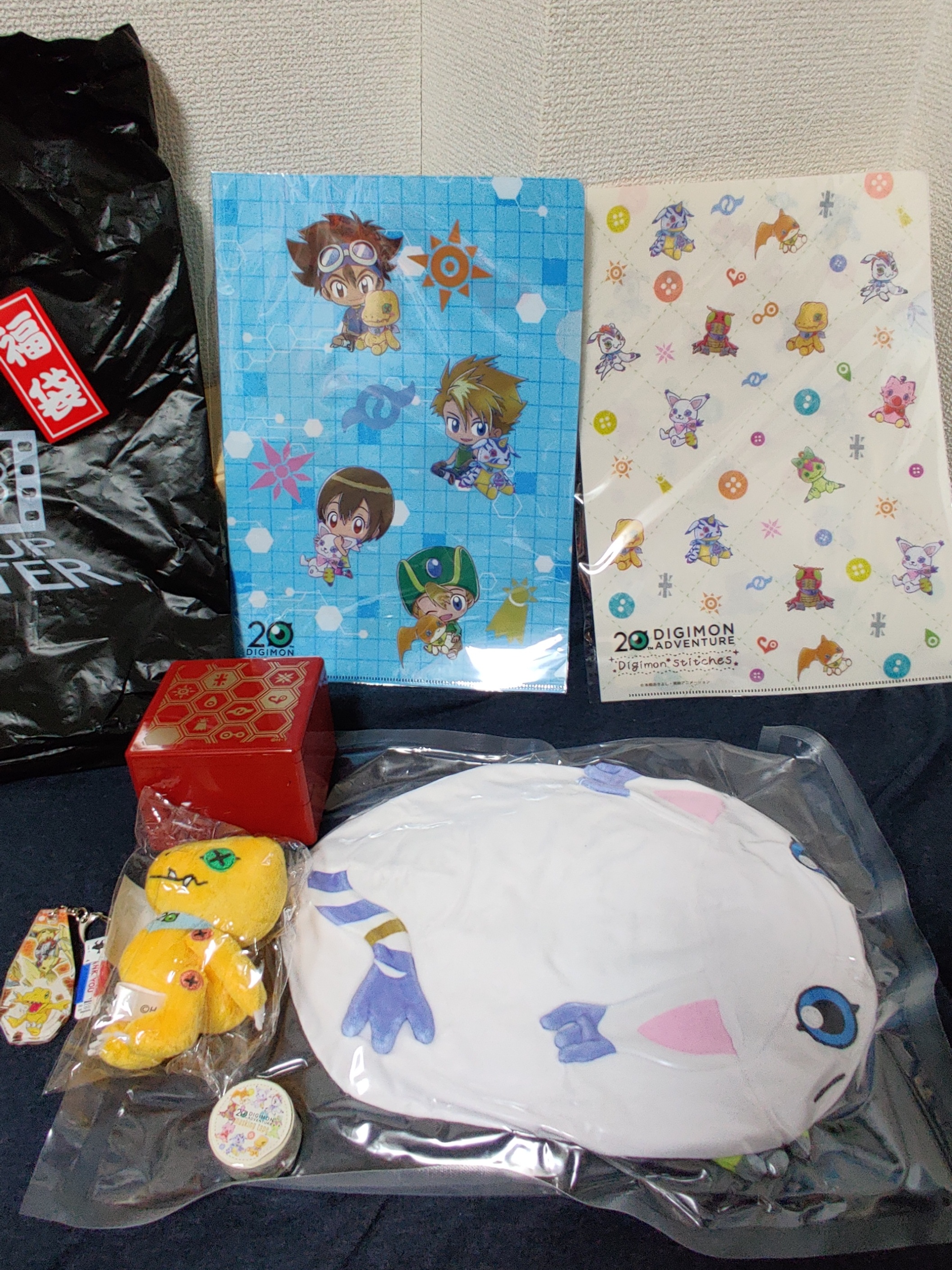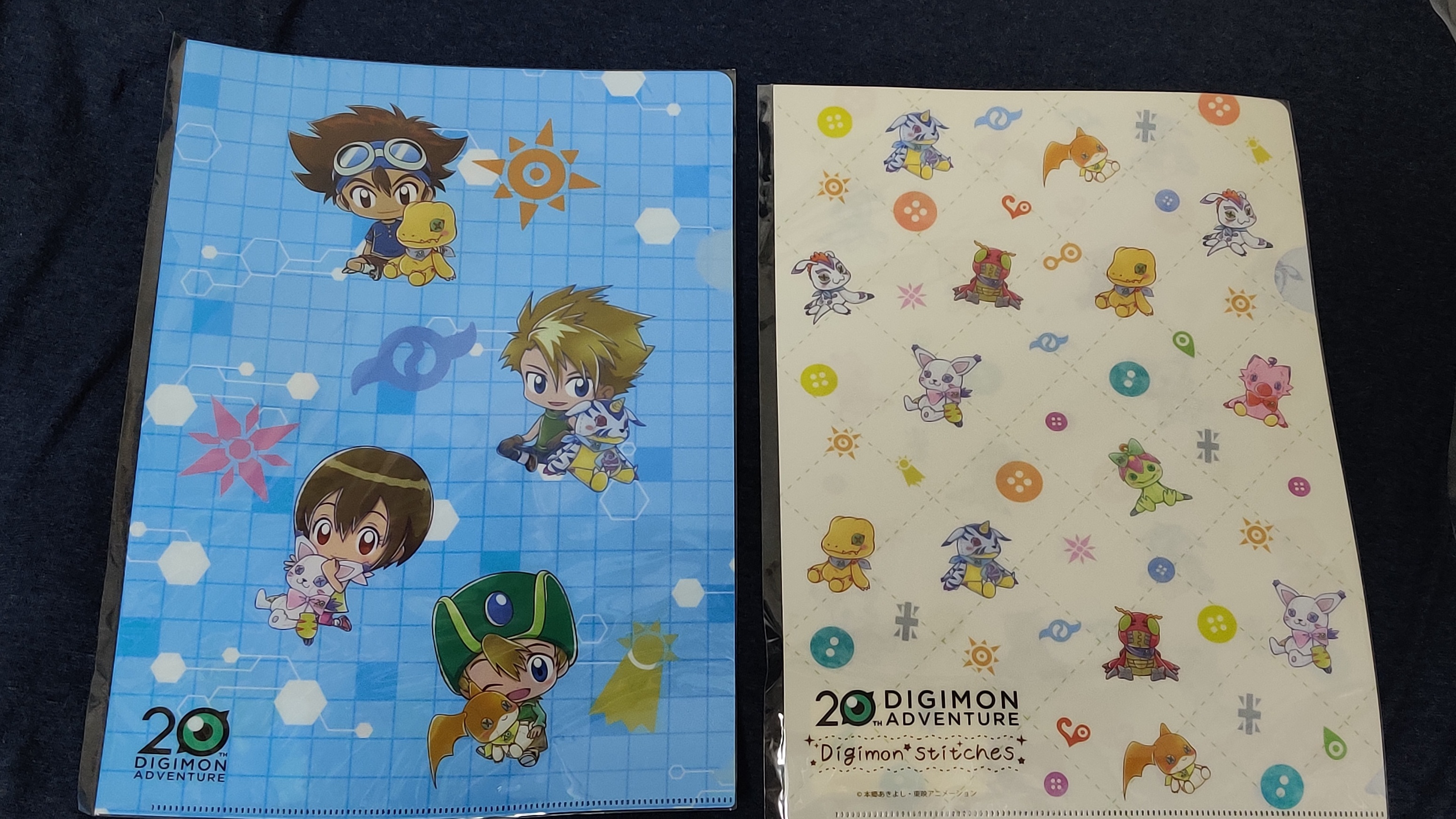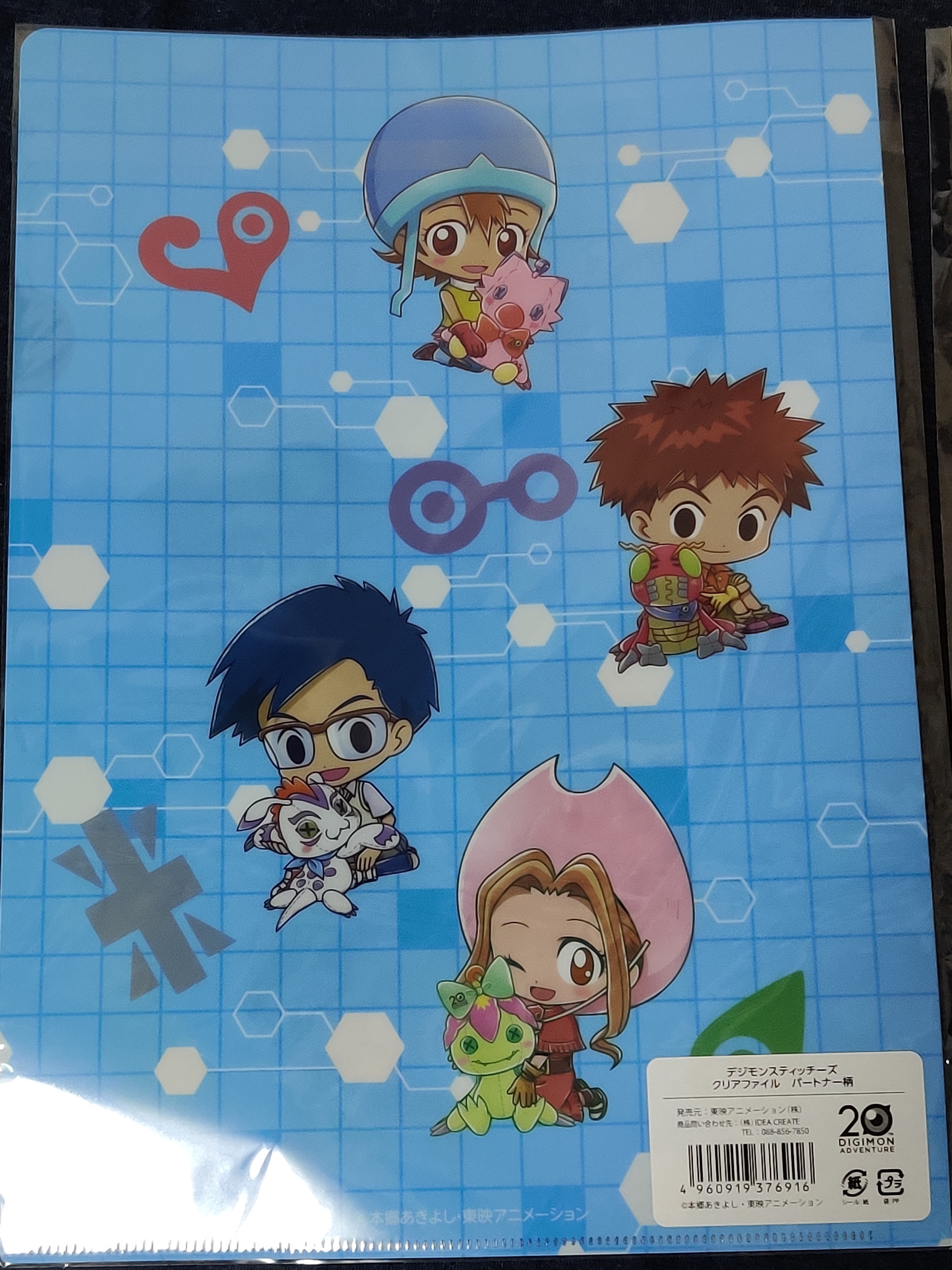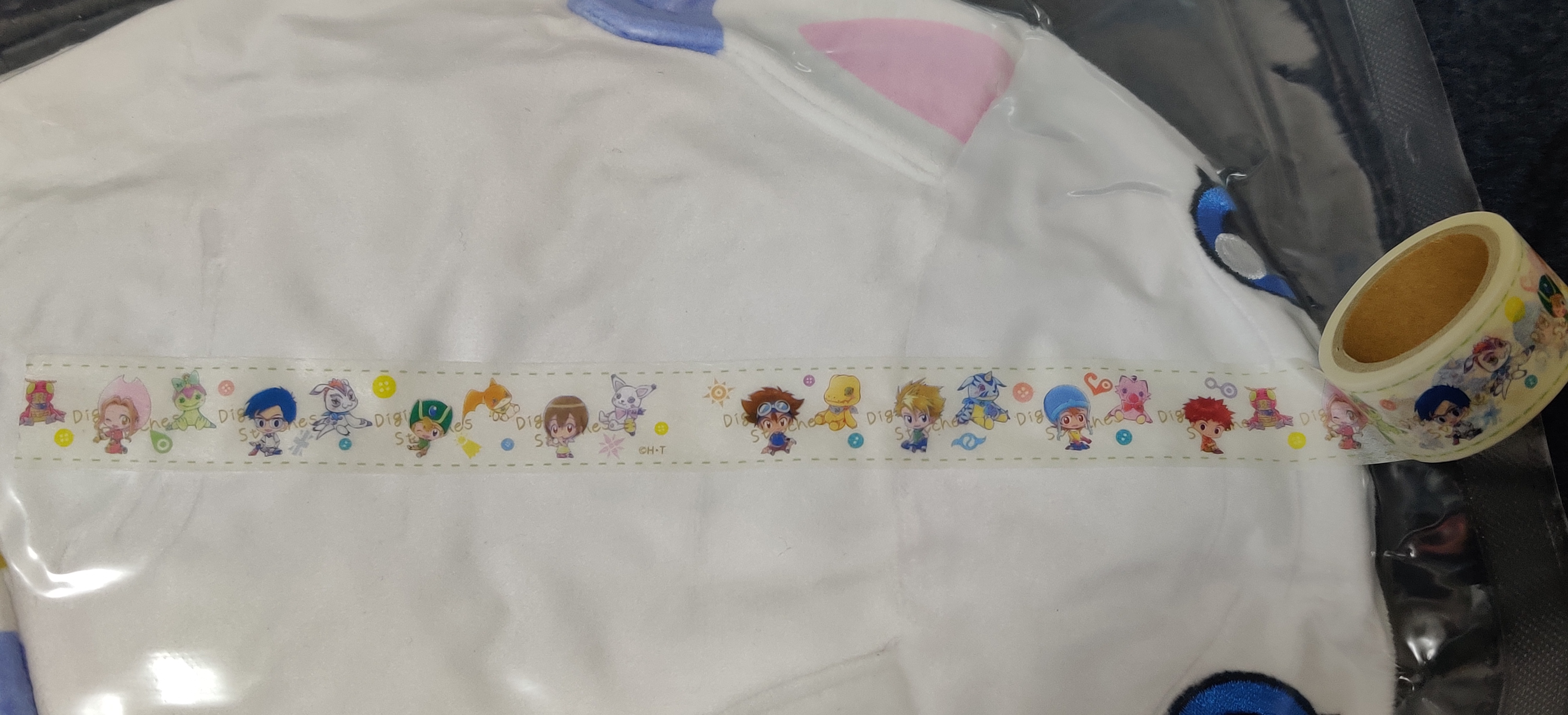 The contents of m1nty's lucky bag, plus a keychain they bought separately. Also a few photos of the clear files and the tape from the bag.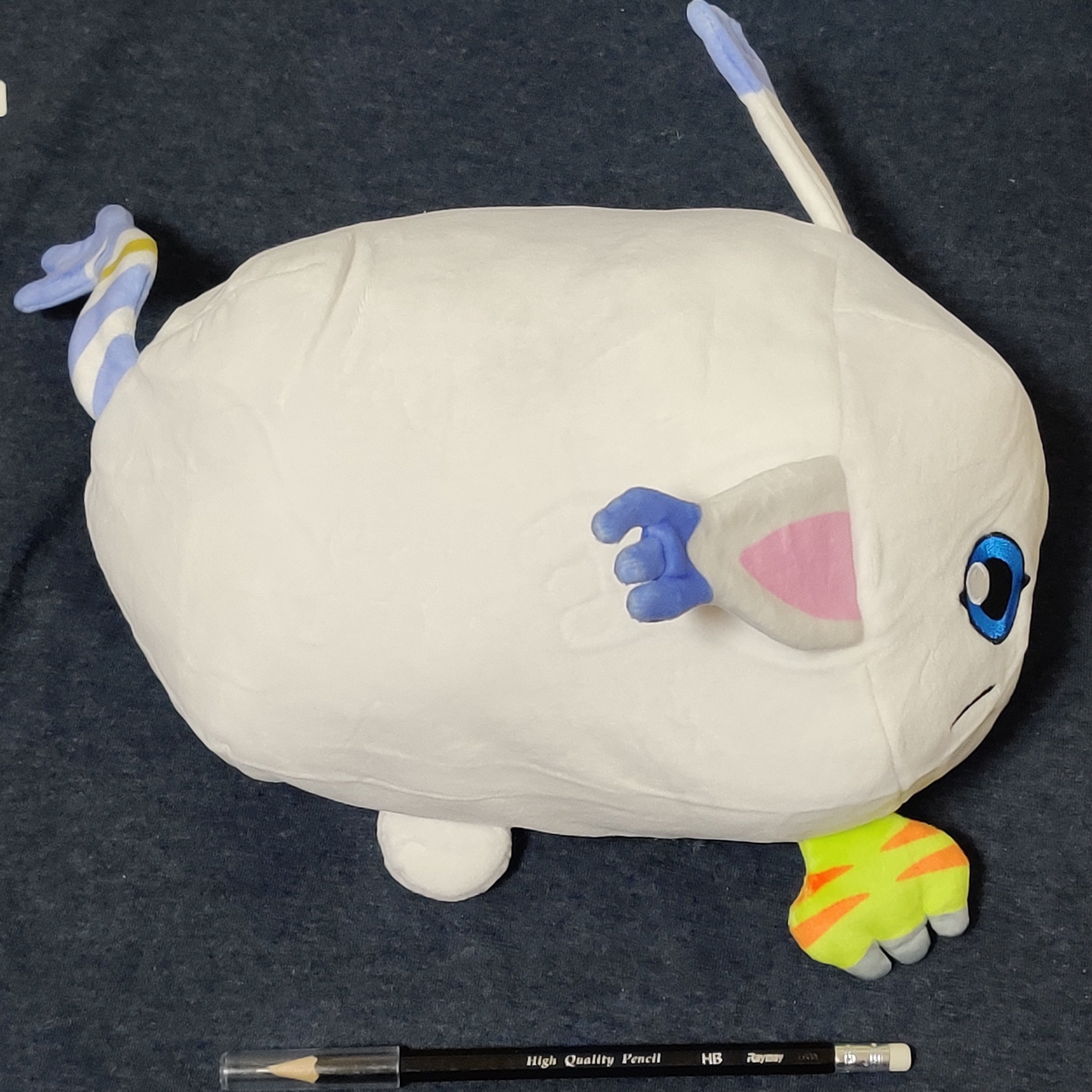 Their bag included the Tailmon cushion. It's still wrinkly because it had just been taking out of the vacuum pack (they are packed vacuum sealed to make it smaller, plus it helps keep it clean until you get it home.) A pencil is included for scale.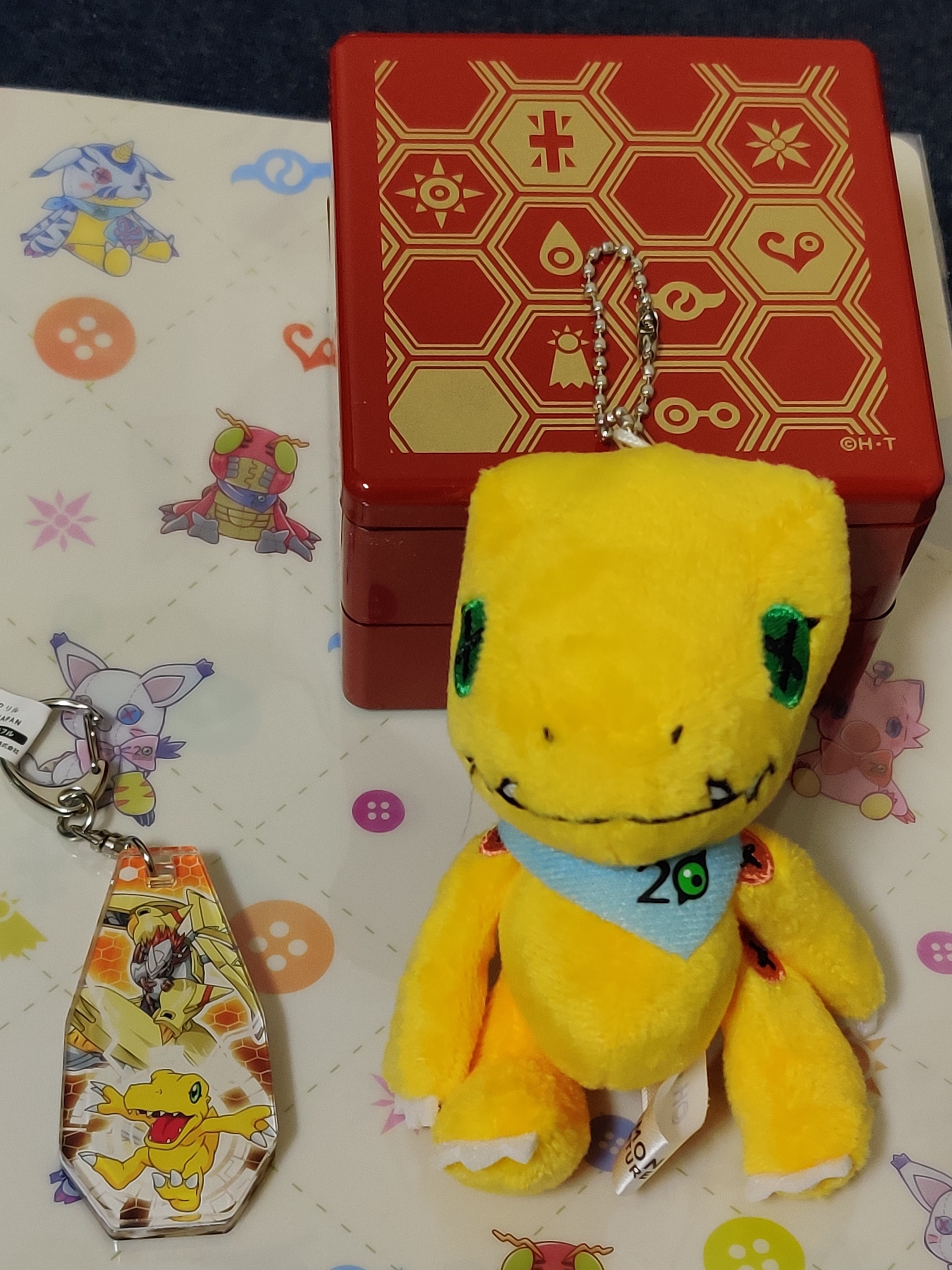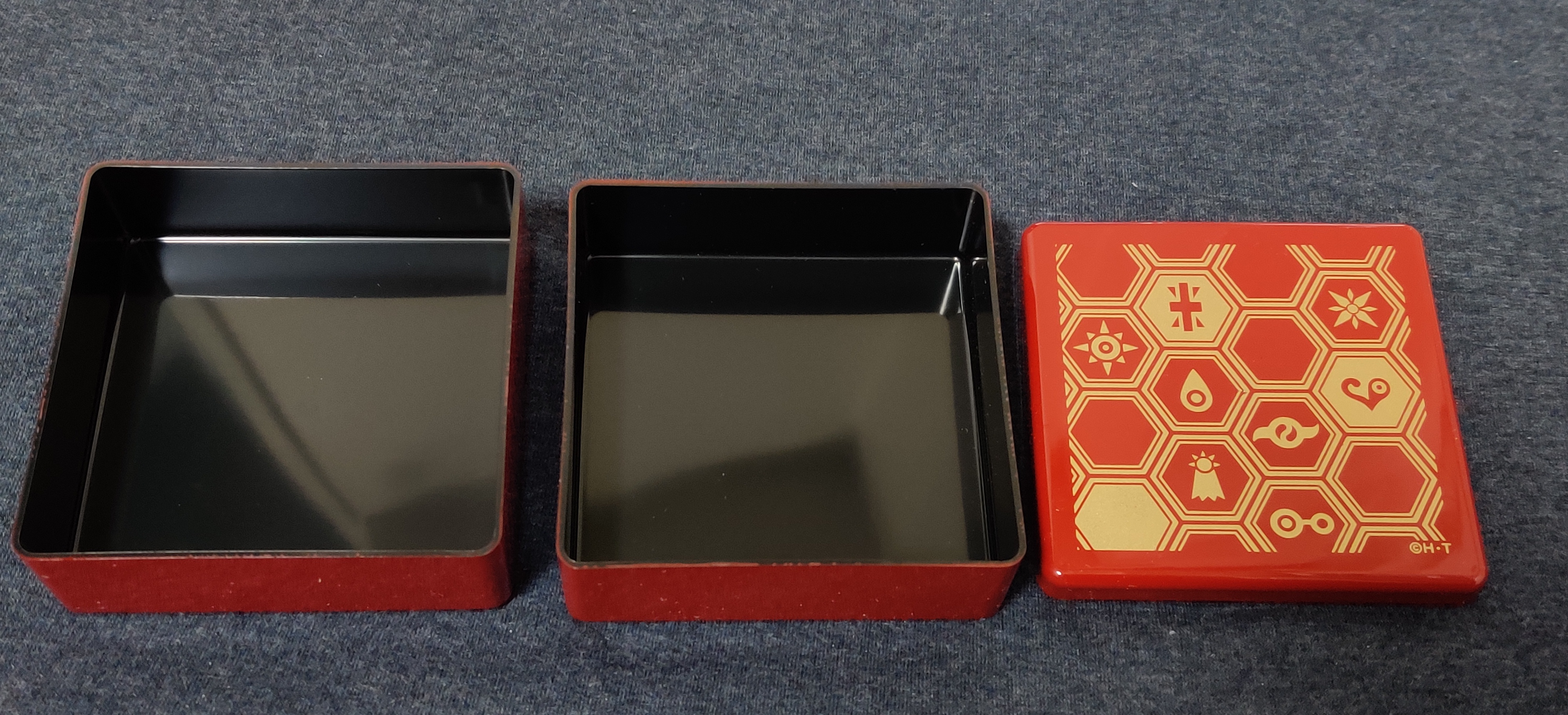 The Agumon Stitches Mascot was included, plus the red jubako.
I asked a few questions regarding how they felt about the value overall (since often lucky bags are taken to be in quite a bit of excess what you paid for it) and the quality of the exclusive jubako.
I feel that the 5000 price tag matched the contents when comparing them to the prices of other things sold in the shop. But New Year's lucky bags are often advertised as being huge savings, so it would have a great deal at 4000 yen but maybe that's just me pinching pennies

I will use the box for small knick-knacks or candy; it's quite small and the tiers come apart when lifted so it wouldn't be good for bringing food somewhere, and it doesn't come with a band to hold it together. The texture of the gold paint gives it a nice shine and it doesn't come off when scratched with my fingernail. It can be recycled (stamped with プラ) if that matters lol. It's not a must-have item but it's nice.

Overall, I liked the contents of the bag, even if it's not discounted like other fukubukuro.
That seems to match random comments on social media, that everything seems nice and they're glad to have it, even if it wasn't huge savings (that the Digimon lucky bag was advertised with it's exact contents, with no chance to end up with something less or more valuable by random change may have helped.)
Thanks again to m1nty for the images and info.