Show User Social Media
Hide User Social Media
Joined

Sep 8, 2006
Messages

16,135
Another Pendulum Art Book preview... sort of!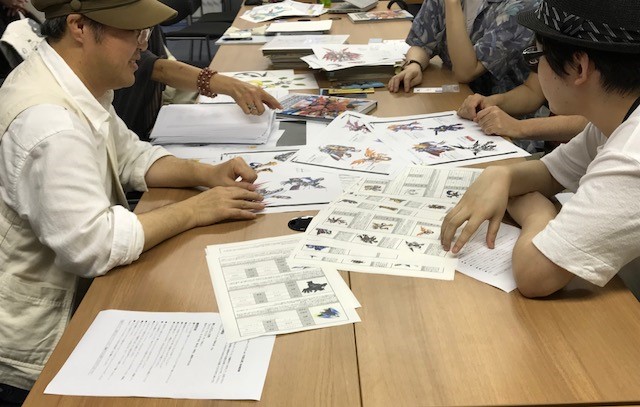 It's time for another
MonMon Memo
! The 15th installment (the Digital Monster Art Book Version Pendulum Production Status Report Part 2) is a bit different, as the preview this time is more telling us about something, rather than an actual preview.
Big Dreamer Taoka describes a small event they held called the Digimon Designer Roundtable.
It was a small project to gather designers who have done the official Digimon illustrations and talk about Digimon from the perspective of design. What do designers talk about?
Taoka hosted it the other day, and was very excited and anxious prior to the event.
He notes that it'll be in the Art Book Version Pendulum.
At the event was:
Kenji Watanabe (longtime Digimon designer)
As'Maria (best known as the designer for many of the X-Antibody Digimon.)
Soh Moriyama (artist who has done artwork for a number of Digimon projects, including the Adventure 15th card set, the tri. Memorial card set, and the 20th Anniversary card set.)
Himeno Kagemaru (designer of a number of X-Antibody Digimon, also has drawn additional Digimon cards including for the Adventure 15th card set.)
nakanohaito (illustrator who has done a lot of Digimon artwork. His recent work includes images for various Digimon games including Cyber Sleuth and Next Order, art for the Digimon Battle Spirits sets, various Appmon products, etc. He's also credited in a few places as drawing Digimon 'social cards', which may refer to the artwork that's gone up on Twitter.)
The event was held as a discussion round-table between them all, while they were also looking at various pages and layouts of the Art Book Version Pendulum, which is full of Digimon that they've each drawn for the first time and includes things they can talk about 'now'.
Taoka is currently doing his work putting together the contents of the round-table for the book (this appears to be why this MonMon Memo is less of a literal preview than prior installments), but he wanted to release a bit of info about the roundtable.
At the end of the roundtable each of them drew on a single shikishi.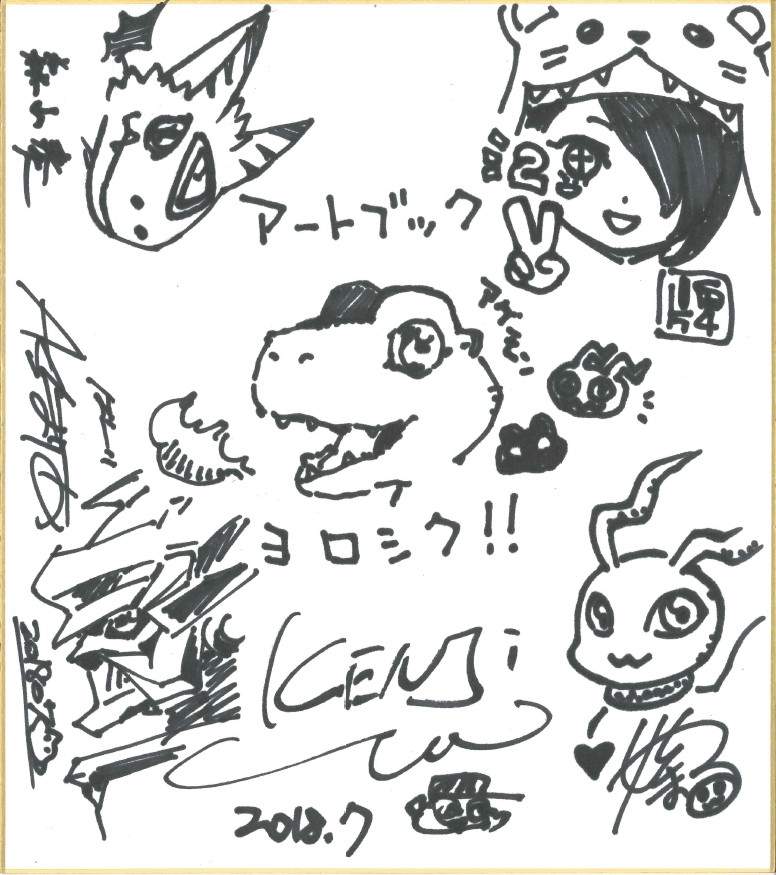 Taoka considers this amazingly high quality improvisational work by each of them, and considers it precious.
There will be another MonMon Memo next week, but it isn't specified what it is, just that it will be 'new' information.
The Digital Monster Art Book Version Pendulum is still available to order. Details can be found
here
.
Previous MonMon Memos have included:
Cold Mode
Copymon
New Virus Busters
New Nightmare Soldiers
Silver Blue Special Digi-Eggs
Silver Black Special Digi-Eggs, Plus ones in both!
Jogress Digimon
Password Digimon
Overview of the 20th Pendulum, Plus Enemies in Battle Mode
Kenji Watanabe Pendulum Interview
CSA Digivice tri. Memorial
Additional Digimon showing up in the Pendulum 20th 2nd Wave
RagnaLordmon, Jogress of the 20th Anniversary Legend Arms
Pendulum Art Book Sample Pages, Teasers, and Interview Details