Show User Social Media
Hide User Social Media
Joined

Sep 8, 2006
Messages

15,583
It's time for another MonMon Memo!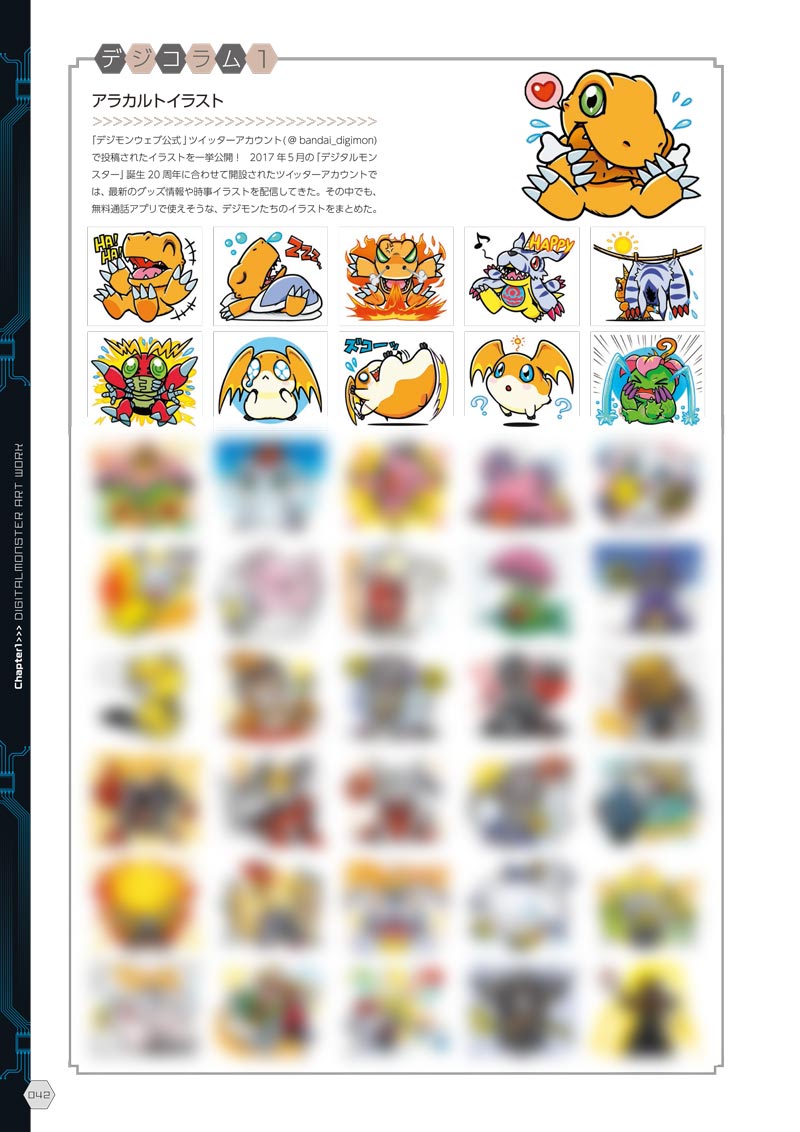 This time MonMon Memo
goes back to the Digimon Art Book Version Pendulum to give us another preview of what sorts of things will show up in the book, with a number of things that will surprise and excite fans.
Big Dreamer Taoka wanted to remind everyone of something first...
The Digimon X-Antibody Vote is still open
for a few more days, so get your votes in!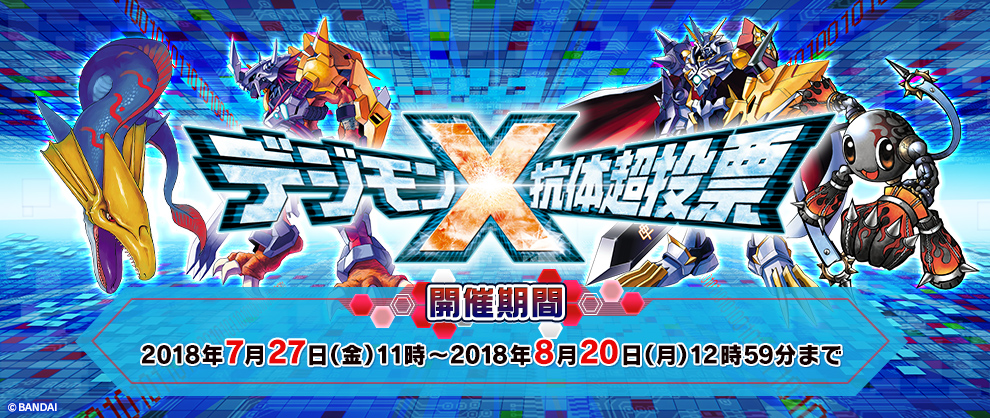 It closes on August 20th!
This time they will introduce some details about the Art Book Version Pendulum... (but various elements will also be blurred out since it's a preview.)
First up, the column pages, called 'Digicolumn', which they are sharing 3 of the main ones...
First up... a la carte illustrations, which you can see at the top of the page.
This will be two pages filled with the social media illustrations they've been putting up for awhile.
He mentions these aren't just cute, there are many tailored to current events, so he hopes they help you remember a lot.
He says to buy the art book to see the second page...
The second Digicolumn is a special feature on Armor Evolution...
Armadimon, Patamon, Wormmon, V-Mon, Tailmon, and Hawkmon! It's an article that goes in depth of the Armor Evolutions of these 6 Digimon!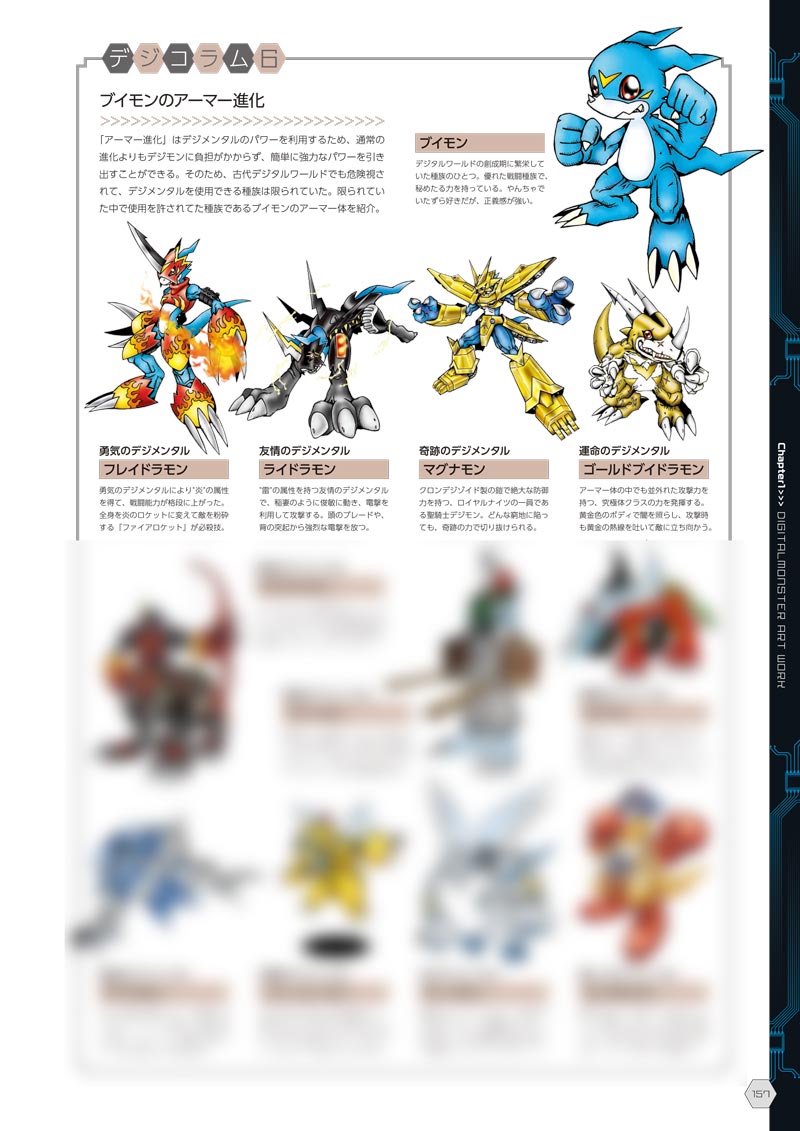 Taoka says that up to this point, they've never done an in-depth article about Armor Evolution.
Check out all the armor forms and became a master of the armor forms.
The last Digicolumn is Omegamon a la carte!
Omegamon a la carte will be a colummn showing the various forms of the popular Digimon, Omegamon, all at once. Of course, it'll not only feature Omegamon Zwart and Omegamon Alter-S, but the official art of the latest Omegamon, Merciful Mode, for the first time!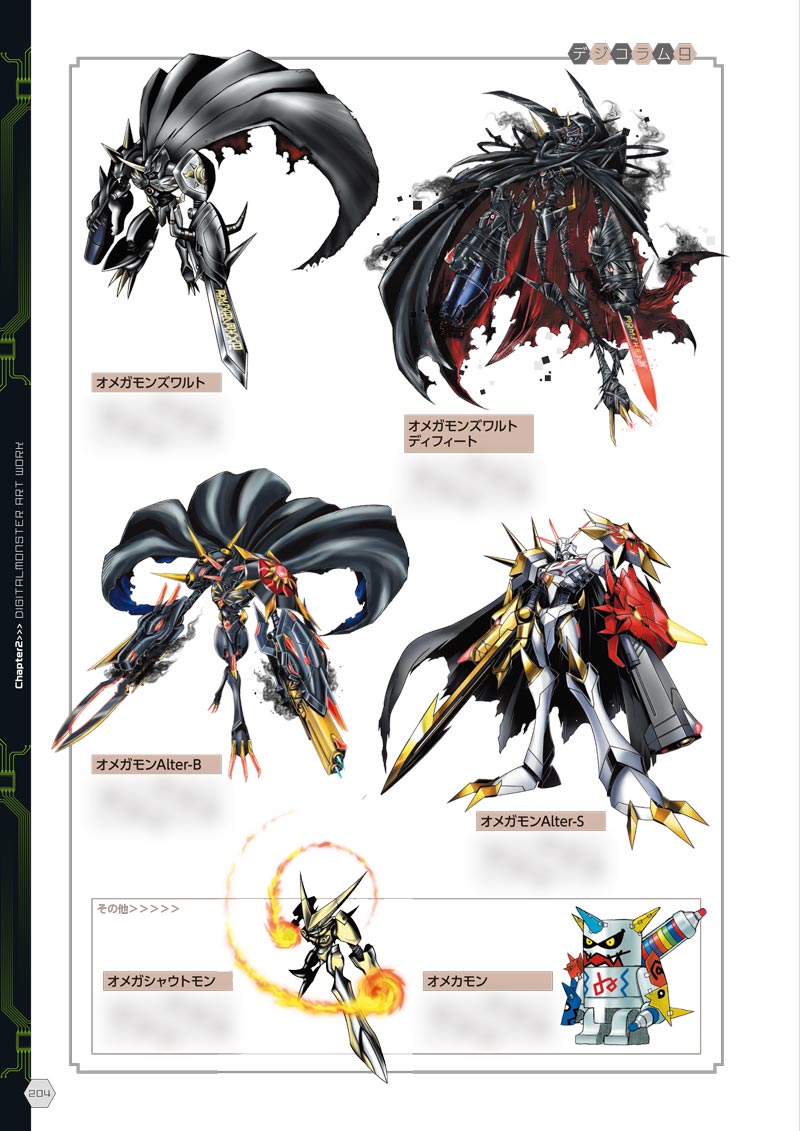 This is the first time full size artwork of Omegamon Mercifcul Mode will be shown off.
From the preview page we can also see there is some information for each character that they are blocking out for now.
It will also feature Digimon that are associated with Omegamon and his power.
Various features will appear in the later pages of the art book.
Among them, pages featuring Digimon Chronicle. Chronicle came with Digimon Pendulum X in 2003 and is featured over 4 pages.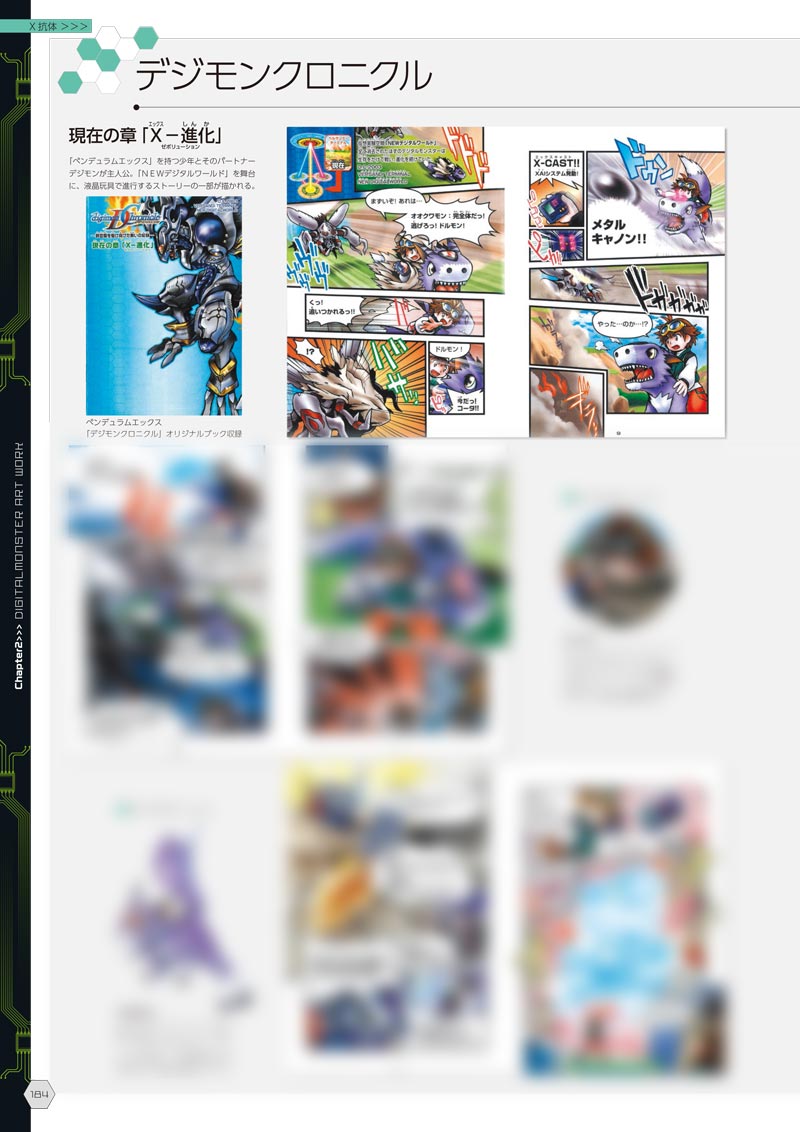 He points out this mini-manga is hard to find now.
Yep, it appears the entire Digimon Chronicle story will be included (they don't actually say this, but the blurred bits certainly tease it.) The story was loosely translated into Digimon X-Evolution, but Chronicle itself generally hasn't really been reprinted.
As they show above, there will be many pages that aren't just illustrations of Digimon.
Taoka also points out if you miss it now, you won't be able to get it in the future and will miss the fun things they are included.
The Digital Monster Art Book Version Pendulum is still available to order. Details can be found
here
. Pre-orders close next week, so you're running out of time if you want to get it.
Next week MonMon Memo will feature info about Digimon from the Wave 2 20th Anniversary Digimon Pendulums (perhaps the egg layout, since pre-orders will be closed at that point.)
Update- Tweaked a few bits thanks to garm.
Previous MonMon Memos have included:
Cold Mode
Copymon
New Virus Busters
New Nightmare Soldiers
Silver Blue Special Digi-Eggs
Silver Black Special Digi-Eggs, Plus ones in both!
Jogress Digimon
Password Digimon
Overview of the 20th Pendulum, Plus Enemies in Battle Mode
Kenji Watanabe Pendulum Interview
CSA Digivice tri. Memorial
Additional Digimon showing up in the Pendulum 20th 2nd Wave
RagnaLordmon, Jogress of the 20th Anniversary Legend Arms
Pendulum Art Book Sample Pages, Teasers, and Interview Details
Pendulum Art Book Update- Digimon Designer Round Table! Plus Shikishi Artwork
Introductions for the CSA Digivice 1999 and Terriermon Plush, plus X-Antibody Updates
CSA Digivice 1999 Details
RagnaLordmon and Finalized Wave 2 20th Pendulum Packaging