Show User Social Media
Hide User Social Media
Joined

Sep 8, 2006
Messages

16,129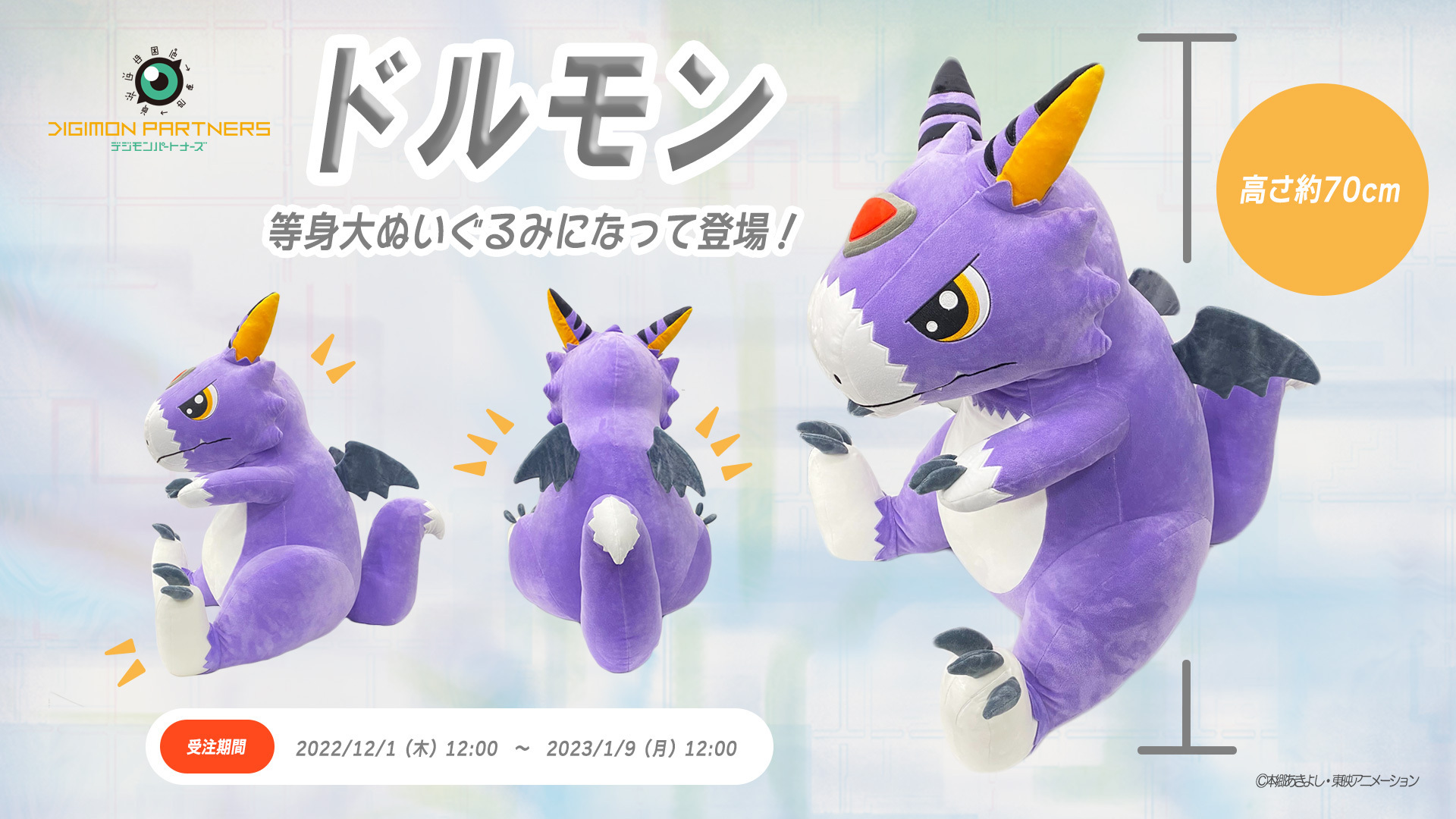 It's been about a year
since the Digimon Partners vote ended to have more detailed products ended.
The phone cases and lifesize Chibimon plush had pre-orders go up, with the only thing left is the lifesize Dorumon. After a long wait we finally have an
update
!
The lifesize plush of Dorumon
was a secondary winner, and it's been a bit of a wait.
パートナーズプロジェクト ドルモン等身大ぬいぐるみ
Pre-orders open December 1st and close January 8th for an eye-watering 38,500 yen. It will ship in June 2023.
Shipping is 2,800 due to it being an oversized item.
The plush is about 500 x 700 x 700 mm. (In inches roughly 19.7 x 26.6 x 27.6)
The width is foot to foot.
The height from top of head to the bottom, not including ears, etc. is 620 mm. The full height starts from the tip of the ears
The depth is 470 mm, going from the toes to the back of the main body, not including the tail. The full depth is foot tip to tail tip.
The plushes will be made in batches by order number, so if you are later, it may show up later than June.
If they hit certain numbers they may close early.
They may reprint this product in the future and sell it again.
The plushes all look really nice. The otedama continue the small cute plushes. Chibimon is quite large, but with a relatively massive price, especially since you have to use an intermediary to nab it...
A few extra bits...
Digimon Partners blocks those from outside of Japan from viewing and ordering their store, so you'll need an intermediary to order for you...
Some intermediaries will want not only want the urls of the items above, but may ask for the product name in Japanese as written on the page. Those names are given above, directly below the pre-order links.
If you want to be sure to nab something...
We've currently pared down the list of intermediaries we list due to some places closing and others becoming iffy in their communication, calling into question their reliability. If you have any stories, positive or negative, about any intermediaries, DM me with them so we can figure out who might be worth adding (or re-adding), since these aren't affiliate links or anything, simply suggested ways to make it easier for fans to nab stuff.
You'll want to contact an intermediary to get these items sent to you. WtW is not affiliated with any, but here are a selection of intermediaries that have worked well for various WtWers and their friends in the past:
From Japan
Rider Proxy
You'll want to provide your chosen intermediary with the link to the item. Just copy paste the link to the product pages for what you want and send them a message about it and they'll take care of it after they discuss pricing and their policies with you. The links embedded in the news article for the products are exactly what you'll need to send them.
Some of the intermediaries have a full storefront and may have the item listed, so you may want to check that first.