Show User Social Media
Hide User Social Media
Joined

Sep 8, 2006
Messages

16,665
With the first cafe location open, and the second opening in a few weeks, it's time for some more cafe news.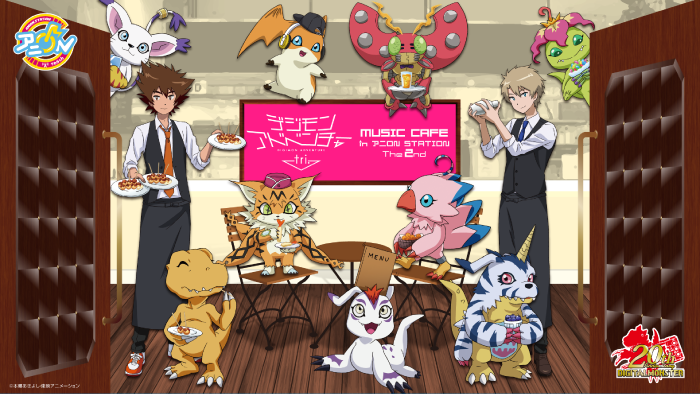 First, a quick primer on where/when you can go to the cafe...
Digimon Adventure tri. Music Cafe in Ani-On Station the 2nd will be held at the Ani-On Station Akihabara between September 8th and October 15th.
And at the Ani-On Station Namba Parks between September 29th and October 22nd.
We found out about the
Part 1 menu and entertainment and product details last week
.
Now we have the Part 2 Menu!
The Part 2 Menu will be available between September 29th and October 15th at the Akihabara cafe and October 10th and 22nd at the Namba Parks cafe.
First up, let's do the food! Each dish includes a coaster of the chosen child associated with the food. The Taichi dish will be carried over from Part 1 to Part 2 (to even out both menus at 5 items.)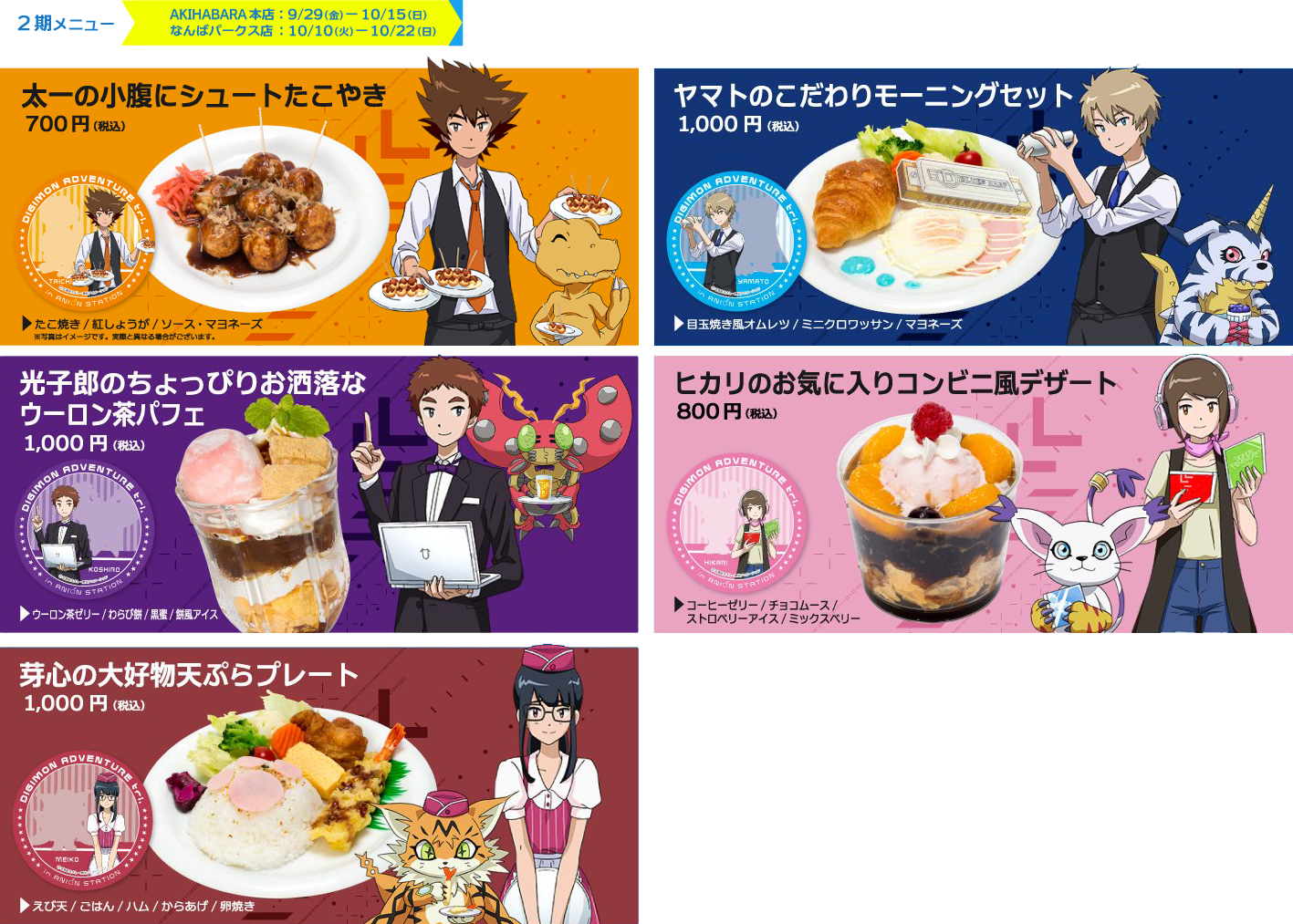 Taichi's Takoyaki Stomach Shooters: 700 yen- A plate of takoyaki with a side of red ginger and a mayonnaise based sauce.
Yamato's Meticulous Morning Set: 1,000 yen- A fried egg style omelette and a nice mini croissant headline this dish. There is some mayo to act as a sauce, along with a side of veggies. The harmonica appears to just be a paper decoration.
Koushiro's Slightly Stylish Oolong Tea Parfait: 1,000 yen- A parfait with various layers including oolong tea jelly, warabimochi (a kind of jelly mochi), black honey, and topped with a mochi ice cream.
Hikari's Favorite Convenience Store Style Dessert: 800 yen- Another parfait style dessert. This includes coffee jelly, chocolate mousse, strawberry ice cream, and mixed berries (with some orange or tangerines, along with some whipped cream.) Fans of tri. Part 1 may recognize this as a Hikari favorite- the Strawberry Choco Bomber Crash seasonal Hyper Tropical Espresso.
Meiko's Favorite Tempura Plate: 1,000 yen- This plate includes tempura shrimp, a scoop of seasoned rice topped with ham, some small pieces of fried chicken, and a fried egg. A small side of veggies is also included.
Onto the drinks! All drinks are 700 yen and include a coaster of the Digimon associated with the drink. Just like with the Taichi dish, the Agumon drink is carrying over from Part 1.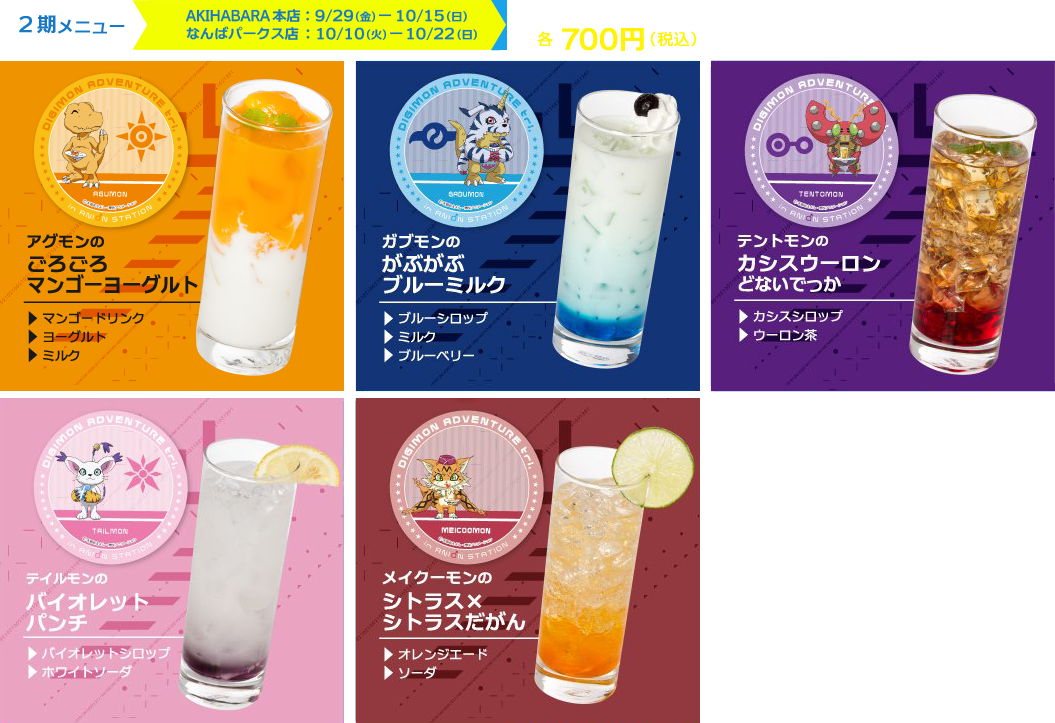 Agumon's Rumbling Mango Yogurt- Mango juice, yogurt, and milk put together into a two tone drink. It appears there may be some mango and mint at the top of the drink.
Gabumon's Guzzling Blue Milk- Blue curacao syrup is sitting at the bottom of ice cold milk and topped with whipped cream and blueberries.
Tentomon's "What's Up?" Cassis Oolong Drink- Cassis Syrup (Blackcurrent) is mixed with oolong tea and topped with some mint.
Tailmon's Violet Punch- A white soda is mixed with violet syrup for a flowery drink, with a punch. Topped with some lemon.
Meicoomon's Citrus and Citrus Dagan Drink- Orangeade is mixed with a clear soda (likely a citrus flavor) and topped with some lime.
The images used for most of the items are sourced from lower quality images that Ani-On posted on social media. The high quality images had significant issues due to being scaled and saved incorrectly. If they correct them we will update the images later.
The prior thread about the 2nd tri. Music Cafe with other details is
here
.