Show User Social Media
Hide User Social Media
Joined

Sep 8, 2006
Messages

17,401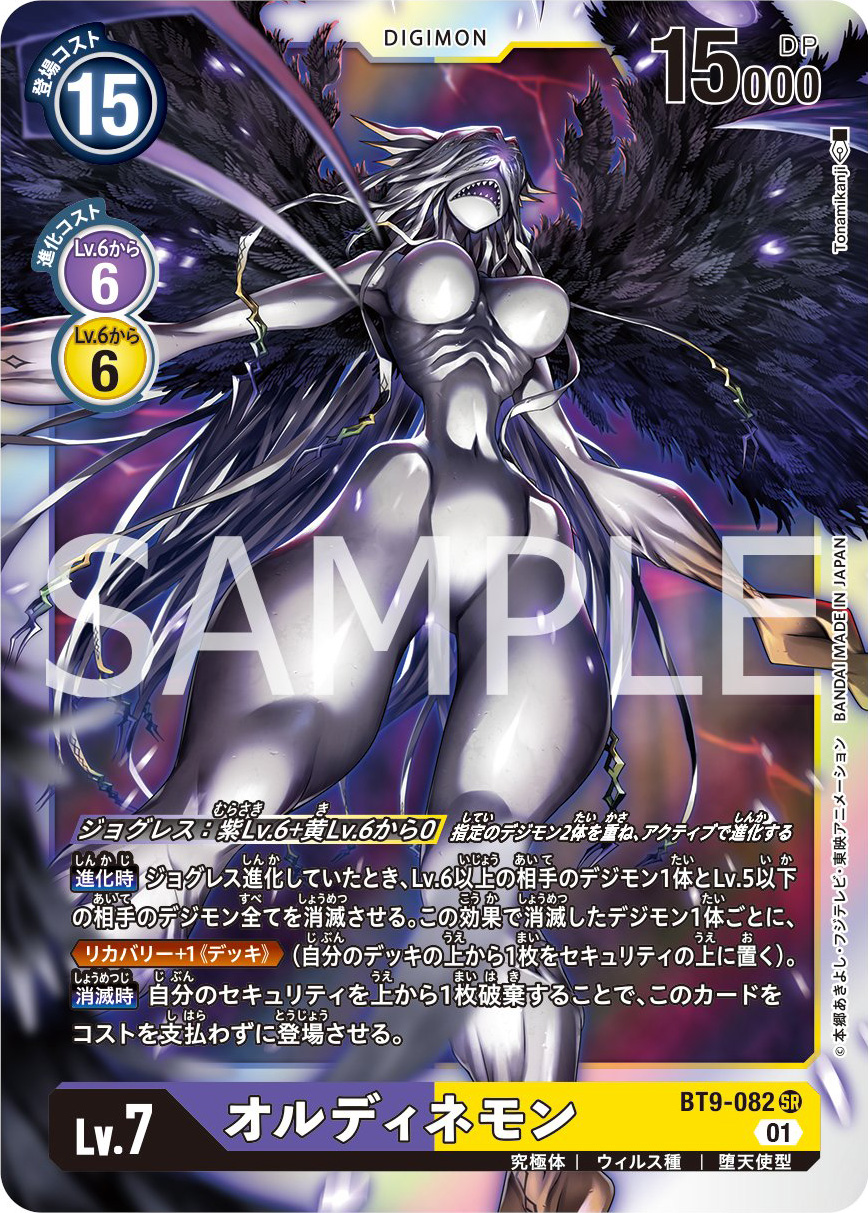 The Digimon Card Game Twitter
has updated with a card preview from Booster Set 9 X Record. This time it's Ordinemon.
Ordinemon continues the Meicoomon family getting menacing, highly detailed, and clean looking artwork.
On top of that, we have some more previews...
Some magzine previews! Not sure of the exact magazine at the moment.
We get previews of Dorumon, Agumon X, Guilmon X, Plotmon X, and Gazimon X.
Some interesting visuals in these, especially if you look at cameos and other details that'll be more clear when we get nicer previews.
Perhaps most interesting of those, at least at a glance, is the Dorumon card has a sword that looks similar to the Dino Tooth, the sword Dorumon had in Digimon World 4/X.
Thanks to
de_gi_no_gen_2
(
2
) for the magazine images.
Previous previews for Booster Set 9 X Record:
Pack Art & Monochrome Flip Art
Dukemon X & X-Antibody
Alphamon
Digitalize of Soul
KausGammamon
Greymon X
Okuwamon X
GrandisKuwagamon
WereGarurumon X & Monochromon
Mochimon & Takeru and Koushiro
Nefertimon & Pegasmon
Magnamon X & Awakening of the Golden Knight
Meicrackmon: Vicious Mode
Raguelmon
Meicoomon & Meiko
Booster Set 9 X Record will be out on February 25th in Japan.
We have clean card images from
Booster Set EX-02 Digital Hazard & Limited Card Set Online
.
We have the first info for
Booster Set 9 X-Record
.
And images from previous Digimon Card Game releases:
Starter Decks 1, 2, and 3, and first 10 promo cards
Booster Set 1 New Evolution
Booster Set 2 Ultimate Power
V-Tamer Promo Cards
Purple/Black Promo Set
Tamer Battle Pack 1 and Tamer Battle Winner's Card
Booster Set 3 Union Impact
Starter Decks 4, 5, & 6, plus Tamer Battle Pack 2 & winner's Card 2, & 1st 2 scene vote cards
Booster Set 4 Great Legend, Tamer Battle Pack 3, 3rd Scene Vote, Dark Digimon Promo Pack, & Apparel Cards
Booster Set 5 Battle of Omega, plus Tamer Battle Pack 4, 4th Scene Vote, & Vital Bracelet Pack-In Cards
Starter Decks 7 & 8, plus Delay Promos, Tamers Battle Pack 5, 1st Anniversary Promos, & Pulsemon
Booster Set 6 Double Diamond Cards, the 1st Anniversary Adventure Pack, and more
Booster Set EX-01 Classic Collection, plus Tamer Battle Pack 6 & 7, Tyranomon & dual Zeromaru Promo Cards
Booster Set 7 Next Adventure, Campaign Cards, & Tamers 20th Promo Cards
Starter Decks 9 & 10, plus Tamers Battle Pack 8, Ghost Game Promos, Online Promos, Tamers Evolution Box 1, & Amazon Starter Promos
Booster Set 8 New Hero, Starter Deck 11, plus Tamer Battle Pack 9 & Event Cards