Show User Social Media
Hide User Social Media
Joined

Sep 8, 2006
Messages

14,185
Nice stack of card updates tonight...
The Digimon Card Game Twitter
has updated with a card preview from Booster Set 5 Battle of Omega. This time we get option card Wisselen.
Wisselen features Rafflesimon doing her attack that allows her to knock people out and turn them into her servants.
Digimon Card Game Booster Set 5 Battle of Omega is scheduled to release on February 26th.
Previous card previews for Booster Set 5:
Hexeblaumon Pack packaging, Agumon, & Greymon Gabumon & Garurumon Starmons, ShootingStarmon, & SuperStarmon ChaosDukemon Terriermon Joshu & Fake Agumon Hakase & 1st Look at MetalGreymon: Alterous Mode & WereGarurumon: Sagittarius Mode Takumi Nokia WaruMonzaemon Guilmon & BlackGrowmon V-Jump- Omegamon Zwart, Shoutmon DX, Sakuyamon, MetalGarurumon, and Algomon (Ultimate) ZekeGreymon MoriShellmon MetalGarurumon (Black) Option Card Hot & Fierce Metal Storm, Omegamon, & Omegamon Zwart (Normal & Parallel) Megidramon Koromon & Tsunomon Battle of Omega High-Res Promo Poster Shoutmon BlackMegaloGrowmon BanchoLilymon Blucomon Omegamon Zassoumon & Magazine Previews OmegaShoutmon, Absolute Blast, Tactimon, Taichi & Yamato, MetalGreymon: Alterous Mode, WereGarurumon: Sagittarius Mode, & Rafflesimon Shademon & Omegamon Zwart Koushiro & Mimi
Then next up, an update on something from a few days ago...
From an early magazine preview
we got our first look at the cards from Tamer Battle Pack 4, and the associated winner's card, but now we have some good previews via an early update on
the English site
for the Japanese version of the Card Game.
Each card in Tamer Battle Pack 4 is a parallel card of an existing card.
Each of these work the same as any other parallel card, they have different artwork, but are for gameplay and deck building purposes, they are the same card as the card they are parallel cards of:
Sirenmon (BT1-057)
AeroV-dramon (BT2-028)
Andromon (BT2-061)
Chimeramon (BT2-077)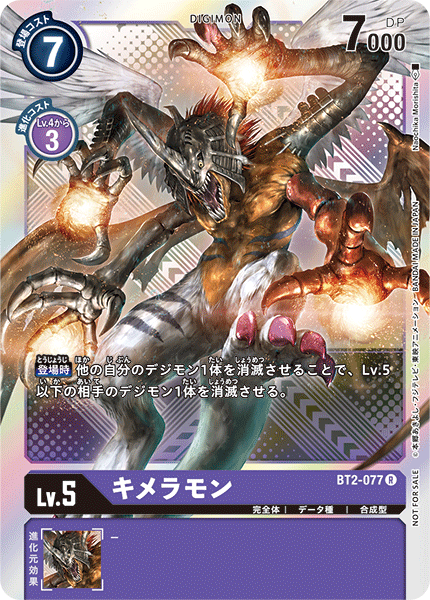 Another variant of Chimeramon (BT2-077) will be the equivalent winner's card, with a holofoil effect on it.
Of course, Digimon Card Game events in Japan are currently on hiatus due to health concerns, but they have a way for those in Japan to get them still (and they will likely appear at evnets when they start up again.)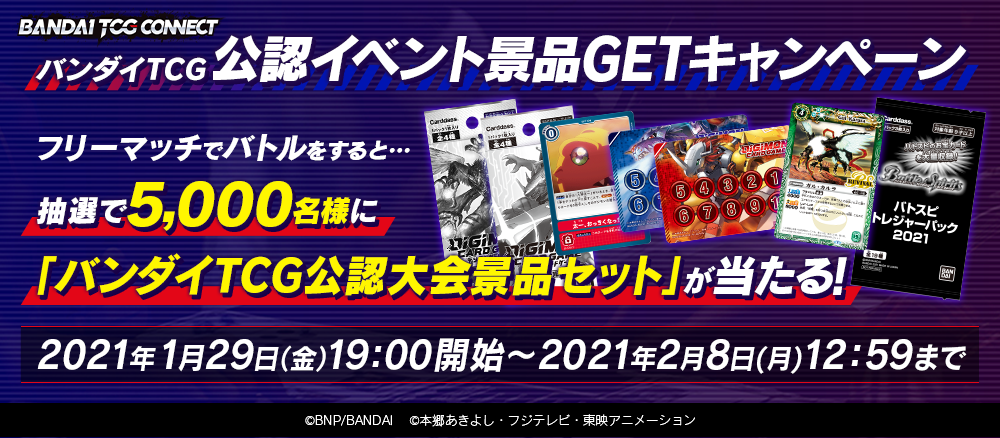 They're running a contest through Bandai TCG Connect
, the online service where people can play eachother in the game.
Through February 8th you can win various card game prizes, including from the Digimon Card Game.
The include:
Tamer Battle Pack 3 and 4 (from Tamer Battle events)
The Kizuna (4th) Scene Vote Card and memory guages (From Tamer Exchange Party events)
If you are one of 5000 winners you get all of them, along with a selection of non-Digimon related Battle Spirits stuff.
The way you enter is quite simple:
Play a 'free match' on Bandai TCG Connect
When the match is over hit 'end of battle' and collect the match serial code.
Input it on this site
.
Nothing fancy, but a nice way for people to try and get items that can't currently be collected.
And last up, an update from something earlier today...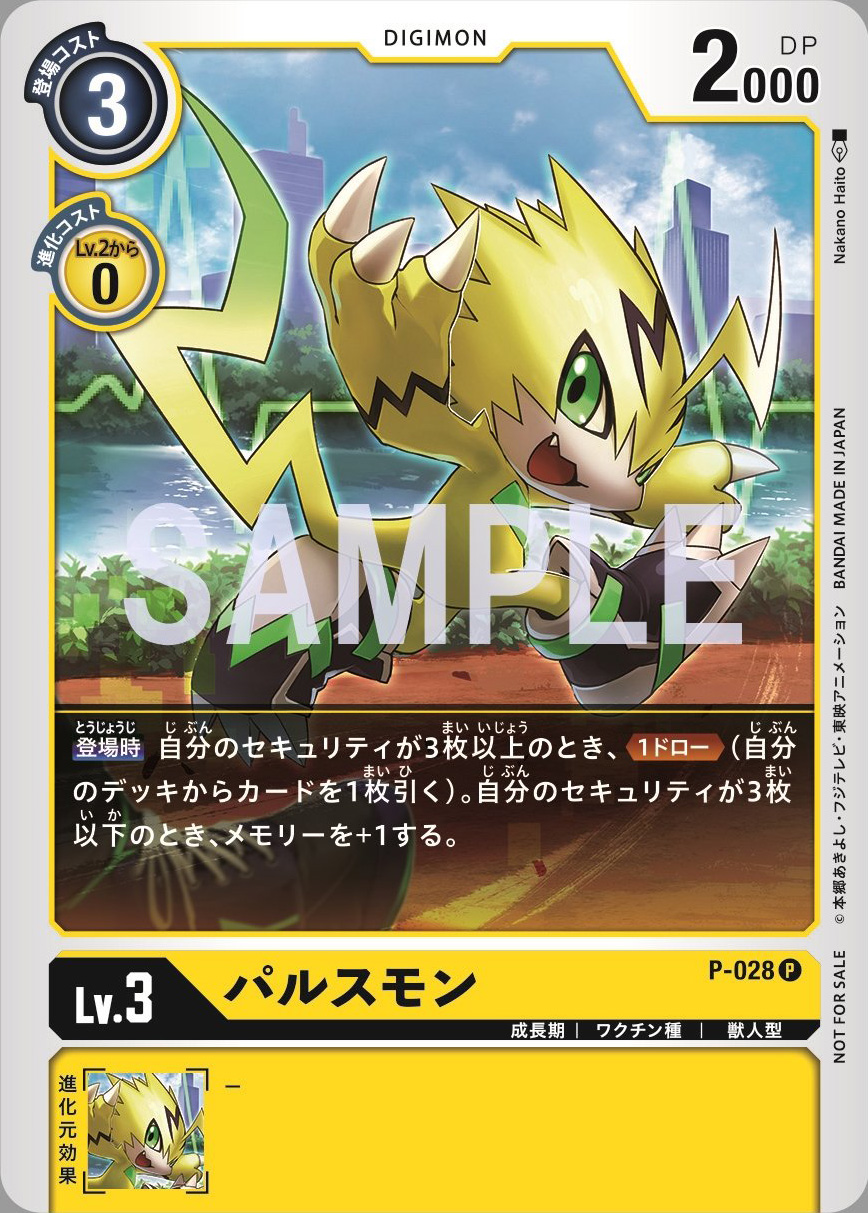 We saw the Pulsemon promo card
earlier today when we got a few Vital Bracelet updates.
The Digimon TCG Twitter
put up their standard card preview (although we already have a reasonably clean one), along with an updated detail...
Tamer Exchange Meetings after April will have Pulsemon cards with different illustrations on them.
A good number of updates for today for the card game.
We have clean card images for Booster Set 4 Great Legend.
We also have begun to get
details about Booster Set 5 Battle of Omega
, including
our first look at art via DigiNavi!
We also just got our first details & images for
Booster Set 6 Double Diamond & the Dukemon & ULForceV-dramon starter decks and pre-orders are u
p!
Plus we have the first details
for the 1 year anniversary of the card game, including a number of fun things!
The Parallel Card Vote has already begun
!
And images from previous Digimon Card Game releases:
Starter Decks 1, 2, and 3, and first 10 promo cards
Booster Set 1 New Evolution
Booster Set 2 Ultimate Power
V-Tamer Promo Cards
Purple/Black Promo Set
Tamer Battle Pack 1 and Tamer Battle Winner's Card
Booster Set 3 Union Impact
Starter Decks 4, 5, & 6, plus Tamer Battle Pack 2 & winner's Card 2, & 1st 2 scene vote cards