Show User Social Media
Hide User Social Media
Joined

Sep 8, 2006
Messages

17,396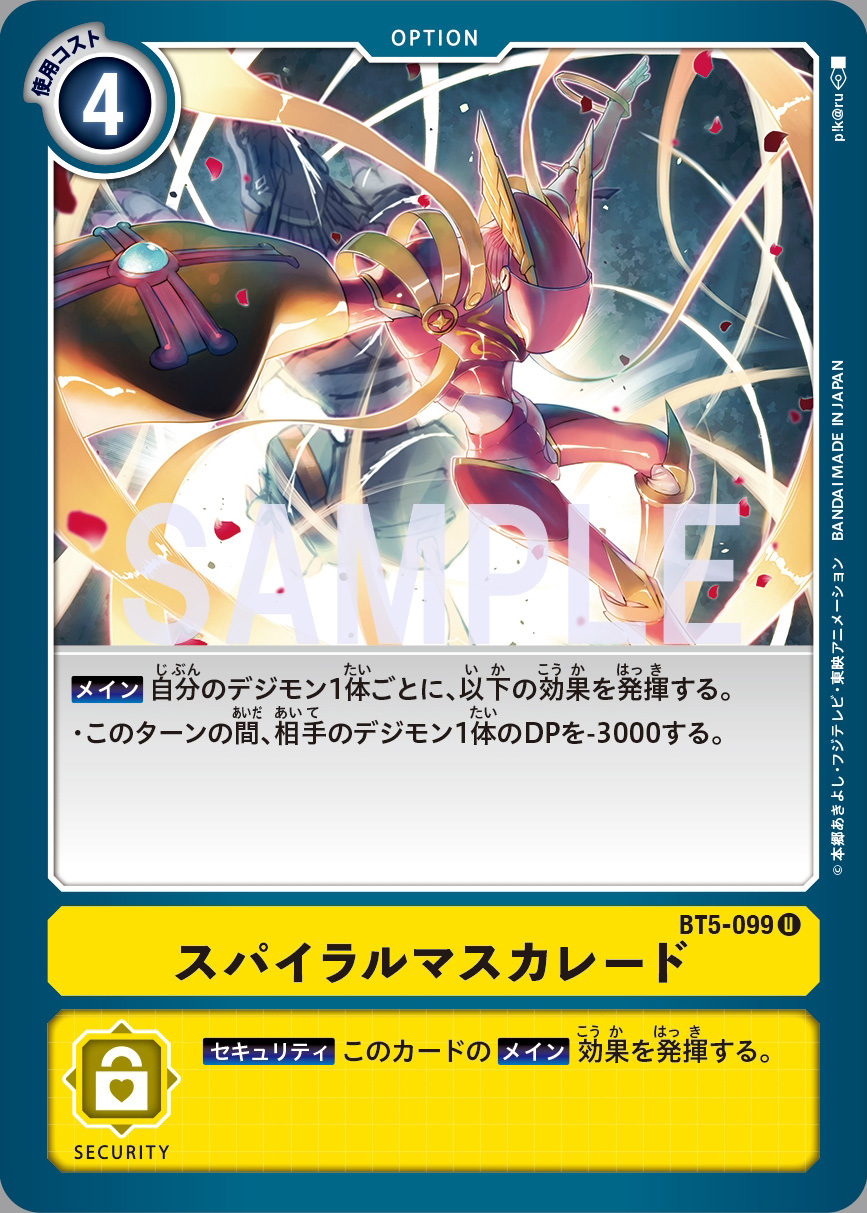 The Digimon Card Game Twitter
has updated with a card preview from Booster Set 5 Battle of Omega. This time we get the option card Spiral Masquerade.
Spiral Masquerade features the blades from RhodoKnightmon attacking the opponent, who in this case is MetalGarurumon.
Plus...
Digimon Card Battle is back with episode 19.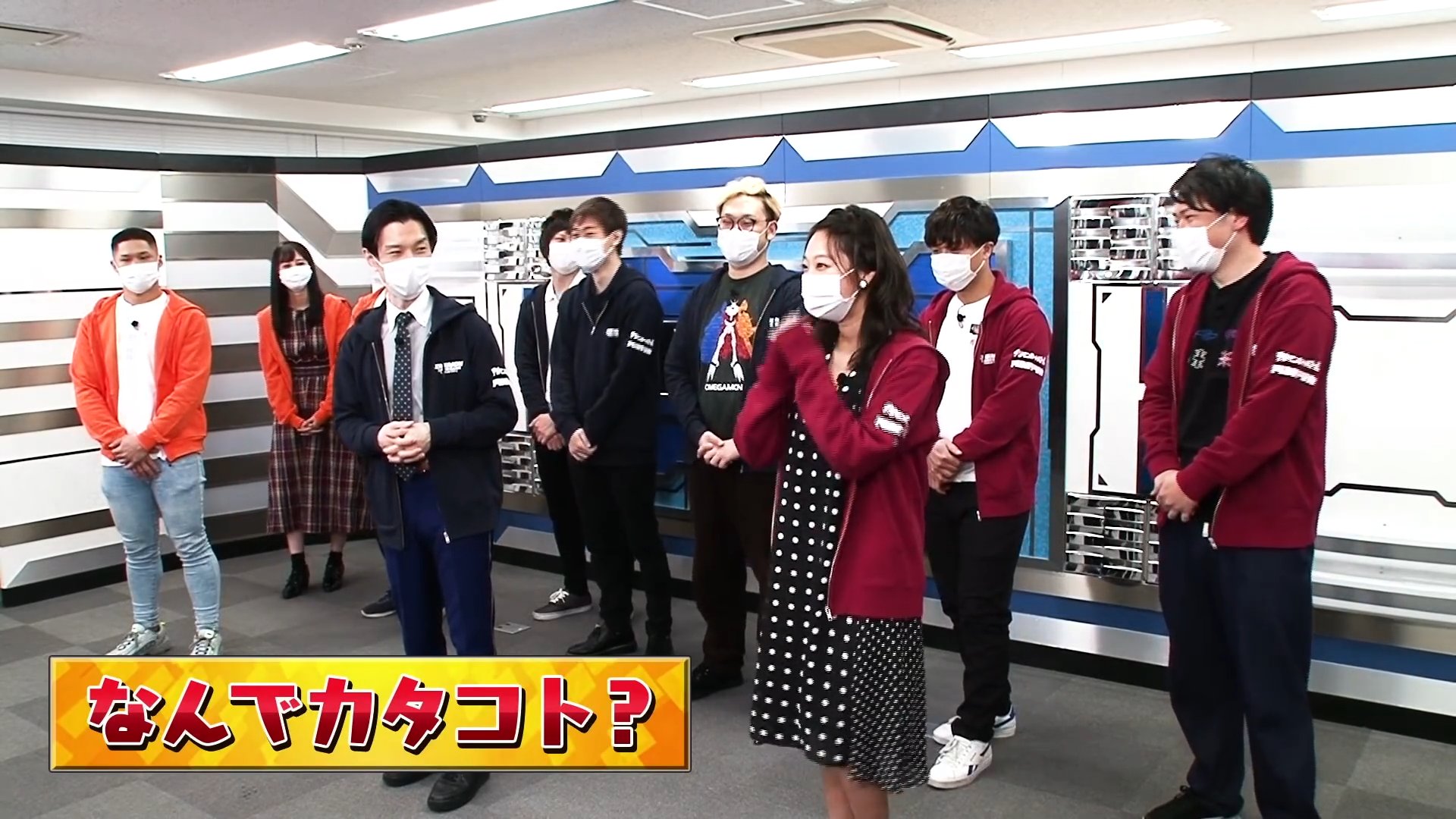 This week Digimon Card Battle continues the 3 team round robin. Nearly everyone who appears on Digimon Card Battle with any regularity is taking part.
This time we get a match between the orange and red team.
The match this time includes cards from Booster Set 5 Battel of Omega.
Before each match they go over some of their cards and other details.
This time we get Sayaka vs. Chiba.
And after the match we get a preview of new cards during the post match housekeeping (going over products, etc.)
It's cards from Booster Set 5 Battle of Omega. They also showed a few new cards during the battle, which we are including here. The battle also has decent images of some cards we don't have nice images of yet, so it's worth a watch to see those (plus we may have left 1 or 2 cards out to be discovered during watching...)
​
First, a couple of cards that showed up during the episode. Tsumemon and Gladimon! Both are 'prequels' to other cards we've seen in the set, adding in a bit of fun progression.
​
Then we get some parallel cards!
First up we get a parallel card of Shoutmon DX. This is the right side of a 2 card panorama that looks to have Shoutmon DX and Omegamon fighting side by side.
Then we get another panorama, this time with art from Kenji Watanabe! It features ChaosDukemon and Omegamon Zwart facing off. The two 'dark' equivalents to well known Digimon also appear to be facing off in a location that would be faimilar to many Digimon fans.
Last up, a card that was actually shown off weeks ago (just mostly covered up so most people missed it.) A parallel card for Omegamon X! This parallel card is a 'remake' of Sx-5 from the original card game, which featured the same art by As'Maria. The normal Digimon Card Game styling has been replaced in a number of placed by the classic Hyper Colosseum styling. The last time they did a Hyper Colosseum styled card was MetalGreymon back in Booster Set 1.
Previous card previews for Booster Set 5:
Hexeblaumon Pack packaging, Agumon, & Greymon Gabumon & Garurumon Starmons, ShootingStarmon, & SuperStarmon ChaosDukemon Terriermon Joshu & Fake Agumon Hakase & 1st Look at MetalGreymon: Alterous Mode & WereGarurumon: Sagittarius Mode Takumi Nokia WaruMonzaemon Guilmon & BlackGrowmon V-Jump- Omegamon Zwart, Shoutmon DX, Sakuyamon, MetalGarurumon, and Algomon (Ultimate) ZekeGreymon MoriShellmon MetalGarurumon (Black) Option Card Hot & Fierce Metal Storm, Omegamon, & Omegamon Zwart (Normal & Parallel) Megidramon Koromon & Tsunomon Battle of Omega High-Res Promo Poster Shoutmon BlackMegaloGrowmon BanchoLilymon Blucomon Omegamon Zassoumon & Magazine Previews OmegaShoutmon, Absolute Blast, Tactimon, Taichi & Yamato, MetalGreymon: Alterous Mode, WereGarurumon: Sagittarius Mode, & Rafflesimon Shademon & Omegamon Zwart Koushiro & Mimi Wisselen Jijimon Knightmon Ichi-no-tachi plus Magazine Previews of Arata, Keramon, Chrysalimon, Infermon, Diablomon, & Armagemon Piccolomon Monochromon & Triceramon Palmon Catastrophe Cannon Pyocomon Gigimon Paledramon Zanbamon & Magazine Preview of Omegamon Zwart Defeat MarineDevimon Grey Sword & Garuru Cannon Royal Nuts Omegamon X & Omegamon Zwart Defeat from Fun Digica All Delete
Orange and Red again next time with Araki vs. Maguro!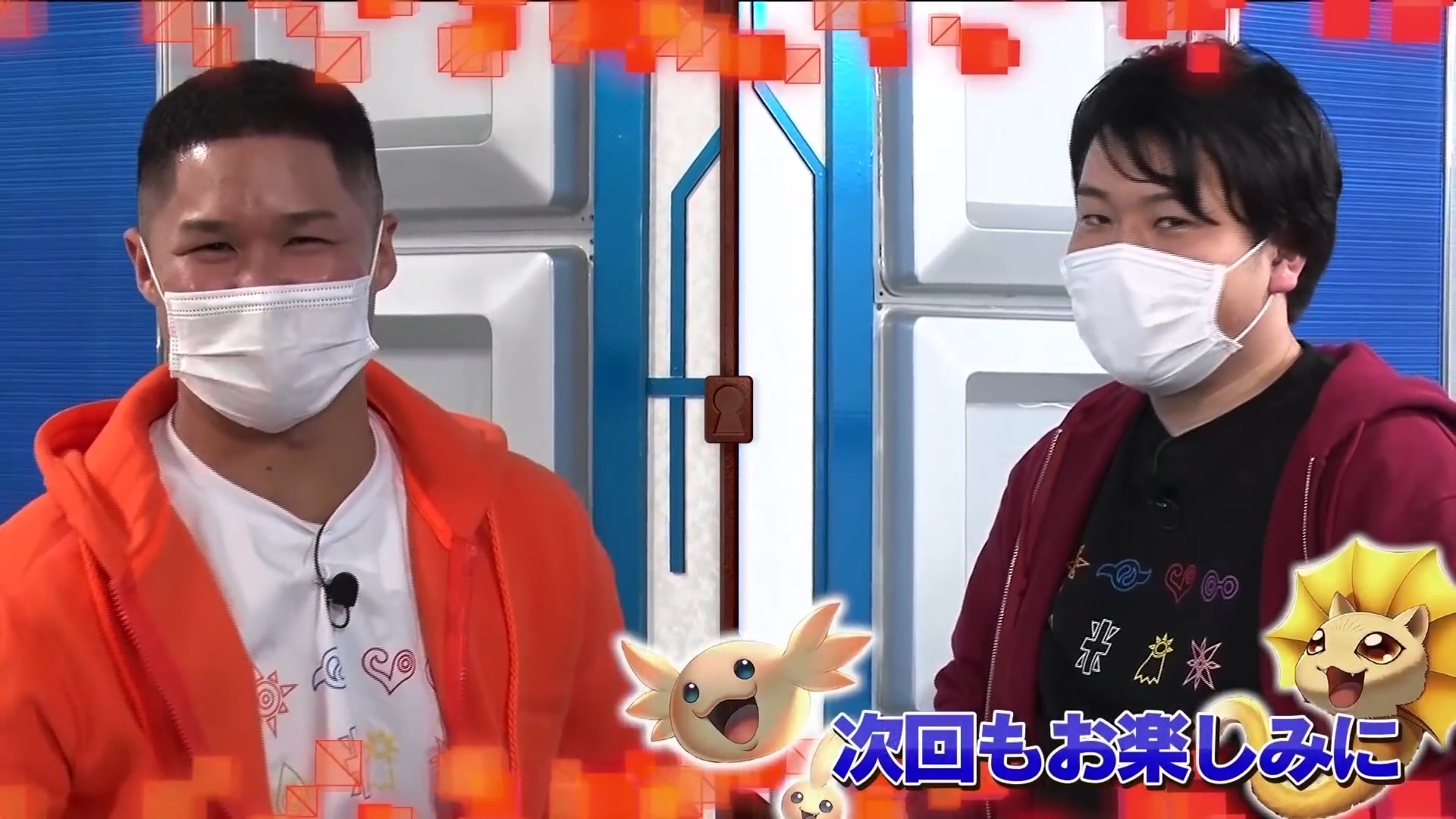 We have clean card images for Booster Set 4 Great Legend.
We also have begun to get
details about Booster Set 5 Battle of Omega
, including
our first look at art via DigiNavi!
We also just got our first details & images for
Booster Set 6 Double Diamond & the Dukemon & ULForceV-dramon starter decks and pre-orders are u
p!
Plus we have the first details
for the 1 year anniversary of the card game, including a number of fun things!
The Parallel Card Vote has already begun
!
And images from previous Digimon Card Game releases:
Starter Decks 1, 2, and 3, and first 10 promo cards
Booster Set 1 New Evolution
Booster Set 2 Ultimate Power
V-Tamer Promo Cards
Purple/Black Promo Set
Tamer Battle Pack 1 and Tamer Battle Winner's Card
Booster Set 3 Union Impact
Starter Decks 4, 5, & 6, plus Tamer Battle Pack 2 & winner's Card 2, & 1st 2 scene vote cards
Index of Fun Digica & Card Battle episodes: