Show User Social Media
Hide User Social Media
Joined

Sep 8, 2006
Messages

17,381
A few different card updates today...
First up...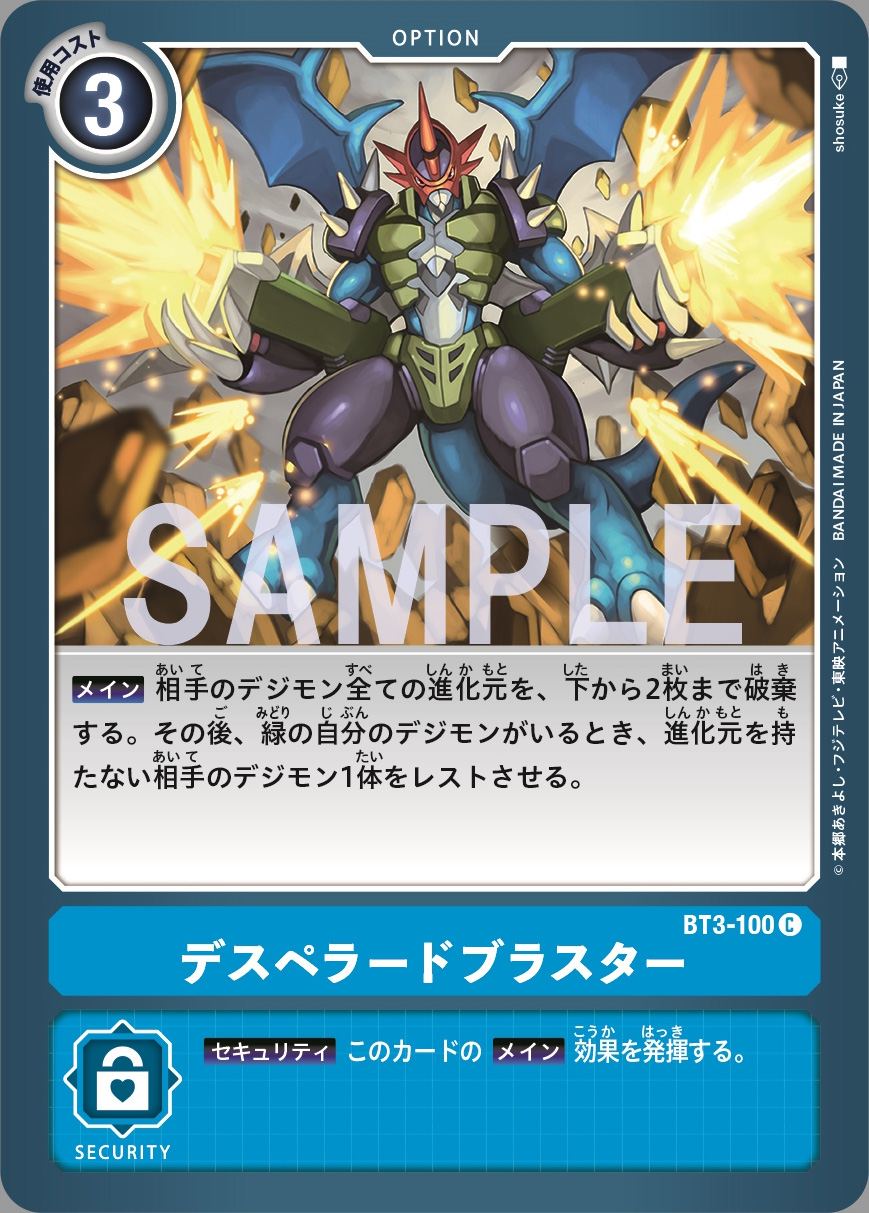 New card preview from the Digimon Card Game!
The Digimon Card Game Twitter
has updated with more card previews from Booster Set 3 Union Impact. This time it's option card Desperado Blaster.
Desperado Blaster features Paildramon doing his signature attack in a fun cartoony art style.
Then we get some more cards for Booster Set 3!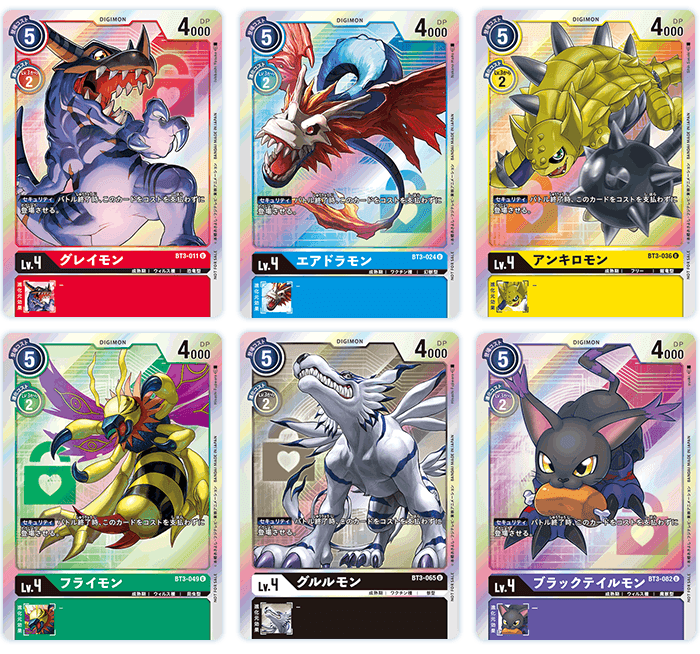 Previous booster sets included parallel cards of the Tamer cards as their bonus parallel cards,
but this time
we get 6 adult level Digimon: Greymon (Virus), Airdramon, Ankylomon, Flymon, Gururumon, and BlackTailmon.
Each booster box will contain one of the parallel cards, randomly packed.
These feature the same artwork as the standard cards, but alternate designs from the standard cards that will be included in the booster set that we've seen previously. They have the same card numbers and card effects as the normal cards, so count as the normal card in your deck.
Digimon Card Game Booster Set 3 Union Impact is scheduled to release on October 30th.
Previous card previews for Booster Set 3:
BelialVamdemon & Dinobeemon from Fun Digica Angemon & Valkyrimon from Fun Digica MetalMamemon, MetalGreymon (Virus), and RagnaLordmon from Fun Digica V-mon and XV-mon Hawkmon & Aquilamon SaintGalgomon Cherubimon (Virtue) Wormmon, Stingmon, & Duftmon, plus more Fun Digica 46 Archnemon & Mummymon Commandramon & Psychmon Option Cards Bifrost & Cracker!!, Plus Saikyo Jump with Airdramon Option Cards God Bless & Jurou Daikatien Option Card It's a Rematch! Bastemon & Goddramon, Plus Mimi, Imperialdramon, Imperialdramon (Black), Paildramon, & BanchoStingmon Chibimon & Upamon Minomon & Kakkinmon Patamon & Penmon Necrophobia & Lilithmon Giromon & Tankmon Option Card Plasma Stake
And then a bit more, we get our first look at the upcoming new starter decks!
These will be decks of 54 cards, made from 16 potential cards. The rarity distribution is the same as in the first wave of starter decks:
7 Common
5 Uncommon
3 Rare
1 Super Rare
All 3 come out November 27th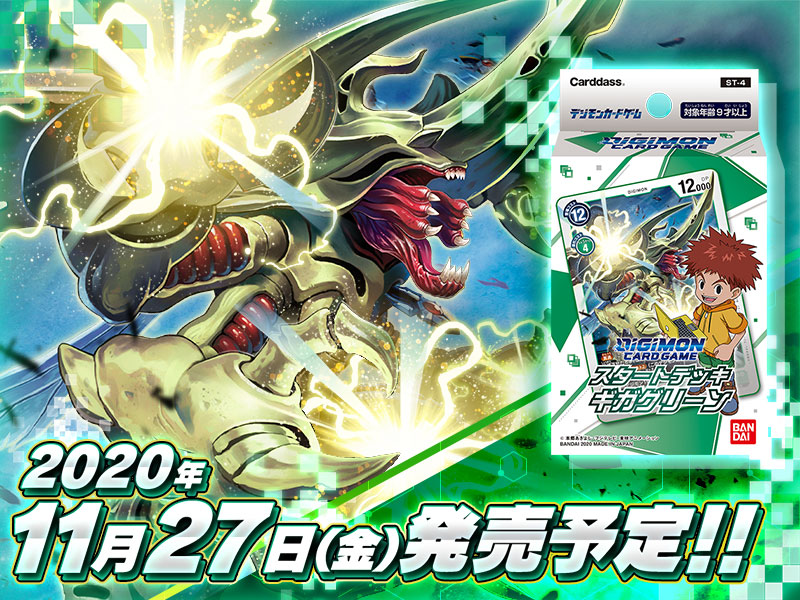 Starter Deck 4, Giga Green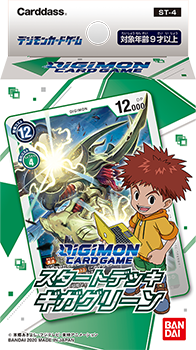 Giga Green features Koushiro as the box character, and the first cards we get to see of it are Koushiro, Tentomon, Kabuterimon, and HerculesKabuterimon.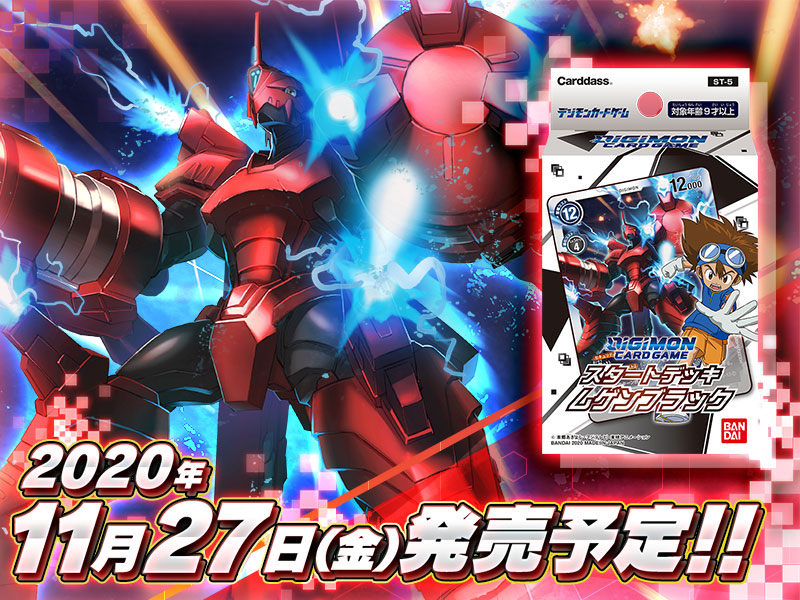 Starter Deck 5, Mugen Black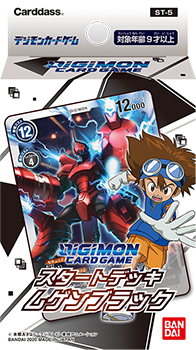 Mugen Black features Taichi as the box character, and the first cards we get to see of it are Taichi, Agumon, MetalGreymon (Virus), and BlitzGreymon.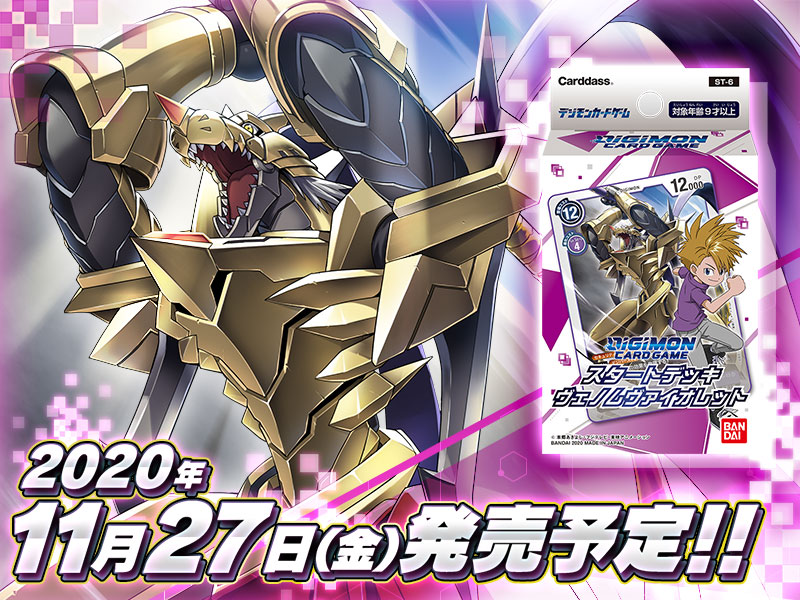 Starter Deck 6, Venom Violet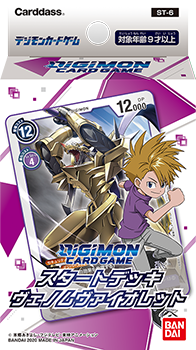 Venom Violet features Yamato as the box character, and the first cards we get to see of it are Yamato, Gabumon, WereGarurumon (Black), and CresGarurumon.
The box elements for 2 of them aren't quite who you would expect to see based on the name, so it'll be interesting to see what other cards show up.
Previous details on the new starter decks can be found
here
.
Update- Significantly larger versions of the starter deck boxes from
the Digimon Card Game Twitter
, just a bit pixely on the art if you go full size.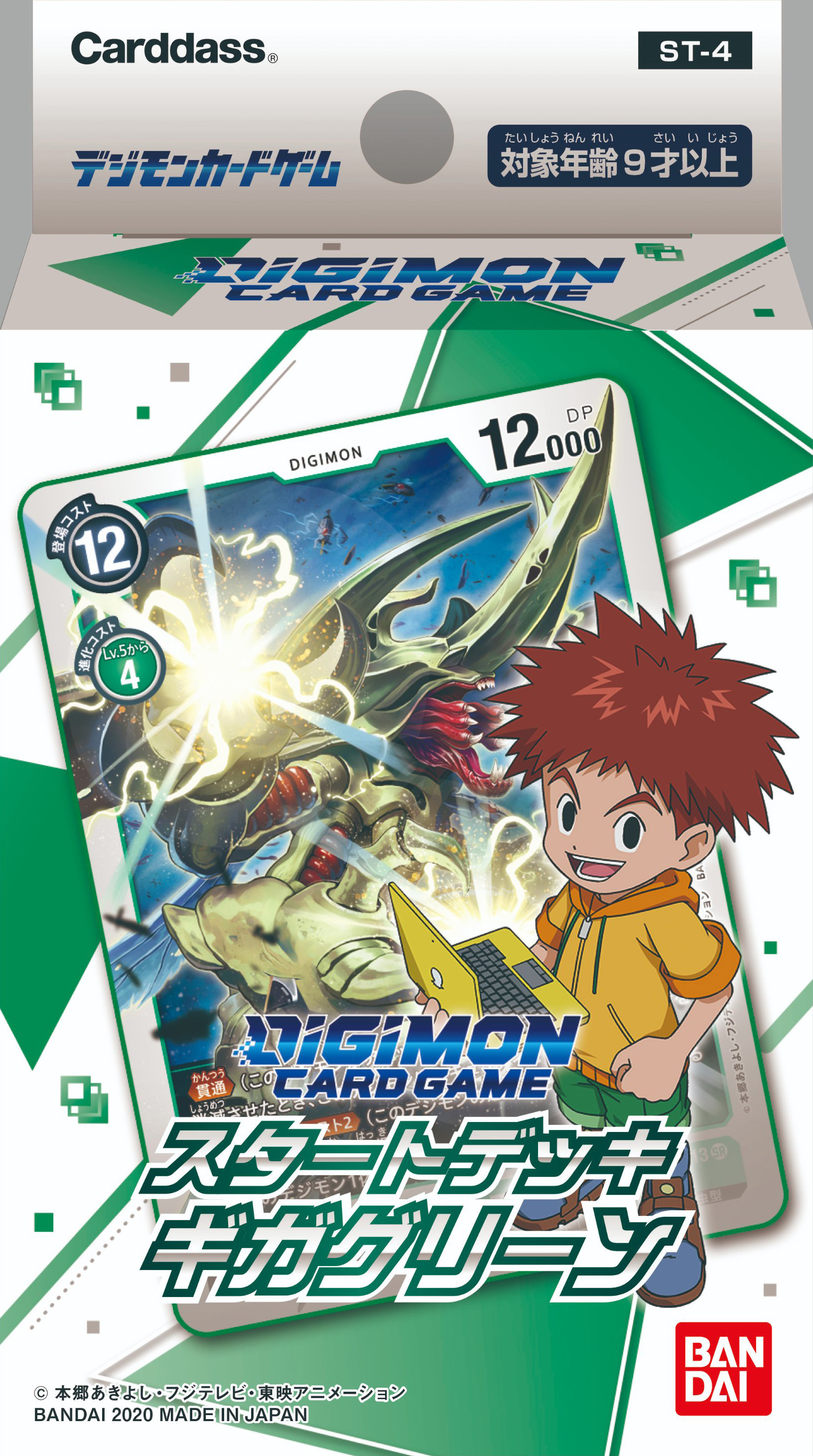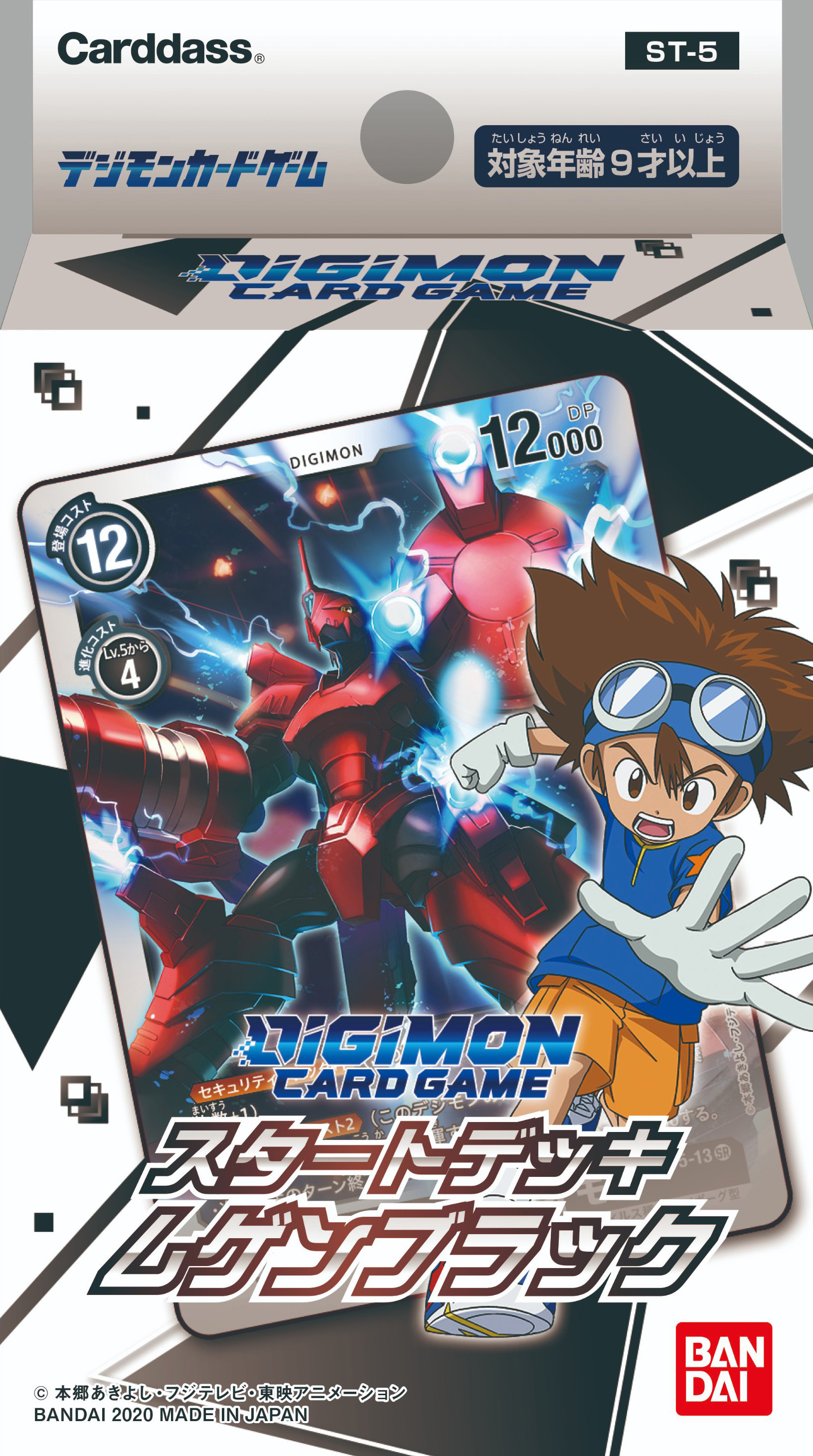 Booster Set 3 Union Impact
comes out in October.
We've also recently gotten details for Booster Set 4 Great Legend
, coming in December.
Pre-orders for the Green, Purple, and Black starter decks have opened
. They are out in November.
Digimon Card Game Booster Set 2 Ultimate Power is out!
Booster Set 2 Ultimate Power Card Images
And images from previous Digimon Card Game releases:
Starter Decks 1, 2, and 3, and first 10 promo cards
Booster Set 1 New Evolution
V-Tamer Promo Cards
Purple/Black Promo Set
Tamer Battle Pack 1 and Tamer Battle Winner's Card
Last edited: