Show User Social Media
Hide User Social Media
Joined

Sep 8, 2006
Messages

13,482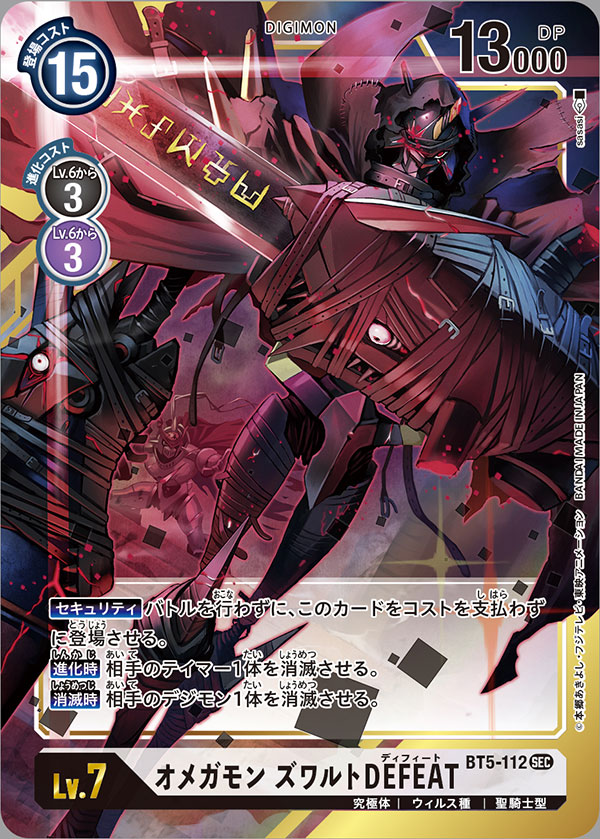 One last card preview from Booster Set 5 Battle of Omega, which is out today in Japan.
Sasasi posted it on their Twitter
along with other cards they drew for the new set. It's the parallel card for Omegamon Zwart Defeat.
It features some really dark and nicely detailed artwork of Defeat turning away from Dukemon and walking away from him in the midst of, or right after, a battle.
This parallel card will be mixed in the standard card distribution, as far as we are aware, with Booster Set 5.
We believe this is the last Booster Set 5 card we didn't have a clean image of. We expect to update
the article with all the Booster Set 5 cards
with all the parallel cards relatively shortly.
Digimon Card Game Booster Set 5 Battle of Omega is out today in Jpaan.
Card image of (almost) every card can be found
here
.
Previous card previews for Booster Set 5:
Hexeblaumon Pack packaging, Agumon, & Greymon Gabumon & Garurumon Starmons, ShootingStarmon, & SuperStarmon ChaosDukemon Terriermon Joshu & Fake Agumon Hakase & 1st Look at MetalGreymon: Alterous Mode & WereGarurumon: Sagittarius Mode Takumi Nokia WaruMonzaemon Guilmon & BlackGrowmon V-Jump- Omegamon Zwart, Shoutmon DX, Sakuyamon, MetalGarurumon, and Algomon (Ultimate) ZekeGreymon MoriShellmon MetalGarurumon (Black) Option Card Hot & Fierce Metal Storm, Omegamon, & Omegamon Zwart (Normal & Parallel) Megidramon Koromon & Tsunomon Battle of Omega High-Res Promo Poster Shoutmon BlackMegaloGrowmon BanchoLilymon Blucomon Omegamon Zassoumon & Magazine Previews OmegaShoutmon, Absolute Blast, Tactimon, Taichi & Yamato, MetalGreymon: Alterous Mode, WereGarurumon: Sagittarius Mode, & Rafflesimon Shademon & Omegamon Zwart Koushiro & Mimi Wisselen Jijimon Knightmon Ichi-no-tachi plus Magazine Previews of Arata, Keramon, Chrysalimon, Infermon, Diablomon, & Armagemon Piccolomon Monochromon & Triceramon Palmon Catastrophe Cannon Pyocomon Gigimon Paledramon Zanbamon & Magazine Preview of Omegamon Zwart Defeat MarineDevimon Grey Sword & Garuru Cannon Royal Nuts Omegamon X & Omegamon Zwart Defeat from Fun Digica All Delete Spiral Masquerade, plus Parallel Cards and more from Digimon Card Battle Omegamon & Shoutmon DX Parallel Cards Armagemon & Omegamon Parallel Cards Omegamon & ChaosDukemon Parallel Cards Arata, Takumi, & Nokia Parallel Cards Taichi & Yamato, Sora & Jou, and Koushiro & Mimi Parallel Cards
We have clean card images for Booster Set 5 Battle of Omega, plus Tamer Battle Pack 4, 4th Scene Vote, & Vital Bracelet Pack-In Cards.
We also just got our first details & images for
Booster Set 6 Double Diamond & the Dukemon & ULForceV-dramon starter decks and pre-orders are u
p!
Plus we have the first details
for the 1 year anniversary of the card game, including a number of fun things!
The Parallel Card Vote has already begun
!
And images from previous Digimon Card Game releases:
Starter Decks 1, 2, and 3, and first 10 promo cards
Booster Set 1 New Evolution
Booster Set 2 Ultimate Power
V-Tamer Promo Cards
Purple/Black Promo Set
Tamer Battle Pack 1 and Tamer Battle Winner's Card
Booster Set 3 Union Impact
Starter Decks 4, 5, & 6, plus Tamer Battle Pack 2 & winner's Card 2, & 1st 2 scene vote cards