Show User Social Media
Hide User Social Media
Joined

Sep 8, 2006
Messages

15,414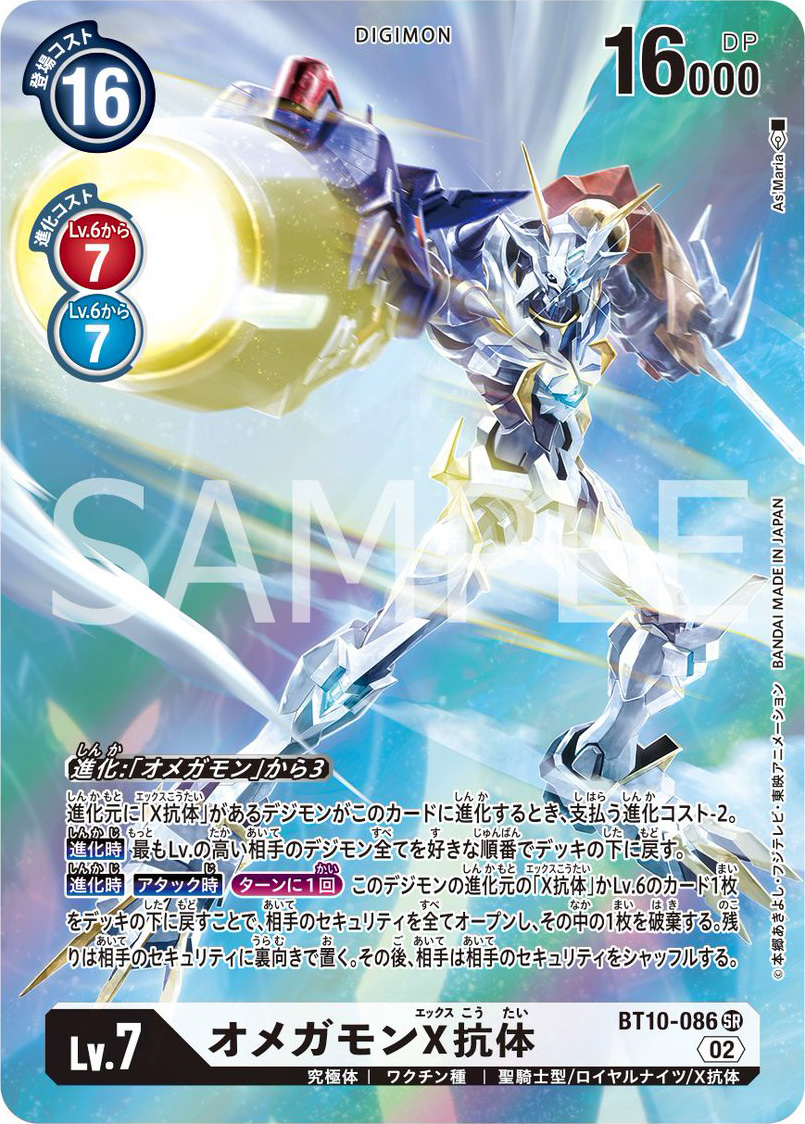 The Digimon Card Game Twitter
has updated with a card preview from Booster Set 10 Xros Encounter. This time it's Omegamon X.
This time we get to see a parallel card of Omegamon X! Omegamon X gets new art from As'Maria with a very traditional mecha style firing a beam pose.
Previous previews for Booster Set 10 Xros Encounter:
Packaging, Shoutmon, Shoutmon x4, Taiki, & More Dorulumon & Ballistamon Pickmons & Starmons Gaossmon & MailBirdramon Troopmon & MadLeomon Bosamon & Angoramon SymbareAngoramon & Ruli Breaclaw & Pyon Dump Sanzomon Venusmon & Healing Therapy Tyutyumon & Damemon Bunbun Fist Magazine Previews- Sparrowmon, Shoutmon x5, Shoutmon x5B, Kiriha, Greymon, & MetalGreymon Blucomon & Regalecusmon Assaultmon & Cannondramon Asuramon & PileVolcamon Shoutmon x5 & Sparrowmon & DeckerGreymon Magazine Preview V-Jump Previews Minervamon Monimon & Hi-VisionMonitamon Coatlmon & Sandiramon Golemon & Gogmamon SkullKnightmon: Big Axe Mode & DarkKnightmon Renamon & Kyubimon Taomon & Strengthening Plug-In O Sakuyamon: Miko Mode & Defense Plug-in C Justimon: Critical Arm & Justice Kick Dondokomon Flying Hero! & The Immortal Champion Greymon, MetalGreymon, Kiriha, & Blazing Memory Boost!! plus MetalGreymon Parallel Card Deckerdramon & DeckerGreymon Plasma Deckerdra Launcher Jesmon X Burning Star Crusher Akari & Zenjirou Ajatarmon BloomLordmon & Gran del Sol WezenGammamon Canoweissmon Thetismon & Lamortmon Tinkermon & Darcmon Griffomon Baalmon & Beelzebumon Shoutmon x4B & Death the Cannon Shortmon & Weddinmon DarkKnightmon X Mushmon & Palmon RedVegimon Shoutmon King Version Babydmon Pulsemon & Impulse Memory Boost!! Tactimon Shoutmon x5B & Blastmon GulusGammamon Brachimon Jyureimon PetiMeramon Achillesmon & Option Card Lónkhē Adistakto Preview & Clean Packaging Sunflowmon Lotusmon Gankoomon X, Sistermon Ciel, Jesmon GX, & Seiken Meppa Yuu Tokomon, Soundbirdmon, Cyberdramon, Spadamon, & Omegamon X Monitamon & Nene Shoutmon x5 Parallel MetalGreymon Parallel DarkKnightmon X & Sparrowmon Parallel Angoramon Parallel Canoweissmon Parallel Thetismon Parallel Lamortmon Parallel Minervamon & Venusmon Parallel BloomLordmon Parallel Sakuyamon: Miko Mode & Alphamon Jesmon X & Gankoomon X Parallel
Booster Set 10 Xros Encounter will be out on May 27th.
We have clean card images from
Starter Decks 12 & 13, Luxury Finished Tamers, plus Battle Pack 11
.
We have the first art & more info for
Booster Set EX-03 Dragon's Roar
And images from previous Digimon Card Game releases:
Starter Decks 1, 2, and 3, and first 10 promo cards
Booster Set 1 New Evolution
Booster Set 2 Ultimate Power
V-Tamer Promo Cards
Purple/Black Promo Set
Tamer Battle Pack 1 and Tamer Battle Winner's Card
Booster Set 3 Union Impact
Starter Decks 4, 5, & 6, plus Tamer Battle Pack 2 & winner's Card 2, & 1st 2 scene vote cards
Booster Set 4 Great Legend, Tamer Battle Pack 3, 3rd Scene Vote, Dark Digimon Promo Pack, & Apparel Cards
Booster Set 5 Battle of Omega, plus Tamer Battle Pack 4, 4th Scene Vote, & Vital Bracelet Pack-In Cards
Starter Decks 7 & 8, plus Delay Promos, Tamers Battle Pack 5, 1st Anniversary Promos, & Pulsemon
Booster Set 6 Double Diamond Cards, the 1st Anniversary Adventure Pack, and more
Booster Set EX-01 Classic Collection, plus Tamer Battle Pack 6 & 7, Tyranomon & dual Zeromaru Promo Cards
Booster Set 7 Next Adventure, Campaign Cards, & Tamers 20th Promo Cards
Starter Decks 9 & 10, plus Tamers Battle Pack 8, Ghost Game Promos, Online Promos, Tamers Evolution Box 1, & Amazon Starter Promos
Booster Set 8 New Hero, Starter Deck 11, plus Tamer Battle Pack 9 & Event Cards
Booster Set 9 X Record, plus Battle Pack 10, Special Promo Pack 2022, Update Pack, & Evolution Box 2