Show User Social Media
Hide User Social Media
Joined

Sep 8, 2006
Messages

12,266
Seemed like a great time for a news index!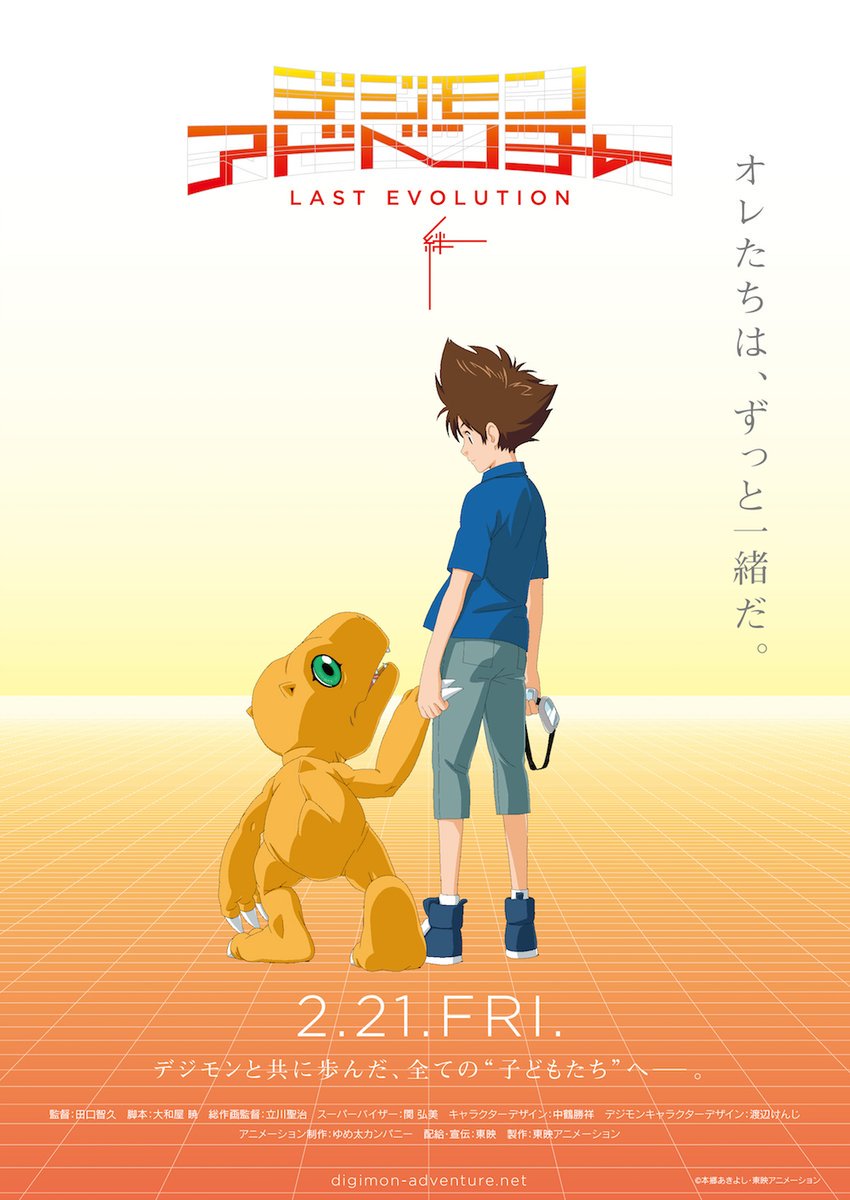 With the combination of a bunch of recent news from Anime Expo about the new movie and various games, plus just general news, there's a decent chance you've missed something.
These are being grouped into sections, and aren't based on 'when' the news came out.
The various Adventure movie related news!
Digimon Adventure Last Evolution Kizuna Anime Expo Panel with Staff Info
- We got quite a bit of info, including confirmation of a US release.
Release date, New Poster & Flashback Key Art, Trailer
- The trailer has been put up, along with a Japanese date, and good looks at the new poster and key art.
Animation Character Designs
- We had the preliminary designs from Katsuyoshi Nakatsuru awhile ago, but these are the finalized character designs for the actual film for all 8 characters and their Digimon's child levels. Some notable changes have been made. There are also translated profiles giving us ideas of what the characters have been up to as they've grown up since tri.
Onto the games!
Cyber Sleuth Complete Edition Announced
- This new release combines the original Cyber Sleuth along with the interquel Hacker's Memory. It will be released on October 18th. We already have a (spoilery) trailer. The game will be $50!
Cyber Sleuth Complete Edition Pre-Orders
- The game for Switch is already up to pre-order. It should be up on Steam soon.
Digimon Survive Delayed
- Survive has been officially delayed until 2020. But at the panel they answered some questions and showed the full animated intro to the game, with voices and subtitles!
Next Digimon Story Game
- At the panel it was reclarified a new Story game was coming that was not a sequel, and that the game would take place in the real and digital world.
Cyber Sleuth Complete Branding and Pre-Order DLC for Japan
- In Japan Cyber Sleuth Complete will have slightly different branding, along with some pre-order DLC. This also includes news of a Korean Appmon game, and a pop-up shop that features the Mochimon plush.
A few photos I took of Toei's booth at Anime Expo,
along with a photo of the model kits on display at Bandai's booth.
Adventure 20th Collaboration at Karatez Karaoke
-Karaoke events have shown up a number of times in recent years.
Pre-Orders for the Figure-Rise Standard Amplified Model Kits
- The WarGreymon and Omegamon model kits are up for pre-orders, and you can skip importing as US pre-orders are already open.
Ultimate Image Omegamon X Figure Teaser
- Pre-orders 'should' open soon for the newest Digimon figure.
Digimon X2 V-Pets Available at Premium Bandai USA
- No intermediary needed!
Digimon X2 Lineup Introduction from MonMon Memo, Plus Character Tease
- Some basic info about the V-Pet lineup, plus some fun teasing.
Digimon X2, Second Japanese Shipment in December
- Pre-orders are going well, but that means a potential delay for some.
More Digimon X2 Profiles, Ogremon X Art and Info
- Ogremon X looks pretty awesome.
Rasenmon: Rage Mode Artwork and Profile
- We have some nice art of him, plus profile info.
DigiFes 2019 Fan Poll
- Every year for awhile they've asked anime fans a few questions about their Digimon favorites. The 2019 ones will be answered at DigiFes once again.
Digimon Seasons 1 thru 4 Gone From Hulu
- We knew this was going to happen, but it was worth mentioning.
Toei Channel Airing the Adventure & Adventure 02 Movies for Anniversary
- To celebrate the anniversary, and upcoming movie, Toei Channel will be showing all the Adventure related films.
Uki Atsuya tri. Artwork on Display at Ukix Temp Art Gallery
- To celebrate Cencoroll Connect there was a Uki Atsuya art show, and his tri. posters were included.
At 8pm (Pacific) tonight there will be a live WtW Podcast special going over all the Anime Expo related news
.