Show User Social Media
Hide User Social Media
Joined

Sep 8, 2006
Messages

12,266
The Kiddy Land chain of stores in Japan will be running a
Digimon promotion
.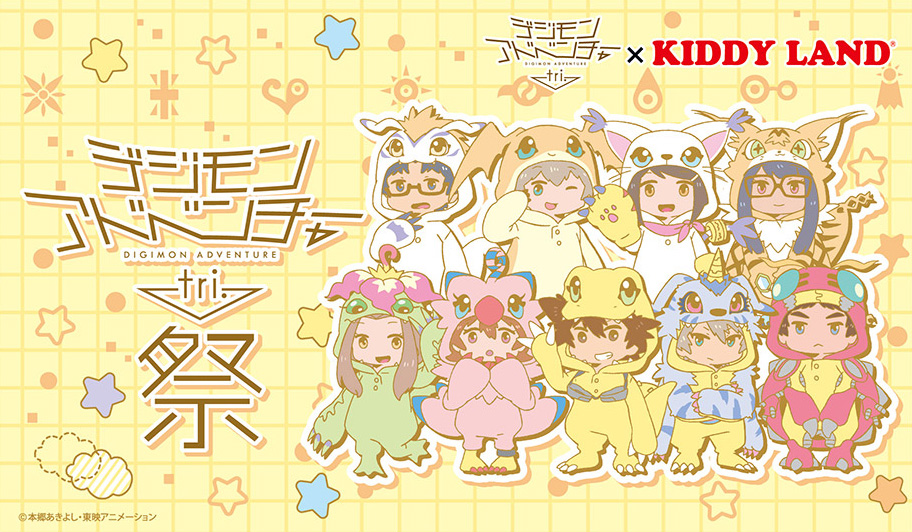 Five different Kiddy Land stores will have a bunch of Digimon merchandise.
They're calling it "Digimon Adventure tri. Festival in Kiddy Land"
The five locations will be: Harajuku, Kichijōji, Kami-Otai, Kobe, and at the Fukuoka Parco.
In big corner sections of the five stores, they'll be setting up what are effectively mini pop-up shops.
The promotion will run February 11th thru the 23rd.
The products are listed as pre-sales, so it appears they will be sold later (whether they will be exclusive to the full chain of Kiddy Land or just general purchase items isn't clear at the moment.)
But first, a bonus for those going to Harajuku!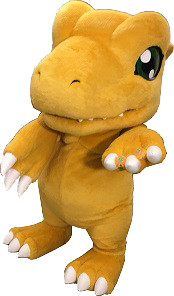 Agumon will show up at the Harajuku location on the 11th to celebrate the beginning of the promotion. He will show up at 1pm and 3pm. If you show up early at 10:30am you can try and be one of 30 (per each appearance) people to get tickets to have a photoshoot with Agumon.
On to the products!
First up, we have products that will only be at the Harajuku Kiddy Land.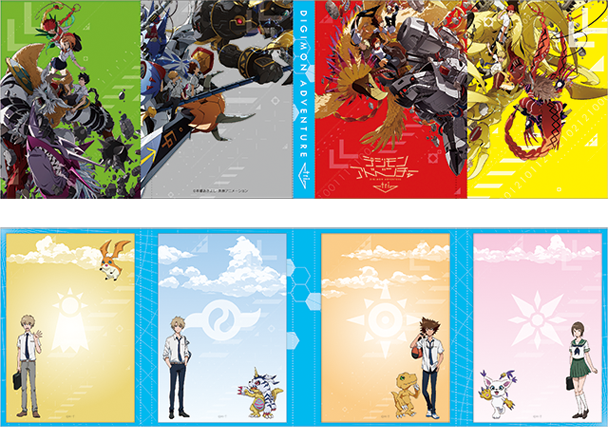 First up is a flip note. This costs 602 yen.
This item folds up into a notebook you carry around. When you want to write something it unfolds to have 4 different types of note paper in it. The tri. theatrical posters are what makes the back and front and the inner folds. The kids and the DIgimon on the pastel backgrounds are the note paper.
Bunker Rings! Each of the 4 designs is 900 yen. If you aren't familiar with a bunker ring, they have a gel pad on the back side that you use to attach to your phone or phone case. The ring portion then becomes a phone stand.
These are Fur Pom Pom Charms. These are 2000 yen each. You get a furry pompom and a small acrylic charm connected to a keyring, with each one themed after one of the 8 Adventure kids.
On to the products that will be available at all 5 shops beginning February 11th.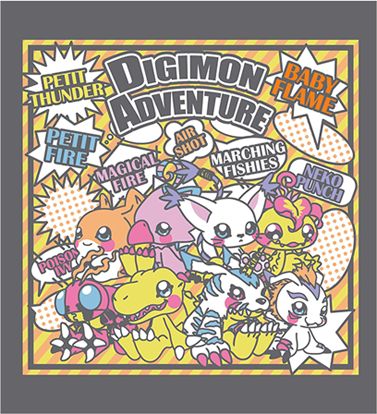 This is a hand towel that they refer to as 'comic themed'. It will cost 600 yen.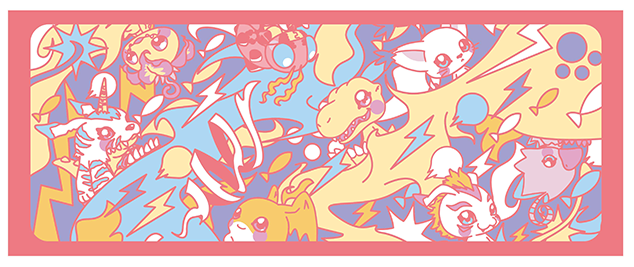 This is a face towel that they call 'camouflage themed' (I suppose because the Digimon sort of are hidden a little bit.) It costs 1,000 yen.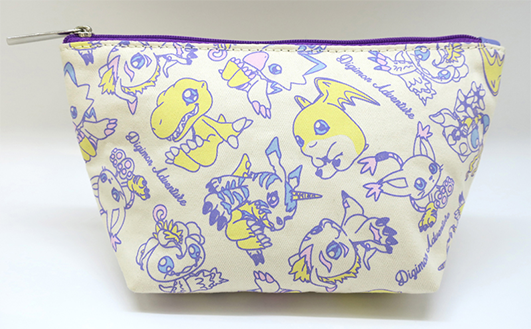 This small zipper pouch costs 1,600 yen.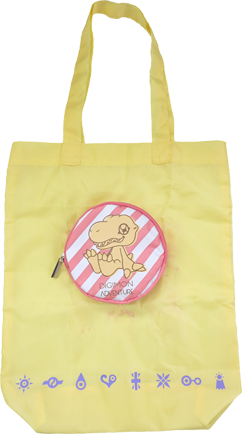 This eco bag is 2,000 yen. This looks like one of the cloth bags many people buy to carry groceries and other purchases in. There also appears to be a small zipper pouch on it where Agumon is.
This clear file features the 9 kids dressed as their Digimon and costs 300 yen.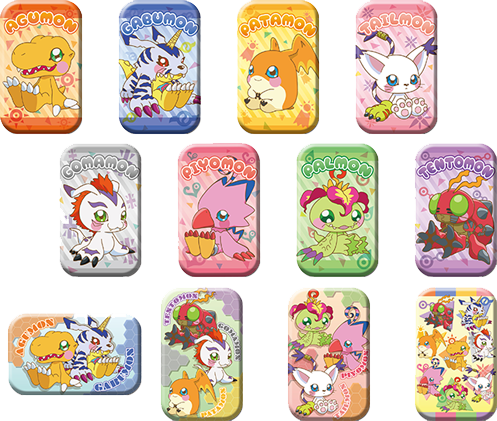 These square badges of the Digimon cost 400 yen each and are randomly packed.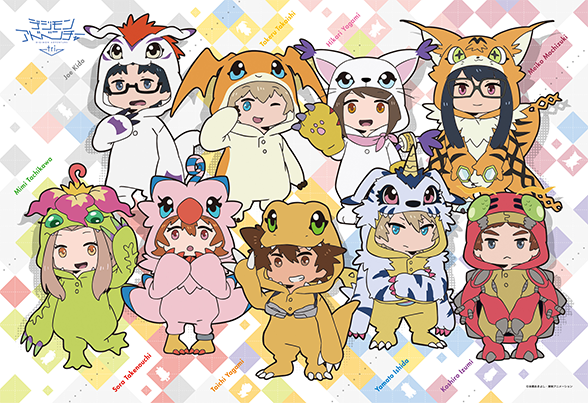 This cute jigsaw puzzle costs 1,600 yen. Update- Garm has confirmed it is indeed 300 pieces.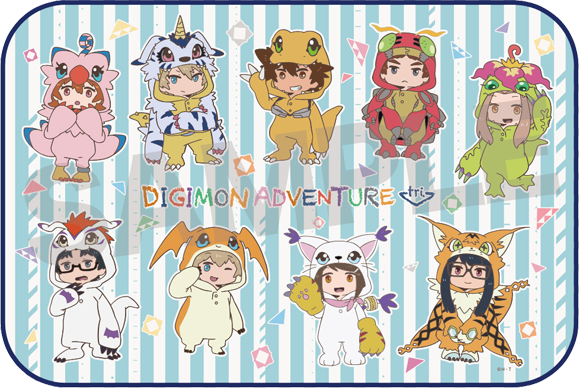 This mini blanket costs 4,500 yen.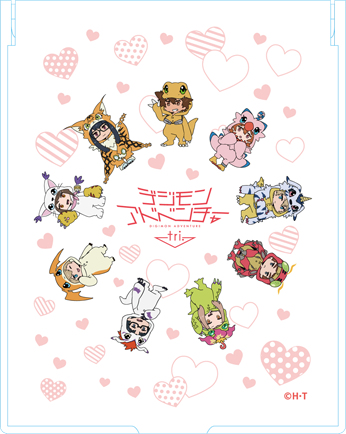 This is a pocket mirror that costs a reasonable 1,000 yen.
A nice looking leather memo book for 650 yen. You flip it open and inside it has small pieces of paper to put small notes on (not sure if it's plain paper or more like post-it notes.)
Die Cut stickers! These will be 350 yen each. They don't mention the material, but die cut stickers are normally made out of relatively nice vinyl.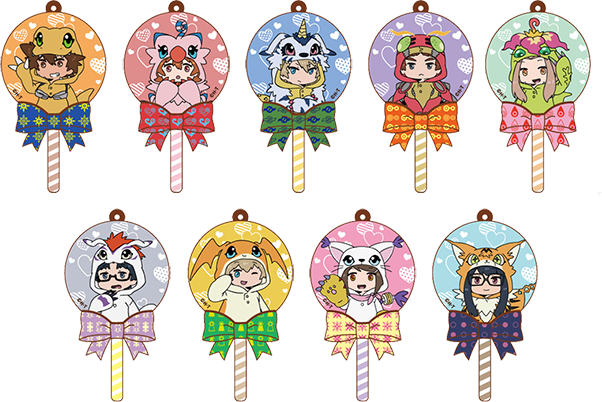 Chocolate rubber straps for 650 yen each. Not 100% sure why they are called that (it appears the main body may be made of a brown rubber material, which may explain the name.) Update- Garm believes they are called that due to their resemblance to candy.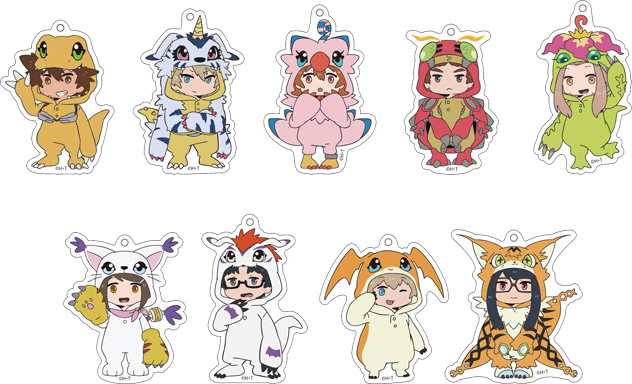 These are acrylic keyholders that will be sold for 800 yen each. (Small note, the product listings had swapped the image for the stickers and the keyholders. We have switched the images to the correct products. You can tell because the keyholders have little holes on them to... hold keys.)
Very basic but nice looking acrylic rings. These are each 1,000 yen.
After the square (well.. rectangle) can badges up above, we have the normal round ones! These will be 400 yen each and will be packed randomly.
These next items will be made available on February 18th at all 5 stores.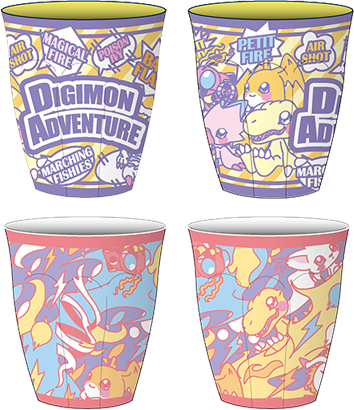 These two melamine (a plastic resin) cups will be available in the comic and camouflage themes we saw in the towels earlier. Each cup is 600 yen.
The last product for sale will be this t-shirt. It costs 3,500 yen and will only come in 'free size' (a generic 'one size fits most' type term.)
And a bonus item for people purchasing items...
If you purchase 1,000 yen or more you get a coaster. They specifically mention you don't get to choose the design, but it isn't clear if you get multiple coasters if you spend more (for example, if you spend 5,000 yen do you get 5 of them?)
Thanks to garm for a few updates on a few items.
A nice selection of items. The timing is setup perfectly so that right after this promotion ends, the pop-up shop opens.
Update- Won't be posting for any/every item that appears elsewhere, but but the Toei Shop has added pre-orders for the
square/rectangle can badges
. A box of 12 from Toei will cost 5,184 yen (they include tax in their listing.) Their listing mentions that they don't guarantee you will get all 12 designs. Pre-orders will close on February 23rd and they will be shipped late in February (likely after the Kiddy Land tri. corner shops close up.)
Other
items
are
also being updated at the moment
at the Toei store. Updated were being done as I was typing the initial portion of the update, so keep checking if there was a specific item you hoped to get.
Update- Looks like an intermediary may not be necessary as once they are gone from Kiddy Land these will be treated as mass market items.
HLJ and other retailers have begun to list them
.
Thanks to flintlock for this newest detail.
You'll want to contact an intermediary to get these items sent to you. WtW is not affiliated with any, but here are a selection of intermediaries that have worked well for various WtWers and their friends in the past:
From Japan
Rider Proxy
Nippon-Yasan
Japan Hero
Be aware many intermediaries do not carry items from pop-up shops since they can't be ordered online. You will need to ask them and explain what you want very carefully (perhaps with a photo.) Some intermediaries will potentially still not be willing to get the item.
Some of the intermediaries have a full store front and may have the item listed, so you may want to check that first.
If the item is available at the Toei Store for pre-order, provide the intermediary with the item link and they should be able to help you relatively easily.
They will likely need a link to information about the promotion, which can be found
here
.