Show User Social Media
Hide User Social Media
Joined

Sep 8, 2006
Messages

12,016
Time for another tri. Part 6 trailer!
If the embed doesn't work
here is a link
.
This is the second full/long trailer for tri. Part 6, and the third trailer we've seen overall.
This one has a few potential spoilers, including our first look at a Digimon who will no doubt prove to be very popular!
Update- A translation of the dialogue in the trailer thanks to shin!
Agumon: Taichi, remember-- We got to meet each other again.
Hackmon: This is the only option left for humanity.
Koushiro: It's not an evolution... What... is this…?
Hackmon: Your suffering too shall meet its end before long.
Takeru: The Digimon everywhere are---!!
Yamato: Yggdrasill… Homeostasis... no matter which [of their plans] go forward as planned, the Worlds won't be saved…
Koushiro: I'm not giving up. I'll continue searching for other ways right to the end!
Sora: If Taichi were here... I wonder what he'd say...
Tailmon: Meicoomon is suffering the most out of any of us
Agumon: Let's join forces for Tailmon and Meicoomon's sake!
Daigo: Never give up... Go make your future!!
Hikari: All of the light is within Meicoomon…
Meiko: Don't go!!
Yamato: We're not Chosen Children anymore. We have no choice but to choose. No matter how painful [it'll be], our future...
Hackmon: This is the power of the Chosen…!
Agumon: Taichi!
Taichi: We're going to end this. Let's go!
Agumon: GO---!!!!
I really like the trailer, it feels very balanced and works well. Most likely with the release of this trailer we are about to enter the deluge, that period before a new part of tri. comes out where news just gets thrown at us.
No doubt a bunch of fun stuff will show up soon...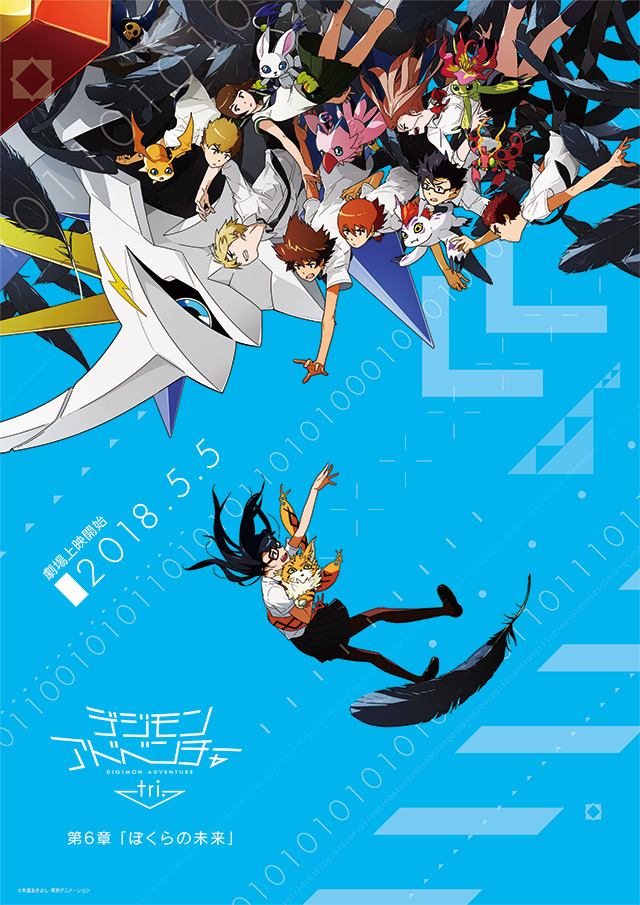 Digimon Adventure tri. Part 6 Our Future comes out on May 5th in Japan. Toei has released a list of theaters that will be screening it:
Sapporo Cinema Frontier in Hokkaido
Movix Sendai in Miyagi
Shinjuk Wald 9 in Tokyo
Shibuya Toei in Tokyo
Toho Cinemas Ueno in Tokyo
T-Joy Prince Shinagawa in Tokyo
Yokohama Burk 13 in Kanagawa
Movix Saitama in Saitama
T-Joy Soga in Chiba
Cinecity Saute in Shizuoka
Toho Cinemas Hamamatsu in Shizuoka
109 Cinemas Nagoya in Aichi
Umeda Buru 7 in Osaka
T-Joy Kyoto in Kyoto
Hiroshima Wald 11 in Hiroshima
T-Joy Hakata in Fukuoka
Kagoshima Mitte 10 in Kagoshima
May 5th is Children's Day in Japan, and the end of the Golden Week holiday period, which generally is a big period for movies in Japan. It appears tri. Part 6 will not only begin it's run on a holiday, but in more theaters than it's had previously. Part 6 is in 17 theaters, previously Part 5 has the most with 16.
It will also be
in US theaters dubbed in English
on September 20th and tickets are available now.
Spoiler tags aren't needed to discuss anything that shows up in the trailer.
The first trailer can be found
here
.
The first longer trailer can be found
here
.
The ED is Butter-Fly sung by the cast
, Ayumi Miyazaki, AiM, and Wada Kouji. Pre-Orders are available at CDJapan (affiliate links.)
tri. Part 6 ED CD (Normal)
tri. Part 6 ED CD (First Print Limited Edition)
The Blu-ray and DVD for tri. Part 6
is currently available to pre-order. (Normal versions are affiliate links)
Digimon Adventure tri. Part 6 Blu-ray
Digimon Adventure tri. Part 6 Blu-ray (Amazon Version)
Digimon Adventure tri. Part 6 DVD
Digimon Adventure tri. Part 6 DVD (Amazon Version)