Show User Social Media
Hide User Social Media
Joined

Sep 8, 2006
Messages

15,594
More ReArise updates!
First, a new trailer!
The newest trailer shows a bunch of different gameplay elements, along with narration explaining them.
A lot of these have been explained to various degrees in recent V-Jumps, but this is the first time we've seen footage for a number of these.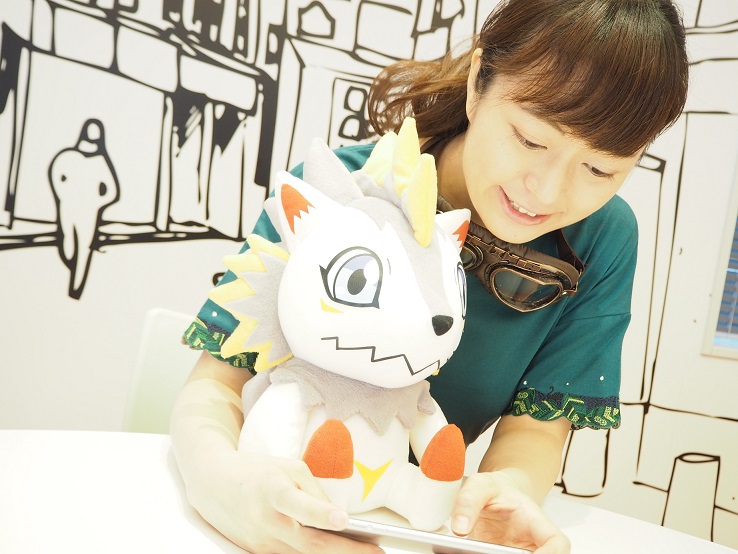 Then we have a small bit of the story of the game...
This is a story where your Digimon will ReArise…

Pusurimon has settled inside your smartphone, unnoticed.

As the two of you chat casually through your smartphone, little by little you grow closer.

One day as the calm days passed by, you were attacked by an enemy "Spiral" that suddenly appeared.

Its mind focused on wanting to rescue you, Pusurimon "ReArises" from your smartphone.

It then evolves to Erismon to fight together with you!

From here, your new adventure with the Digimon is about to begin...
We've had the story bit for awhile, but we didn't have a proper translation until now.
On top of that, a new Digirise Communication is out. The new one is
Volume 4- Characters Part 2
. Part 1 was more teasing than giving us actual character details as I recall...
The new one gives us a bunch of information on the characters though!
The article was once again a conversation between 'Producer P' and 'C'. Garm has cleaned it up to just the character details to make it easier to read for everyone.
Takumi and Dorumon
Takumi is cold towards the player, because of something that happened in the past... As the story progresses you get more involved with the Digimon and other tamers. You may be able to change Takumi's way of thinking eventually?
Dorumon is a loyal Digimon who will do anything for Takumi. It does its best to control its behavior when with Takumi, but its still a playful child level at heart. It has some cute lines when interacting with the other Digimon.
Takumi and Dorumon's teamwork is flawless, and their battle prowess is a cut above the other tamer-partner pairs.
Michi and Plotmon
Michi has a naive and pure personality, and is already in high gear from her debut scene. You feel energetic just looking at her go.
Plotmon has a very positive personality. Michi and Plotmon's conversations play out like chitchat between two close friends, kind of like between high school girls.
The pair set the mood for the team.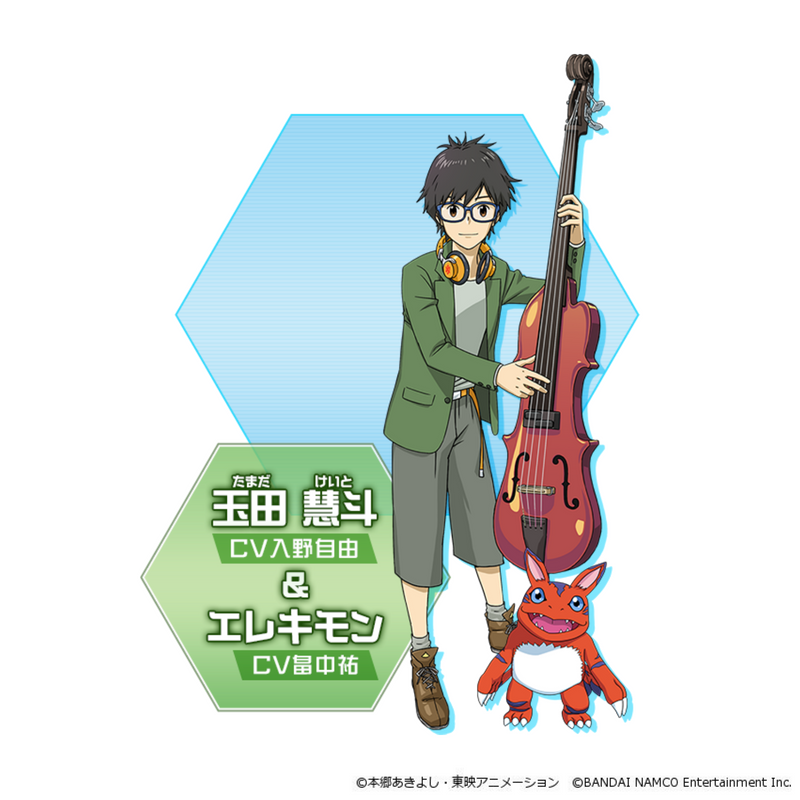 Keito and Elecmon
Unlike Michi and Plotmon, a pair with similiar personalities, Keito and Elecmon are a pair with completely different personalities.
Keito is shy and serious, preferring to maintain the status quo.
There's a scene in the game's story where you get to see Elecmon first being rearised, as well as Keito's reaction.
Elecmon is super energetic and almost like the personification of mischief and has a bit of a spoiled side.
Elecmon looks up to Keito (in a different way from Dorumon), saying things like "Keito, you're so awesome!"
Mayu is a kind, considerate, feminine girl, and is an iyashikei character (iyashikei roughly means 'healing', it'd most easily be associated with a calm slice of life show that makes you feel better and soothes you.) She has a calm, somewhat floaty demeanor.
She attends vocation school where she is training to become a patissière. She has a family-oriented side to her that is very strong, which boys admire.
Kudamon is always protecting Mayu, trying to make sure that she doesn't come into contact with bad influences, and gives Mayu advice when she feels lost.
Regarding Chihiro and the other girl in the opening, they say to let your imagination run wild with them for now. We'll learn more about them gradually after this. They may have plans for them in the future based on user input.
Some great character details and more ReArise to come soon no doubt...
ReArise doesn't currently have an official release date outside of 'summer', but July 29th has been listed as a standby date in app stores.
Update- Two more things....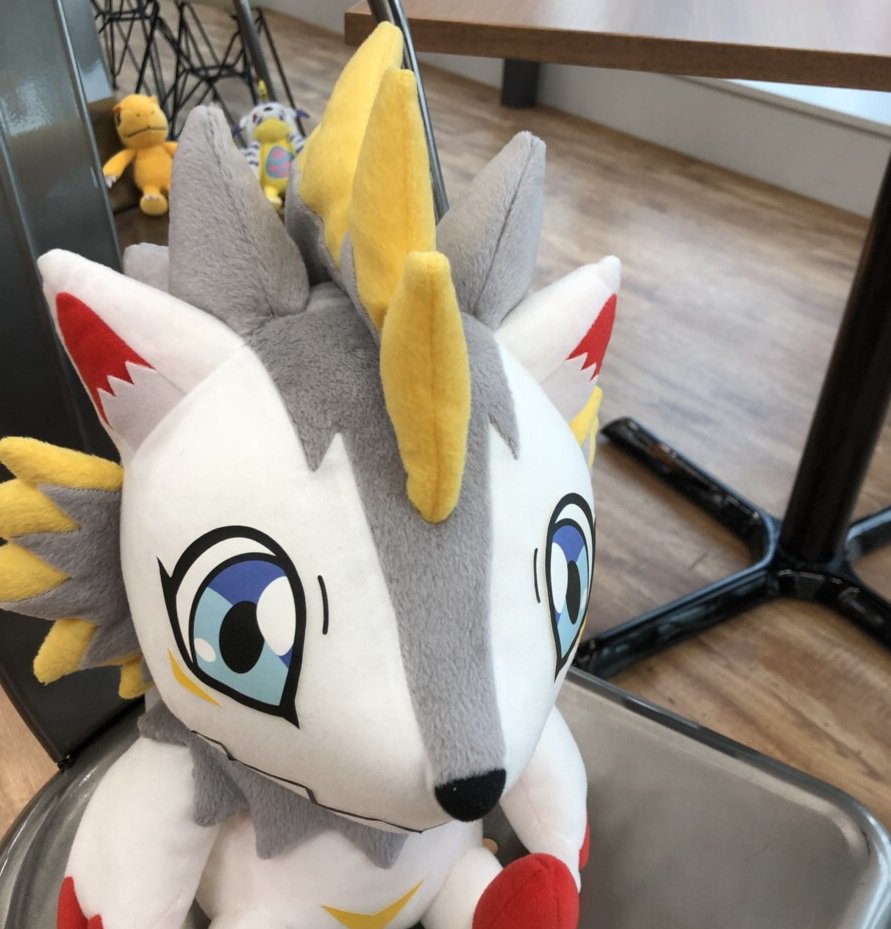 Plus another photo of the Erismon plush!
Both of the newest bits are related. The votes have been tallied up and we know who
the winner of the recent vote
was... plus Producer P confirmed that they have already hit 250,000 pre-registrations, so the character who won will be given to everyone.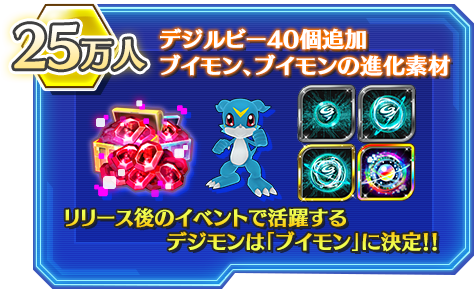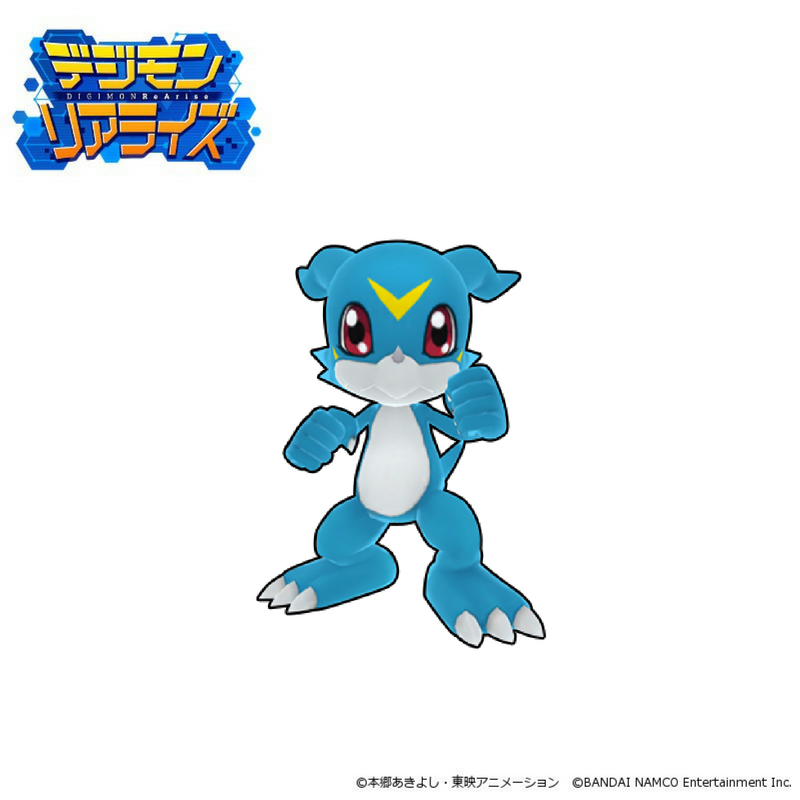 The winner of the fan vote is V-mon!
This was the fifth tier of pre-registration prizes offered, and they've added an 'and more' message to the tier list on
the official website
.
Thanks to shin and garm for the translations.
Update- Added the new trailer.