Show User Social Media
Hide User Social Media
Joined

Sep 8, 2006
Messages

12,881
Some Kizuna news!
We get character updates
for Digimon Adventure: Last Evolution Kizuna today! Both of these characters are brand new, and we get character details plus cast info for both of them!
It has been decided that Mayu Matsuoka and Daisuke Ono will be participating in "Digimon Adventure LAST EVOLUTION Kizuna" (In theaters Feb 21, 2020) as guest voice actors!
Mayu Matsuoka had great presence acting in such popular movies as "Shoplifters," "Honeybees & Distant Thunder," "One Night," etc. The part that she will be playing in Kizuna is an original movie character, a scientist who researches Digimon at a university in NYC, Menoa Bellucci. Matsuoka loves "Digimon" dearly and talked about how she screamed with happiness upon getting the offer. She even said in a heartfelt comment to us that "Digimon" has taught her about "kindness," "strength," and "pain," and that it is "a series that made [her] the person that [she is]."
The other guest voice actor is Daisuke Ono, who will be playing as Kyotaro Imura, Menoa's assistant. He has voiced such roles as Jotaro Kujo in "Jojo's Bizarre Adventure" and Erwin Smith in "Attack of Titan." Ono has commented to us that he is "deeply moved to be able to participate in a long-loved series with such a long history."
Menoa and Imura will appear before Taichi and the others while in pursuit of a certain incident that breaks out around the Chosen Children. As they pursue the incident together, they reveal "the secret of the relationship between Chosen Child and their Digimon." What could that be...? Look forward to seeing how these two get involved in the story!
For anime fans Matsuoko would likely best be known as the young version of Shoya Ishida from A Silent Voice.
Ono Daisuke's credits in anime are far to wide to properly list, but a short selection: Itsuki Koizumi in Haruhi, Jotaro Kujo in Jojo's Bizarre Adventure, and Erwin on Attack on Titan.
A few additional press images of Matsuoka that were included.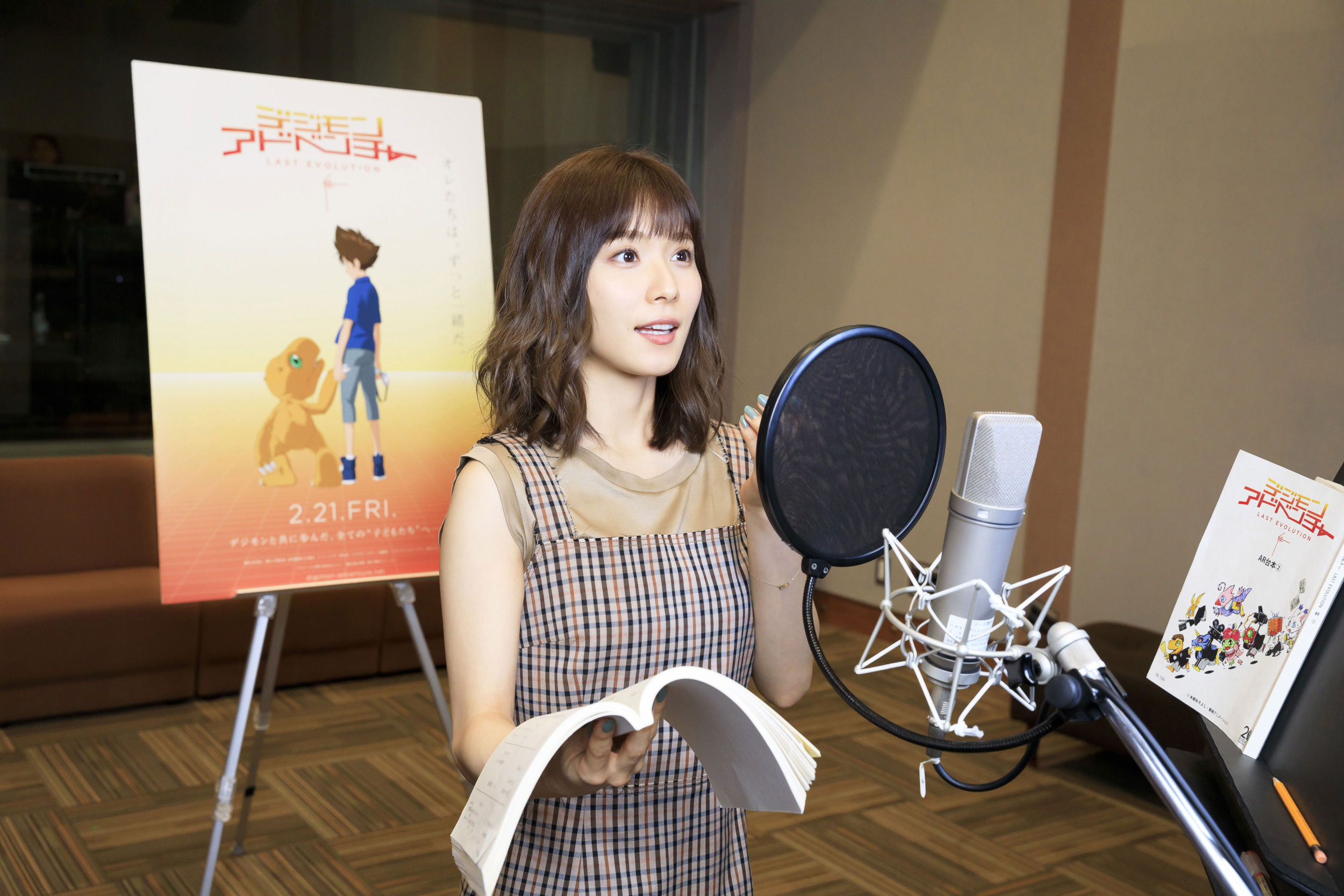 Thanks to onkei for translations!
VA comments will be translated fully a bit later, but here are a few bits for now...
Update- Translated Cast and Staff comments below. Various bits above have been tweaked with updated translations, including the spelling of 'Kyotaro' that Toei is using
on the English website
.

Also, cleaner versions of the character art.
CAST COMMENTS
Mayu Matsuoka (Voice of Menoa Bellucci)
I loved Digimon since I was a young child, so when I heard that I had a part in it, I screamed for joy. I had a crush on Yamato-kun, and wished to grow up to be like Sora-chan... I'd rewatch my video tapes over and over again until they were worn. This series has taught me "kindness," "strength," and "pain." This series has made me into the person that I am now.
My character Menoa is a lively, pleasant woman who's an efficient worker, but also a woman who carries various emotions within her, such as the conflict of growing out of childhood into adulthood. While I was immensely grateful to play a part in it, my discussions with Director Taguchi helped me to pull off a performance that I felt was satisfactory.
This movie is being produced by many people who come from the "Digimon Adventure" generation, including the director. Therefore, there are many components that will make people who had watched the TV series every week as a child, like me, think "Now this is what I wanted to see from Digimon!" I wish for many people to watch it and feel nostalgia, happiness, sadness, and weep with emotion. Most of all, I believe that from this movie they will feel the "bond" that exists between everyone and the Digimon.
Daisuke Ono (Voice of Kyotaro Imura)
Congratulations on 20 years. I am deeply moved to be able to participate in a long-loved series with such a long history. The main characters in Digimon are the children. The bonds between the children and their Digimon were so promising that, as the adult watching over them, watching the light from it was blinding.
DIRECTOR & PRODUCER COMMENTS
Director Tomohisa Taguchi
I had given Matsuoka-san various notes on her character such as "she's a character who is a mirror image to the protagonists Taichi and co" but I think those explanations were meaningless. This is because, when recording began, I felt the presence of Menoa from within Matsuoka-san almost immediately. Menoa was created specifically for this movie, so the production committee worked out a detailed background story, gave her a design, and neatly arranged the "outer shell". However, her "silhouette" felt as transparent as clouds, and I felt that there was something missing, making her easily swept away. When Matsuoka-san finished recording, that transparent silhouette had taken firm shape, and I felt the flame of life shining brightly for the character Menoa. Matsuoka-san, thank you for breathing life into Menoa.
Producer Yousuke Kinoshita
For Menoa, it was necessary to have an actor who had both realism and could powerfully persuade the protagonists' hearts into action. And, what I felt most important of all, that it was someone who "loved Digimon." Mayu Matsuoka-san fulfilled all of those requirements. Before giving her the offer, I had no idea whether she loved Digimon or not, and since she is a much sought after person for various other works, normally I would have felt worried to invite such a person onto the cast. But strangely enough, I felt confident that she was the right choice. When I received her ready consent and her message that she "had been raised by Digimon," my confidence that she would make a great Menoa grew even deeper. The post-recording was held within a limited time frame, but her powers of concentration while in the booth were simply stunning! It was because Matsuoka-san was a "child" much like all of the fans, that I felt the existence of Menoa right there.