Show User Social Media
Hide User Social Media
Joined

Sep 8, 2006
Messages

16,666
It's not a weekend batch of stuff! So much stuff has shown up by midweek it seemed like a good idea to do one of these early.
A good number of these will likely also be included with the post on the weekend.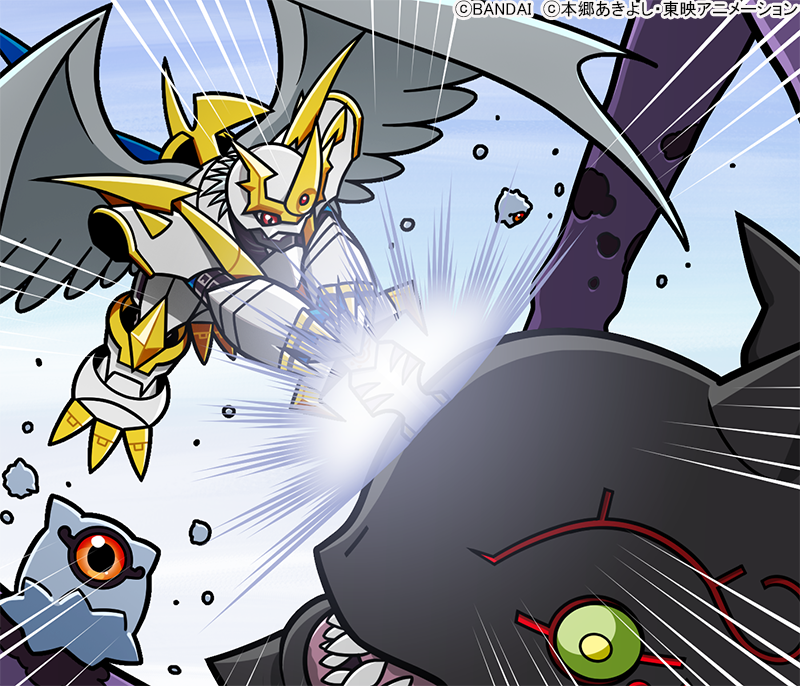 Yesterday in Japan (still in the US) was the 20th anniversary
of Digimon Adventure 02: Revenge of Diablomon, so
Digimon Web put up new social art
and a message of celebration:
20 years ago today, March 3rd, 2001

Digimon Adventure 02: Revenge of Diablomon was released

Diablomon, who was thought to have been defeated in "Our War Game!", sets aim at Taichi & Yamato

This is one movie that won't fade away even after 20 years.

Congratulations!㊗
And it wasn't the only anniversary Digimon Web celebrated...
March 3rd is also the 10th anniversary of Digimon Super Xros Wars Red and Blue.
Digimon Web put up a photo of them
still new in the packaging along with a message:
Released on March 3rd, 2011

Digimon Story: Super Xros Wars Red/Blue

Exactly 10 years ago, it was the fourth game in the Digimon Story series.

So nostalgic!
And then we have Blu-ray updates from social media...
​
The Digimon Adventure 1999-2001 Blu-ray Box is out in just a couple days, so
the Digimon Adventure 20th Twitter put up a few photos
of the final release version of the box, showing off the art from both sides.
They haven't even yet taken off the plastic protector it comes in...
Although someone else did...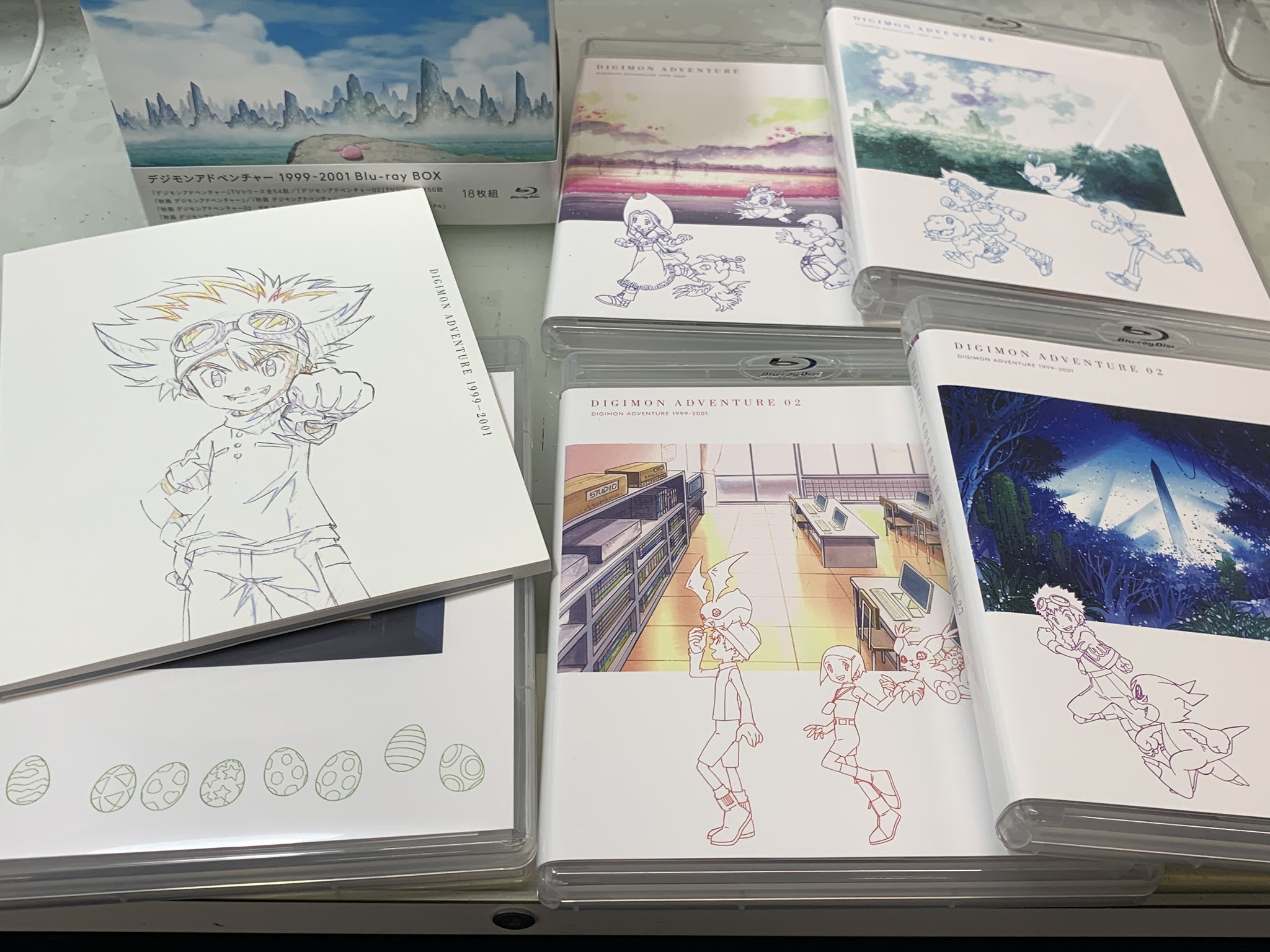 Director Kakudou was sent a copy of the box
and opened his up to start to go through it, giving us our first look at the inside of the box outside of press renders.
The box will be released on March 6th, 2021 (the day before the 22nd Anniversary of Digimon Adventure beginning.)
The price is given as an 'affordable price' for an anime Blu-ray box of this size (but still not cheap), 39,800 yen. This is under the cost of the standalone Blu-ray series boxes that Adventure, 02, Tamers, and Frontier each had (and also cheaper than the standalone DVD boxes the shows had gotten prior to Blu-rays.)
Pre-orders are currently open at CDJapan.
(affiliate link)
More info on the box can be found
here
.
And then going on to the Digimon Web website...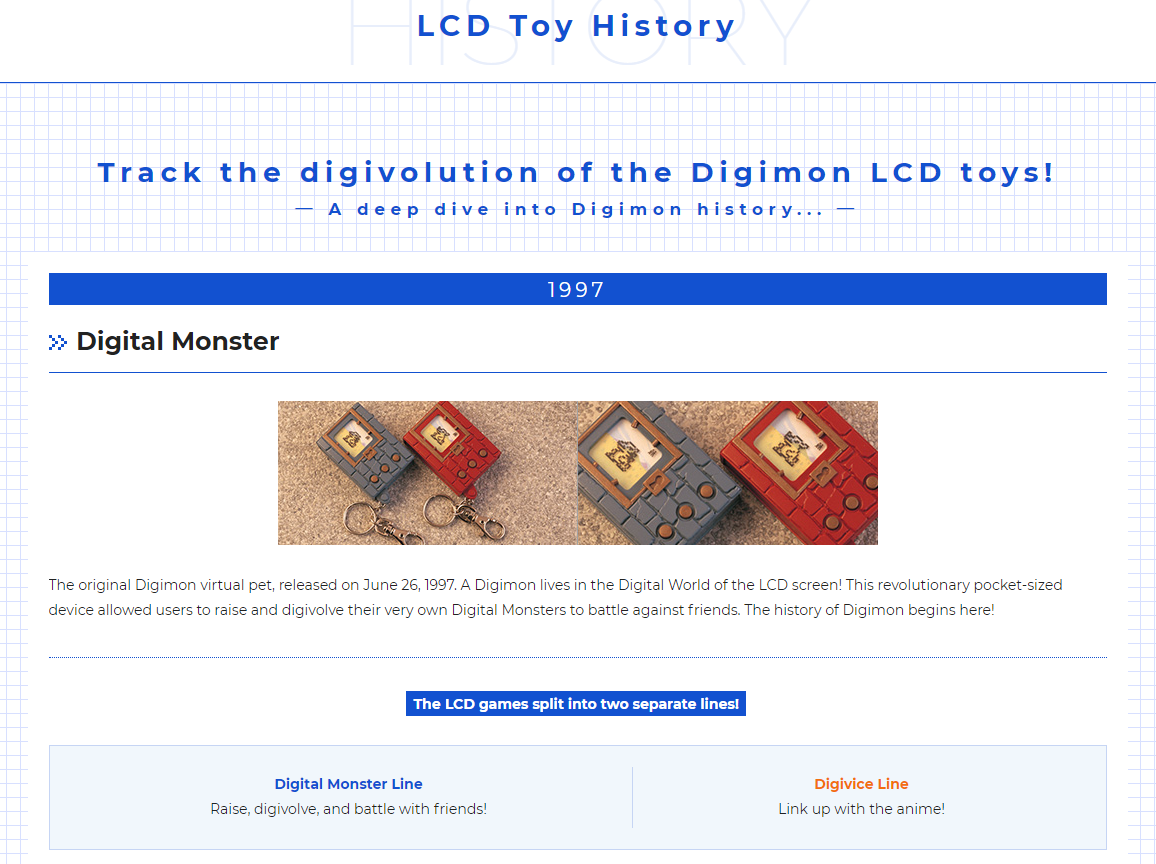 The 'History of LCD Toys' page
has gotten an updated English translation. Various bits of the translation have been cleaned up to not be 'quite' so machine translated. The page goes over most of the history of V-Pet and Digivice LCD toys from the franchise.
And then we have the Vital Bracelet!
A Vital Bracelet ad!
This vintage style advertisement is actually a remake of one of the better known Digimon V-Pet ads. It was the original ad for the Pendulum. The ad was pitched, along with others, and was chosen by Volcano Ota as one that would certainly make an impression.
And here we are over 20 years later getting a remake of it based on how memorable it was.
And of course, we're under 2 weeks from the release of the Vital Bracelet...
And as we previously found out, on March 12th, the day before the Vital Bracelet is out, we get a full DigiNavi!
This DigiNavi (the 5th) is subtitled the "Vital Bracelet 'Just Before Release' Special".
It will feature various Vital Bracelet details including battle information, showing off animations, and also show the the 2nd Vital Bracelet promo short.
It will be hosted by Yuki Iwai (a comedian, actor, writer, radio host, and manga/anime fan), who hosts Digimon Card Battle.
Chiaki Matsuzawa, host of various Digimon events including some DigiFes and DigiNavi events, and also cameoed in tri. will also be there to introduce content.
Also shown off in the new promo image is comedian duo Cocolo, well known to Digimon fans from Digimon Card Battle and various other Digimon streams (including a few different prior DigiNavis) and Sekido, from the development of the Vital Bracelet, among a few others (including the promotional Herissmon that we haven't seen in awhile.)
Announced locations for the stream are: (many of these link to general accounts, not standby pages for the stream.)
Bandai Youtube
Bandai Line
Digimon Web on Twitter via Periscope
Niconico
The Diginavi page
on Digimon Web has been updated to act as a standby page for DigiNavi 5.
And last up...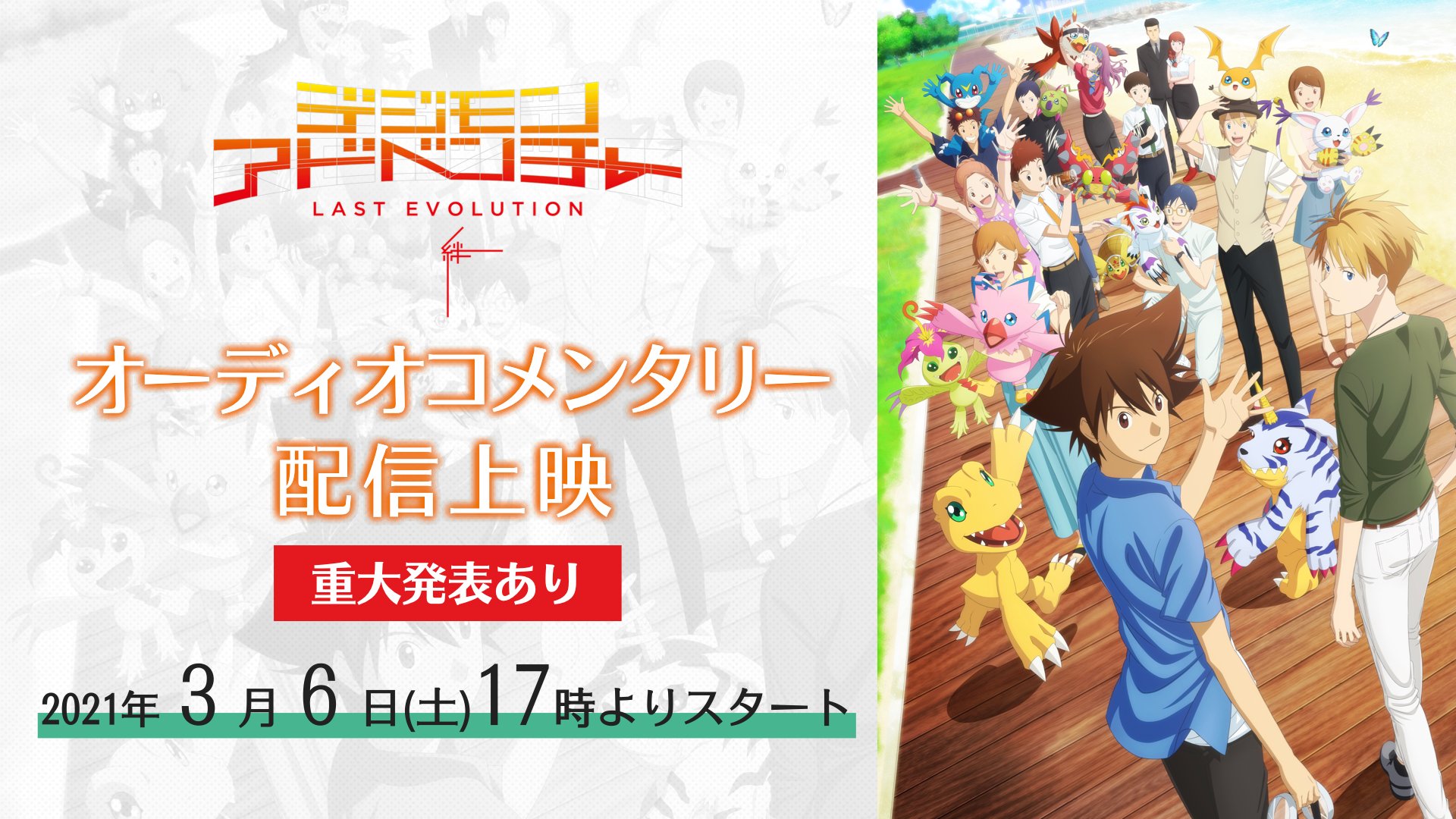 We're a couple days away from the Digimon Adventure: Last Evolution Kizuna commentary stream!
The stream will be on Youtube
March 6th at 5pm (Japan time.) This ends up being March 6th at Midnight Pacific time.
This converter can help you find your time
.
March 6th is also the anniversary of the release of the first Digimon Adventure movie, and the day before Digimon Adventure began on television in Japan.
The stream will consist of two parts...
Part 1 will be the movie with a new audio commentary, which they announce as...
The commentary is described as the following people streaming live while giving the inside story on the movie:
Director Tomohisa Taguchi
Digimon Designer Kenji Watanabe
Supervisor Hiromi Seki
Producer Yosuke Kinoshita
They say the commentary portion of the stream will not be archived online, so come and watch it.
Part 2, after the movie, is described slightly differently on Twitter and Youtube..
"There will be a big announcement after the main story."
"There will be an important announcement after the delivery ends."
So a commentary and news of some sort.
It still isn't clear if the stream will be geolocked or not. Hopefully despite they stream not being archived online, it's recorded properly for use on a future re-release of the film.
A nice big batch of stuff despite the week only being half over...