Show User Social Media
Hide User Social Media
Joined

Sep 8, 2006
Messages

16,108
More Pop-Up Shop stuff!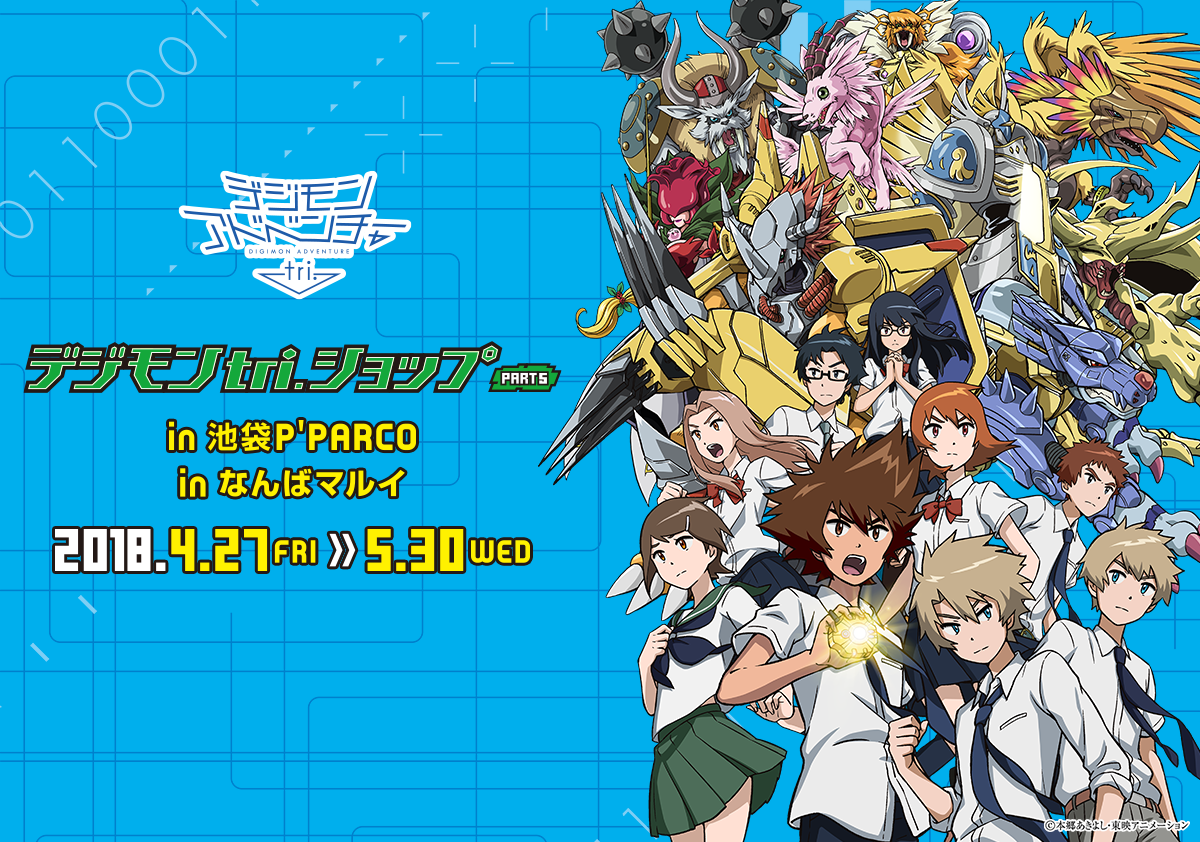 We recently found out about the fifth Digimon Adventure tri. Pop-Up Shop, along with the items being sold there.
This newest pop-up shop will be at the Limited Base at the
Ikebukuro P'Parco
and at the new Limited Base shop in the
Namba Marui in Osaka
.
It will take place at both shops between April 27th and May 30th.
And now we have some more details, including new products! The initially announced products can be found
here
.
All of these products will show up after the shops initially open and are not exclusive items. Most of them are also listed as items appearing at the
tri. Limited Time Shop at Shinjuku Marui Annex
.
All but one of these items will be available beginning May 2nd.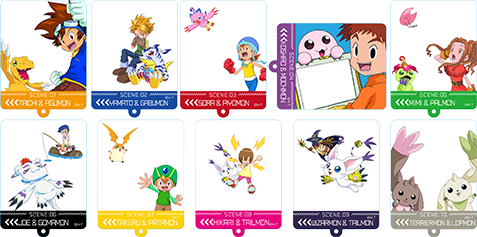 Acrylic frames. Each of these features 2 popular characters in a mini scene. There are 10 available. 600 yen each.
This item is listed as series/volume 1.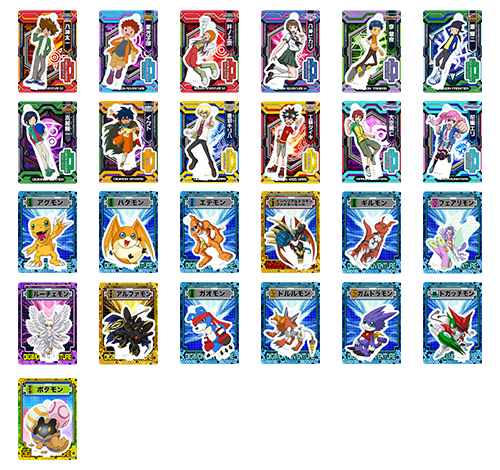 The third series of Acrylic cards featuring characters from throughout the franchise. Each is 600 yen.

A tri. evolution themed towel. It features the full evolution lines of Agumon and Gabumon up to Agumon. Despite being listed as a tri. product most of the art appears to be from Adventure. 1,100 yen.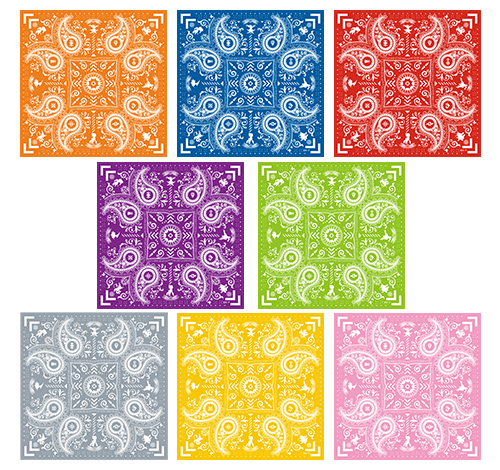 8 Crest themed bandanas. 1,000 yen each.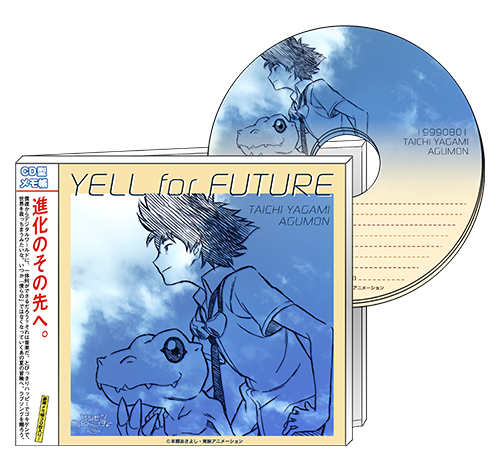 A Taichi CD-style memo page. 800 yen.
PVC pass cases. Available in both a crest design and a daruma doll design. 926 yen each.
The daruma doll design artwork shows up on a number of other products.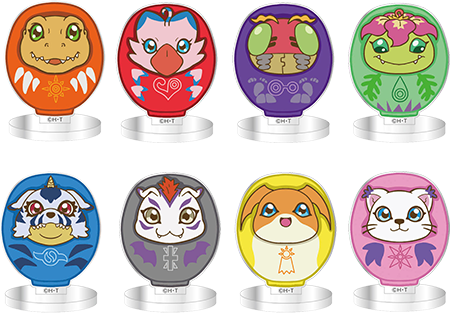 Mini acrylic stands. Each is 556 yen.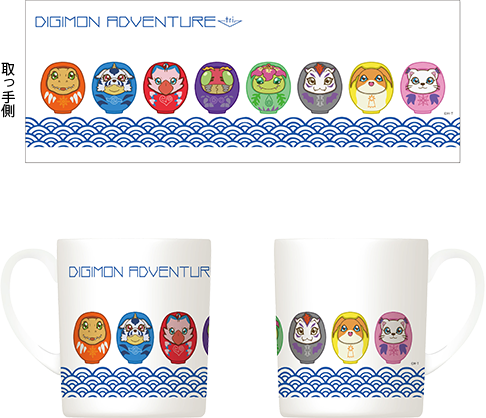 A mug that features not only the daruma dolls, but also the straight/flat version of the English tri. logo. 1,667 yen.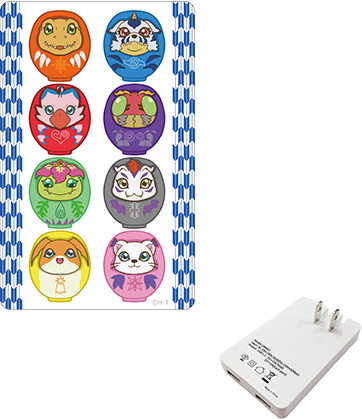 A USB AC adapter with 2 USB plugs. 1,111 yen.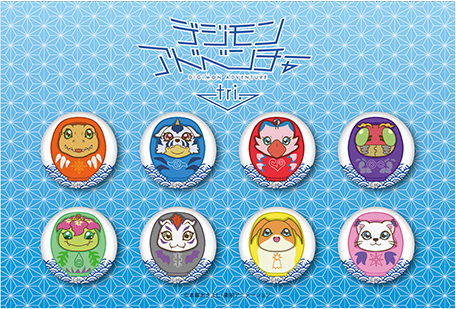 A set of mini can badges. 1,111 yen.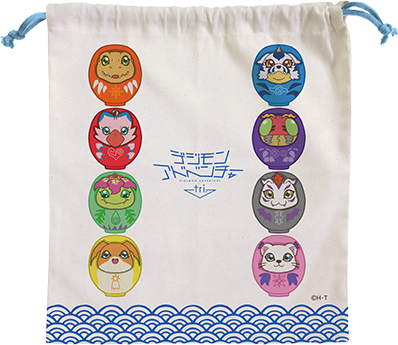 A drawstring pouch. 926 yen.
The following item is listed as being available beginning May 4th.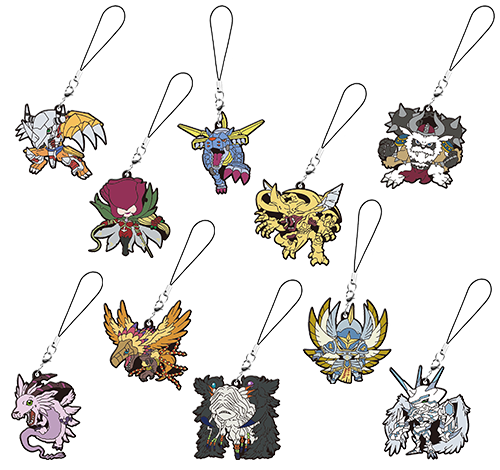 The Digimon Adventure tri. Ultimate Level Complete Edition Rubber Straps! These will be available via in store gashapon machines for 300 yen per capsule. These will be available at the pop-up shops before they are available elsewhere.
The following item is only currently listed at the Namba Marui in Osaka shop, available beginning May 2nd.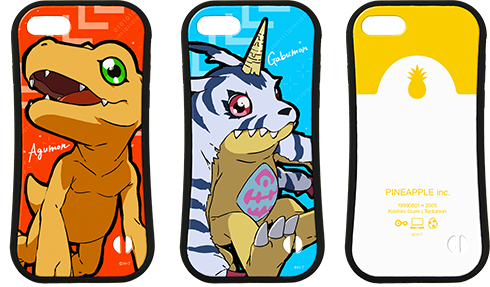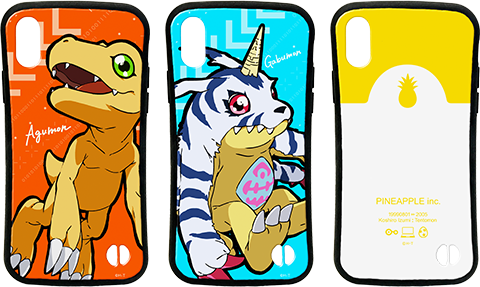 iPhone cases with 3 themes: Agumon, Gabumon, and Koushiro. The cases will be available for the iPhone 7, 8, and X. The 7/8 case will fit both, the X has a seperate case. 3,200 yen each.
The Namba Marui in Osaka shop will also have a promotion with Epos that appears to match the one
at the limited time shop
for those that use an Epos brand credit card.
For every receipt that has purchases at the shop of at least 3,000 yen, they get an entry into a lottery. Those who sign up for an Epos Card on the spot will get two additional entries.
The prizes for the lottery. Each entry is guaranteed a prize:
A Prize- A poster signed by Natsuki Hanae and Chika Sakamoto (Taichi and Agumon.)
B Prize- A complete set of 8 original postcards.
C Prize- 1 random postcard from the set of 8.
There will be limited stock of each prize.
You'll want to contact an intermediary to get these items sent to you. WtW is not affiliated with any, but here are a selection of intermediaries that have worked well for various WtWers and their friends in the past:
From Japan
Rider Proxy
Nippon-Yasan
Be aware many intermediaries do not carry items from specialty shops since they can't be ordered online. You will need to ask them and explain what you want very carefully (perhaps with a photo.) Some intermediaries will potentially still not be willing to get the item (or may only be willing to at great cost.) Realistically to get anything from the pop-up shop at a reasonable cost you'll have to find someone who is actually going and ask them to pick you up something.
Some of the intermediaries have a full store front and may have the item listed, so you may want to check that first.