Show User Social Media
Hide User Social Media
Joined

Sep 8, 2006
Messages

15,581
More Previews of Battle Spirits art from Our Digimon Adventure & Chosen Children Sets
Time for more Battle Spirits previews!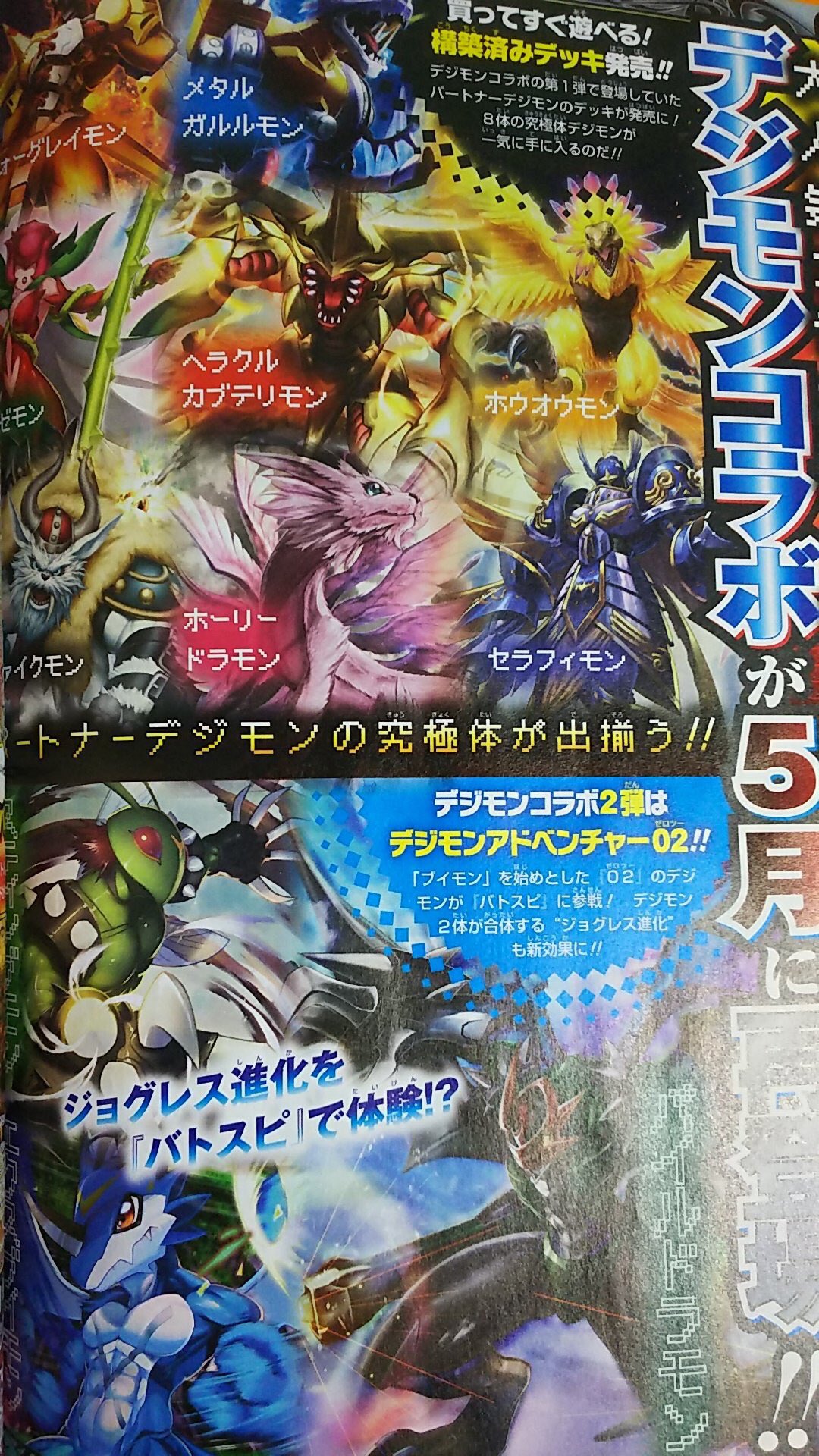 We've gotten previews of artwork from the upcoming Battle Spirits sets in a number of places, and now we have a look at a number of new Digimon.
It's not the best photo, and we aren't even 100% sure what magazine it's from (we assume V-Jump though.)
Based on the text it appears the top portion is showing off the Ultimate forms from tri. being included with the Chosen Children starter deck, while the bottom is showing off jogress from 02, as it will appear in the Our Digimon Adventure booster set.
We've seen the WarGreymon art recently from the promo poster, but I don't believe we've seen the artwork from the rest of the Ultimate forms yet. They all look fantastic, but I admit I'm most interested to get a better image of MetalGarurumon. There appear to be some interesting detail work happening with him that I look forward to seeing. The detail work on Holydramon's head also looks great. Many of the others I want to get a much cleaner look at before commenting further.
The bottom shows off artwork for Stingmon and XV-mon, who both look pretty amazing. XV-mons head/face in particular looks to be drawn in a way that both has a unique style, while also really feeling anime like. Paildramon always looks pretty great, about to do a very familiar attack (so familiar I looked around, thinking we must have already seen the art, but I can't seem to find it, so just a familiar pose I guess.)
Thanks to
aek_digi
for the image.
Update- Some additional images from
A_n_ochan.
It's also confirmed these are indeed from the new V-Jump.
Previous art and details about the new Battle Spirits sets can be found:
V-Mon Preview
from half a year ago.
Details regarding both sets
, with previews
Packaging preview
First proper image of a card
Better images of promo poster