Show User Social Media
Hide User Social Media
Joined

Sep 8, 2006
Messages

15,581
Time for some new Adventure products!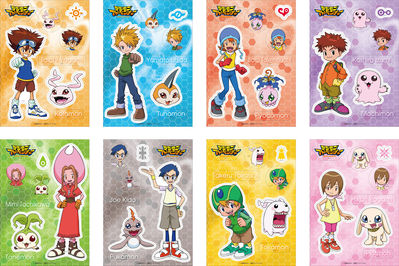 More early stuff for Comiket. The previously announced items can be found
here
.
Goo Goo Dept.
will have a number of Digimon items they are advertising for their booth (booth #1342.)
In addition, they have already listed them on Amazon Japan for pre-order, with a release date of January 25th. Whether they will show up at other stores is currently unknown, but the previous batch of items did end up showing up at AmiAmi for pre-order. Prices given are the listed cost for the items at Comiket, they are slightly higher in price at Amazon.
Even from Amazon Japan these aren't available for overseas shipping... so if you don't want to wait to see if they show up elsewhere, you'll have to use an intermediary to get it from either Amazon JP or Comiket.
First up are stickers (image above.) These appear to be Adventure versions of the 'fancy dress' tri. stickers, so they are likely to be the same material as those. Those were cloth stickers that used a weaker than normal adhesive so they can be removed and put elsewhere multiple times. Each features two stickers of the kids and their Digimon, stickers of the characters names and crest, along with an Adventure logo sticker. Each is 500 yen.
Amazon Japan:
Taichi
,
Yamato
,
Sora
,
Koushiro
,
Mimi
,
Jou
,
Takeru
,
Hikari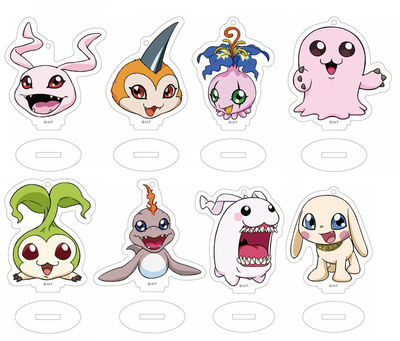 Acrylic stands/keychains! It appears the theme today is Adventure versions of various fancy dress products, because these again seem to be a repeat. You pop these off and they can be used as either a stand or a keychain. The artwork of the Digimon is the same as the stickers above. They are 700 yen each and random packed.
Amazon Japan:
Full Box
,
One Random

Clear files! They're listed as A4 size (8.3 by 11.7 inches.) There is both a blue hexagon pattern with the kids, and a grey with a repeating pattern of the Digimon. Each is 300 yen.
Amazon Japan:
Blue
,
Grey

Last but not least... mini tapestries! The fancy dress ones were rather popular and I'm guessing these ones will be also. They are A4 half size (roughly 4.2 by 11.7 inches.) They cost 1,000 yen each and are randomly packed.
Amazon Japan:
Full Box
,
One Random
It's nice to see them using this Adventure art on more stuff, as in general it looks very nice.
You'll want to contact an intermediary to get this item sent to you. WtW is not affiliated with any, but here are a selection of intermediaries that have worked well for various WtWers and their friends in the past:
From Japan
Rider Proxy
Nippon-Yasan
Be aware many intermediaries do not carry items from specialty shops and events since they can't be ordered online. You will need to ask them and explain what you want very carefully (perhaps with a photo.) Some intermediaries will potentially still not be willing to get the item (or may only be willing to at great cost.)
Some of the intermediaries have a full store front and may have the item listed, so you may want to check that first.