Show User Social Media
Hide User Social Media
Joined

Sep 8, 2006
Messages

17,396
Decent bit to go over here.
Last year there was a project at Digimon Partners to have a meeting to have fans decide on an upcoming project. Various updates came, with the most recent being a vote
a few months ago for the decided on picture frame
, with it said that news of what could go in it will come later.
And the results
are somewhat unexpected and spectacular as to what was done.
Five different legendary Digimon artists each were given guidelines around specific ideas, and five different art pieces were made:
Kenji Watanabe x Digimon "Memories of Digimon LCD Toys"
As'Maria x Digimon "Memories of Digimon Games"
Takase x Digimon "Memories of Digimon Card Games"
Soh Moriyama x Digimon "Memories of Digimon Offline Meetups"
Katsuyoshi Nakatsuru x Digimon "Memories of Digimon Anime"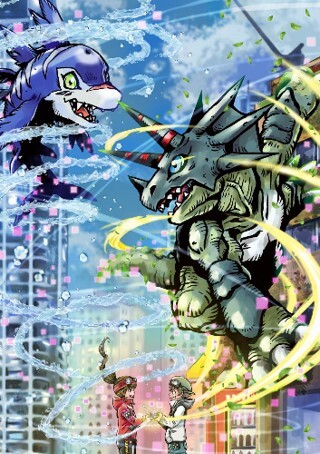 Kenji Watanabe
The character designer who helped create the Digital Monsters. He has made numerous Digimon designs. Representative of Wow Factory
Illustration Theme- "Memories of Digimon LCD Toys"
A powerful battle scene between Triceramon and Rukamon, the Digimon who appear on the packaging of the Digimon Pendulum! Children battling with the LCD Toy Digimon Pendulum is truly an original Digimon experience!
Comment from Kenji Watanabe- This time I drew 2 packaging characters, Triceramon & Rukamon, who I don't normally draw, so it was a new experience. The view angle was vertical, so it was difficult to draw a wide battle scene, so I tried to capture them as they jumped out of the screen in the design. I also don't normally draw people, so I enjoyed it.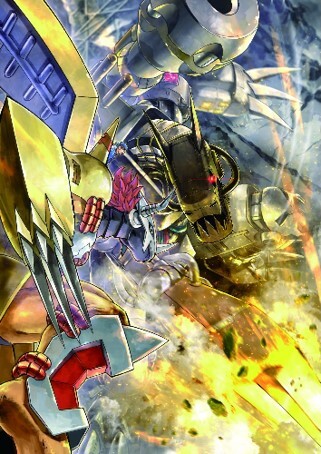 As'Maria
Illustrator of many Digimon designs, often centered on X-Antibody designs, as well as product designs for Digimon plastic models.
Illustration Theme- "Memories of Digimon Games"
Mugendramon, a Digimon that can be said to be the symbol of Digimon games! The lively illustration has WarGreymon & a young boy mid battle, recreating the thrilling memory of games!
Coment from As'Maria- I had already decided to draw Mugendramon, so it was decided to draw a concept that would please the audience, thinking that "WarGreymon will face him" and "If As'Maria draws it, it shoudl be a battle scene." I hope everyone's heart was excited by the situation from this other world.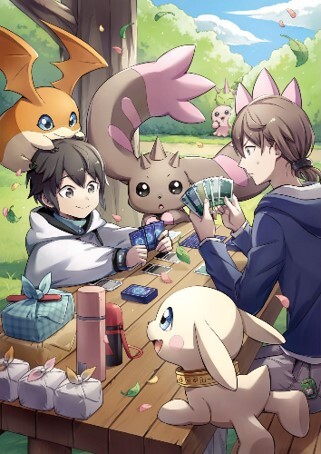 Takase
Illustrator who has gained attention among fans in recent years for his work on many drawings for Digimon card games.
Illustration Theme- "Memories of Digimon Card Games"
Children who enjoyed the old Digimon card games in their childhood are now parents. Parnets and children who enjoy Digimon card games are surrounded by many cute DIgimon, such as Plotmon and Patamon! A warm scene that can be considered a nostalgic memory of the card game & a scene reflecting the present!
Comment from Takase- I drew this picture of a parent and child who love Digimon enjoying a card game together. I would be happy if you would pay attention to the Digimon watching the game and the things the parents and children are wearing.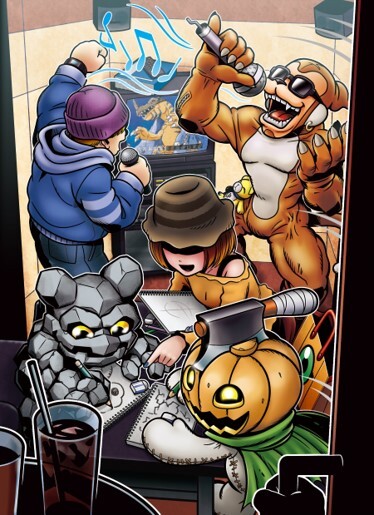 Soh Moriyama
Illustration who has worked on many Digimon designs since the early days of Digimon LCD toys, as well as many one off illustrations posted on the Digimon Web Twitter.
Illustration Theme- "Memories of Digimon Offline Meetups"
What if Digimon joined in those precious memories of fans, spending time with their friends? A duet of a Digimon song with Etemon? Drawing my favorite Digimon alongside the Shibuya-type Digimon, Pumpmon and Gotsumon!
Comment from Soh Moriyama- I drew this as a version of a social media & one off illustration, remembering nostalgic Digimon songs & the karaoke rooms of those days, the remove control to insert song numbers from a thick songbook. I would be happy if you can feel the fun space with Digimon.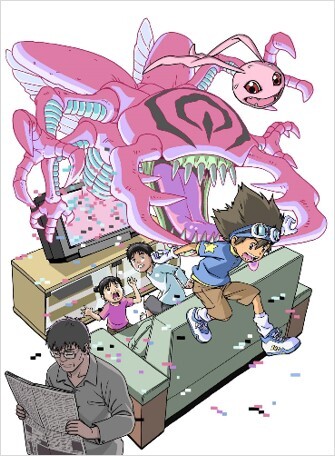 Katsuyoshi Nakatsuru
Animator in charge of character design for many Digimon anime series, including the TV anime Digimon Adventure.
Illustration Theme- "Memories of Digimon Anime"
The memories of the TV anime Digimon that you enjoyed as a child will last a lifetime. Taichi & Koromon leap dynamically from the screen while Kuwagamon gives chase! The excitement of the first episode of the TV anime Digimon Adventure is condensed into this illustration!
Comment from Katsuyoshi Nakatsuru- Hello to everyone on the fansite. I am Nakatsuru, the character designer. Thank you for your long term support of the old TV series. This time I was requested to draw an image of the opening scene of Digimon Adventure. I remember the old TV series was produced without placing emphasis on power and realism in battle, and thanks to this, it was aired in countries and regions that are sensitive to depications of violence. Because of this, I'm not sure what sights and sounds are etched in your memories from the scene of Taichi & his friends being chased by Kuwagamon, but I tried to draw it through trial and error. Is this a picture everyone you wanted to see? In addition, we plan to post some rough sketches we drew in the process of creation on this site, so I hope you can see them while imagining the struggles we went through as you see them.
Then on to the products that are being made with the art for the Memory Illustration Project.
They will be for sale on July 18th, 2023 at the Digimon Partner Shop, and also on sale at DigiFes
​
Acrylic Photo Frame Calendar- 6,600 yen
A calendar for Digimon fans that can also be used as a photo frame.
Includes cards with memory illustrations, plus calendar cards of a large collection of key visuals from Digimon anime.
Set the cards in any combination to create your own calendar.
The frame was decided on by fan vote.
5 memory illustration cards are included, featuring the 5 pieces of art made for the project.
13 calendar cards are included featuring key art from the history of Digimon anime.
The calendar starts with August, well known as being important to Digimon from August 1st in Digimon Adventure, which is also marked as such in the calendar. Having the calendar starts here also allows a number of small easter eggs to appear.
In addition to that, June 26th has a marker for the day of the first Digimon LCD toy release.
February has 2 versions, one for Xros and one for Hunters, allowing both standard and leap years to be represented, making it a forever calendar.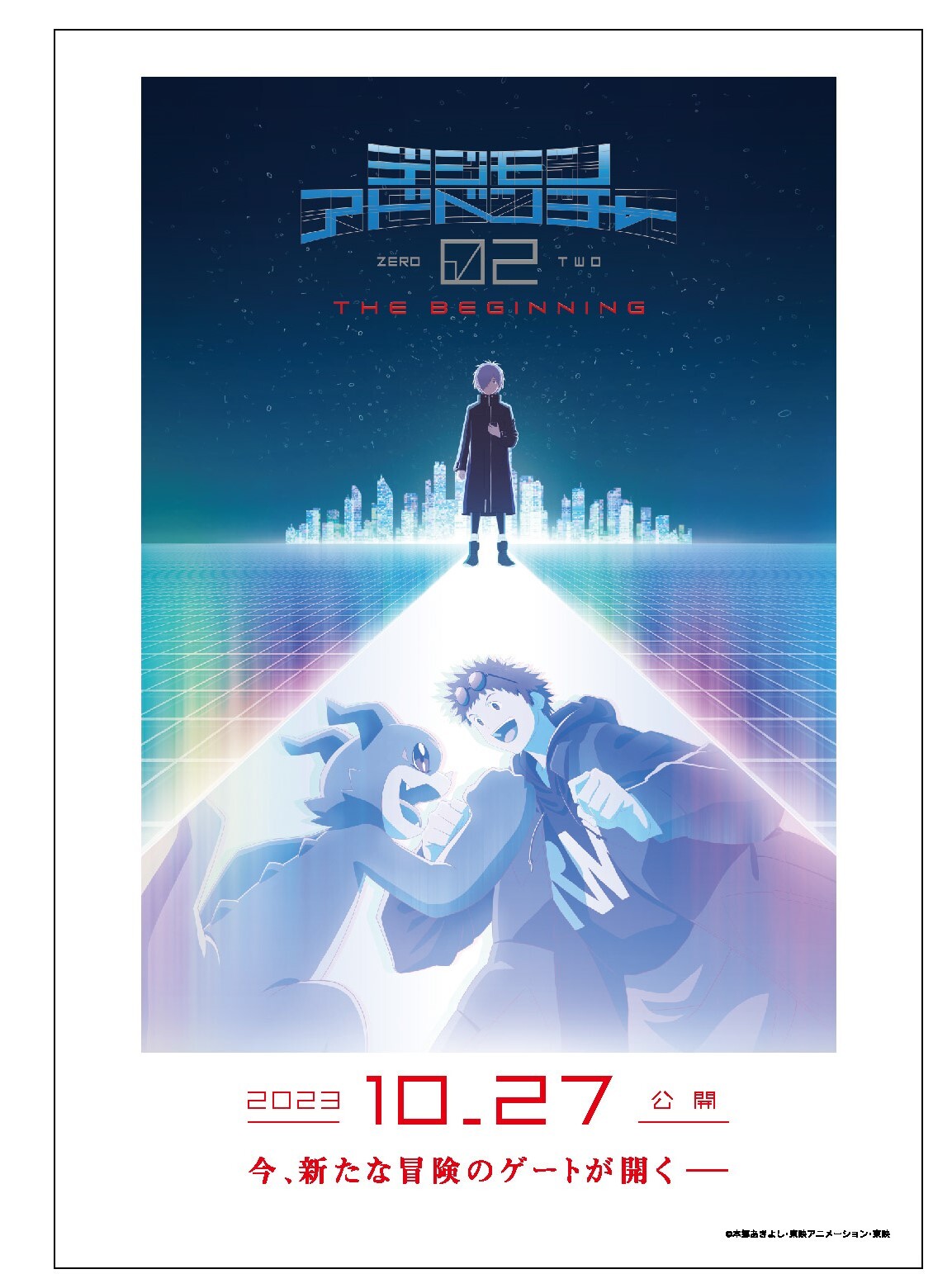 Early purchases include a novelty card for Digimon Adventure 02: The Beginning, available first come first serve until it is gone.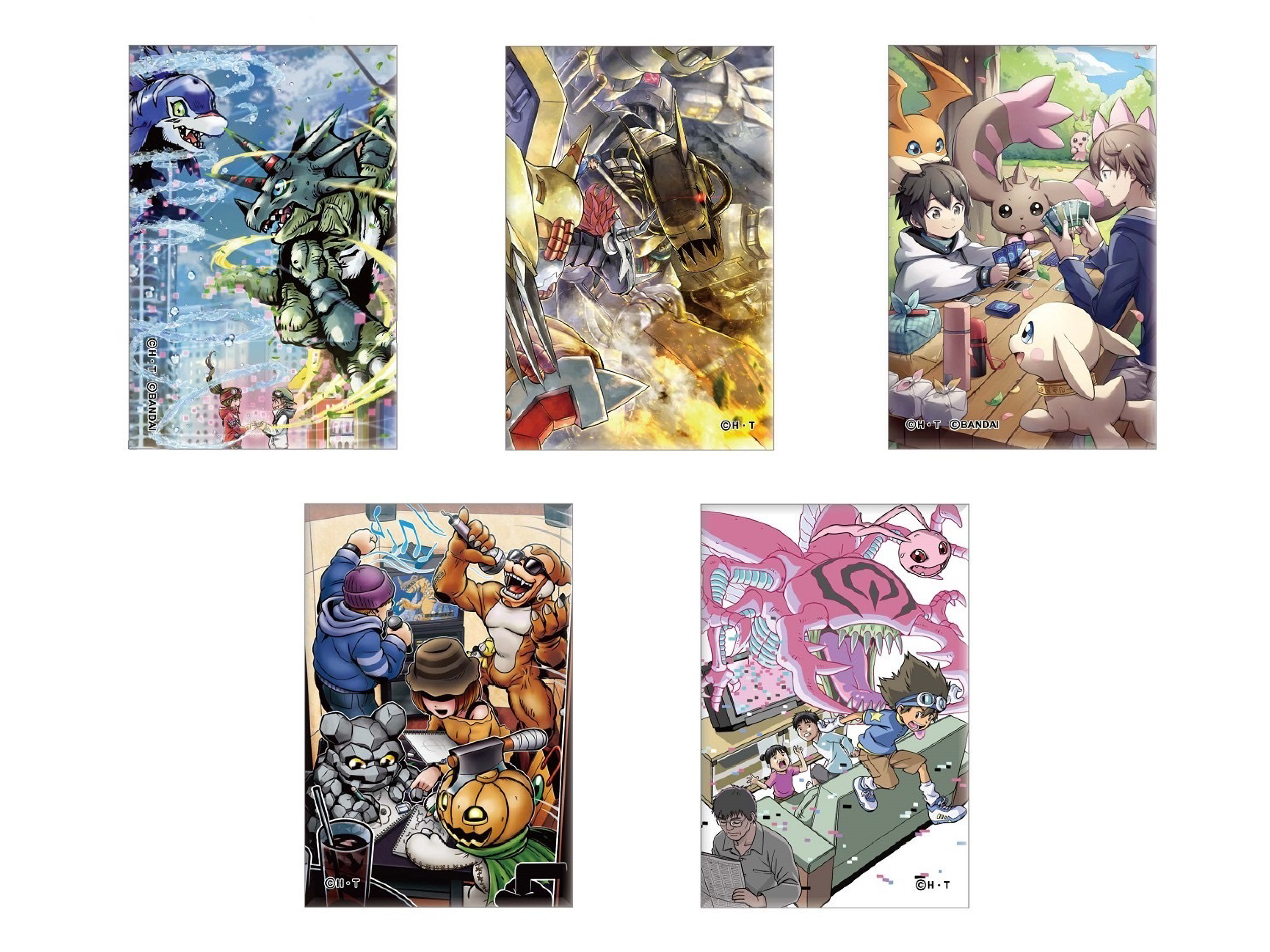 Can Magnets of the new art. 550 yen each, all 5 are blindpacked and random.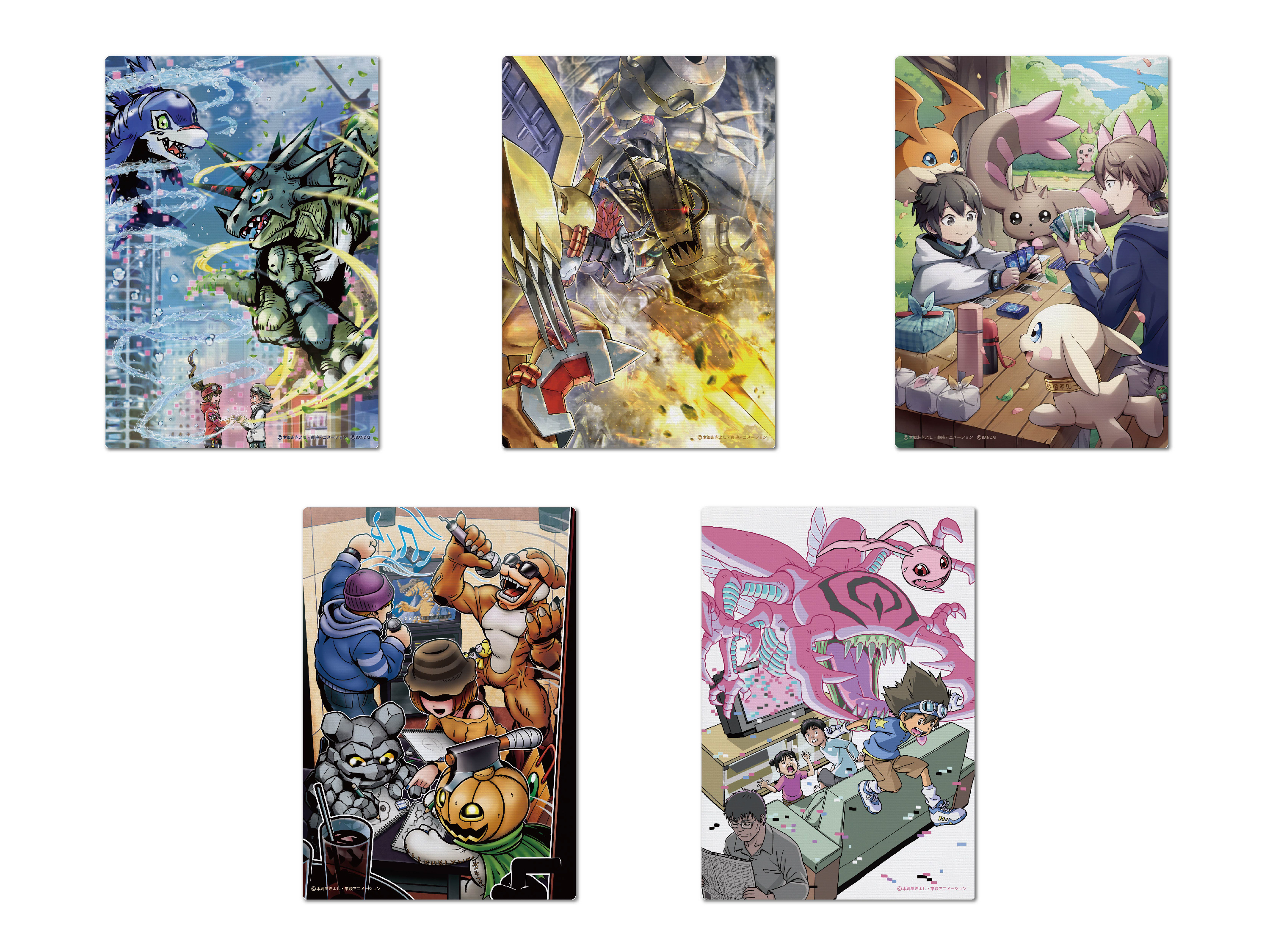 Canvas Art Boards of the new art. Each is 3,300 yen.
3,300 yen each
The next update will be when the products go up to be sold.
With something that felt like it was going to be small on purpose, going with 5 pieces of art that looks rather fantastic was a bit of a wild swerve, especially throwing in the 'all Digimon anime' calendar to the frame.
Last edited: