Show User Social Media
Hide User Social Media
Joined

Sep 8, 2006
Messages

17,381
A few card updates!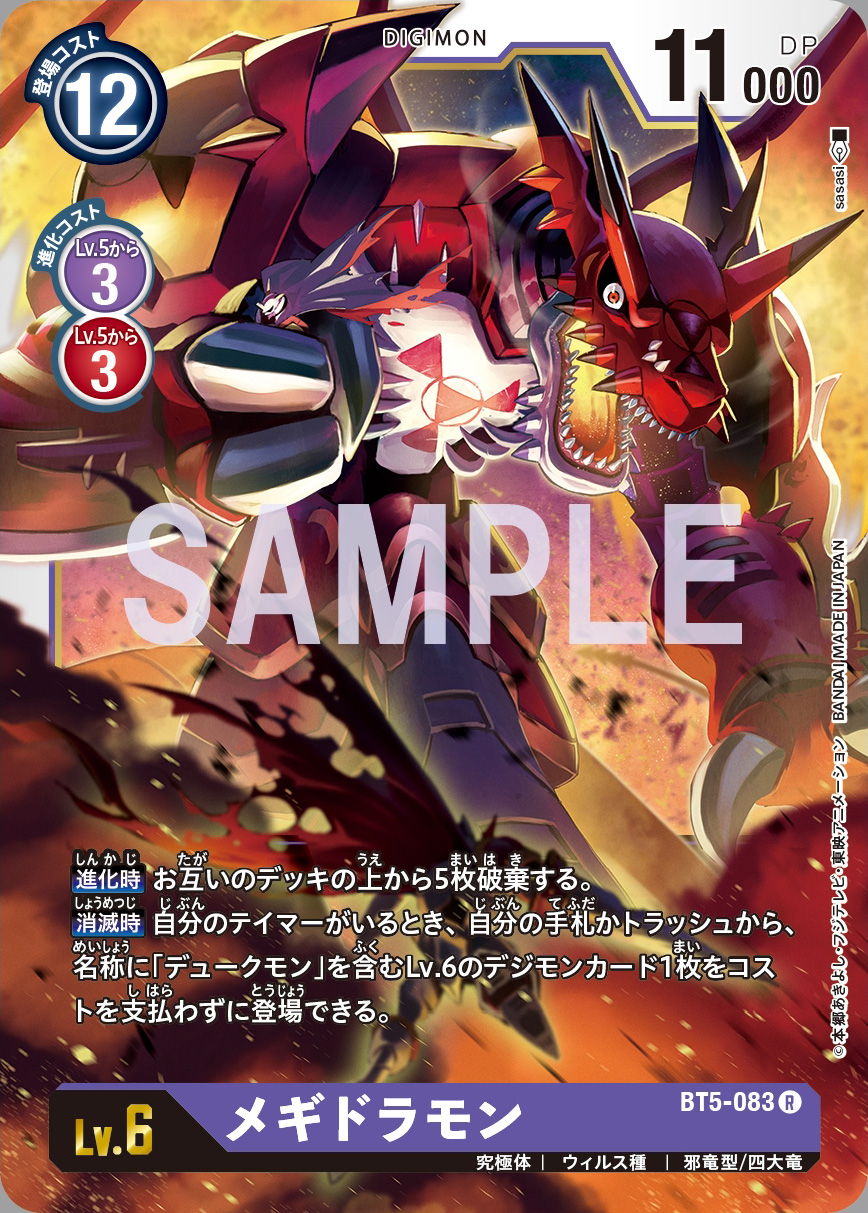 The Digimon Card Game Twitter
has updated with a card preview from Booster Set 5 Battle of Omega. This time we get Megidramon.
Megidramon has some great actiony art with Megidramon himself looking more than a bit nuts while battling Omegamon and Dukemon.
Digimon Card Game Booster Set 5 Battle of Omega is scheduled to release on February 26th.
Previous card previews for Booster Set 5:
Hexeblaumon Pack packaging, Agumon, & Greymon Gabumon & Garurumon Starmons, ShootingStarmon, & SuperStarmon ChaosDukemon Terriermon Joshu & Fake Agumon Hakase & 1st Look at MetalGreymon: Alterous Mode & WereGarurumon: Sagittarius Mode Takumi Nokia WaruMonzaemon Guilmon & BlackGrowmon V-Jump- Omegamon Zwart, Shoutmon DX, Sakuyamon, MetalGarurumon, and Algomon (Ultimate) ZekeGreymon MoriShellmon MetalGarurumon (Black) Option Card Hot & Fierce Metal Storm, Omegamon, & Omegamon Zwart (Normal & Parallel)
And on top of that...
Episode 67 of Fun Digica just went up.
This time Cody & Hideyoshi have a match in a category that has always proven popular... decks made/suggested by viewers.
The decks this time are the Security Digimon Agro Tech deck and the Hyper Spirit Brigade Tech deck
A few screenshots.
We have clean card images for Booster Set 4 Great Legend.
We also have begun to get
details about Booster Set 5 Battle of Omega
, including
our first look at art via DigiNavi!
And images from previous Digimon Card Game releases:
Starter Decks 1, 2, and 3, and first 10 promo cards
Booster Set 1 New Evolution
Booster Set 2 Ultimate Power
V-Tamer Promo Cards
Purple/Black Promo Set
Tamer Battle Pack 1 and Tamer Battle Winner's Card
Booster Set 3 Union Impact
Starter Decks 4, 5, & 6, plus Tamer Battle Pack 2 & winner's Card 2, & 1st 2 scene vote cards
Index of Fun Digica & Card Battle episodes: